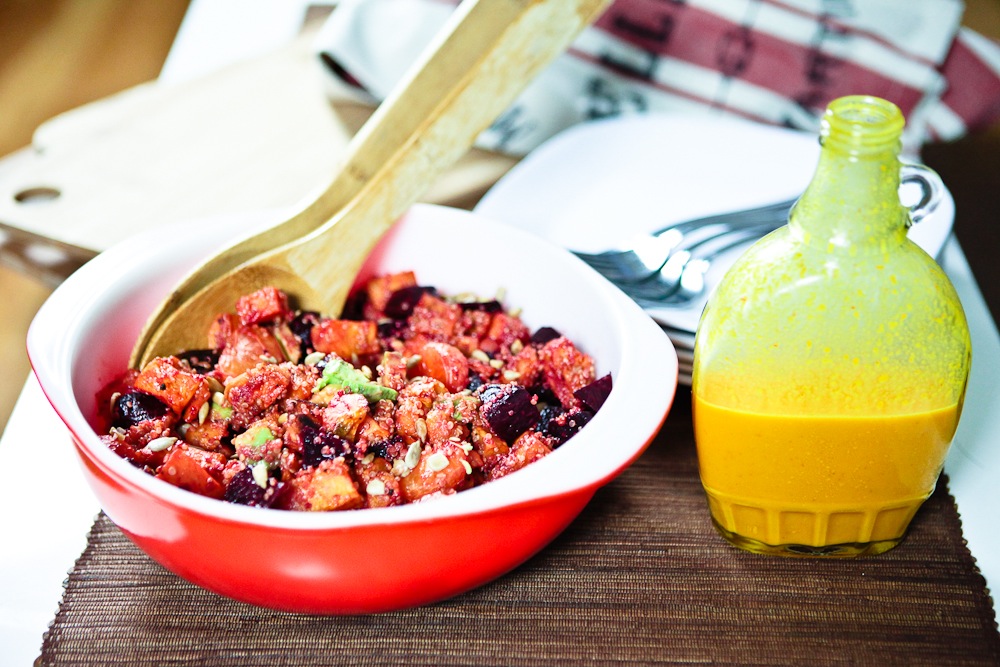 Hello Potluckers!  Welcome to Keepin' It Kind!  If you are unaware of the Virtual Vegan Potluck, it is a large gathering of bloggers (over 60!!!), all contributing vegan dishes for different courses of the meal, organized by the amazing Annie at An Unrefined Vegan.
Are you the one who always brings the potato salad to the potluck?  Yes?  Can I come?  Well, I have a new stand-out potato salad recipe for you!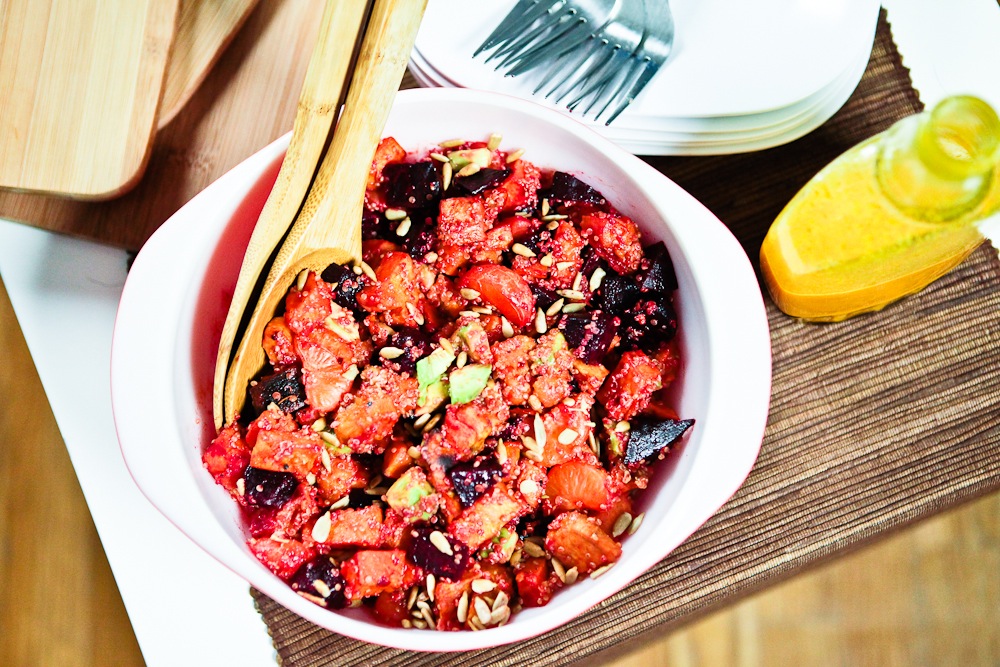 I love a great potluck potato salad as much as the next person, but I also love sweet potato fries and citrusy salads in the summer.  With spring upon us and summer quickly approaching, I decided to make what the kids these days are calling a "mash-up" of my favorite summer potluck dishes.
I roasted the sweet potatoes and the beets and let them cool.  Avocado, tangerines, quinoa, and sunflower seeds made up the rest of this salad.  I wanted the dressing to have more than just a citrus kick, and since it is a special occasion, I decided to use a special ingredient: Saffron!  This salad is going to be awesome along side those grilled veggie burgers and corn on the cobs this summer, and everybody will think you are just the bee's knees.  Everybody in my house thought the same of me after this dish, but then again, it was just my husband and our canine roommate, Samantha.  And she didn't even try the salad...  Anywho, make this salad and your tummy, as well as your guest's tummies, will thank you!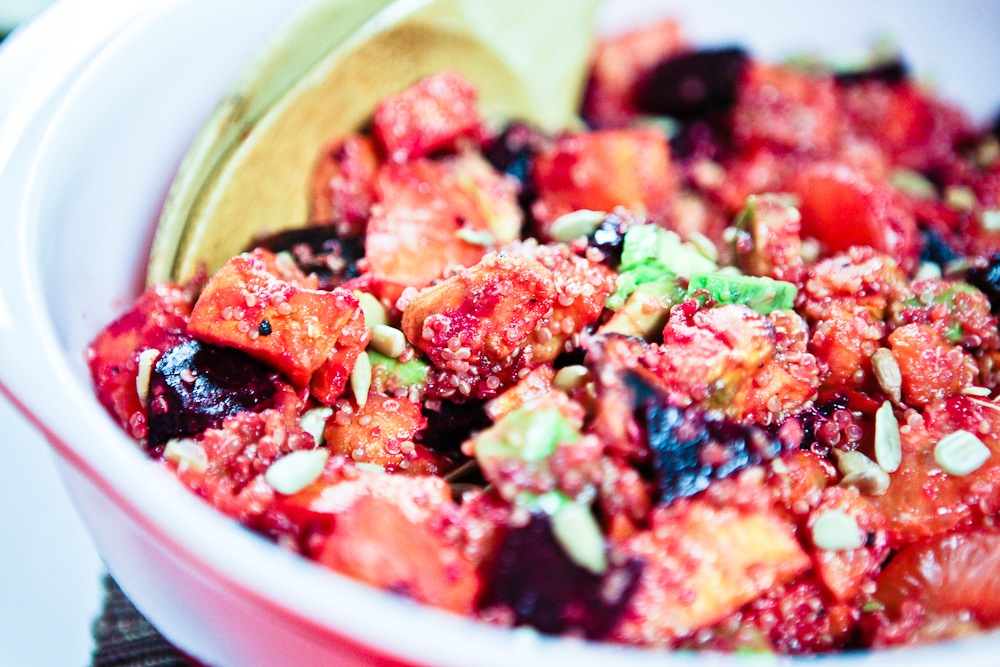 SAFFRON CITRONETTE
makes roughly 2 cups
Ingredients
1 shallot, roughly chopped
¼ cup + 1/8 cup olive oil
½  T Saffron
½ cup Champagne/sherry vinegar (I used Trader Joe's Orange  Muscat Champagne Vinegar)
1 T Dijon mustard
1 T Agave Syrup
juice from 1 orange
1 T orange zest
salt, pepper to taste
Instructions:
Heat a small pan over low heat for about 30 seconds.  Add the 1/8 cup of olive oil, the shallot, and the saffron and simmer on low heat for about 10 minutes.
Meanwhile, add the champagne vinegar, mustard, agave, orange juice, and orange zest to a blender.  After the shallot/saffron/oil mixture has simmered fro about 10 mintues, add it to the blender and blend on high, slowly adding the remainder of the olive oil as it blends.  Once it is completely emulsified, taste and add salt and pepper to taste.
Chill until ready to serve.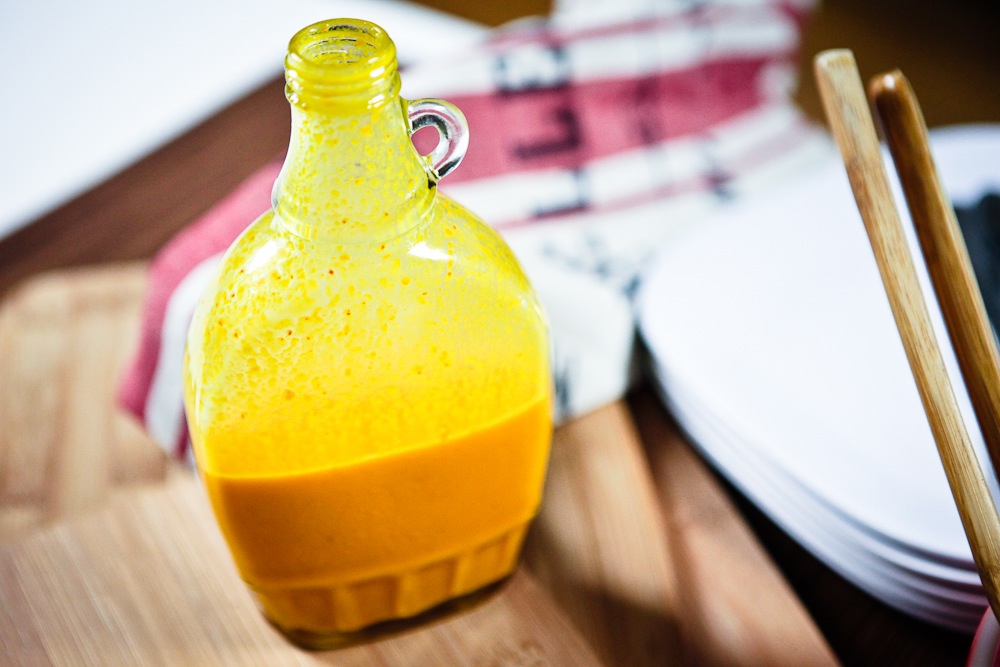 SWEET POTATO & BEET SALAD
makes roughly 8-10 cups
Ingredients:
2 sweet potatoes, peeled and diced
4 small-medium beets, peeled and diced
olive oil for drizzling
salt and pepper to taste
2 tangerines, peeled, segments removed
½ avocado, peeled and cut into small pieces
½ cup cooked quinoa
2 T sunflower seeds
1/8-1/4 cup Saffron Citronette (to taste)
Instructions:
Preheat the oven to 450.  Line a baking sheet with foil or parchment paper, and if you'd like, spray with a vegan non-stick spray.  Set aside another 12 inch square of aluminum foil as well.
On the square of aluminum foil, place the diced beets and drizzle a tiny bit of olive oil (about ½ tablespoon) and salt and pepper to taste.  Toss to combine.  Fold the ends over the beets, and then fold the other ends over to make an enclosed packet for the beets.
Spread the diced sweet potato out on the baking sheet.  Drizzle with a little bit of olive oil (about 1 tablespoon) and salt and pepper to taste.  Toss to combine.
Place the baking sheet on the middle rack of the oven and the beets on the rack underneath it.  Bake for 20-25 minutes and remove the sweet potatoes.  Move the beet packet to the center shelf and bake for another 10 minutes.  Let both cool completely before using in salad.
Once the sweet potatoes and beets have cooled, combine all of the ingredients, except the dressing in a large bowl.  Add the dressing and lightly toss until fully combined.  Serve immediately or let chill until ready to serve.  Enjoy!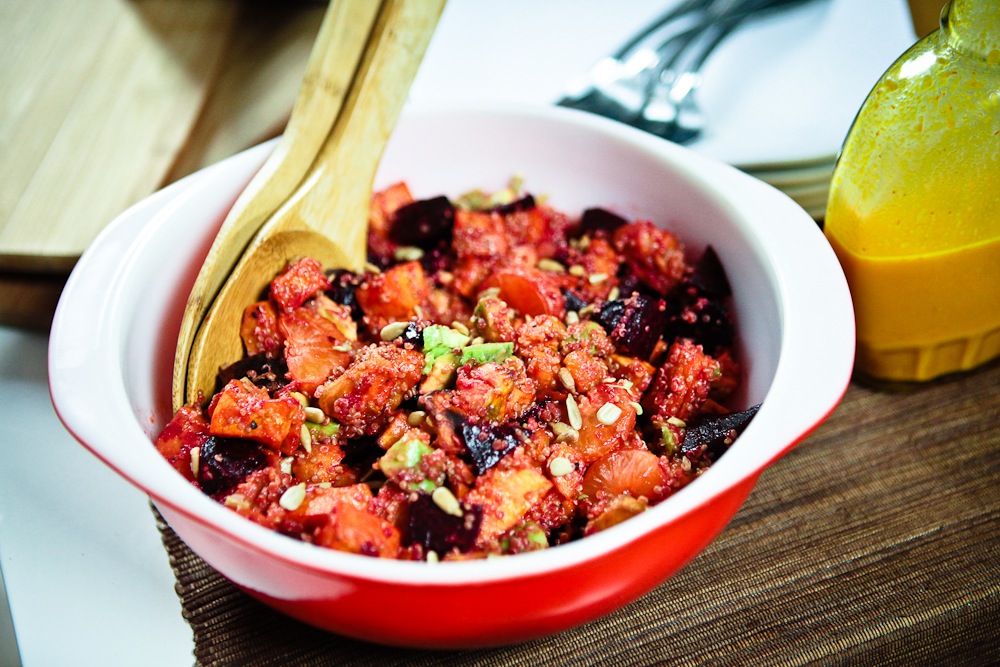 I hope you enjoy this salad and even more, I hope that you enjoy the rest of this potluck!  To see the dishes served before mine, hit the "go back" button below.  To see the dishes following mine, hit the "go forward" button below.  To start from the very beginning, just click here.
Have fun and thank you for stopping by!
All Photos by Chris Miller

© Kristy Turner and Keepin' It Kind, 2012. Unauthorized use and/or duplication of this material (content and images) without express and written permission from this blog's author and/or owner is strictly prohibited. Excerpts and links may be used, provided that full and clear credit is given to Kristy Turner and Keepin' It Kind with appropriate and specific direction to the original content.