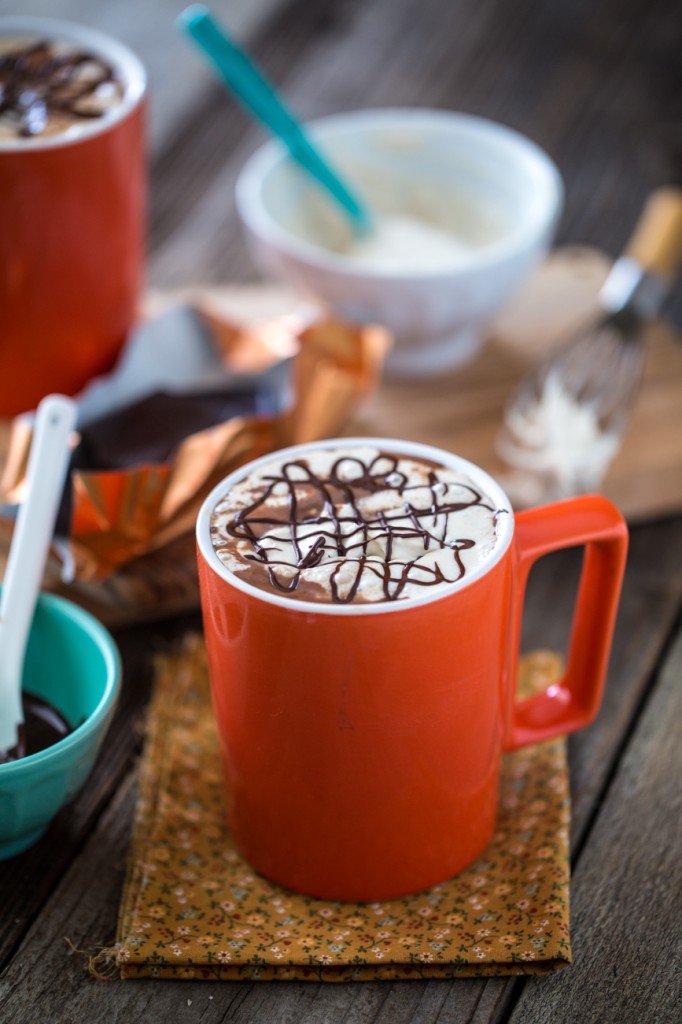 As much as I love chocolate, I've never been a fan of hot chocolate.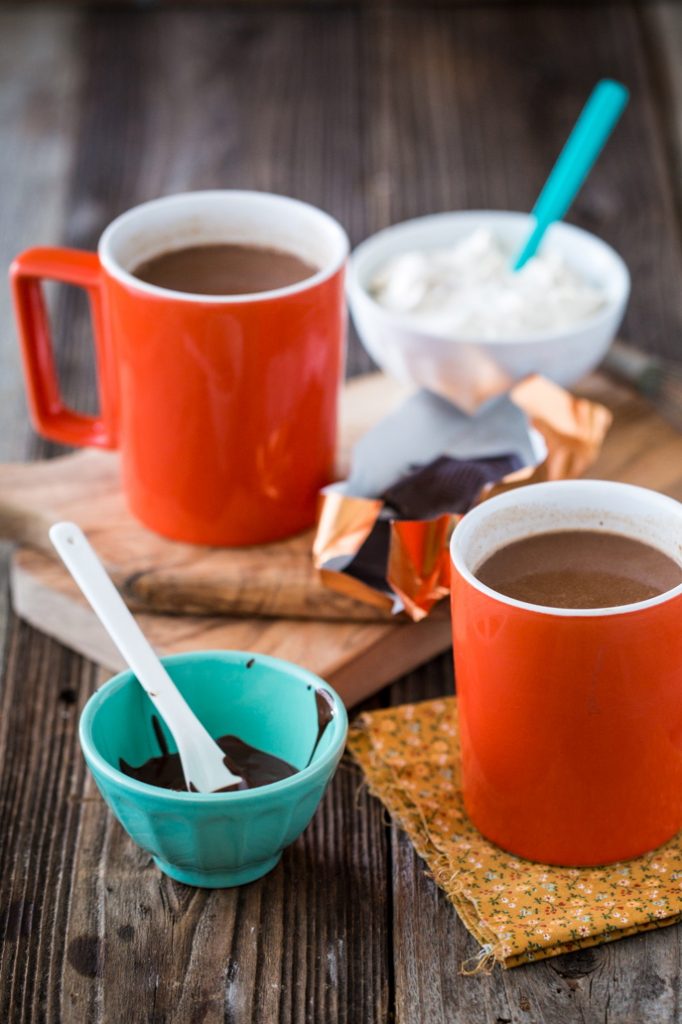 Due to an unfortunate run-in with the stuff as a two year-old (I was very badly burned by it), not only was I physically scarred but subconsciously, a lot of negative emotions became attached to the hot beverage.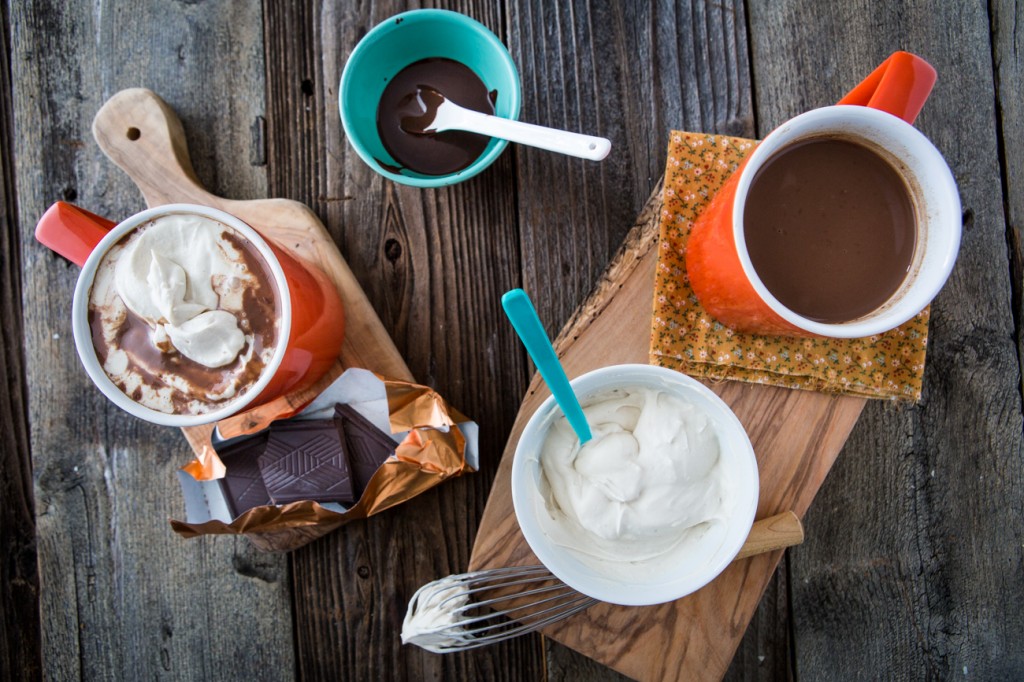 I tried it a couple times in my twenties. Once I bought a package of Swiss Miss, only to dump the mug after one sip and the box was banished to the back of my cupboard, never to be heard from again.  I was on a date one winter, and the fellow bought me a hot chocolate, thinking it would be romantic, but I had to try hard not to gag as I forced it down. I resigned to the understanding that hot chocolate and I would never get along.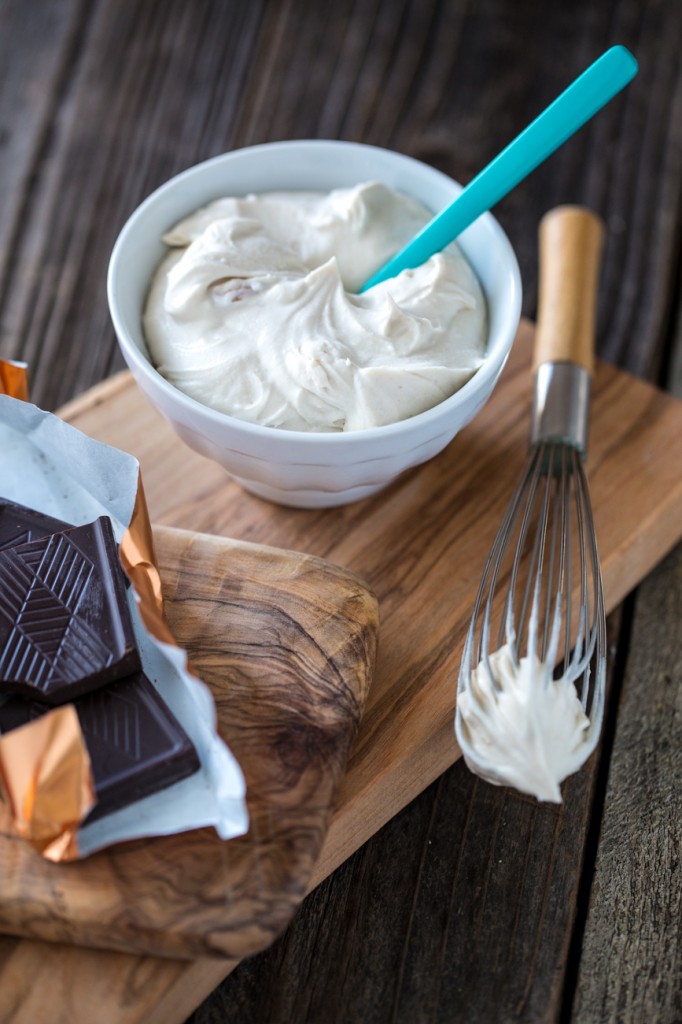 Then Sophia, my stepdaughter and lover of all things chocolate, came along.  She asked Chris and I one day if there was such a thing as vegan hot chocolate.  "Of course there is!" I said.  And with that, I put aside all of my weird hang-ups over the stuff and set-off to make a vegan hot chocolate we could all enjoy (except for Max, who will never let anything even reminiscent of chocolate cross his lips).  It was actually remarkably simple and last year I created one that tasted better than any hot chocolate I'd had in my pre-vegan days.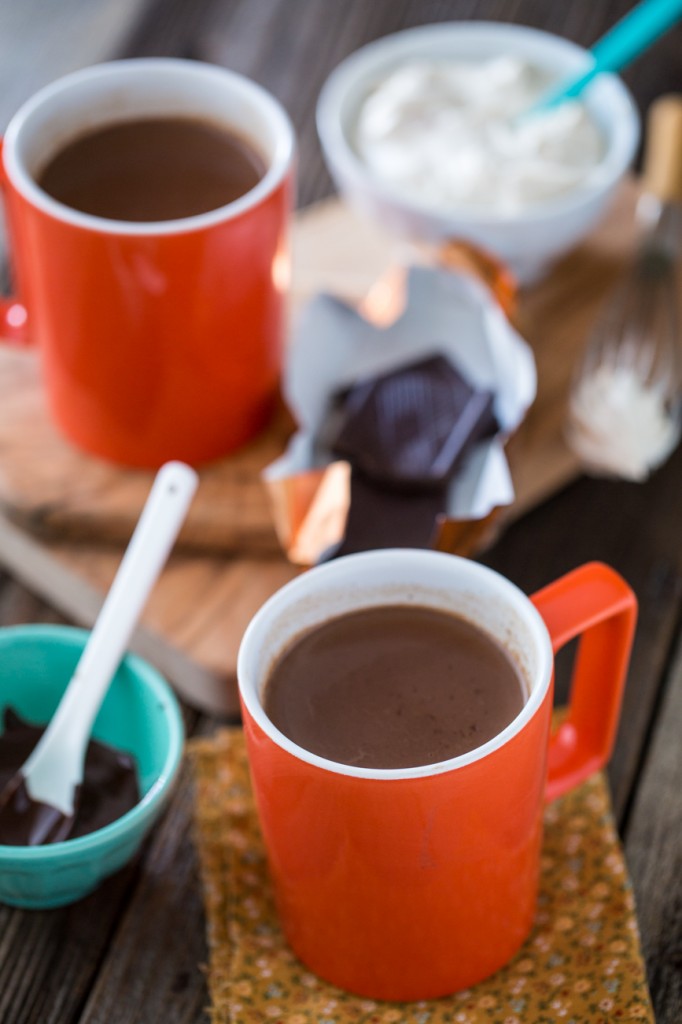 This year, just as the chill in the air began to make cold smoothies a little undesirable, my favorite plant-based shake and smoothie company, Vega sent me some products to try, one of them being the Vega Sport Chocolate Protein Blend.  The wheels began to turn...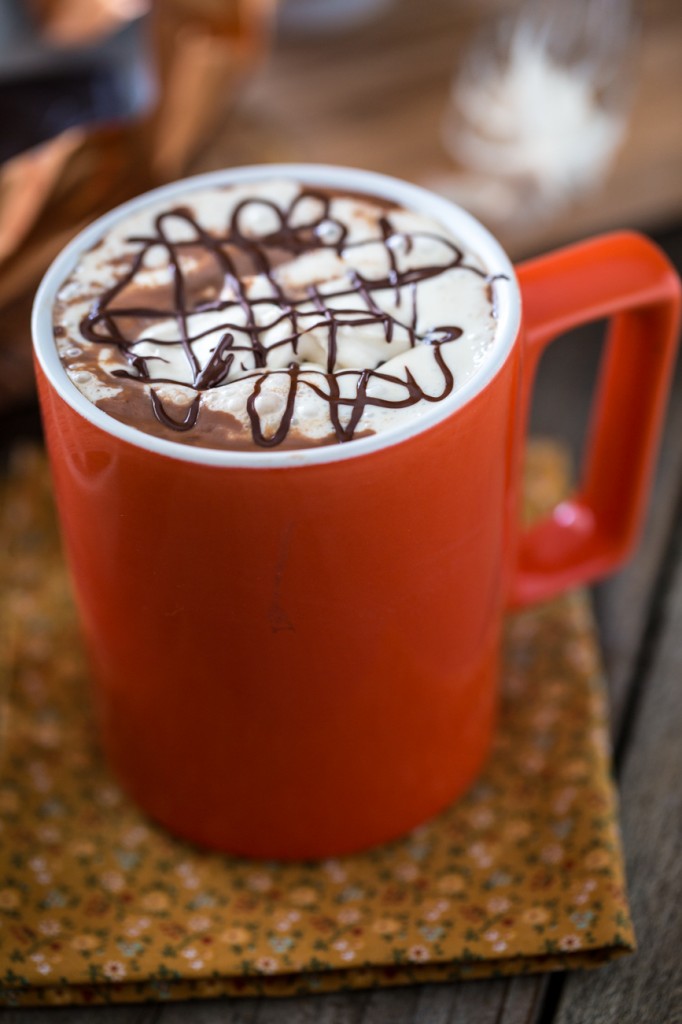 What resulted was one of my most favorite hot chocolate recipes to date.  The blend of the Vega Sport protein powder and cacao powder (or cocoa powder) with milk and little bit of sweetener made for not only a delicious hot chocolate, but one that could actually replace my daily smoothie.  If you feel like splurging, I'm sharing a fantastic peanut butter whipped cream that truly takes this baby to the next level. Drizzled with uplifting, mood-balancing melted Maca Chocolate, this hot chocolate goes from being a nutritional powerhouse to being an Oh My Lord! powerhouse.  For the first time in my life, I can honestly say "I love hot chocolate!"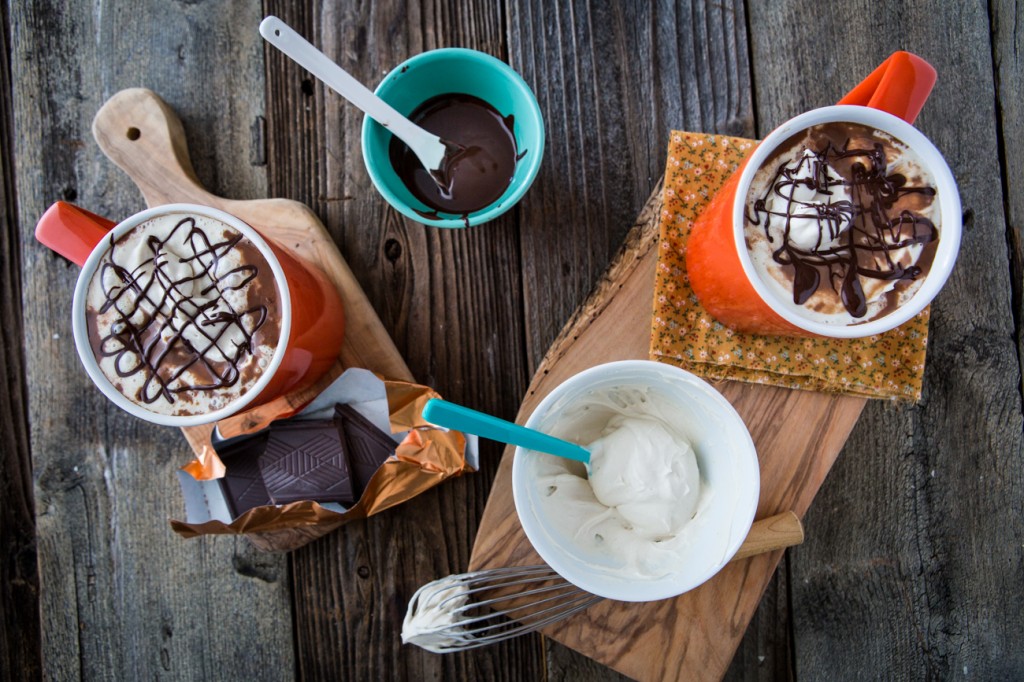 Protein-Rich Hot Chocolate with Peanut Butter Whipped Cream
Ingredients
for the peanut butter whipped cream

1 can of full-fat coconut milk, refrigerated overnight (or at least 1 hour)
1 tablespoon peanut butter
1-2 packets of stevia or 1 teaspoon of sweetener of choice (optional)
1 - 1 1/4 cup almond milk (depending on size of your cup)
1/2 scoop Vega Sport Protein Powder
1 tablespoon cocoa powder (or cacao powder for a stronger chocolate)
1-2 tablespoons agave syrup (or coconut nectar)

for the chocolate drizzle

chocolate for melting (I used Vega's Maca Chocolate Bar)
Instructions
Make this no more than 30 minutes before serving hot chocolate for best results.
Chill the mixing bowl and the beaters that you will be using for about 30-45 minutes.
Open the can of coconut milk and use a spoon to scoop out the hard, cream part that has separated from the water. Scoop it into the chilled bowl. You can save the coconut water for other uses, such as smoothies.
Add the peanut butter and sweetener and blend at high speed until thick, creamy, and when you pull the beaters out of the cream, stiff peaks form. Refrigerate bowl until ready to use.

for the chocolate drizzle

Make this right before you make the hot chocolate. Place a glass bowl over a small pot of boiling water to create a double broiler. Break up the chocolate and place in the bowl. Stir until melted and glossy. Remove from heat and set aside.
Blend all hot chocolate ingredients together in a blender until smooth. Pour into a small pot. Stirring occasionally, heat over medium-low heat until little bubble form around the edge and it just barely begins to simmer. Taste it to make sure it is warm enough. Pour into mug and top with whipped cream and drizzle with melted chocolate. Serve immediately. Enjoy!
Notes
DO NOT add more than one tablespoon of peanut butter to the whipped cream. It will become too oily and will become a more liquify cream rather than a thick cream. If you do not have the Vega Sport Protein Powder, you may be able to substitute with another chocolate porting blend or you can just replace it with an additional 1-2 tablespoons of cocoa powder and mix it straight into the milk while it's heating up on the stove.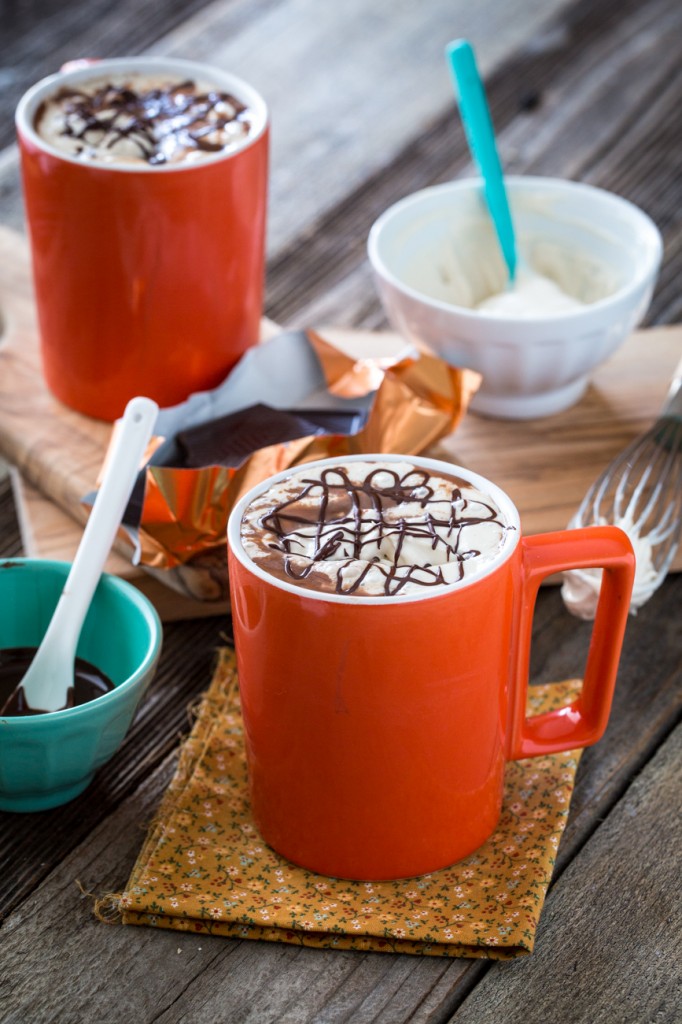 By the way, I have a special treat for all of you the day after Thanksgiving- I hope you can make it! 🙂
Are you a hot chocolate fan?
Disclaimer: I was given Vega products to try but the thoughts and opinions expressed here are my own.
Photography by Chris Miller