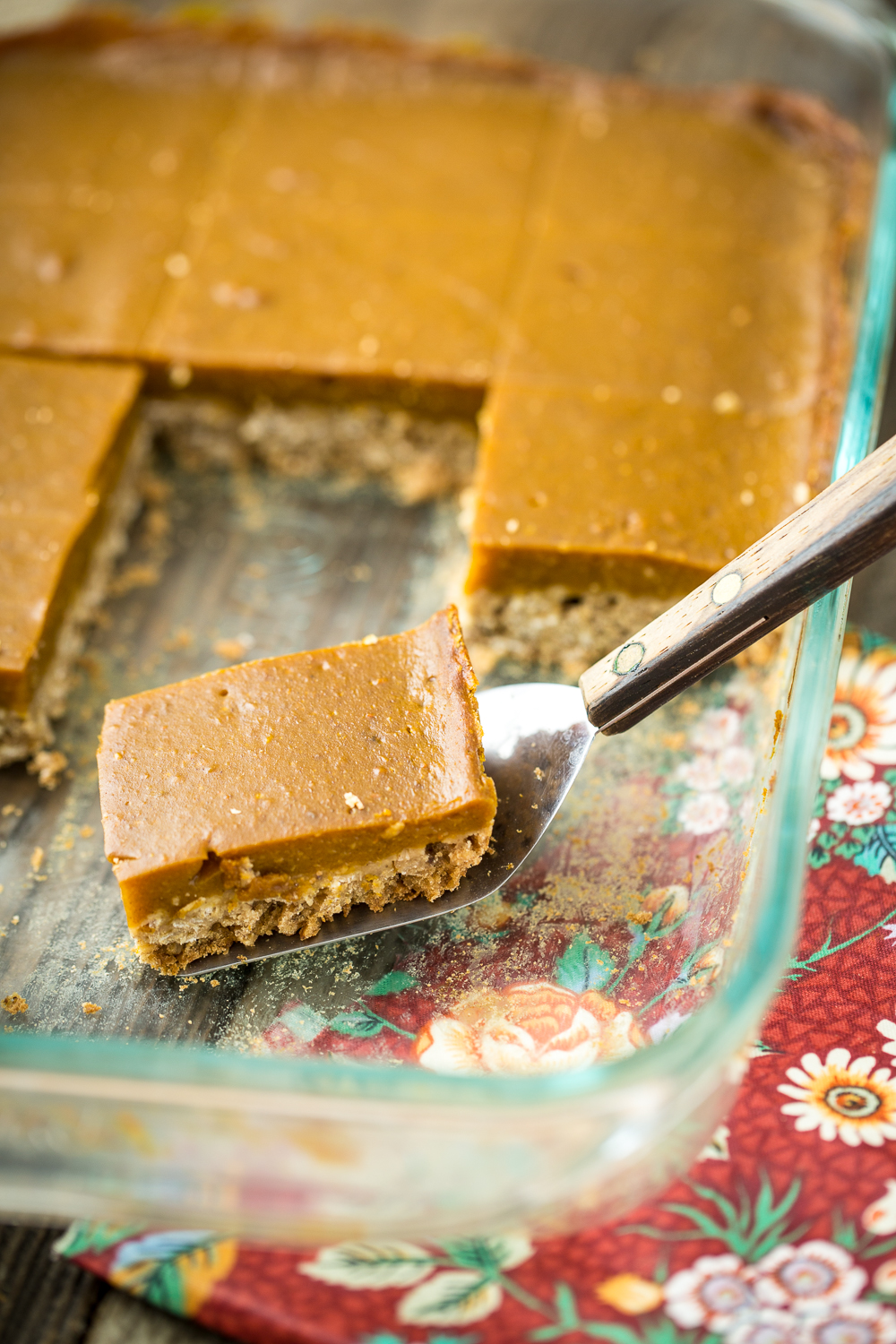 At this time of year, pumpkin pie is totally my jam.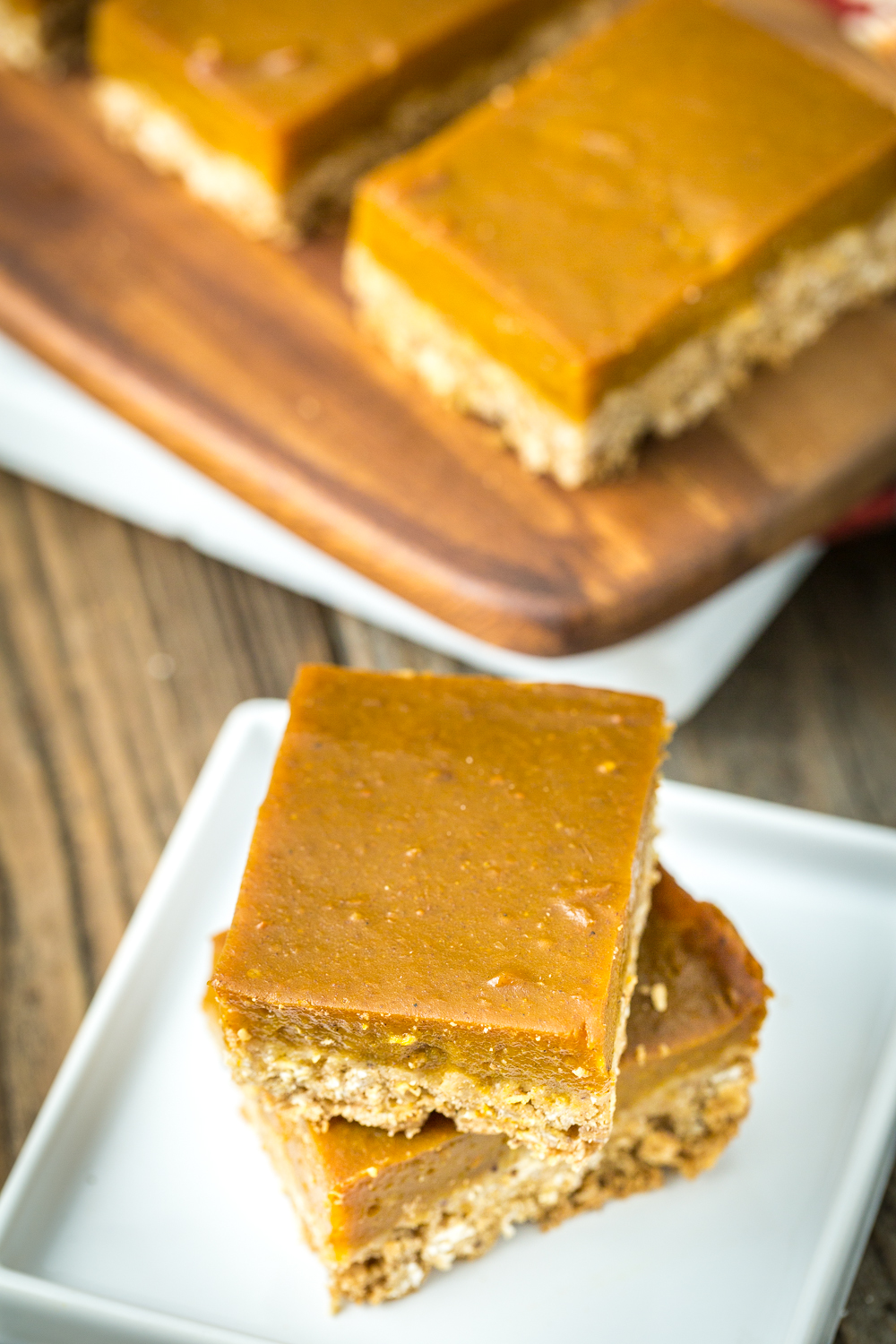 Like, a slice of pumpkin pie (coconut whipped cream optional) with a cup of coffee or tea… perhaps with a warm fire burning in the fireplace… while wearing a cozy sweater and/or scarf and/or boots… Yeah, I am all over it.
The problem is that slices of pumpkin pie are always so small.  Am I right?  It seems like it's a universal rule for pumpkin pie slices to be at least 3-4 bites short of what I need to satisfy my pumpkin pie craving.  Unless you made the pie and there's only one or two other people in your house, then going back for seconds isn't always a considerate choice.  Otherwise, it's like "I wonder why there wasn't enough pie for grandpa to have a slice? Oh, what's that? Kristy ate the last slice? But she also had the first slice…"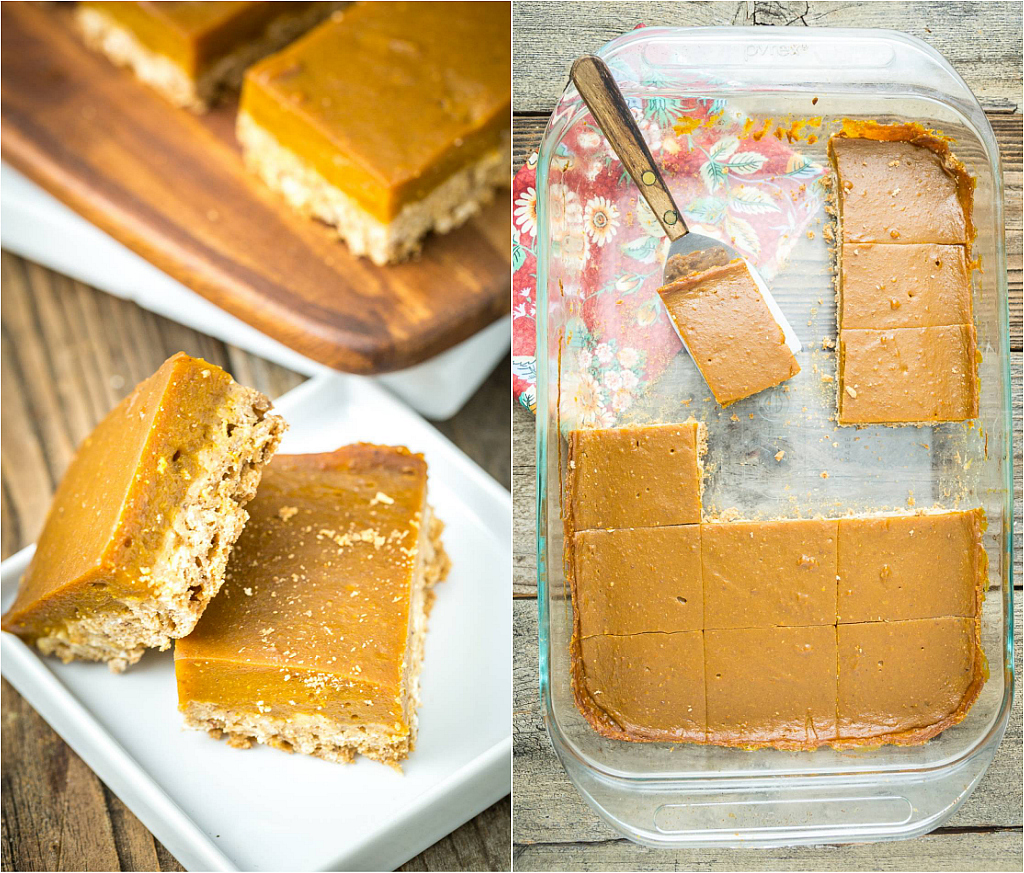 The only viable solution for this problem is to make a pumpkin pie replacement option that can provide enough servings for everyone to have seconds and possibly thirds.  Bars are the perfect choice for this plan because if you put out a plate of bars, and you take one, then another, and possibly a third, like, a couple hours later for the ride home, no one is going to get up in your business about it. No one cares if you take multiple bars. Multiple slices of pie? Then people start to call you names raise an eyebrow.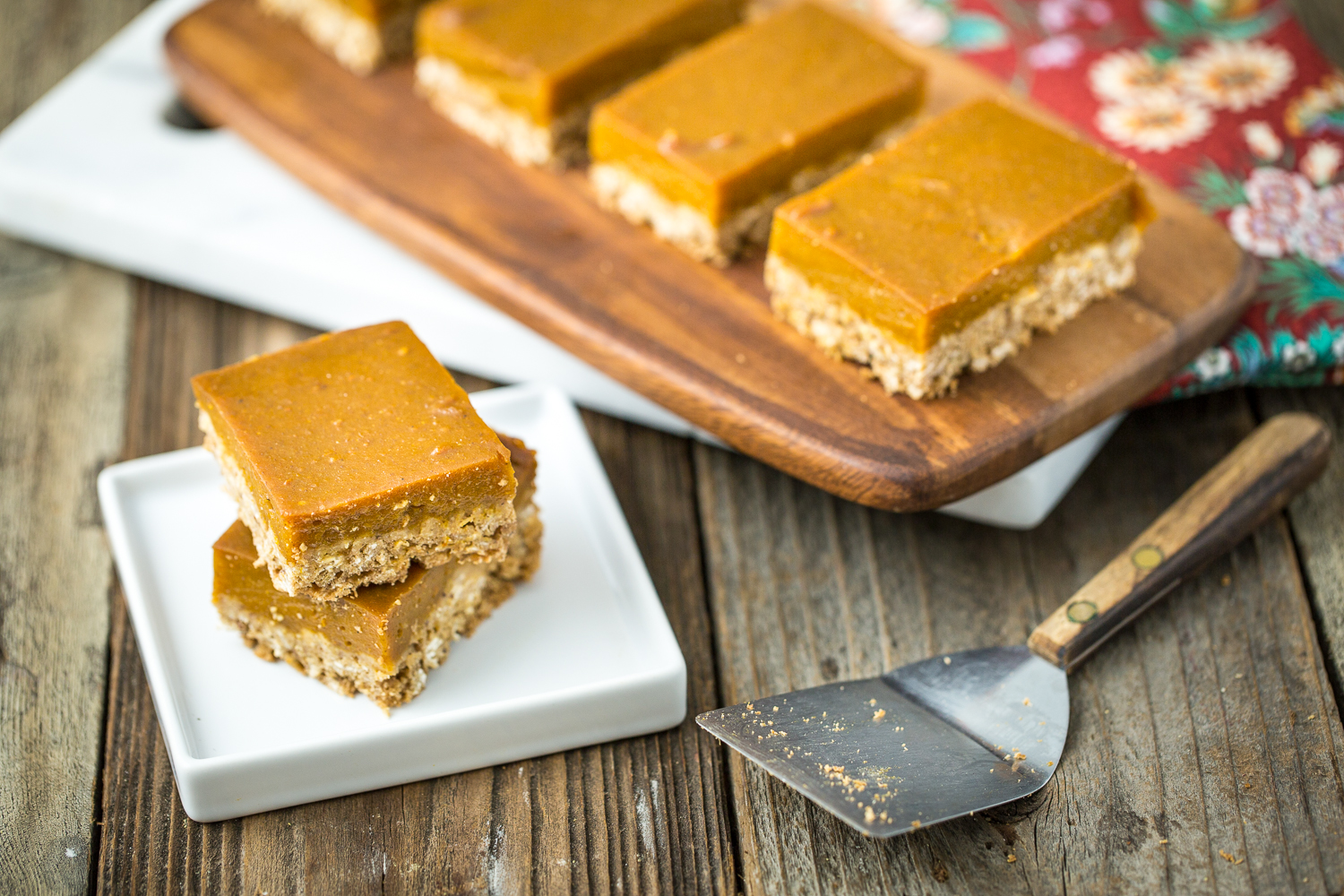 My need for a good pumpkin pie bar brought me to these.  They have a delicious oatmeal cookie base with a soft, luscious pumpkin pie top (it's slightly firmer than the average pumpkin pie filling, but it helps the bars keep their shape).  And boy are they delightful!  They're perfect for all the other times you like to eat pumpkin pie too- like for breakfast and/or second breakfast.  This recipe makes a lot too.  I sliced this batch into 18 big bars, but you could easily do 24.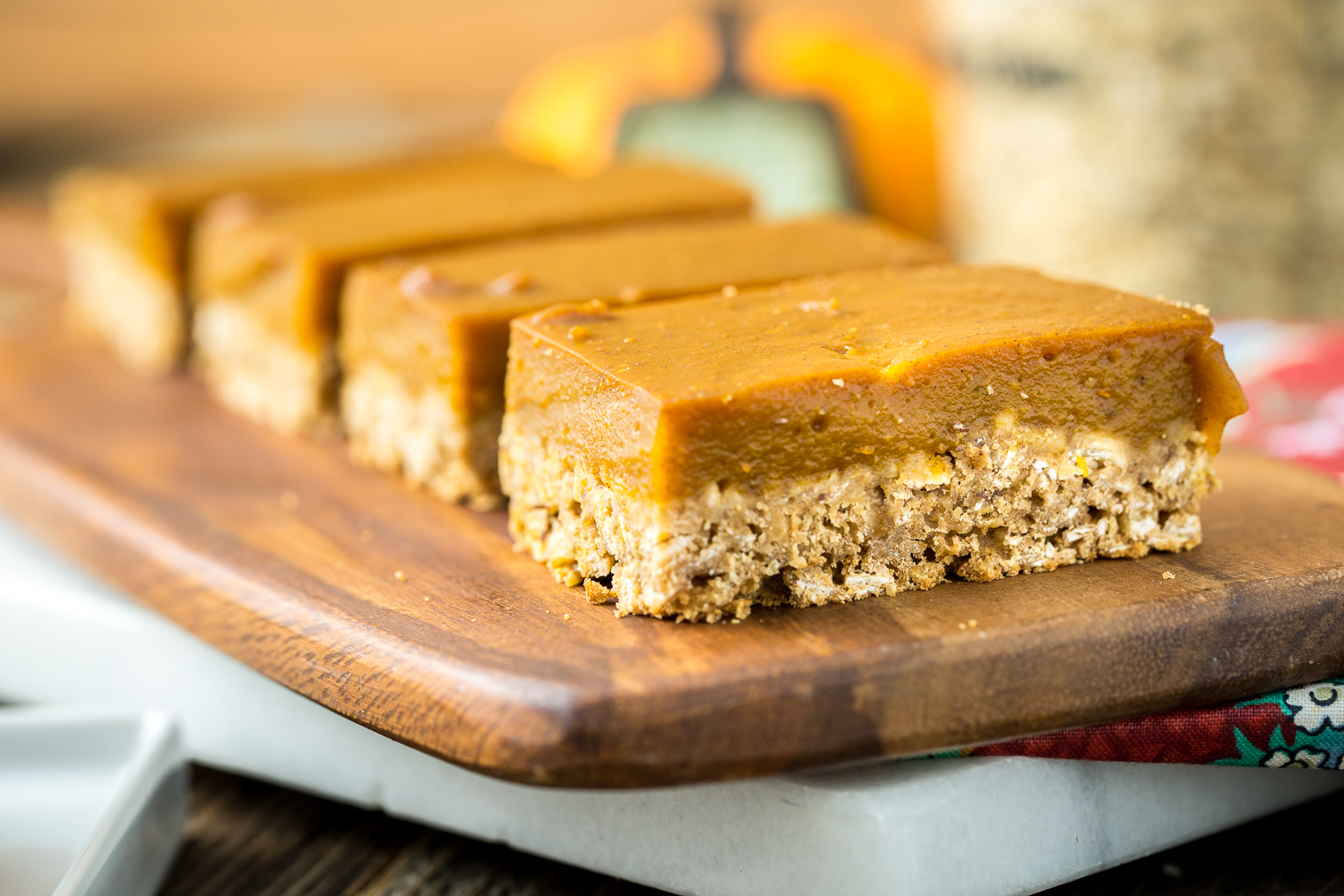 The best scenario would be to bring these oatmeal pumpkin pie bars to Thanksgiving along with a vegan pumpkin pie. This way, you can have your slice of pumpkin pie and then have one or two of these guys later on.  No leftovers of pie?  Don't fret- these are small enough that you could stick a few in your pocket and the family would be none the wiser.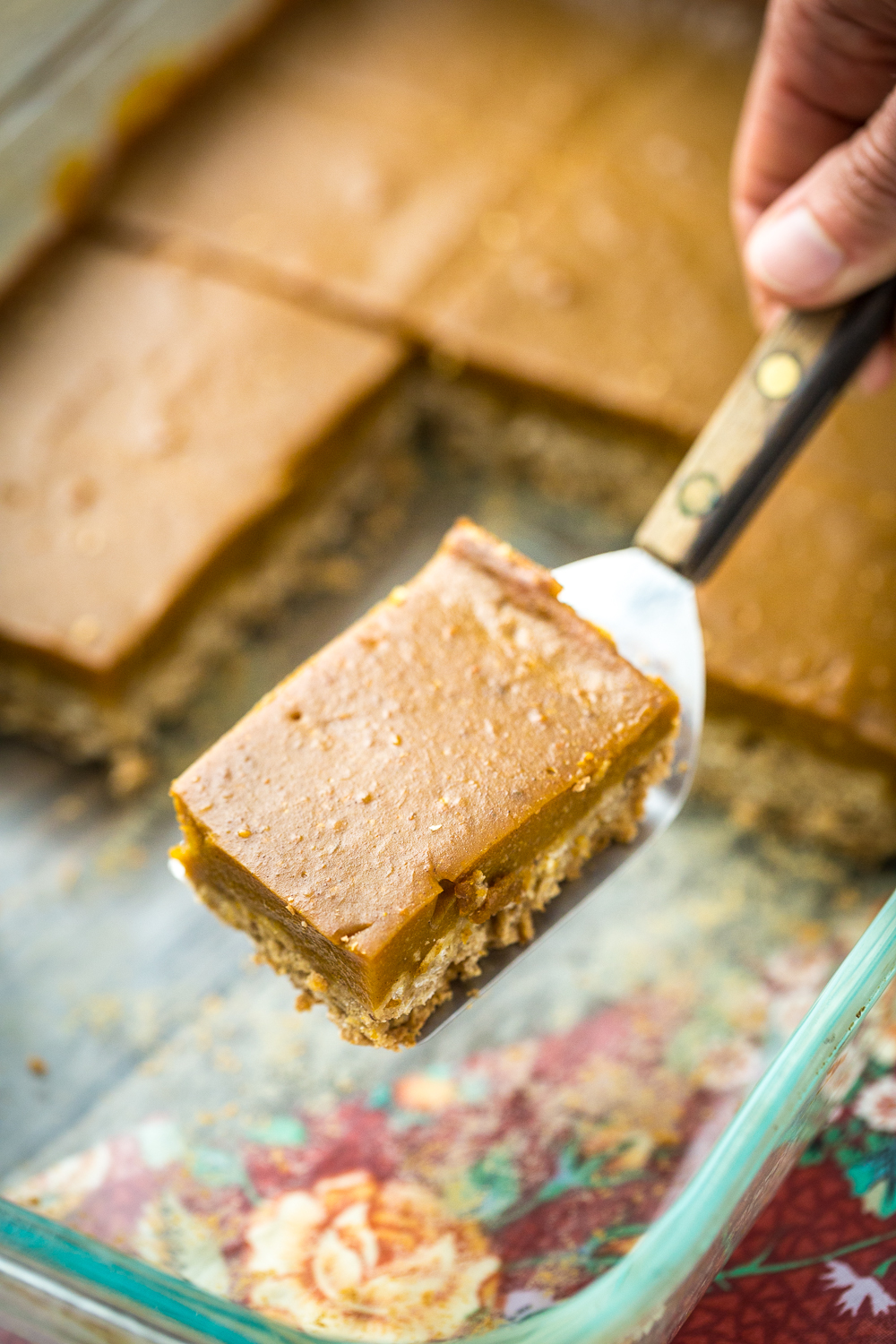 Ingredients
2 cups rolled oats
3/4 cup spelt flour
3/4 cup oat flour
1 teaspoon baking powder
1/2 teaspoon ground cinnamon
1/4 teaspoon ground nutmeg
1/2 teaspoon salt
1/2 cup almond milk
1 tablespoon apple cider vinegar
1/2 cup unsweetened applesauce
1/4 cup melted coconut oil
1/2 cup coconut sugar
2 tablespoons maple syrup
1 tablespoon flaxmeal
1 teaspoon vanilla extract

For the Pumpkin Pie Layer

2 cans of pumpkin puree (or 3 cups of pumpkin puree)
1/3 cup maple syrup
1/3 cup coconut sugar (or brown sugar)
1/4 cup almond milk
1/4 cup arrowroot powder (or cornstarch)
3 teaspoons ground cinnamon
1 teaspoon ground ginger
1 teaspoon ground cloves
1/2 teaspoon ground nutmeg
1 teaspoon vanilla
1/2 teaspoon lemon zest (optional)
Instructions
Preheat oven to 350. Lightly grease a 9x13 baking dish.
In a large bowl, mix together the dry ingredients for the oatmeal base. In a medium bowl, mix together the wet ingredients. Add the wet ingredients to the dry and mix to combine. Spread the mixture out in the bottom of the prepared baking dish.
In a large bowl, thoroughly whisk together the milk and arrowroot powder. Add the rest of the pumpkin pie layer ingredients and mix until fully combined. Spread the layer out on top of the oatmeal base.
Bake in the preheated oven for 35-40 minutes, until the edges have turned golden brown. It's okay if the center is still soft or seems undercooked- it will firm up in the fridge. Let cool on the counter before refrigerating for at least 2 hours. It's even better the next day. Slice, serve and enjoy!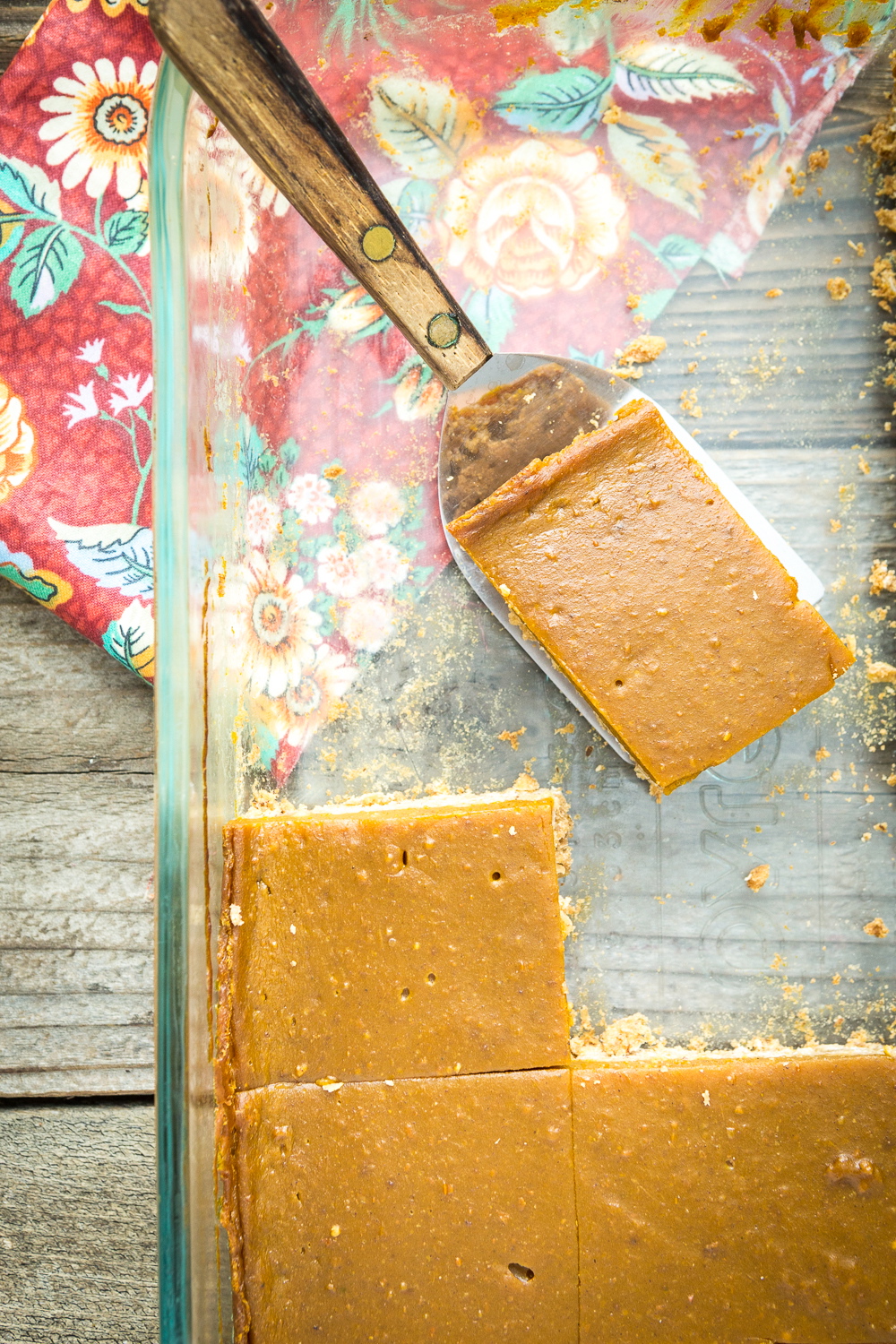 What is your favorite type of pie?
Photography by Chris Miller