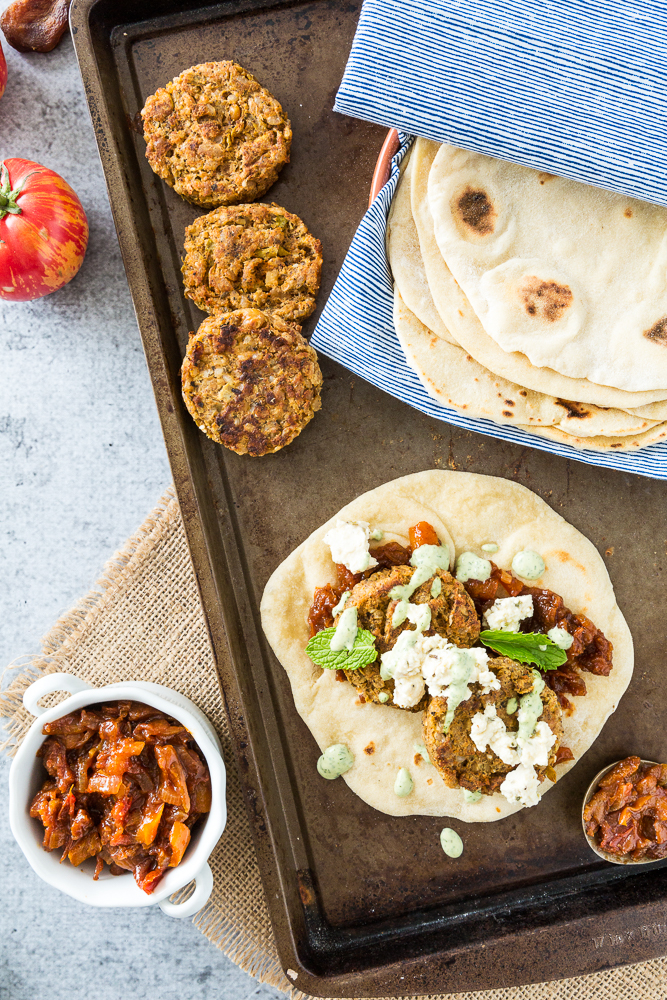 Before I became vegan, I was able to organize all of my spices in a neat row on one of my cabinet shelves.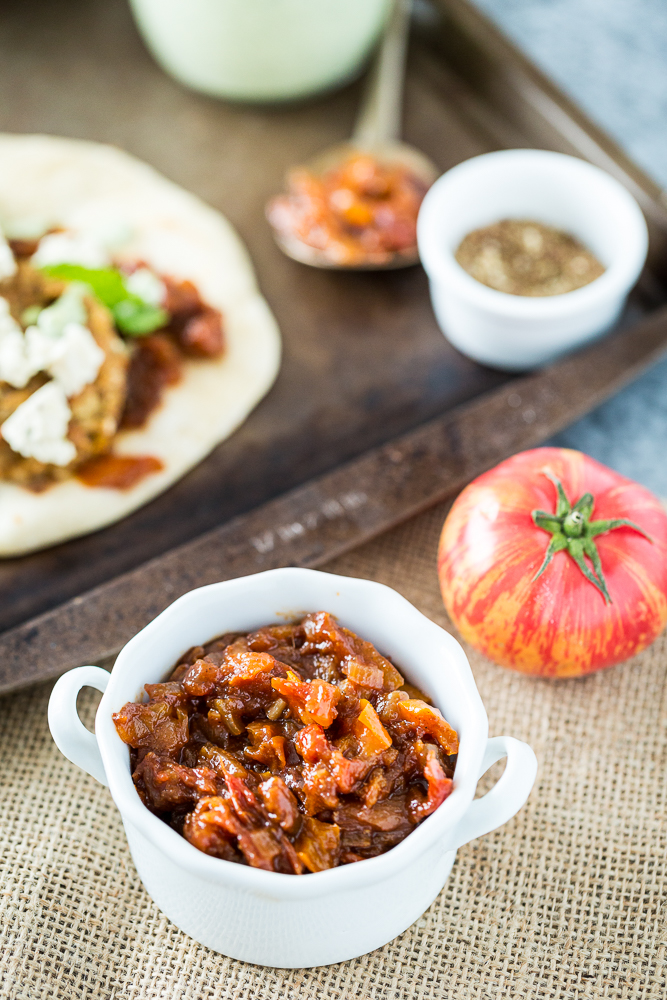 After I became vegan, I became much more open to trying new flavors and much more experimental with the types of ingredients I used. This new, curious "kitchen scientist" side of me led to me needing to transfer all of my herbs and spices to a drawer. And then that kind of overflowed into cute little jars I keep on my counter. And into little bags in my pantry cupboard. It's a mess, but it's my (semi-organized) mess.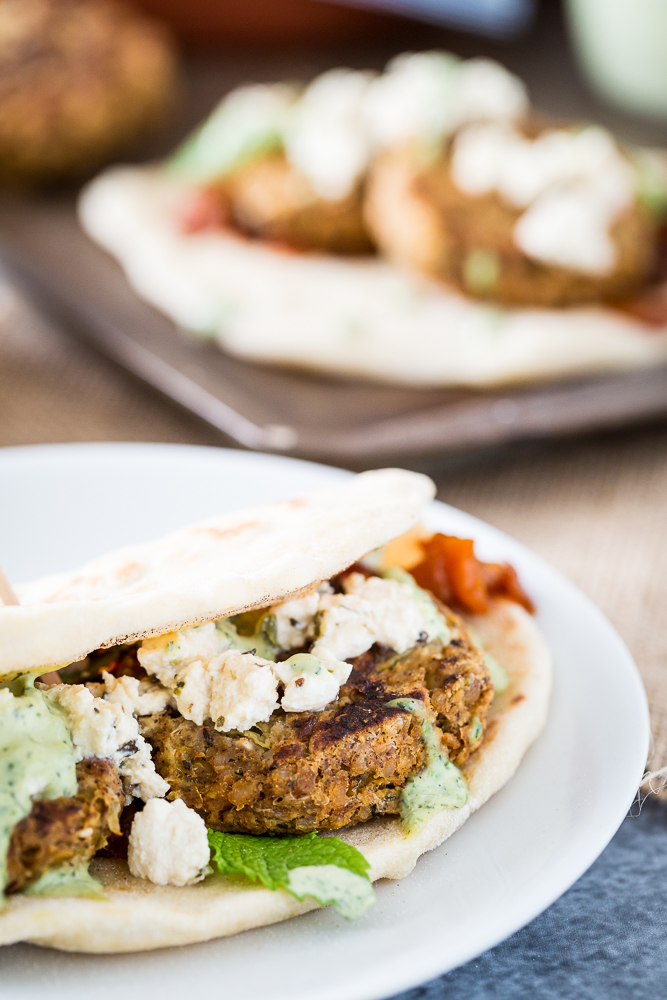 About a month ago, my curiosity led me to purchasing some Za'atar. Part of the draw was that it started with the letter 'Z' (I'm easily entertained) but it was mostly because I'd been hearing so much about this spice blend the last couple of years. Za'atar is a middle-eastern seasoning consisting of dried thyme, marjoram, savory, sumac, and toasted sesame seeds (some blends also include salt). I've been trying a little here and little there but a recent experiment was such a home-run that I had to share it with you.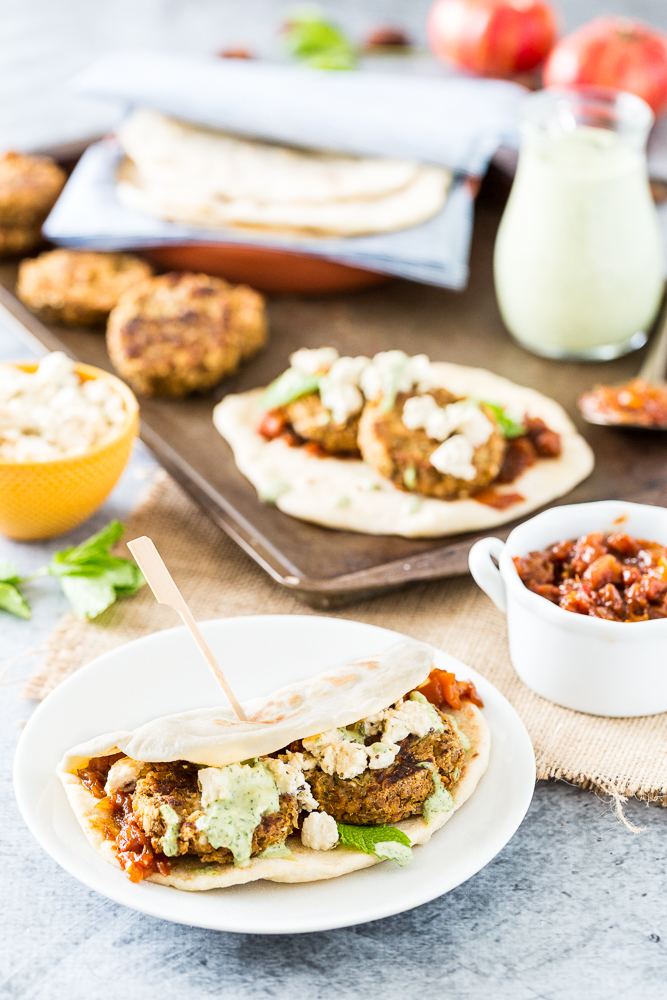 Awhile back, I introduced you to my Filet o' Chickpea Sandwiches. These sandwiches were a huge hit in our house and apparently, by the number of you guys who've made them yourselves, I'd say that they were a hit with my readers as well. Fueled by Za'atar fever, I decided to make Za'atar chickpea burgers, using the recipe for the filets as the foundation. These burgers have a beautiful, layered middle-eastern flavor (think: sophisticated falafel) and were also a huge hit over here.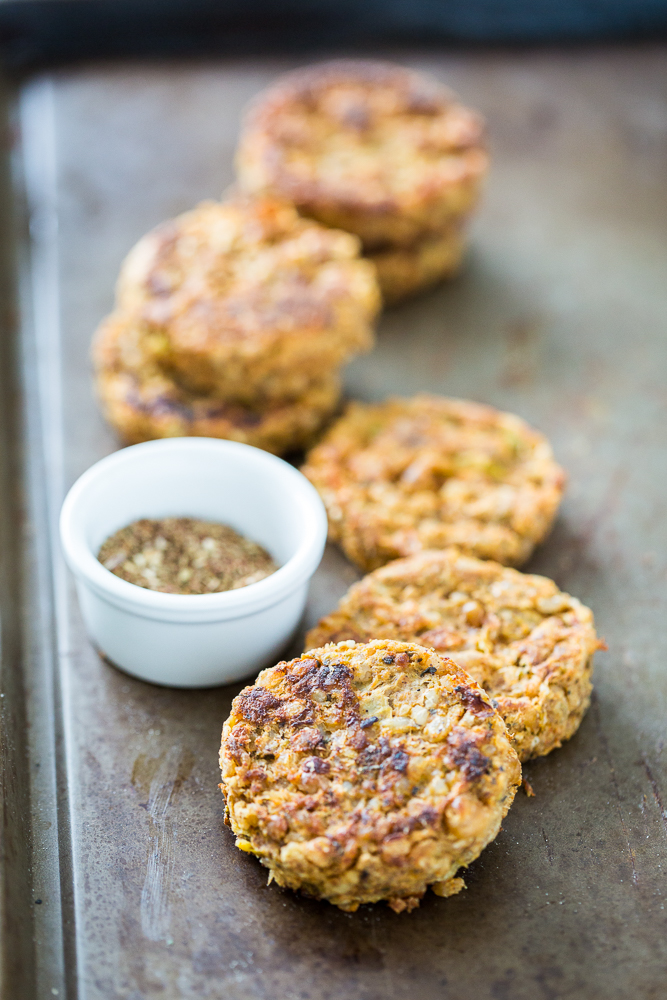 These little middle-eastern burgers weren't going to do with the traditional burger fixings. No ketchup, lettuce, cheese, and a bun for these guys. First, they needed a delectable spread to go with them- something tangy and slightly sweet. That's where this incredible heirloom tomato and apricot chutney comes in. Heirloom tomatoes, dried apricots, bell pepper, and sweet onion are simmered with coconut sugar and apple cider vinegar until they form a thick, chunky, vibrantly-flavored chutney that pairs beautifully with these burgers. I have to admit, though, I consumed several pieces of flatbread slathered only with this fantastic spread. When I ran out, I actually used a spoon to clear every last drop from the jar before washing it. Once you start with this chutney, you can't stop.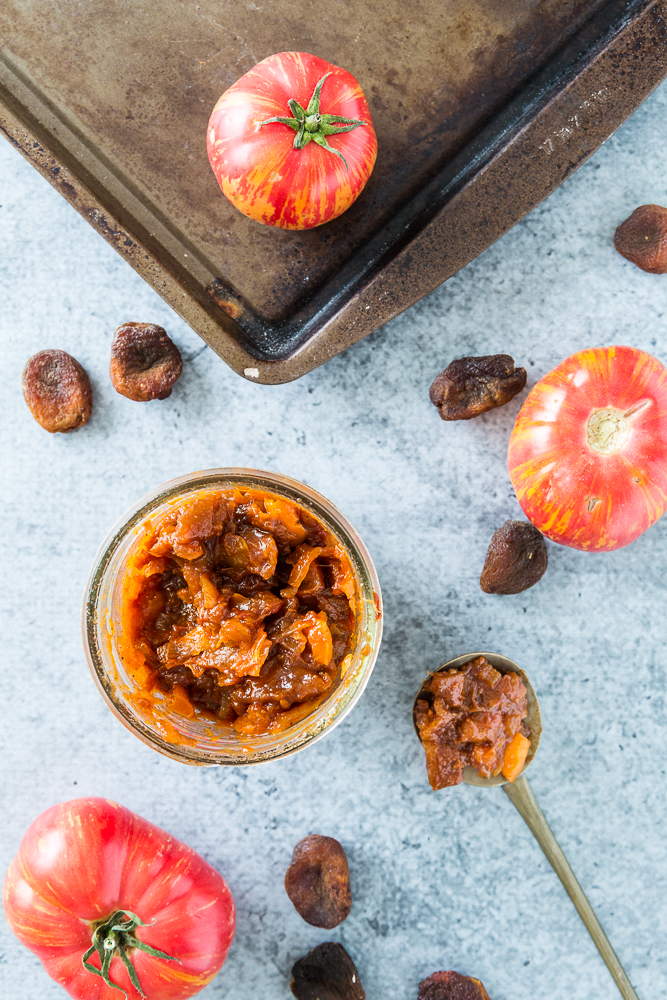 Traditional burger buns would work for these burgers, but they wouldn't do them justice. That's why wrapping little slider-sized patties in easy, homemade, yeast-free flatbread are a must. And because burgers are almost always better with cheese, tofu feta is also a must. A drizzle of a simple tahini herb dressing ties this sandwich together, turning it into a handheld middle-eastern/mediterranean/moroccan flavor bomb.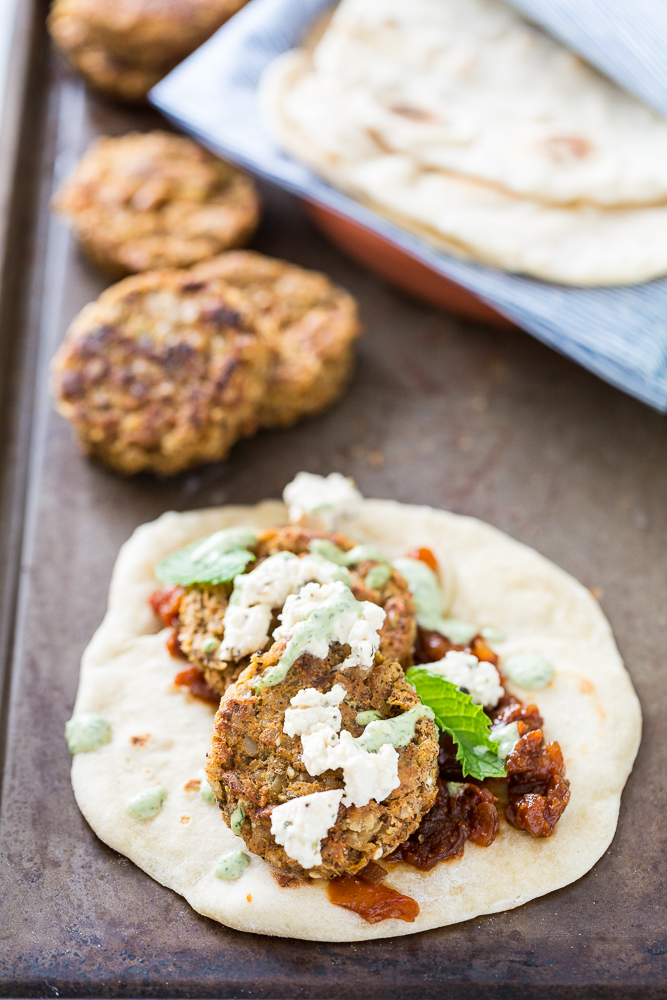 If you haven't added Za'atar to your spice rack yet, I suggest you get on it. You're going to be making these za'atar chickpea burgers a lot!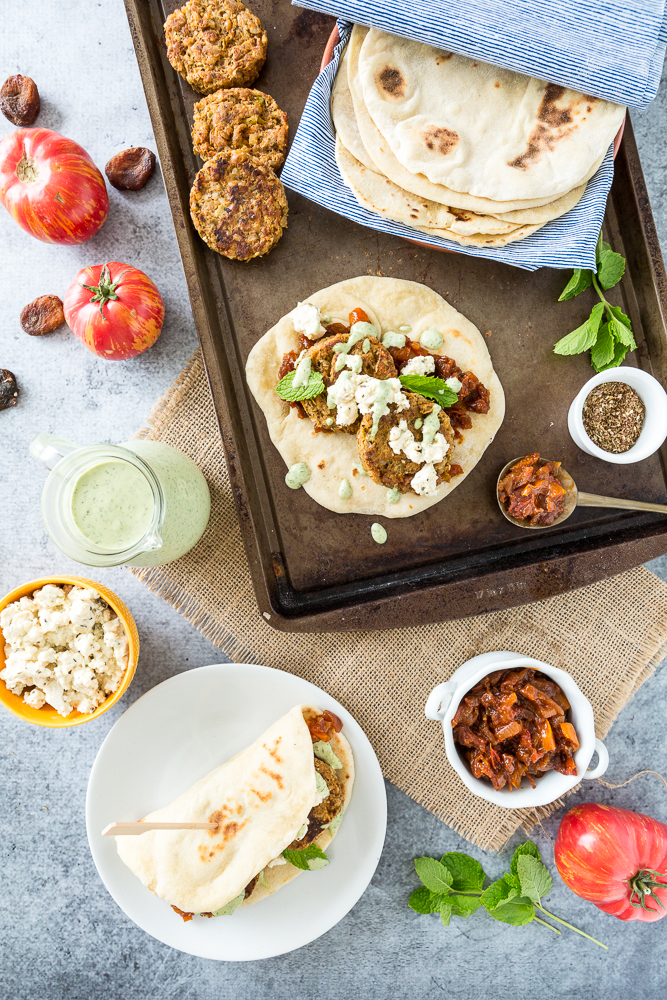 Za'atar Chickpea Burgers with Heirloom Tomato & Apricot Chutney
Ingredients
heirloom tomato & apricot chutney

2 cups chopped, seeded heirloom tomato
1 cup chopped sweet onion
1 red or orange bell pepper, diced
1 cup chopped dried unsweetened apricots
1 cup apple cider vinegar
1/3 cup coconut sugar (or vegan brown sugar)
1 teaspoon ground cumin
1 teaspoon ground coriander
1 teaspoon smoked paprika
1/2 teaspoon ground ginger
1/2 teaspoon ground allspice
a few dashes of cayenne pepper
2 tablespoons fresh lemon juice
salt to taste
1 1/2 cups cooked chickpeas (or one 15-ounce can, rinsed and drained)
1 tablespoon liquid aminos
one 15-ounce can artichoke hearts (about 8 hearts), rinsed and drained.
1 cup cooked brown rice
1/4 cup + 1 tablespoon chickpea flour
1 tablespoon Za'atar spice blend
1 teaspoon smoked paprika
1/2 teaspoon garlic powder
salt and pepper to taste
vegetable oil for pan-frying
flatbread or burger buns (use gluten-free if necessary)
tahini herb dressing (possibly subbing fresh mint for some or all of the parsley)
fresh mint for garnish, optional
Instructions
heirloom tomato & apricot chutney

Combine the tomatoes, onion, bell pepper, apricots, apple cider vinegar, coconut sugar, cumin, coriander, smoked paprika, ginger, allspice, and cayenne in a medium pot. Bring to a boil and then reduce to a simmer. Let it simmer for 30 minutes, stirring a few times, or until thick and chunky. Add the lemon juice and salt and remove from the heat. Let cool completely before transferring to an airtight container and storing in the refrigerator. Let it chill for 1 hour before using to allow the flavors to marry. You can make this a week in advance and it should keep for 7 to 10 days.
Heat a large frying pan, preferably cast iron, over medium heat. Add the chickpeas and cook for a couple of minutes. Add the liquid aminos and cook, stirring occasionally, for 5 to 7 minutes or until the liquid has been absorbed. Remove from the heat. Use a fork or a pastry cutter to gently mash the chickpeas. You only have to mash them a little bit- you still want them a little chunky.
Place the artichoke hearts in a food processor and pulse 5 to 7 times until the artichokes are broken down into little pieces (but not mushy).
Combine the chickpeas, artichokes, rice, and chickpea flour in a large bowl. Use your hands to mash and squeeze the mixture until it is fully combined and will hold together when you squeeze it. If it doesn't hold together, add more chickpea flour by the tablespoon until it holds. Add the spices and mix until combined.
Preheat the oven to 350. Line a baking sheet with parchment paper. Divide the mixture into 6 portions to make 6 normal sized burger patties, or 12 portions to make slider-sized burger patties. Shape each portion into a patty shape and place on the prepared sheet.
Heat a large frying pan over medium heat. Add oil until the bottom of the pan is thinly coated. Once the oil begins to shimmer, place 2 to 4 patties in the pan (or as many as can fit without being squished together). Let them cook for 3 to 4 minutes (flipping once halfway through) or until both sides are golden. Remove the filets from the pan and transfer back to the baking sheet. Once all of the patties have been cooked, transfer the sheet to the oven and let them cook for 10 minutes. Remove from the oven once firm.
If using flatbread, spread 2 to 3 spoonfuls of chutney on each flatbread. Top with a couple slider patties. Be sure to place your patties more to one side of the flatbread so that you can fold the other half over them. You can also chop the patties in half and place about 3 halves on each flatbread (this will give you 8 total sandwiches, rather than 6). Top with feta and tahini herb dressing. Garnish with mint if desired. Fold the flatbread closed.
If using burger buns, spread 2 to 3 spoonfuls of chutney on the bottom half of each bun. Top with a patty. Sprinkle tofu feta on top of the patty. Spread tahini dressing on the top halves of the buns and place the tops on top of the sandwich.
Serve immediately and enjoy!
Notes
If you are serving this dish with other side dishes, 1 sandwich per person (serving 6 to 8 people) will suffice. If you are only serving these sandwiches, you may consider giving each person 2 (serving only 3 to 4).
If you want to skip the frying portion, you can put the patties straight into the oven and bake them for about 20 minutes or until firm, flipping once halfway through to ensure even cooking.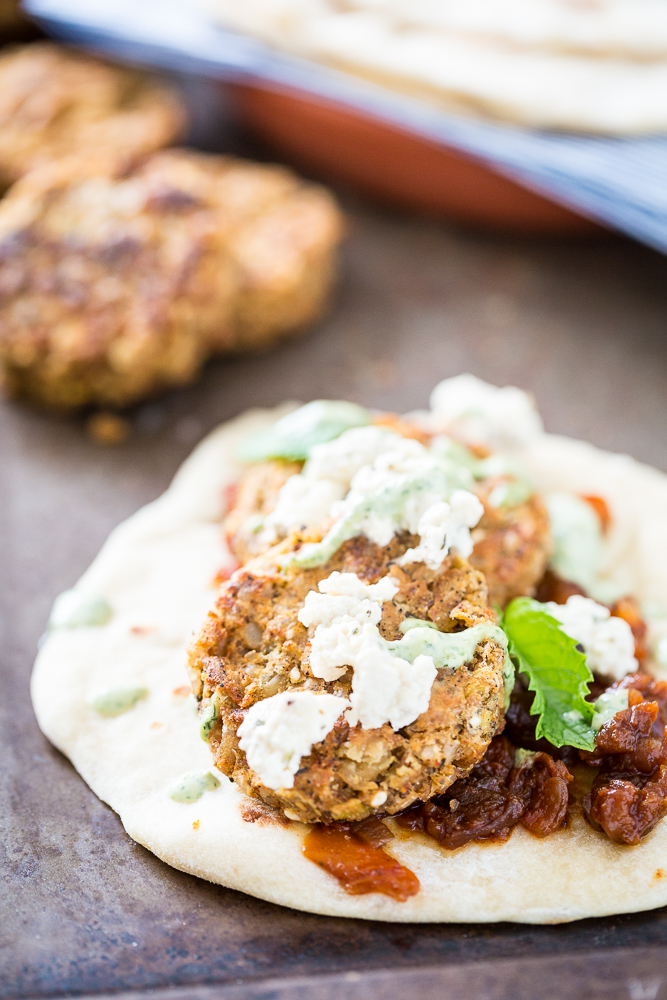 What herb or spice can you not live without?
Photography by Chris Miller