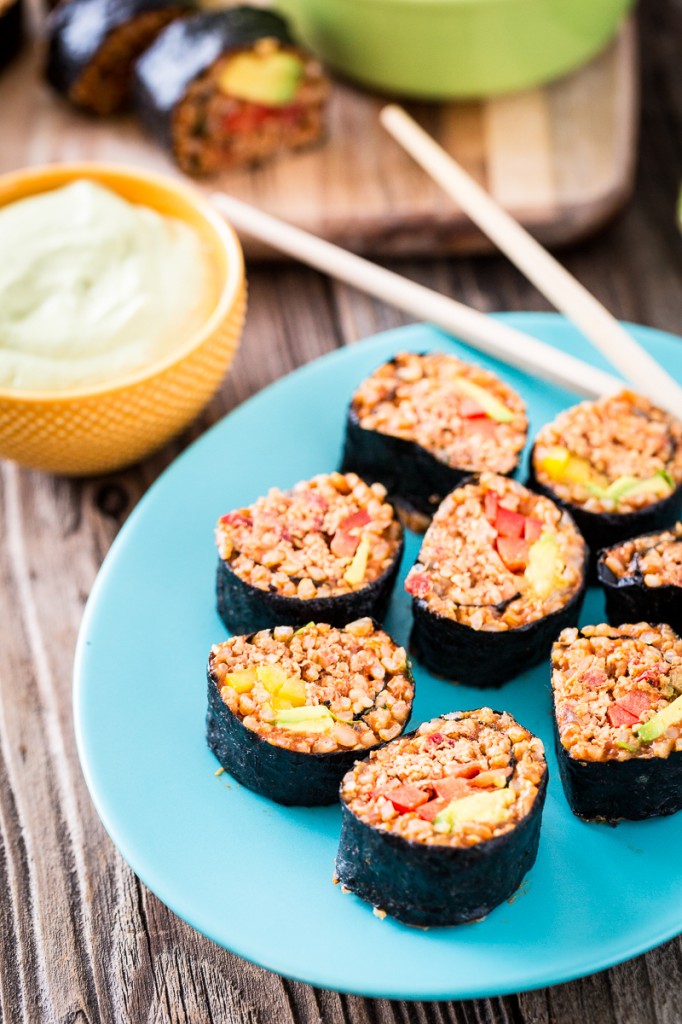 Before we discuss this wonderful Mexican Sushi, I'm going to tell you the tale of a wine-tasting trip gone totally awry.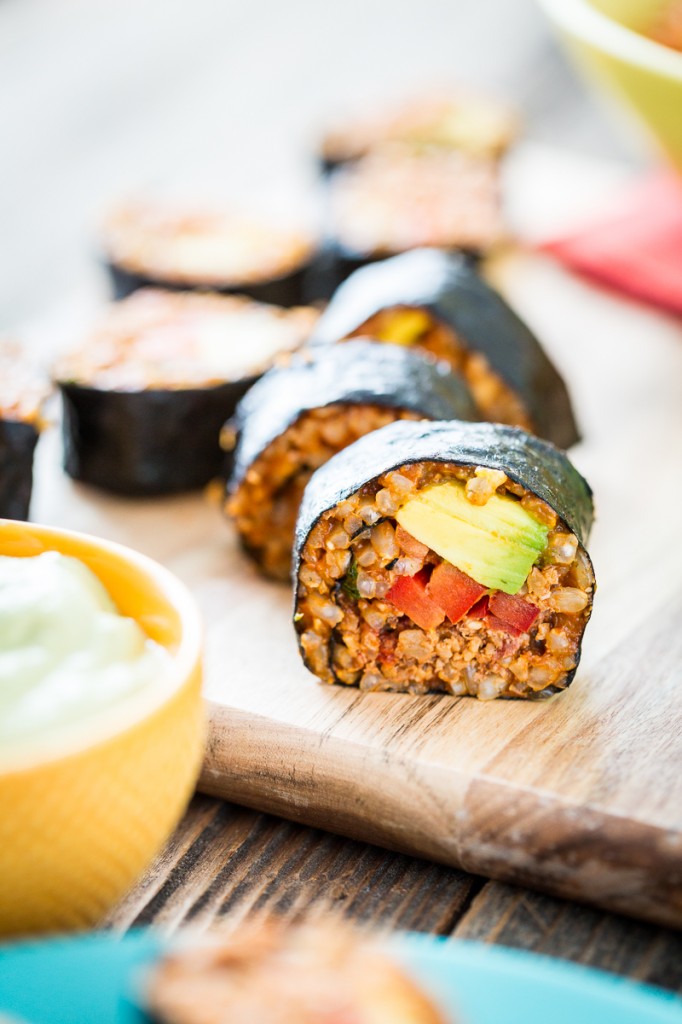 After I split up from my first husband, I not only had to throw myself back into the dating pool, I also had to find a posse of single lady friends to hang out with (at that point, I had zero single girlfriends). Through a not-single friend of mine, I was introduced to another single lady, new to the bay area. We'll call this chick Regina. Regina and I made an effort to do fabulous single lady hanging-out type stuff a few times, but these efforts never felt all that fabulous. Though I didn't want to admit it to myself at the time because I so yearned for the friendship, it always felt a little forced and if I'm really being honest, the only thing we had in common was the fact that we both really liked wine.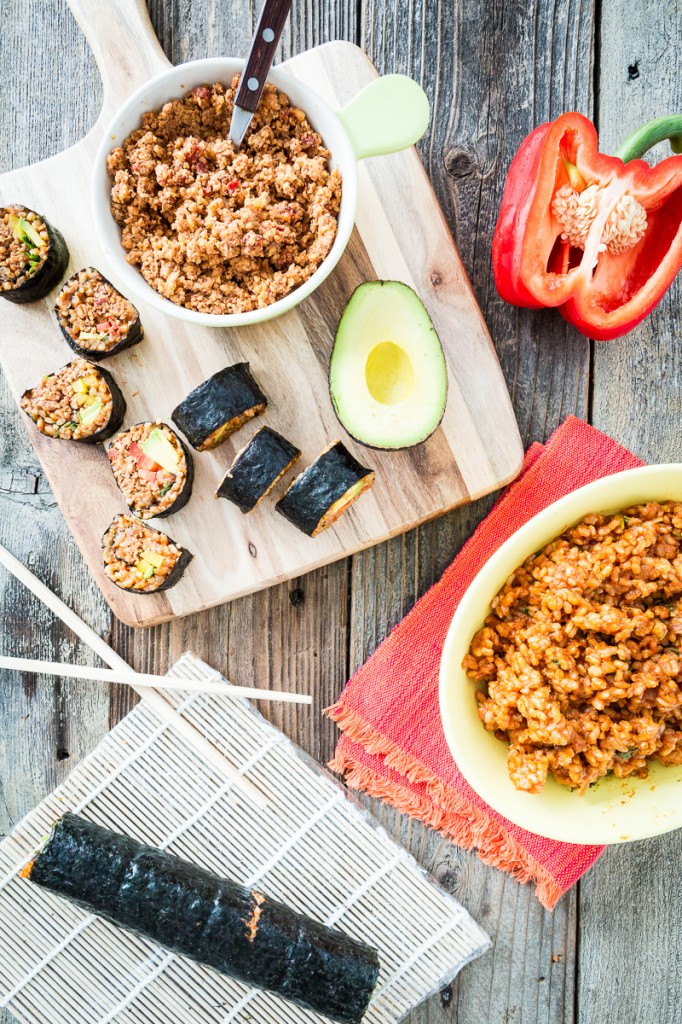 One time, we decided to go wine-tasting. We could only do a day trip because I had plans the following day and Regina agreed to drive because she knew where the best wineries were. She was also comfortable with tasting and spitting (Instead of drinking all the wine) which is something I couldn't trust myself to remember to do. So off we went. The drive out was a little stiff and quiet but after we got to the first winery, things began to brighten up. At our second winery, I locked eyes with a handsome man across the room who later approached me and after some very flirty banter, we exchanged numbers before he left with his friend. He immediately texted me and told me he wanted to see me again and for a newly single girl, this put me over the moon. I was giddy for the rest of the afternoon. We went to another winery and then another. By the time we got to the fourth and last winery, I had a date set up for the next night with Handsome Winery Dude and was pretty buzzed both on excitement and alcohol. I don't remember much about the last winery except that there was an outdoor stone pizza oven, really good pizza, and more really good wine. While Regina was chatting up and/or flirting with one of the winery workers, I remember dancing barefoot with some little kids (I'm guessing the winery owner's? Because who lets kids in a winery?) to some oldies music, enjoying the feel of the cool rustic tile beneath my feet, feeling like all was right in the world.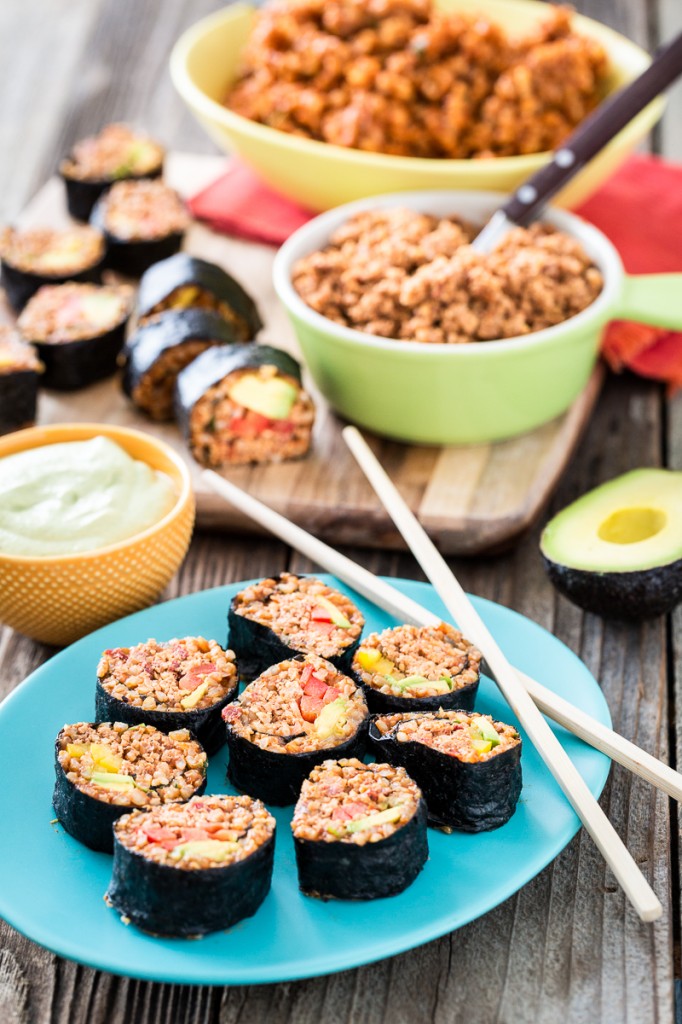 At about 8:30 pm, we piled into Regina's car and headed home. She informed me that a few friends of hers from work were at The Saddle Rack in Fremont, which was about 30 minutes past my house (and about 2.5 hours from where we were). She asked me if I wanted to go. This should've been a red flag because I Don't Do Country Music, like, at all. I asked her to please drop me off on her way out because I was really sleepy. And I was! I was having a hard time keeping my eyes open during the conversation. She said something about how it was going to be out of the way to take me home because she could just take this one freeway instead of having to take one freeway to my house and then get on another to go to Fremont but I was falling asleep. I know I muttered that I needed to get up early and that I wanted to go home before I drifted off.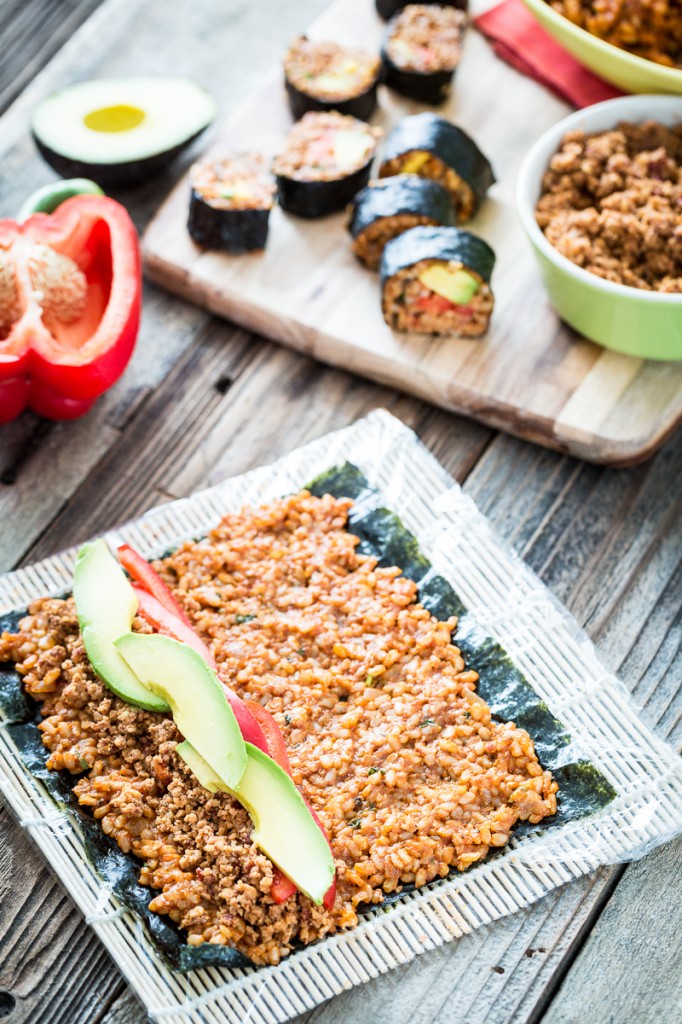 When I woke up, there was a bright light shining in my eyes. I raised my hand to block the light from my eyes and tried to figure out through squinted eyes where the hell I was. Once my eyes adjusted, I realized I was in Regina's car. The seat was fully reclined and the windows were slightly fogged. I immediately sat up, thinking we'd been in an accident, but no. The car was parked. In a parking lot. A well-lit parking lot. At The Saddle Rack. The sound of country music drifted faintly from the building. And I was alone. I checked my phone for the time and it was 1 am. I expected to see a text from Regina saying something like "Just stopped in. We'll leave soon" or something to that effect. But no. There was nothing. Needless to say, I was furious. For awhile I contemplated getting out of the car and going in to find her but then what? Pay the cover just to go in and find her? Drag her by the ear and make her drive me home? So I sat and stewed in my anger until she came back to the car. An hour later.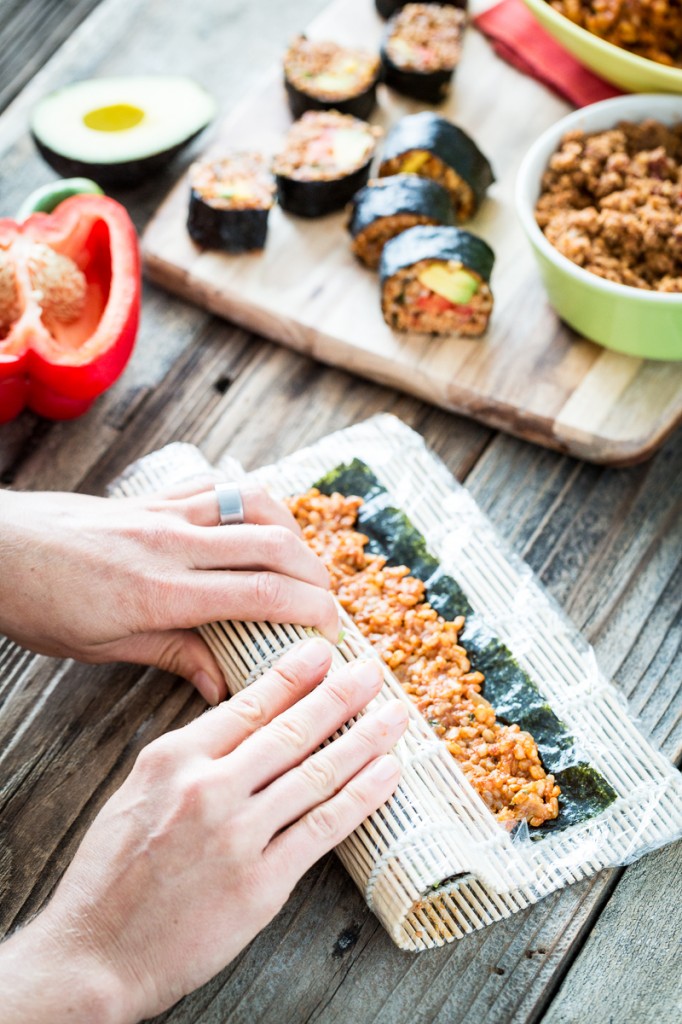 It's odd, but I don't remember the drive back home. I can't remember if I told her how angry I was at her or if I just sat there quietly. I do know that when she did pull up to my house, I muttered "Thanks a lot" and slammed the door. I never saw Regina again. Good riddance. I found other, much more fabulous, single lady friends (who had been right there the whole time) that I didn't need to be drunk to have fun with.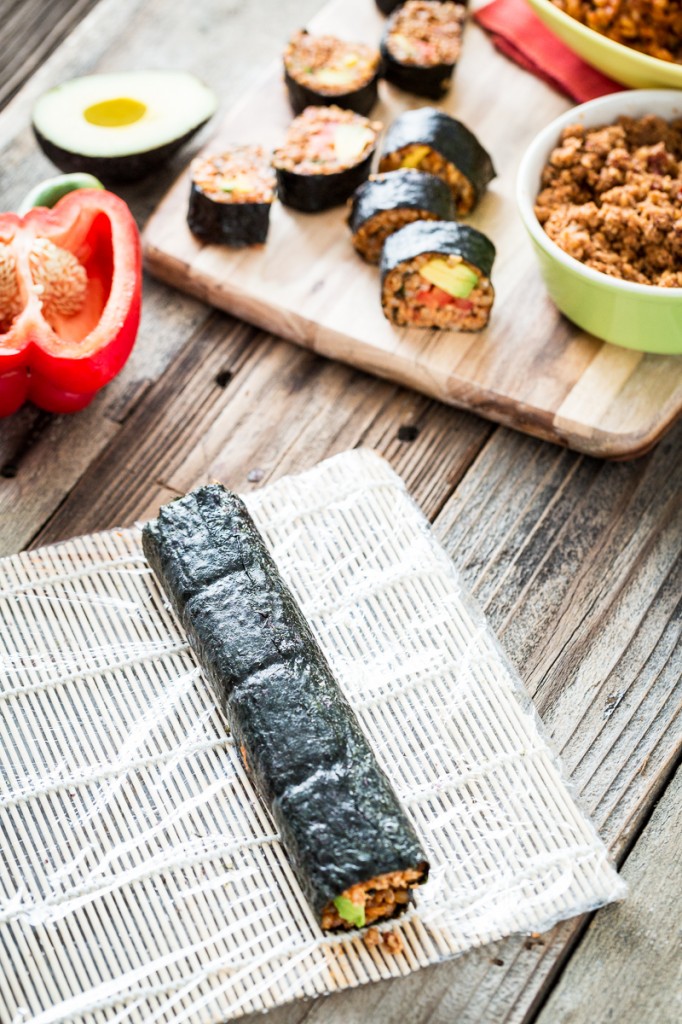 Looking back, I should've seen this coming. It's not like Regina had announced that she had a habit of kidnapping people while they were asleep and leaving them in parked cars at bars, but there had been other warnings. One of the first times I hung out with Regina we met up for dinner. She suggested sushi. I told her I didn't care for sushi and that since I was vegetarian, fishless sushi was hard to come by (Keep in mind that this was the bay area almost 10 years ago- plant-based sushi wasn't really a thing yet). I suggested Mexican food because really, who doesn't like Mexican food? But Regina stood her ground. She wanted sushi and assured me that I would find something I could eat. This is where a couple red flags should've come up:  one for the fact that Regina was persistent in getting her way, and another because she didn't like Mexican food, but I went ahead with it. We met at a sushi restaurant and after perusing the menu, I found one type of sushi roll I could eat. It had cucumber and avocado and was just plain boring. The whole time I was eating my roll, Regina kept saying things like "See, it's not so bad! I knew you'd like it!" and the whole time, I was wishing I was eating a burrito. But we had wine with our sushi, so the evening eventually got better.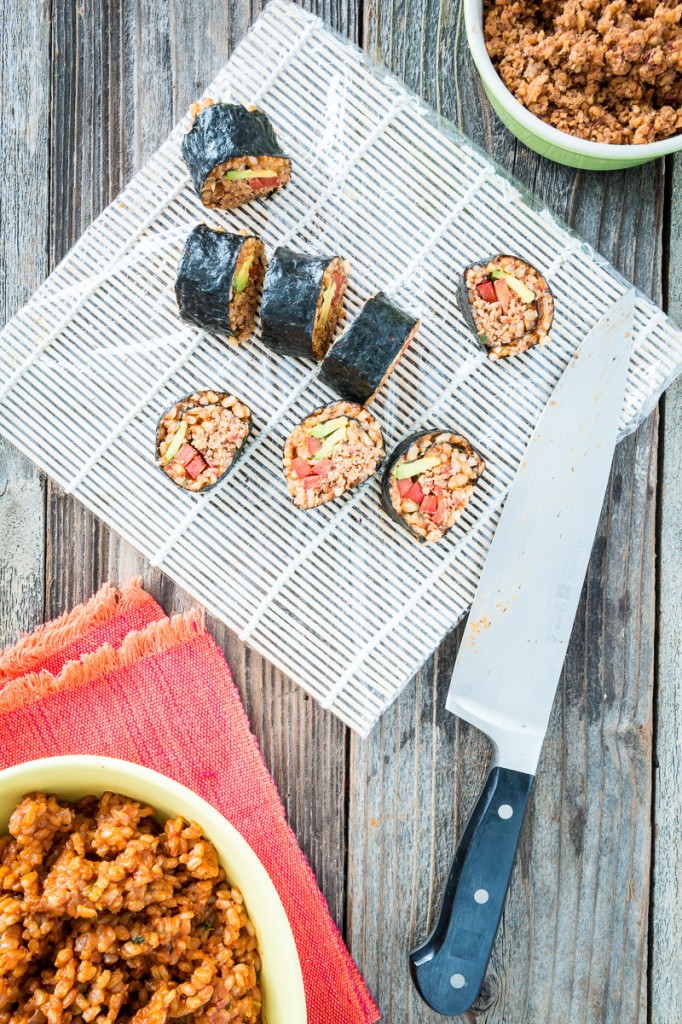 Now what does all of that have to do with this stupidly wonderful Mexican sushi? Not much other than this is the kind of sushi I would've been totally on board with back then. If Regina had said "I know! How about Mexican sushi?!" way back then, maybe I would've been more forgiving with the kidnapping incident. We'll never know. Since becoming vegan, though, I actually really enjoy sushi, especially when it's super creative like these beauties. It's wrapped in nori like regular sushi and it has rice, although it is Spanish rice. It's stuffed with a no-cook walnut taco meat (which could easily be used inside vegan tacos or salads or taco salads) instead of fish, and it also has bell pepper and avocado which can often be found in regular sushi. Instead of dipping it in soy sauce, we dipped it in Cilantro Chile Almond Dip. You eat it with chopsticks, but every bite tastes like a burrito. It's basically the perfect compromise of Mexican food and Sushi. Me from 10 years ago totally approves.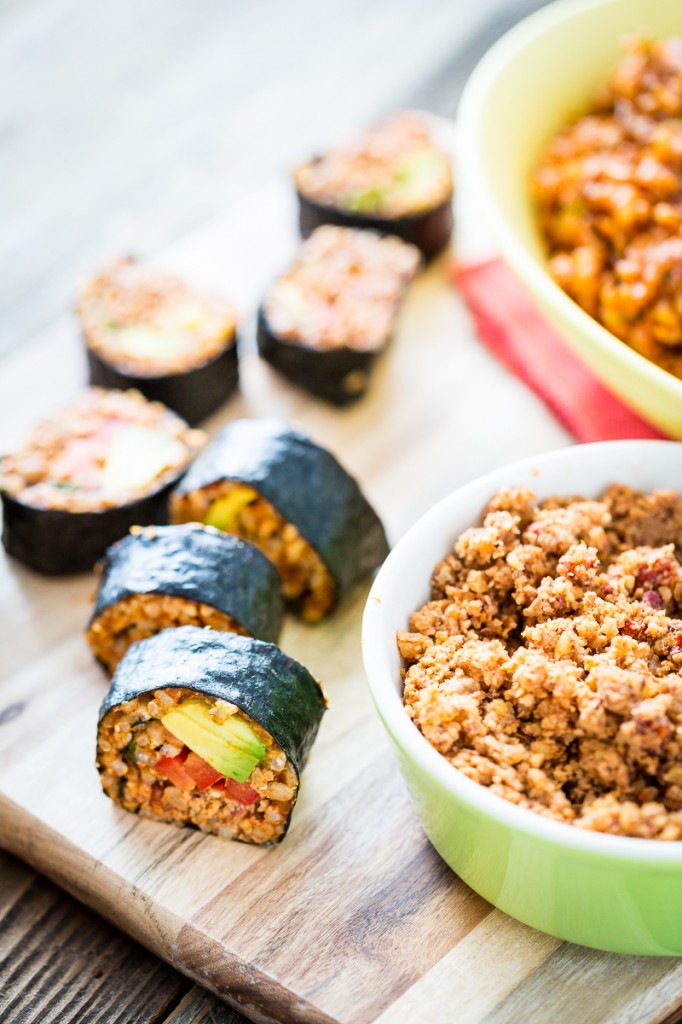 As for the Handsome Winery Dude? We dated for awhile but it fizzled out. Later I found a much Handsomer Furniture Shop Dude and we got married. And when he eats good food he curses and he cursed more while eating this sushi than he has in a long time. And as odd as it sounds, his reaction just puts me over the moon and makes me giddy for days.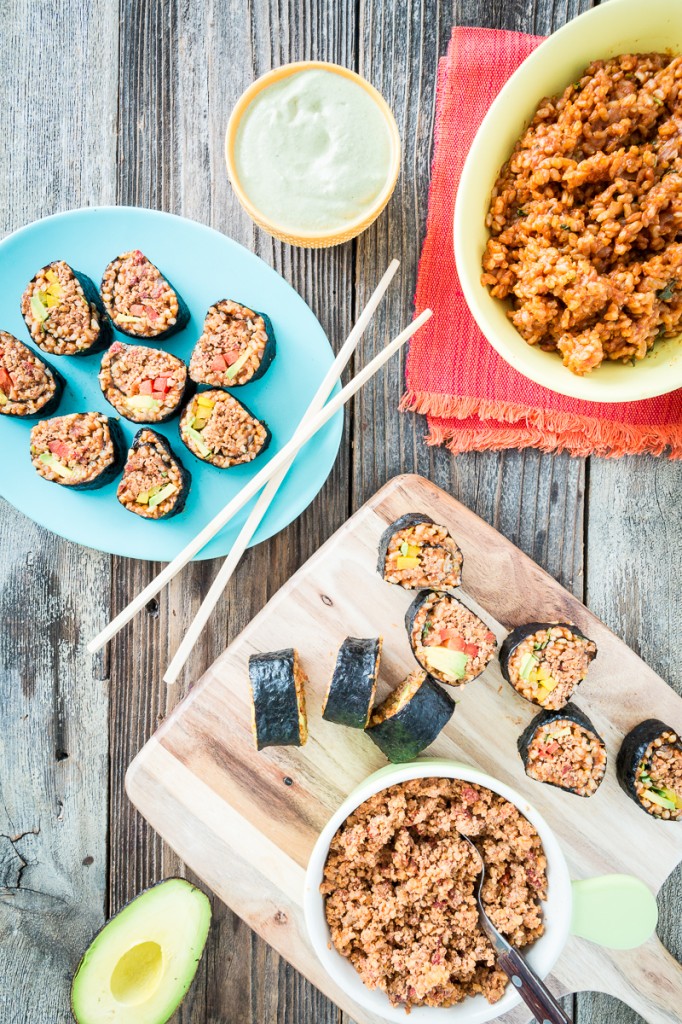 Ingredients
1 tablespoon olive oil
1/2 yellow onion, finely diced
2 cups short-grain brown rice
2 garlic cloves, minced
2 cups vegetable broth
1 cup water
one 14-ounce can of unsalted tomato sauce
2 tablespoons canned green chiles
1 teaspoon ground cumin
2 tablespoons tomato paste
1/2 cup fresh chopped cilantro
2 tablespoons fresh lime juice
salt and pepper to taste
2 cups walnuts
1/4 cup sun-dried tomatoes (if they are hard, rehydrate them in warm water until soft)
2 tablespoons liquid aminos (or tamari/soy sauce)
1 teaspoon ground cumin
1 teaspoon ancho chile powder
1/2 teaspoon smoked paprika
1/2 teaspoon liquid smoke
a few dashes of cayenne pepper
black pepper to taste
6 sheets of nori
1 avocado, pitted and sliced
1 bell pepper, thinly sliced
Instructions
Start the rice first. Heat the olive oil in a large shallow sauce pan over medium heat. Add the onion and saute until translucent. Add the rice and garlic and saute for a couple minutes. Add the broth, water, tomato sauce, green chiles, and cumin and bring to a boil. Once boiling, reduce to a simmer, and cover. Let it simmer, stirring occasionally, until the liquid has been absorbed. If the rice is not yet tender, add another cup of water and let it simmer until absorbed. Once the rice is tender and the liquid has been absorbed, stir in the tomato paste. Add the cilantro, lime juice, salt and pepper. Remove from the heat. Transfer to a bowl and allow it to cool to room temperature.
While the rice is cooling, make the taco meat. Combine all of the walnut taco meat ingredients in a food processer and pulse until broken down into small pieces and it just begins to clump together. You don't want it to get too sticky or clumpy, but it should be at the stage where it just starts to get sticky. Transfer to a bowl and set aside.
Prepare your sushi making station. Wrap a bamboo sushi rolling mat with plastic wrap (while laid out flat). Fill a small bowl with water and set aside. Lay out a sheet of nori paper on the rolling mat so that the longer length of the paper goes from left to right. Scoop about 3/4 cup of spanish rice onto the paper. Wet your fingers in the bowl of water and spread the rice out to cover the paper, leaving a 1/2 inch at the top edge of the paper (the edge furthest from you).
About an inch from the edge closest to you, make a line of taco meat from left to right (you'll use about 1/3 to 1/2 cup of taco meat). On top of that line, lay out a few slices of bell pepper and a few slices of avocado.
Wet the clear edge farthest from you with water. Starting with the edge closest to you, use the rolling mat to roll the sushi, using your fingers to tuck the fillings into the roll as you go. Once completely rolled up, Use the bamboo mat to hold the roll tightly for a couple seconds. Unroll the mat and transfer the roll to a cutting board. Use a very sharp knife (a dull knife will ruin your roll- trust me) to slice the roll in half. Place the two halves side by side and slice them in half. Slice the four halves in half so that you have 8 pieces. Set aside and repeat with the remaining rolls. Leftover ingredients (rice, taco meat) can be refrigerated in airtight containers for up to 5 days. Enjoy!
Notes
3 rolls are the perfect amount to be shared between 2 people if that's all you're serving. If you're serving other dishes, 1 roll per person will suffice. You don't have to make all 6 rolls at once- this recipe can easily provide 2 to 3 meals.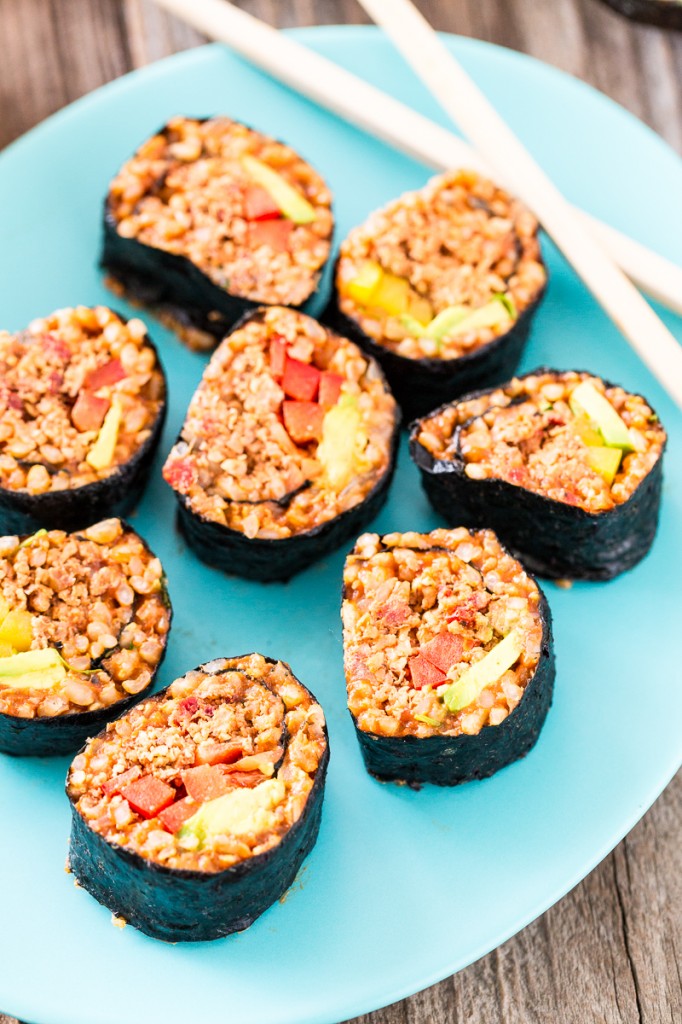 Do you like sushi? What's your favorite type?
 Photography by Handsomer Furniture Shop Dude Chris Miller