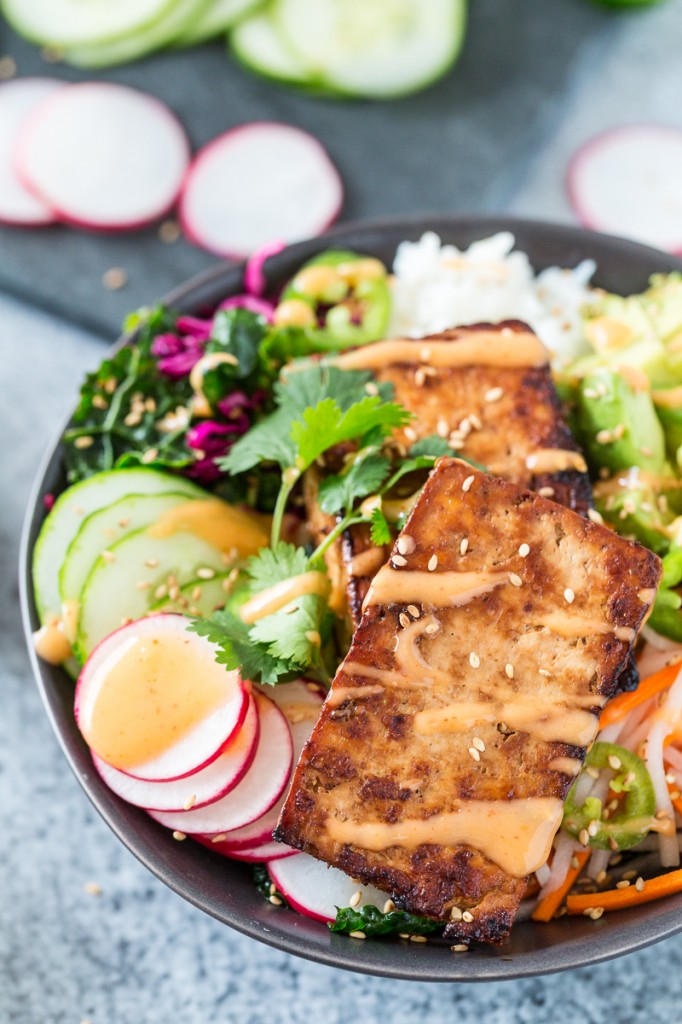 Lately, when it comes to food, I'm all about 3 things: Banh Mi anything and everything (you may remember my banh mi burgers?), sandwiches in bowls (like this Portobello Philly Cheese Steak Bowl), and smoothies in bowls (which you probably have already caught on to if you follow me on Instagram). This post is not about smoothie bowls.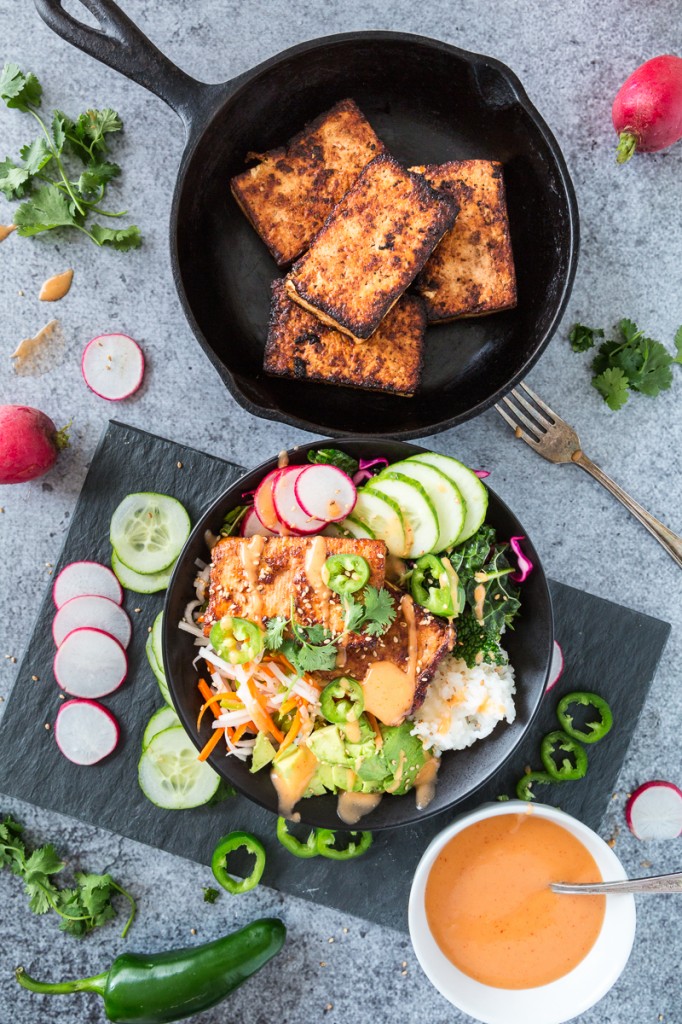 Given my first two obsessions, it was only a matter of time before a Banh Mi Bowl would happen, right?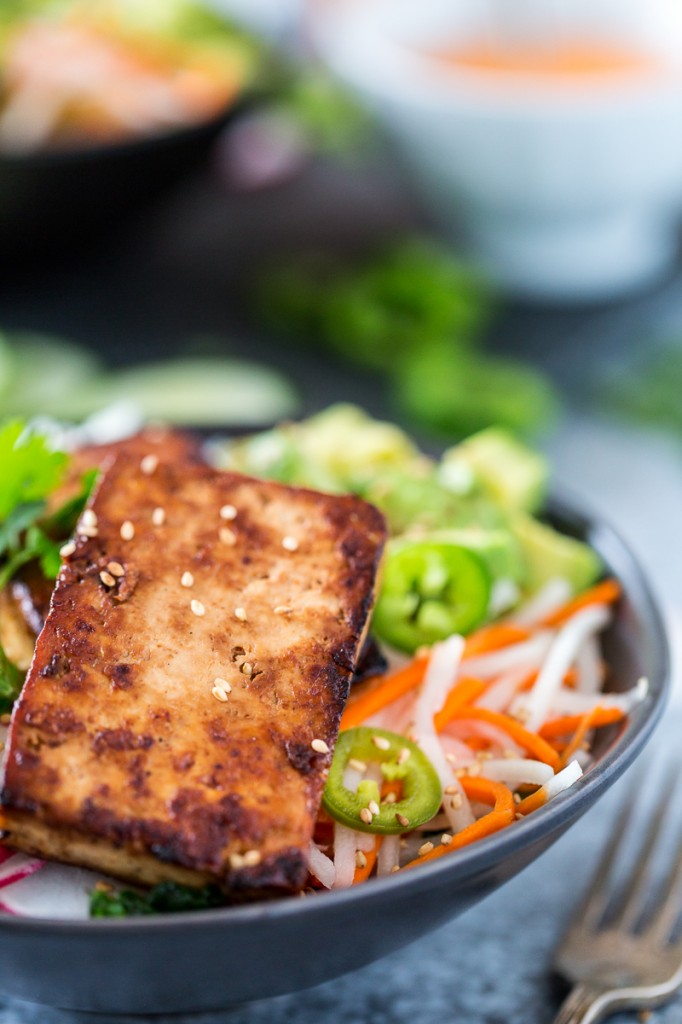 I'm sure you're wondering: Why the weird title? What is so Banh Mi-less about this Banh Mi Bowl? Well, technically speaking, "Banh Mi" simply means baguette or bread in Vietnamese. These baguettes are generally sold stuffed with usually some sort of meat along with pickled veggies so the sandwich itself began to be referred to as a Banh Mi sandwich. As you can see, there is no bread in this bowl. Thus the title.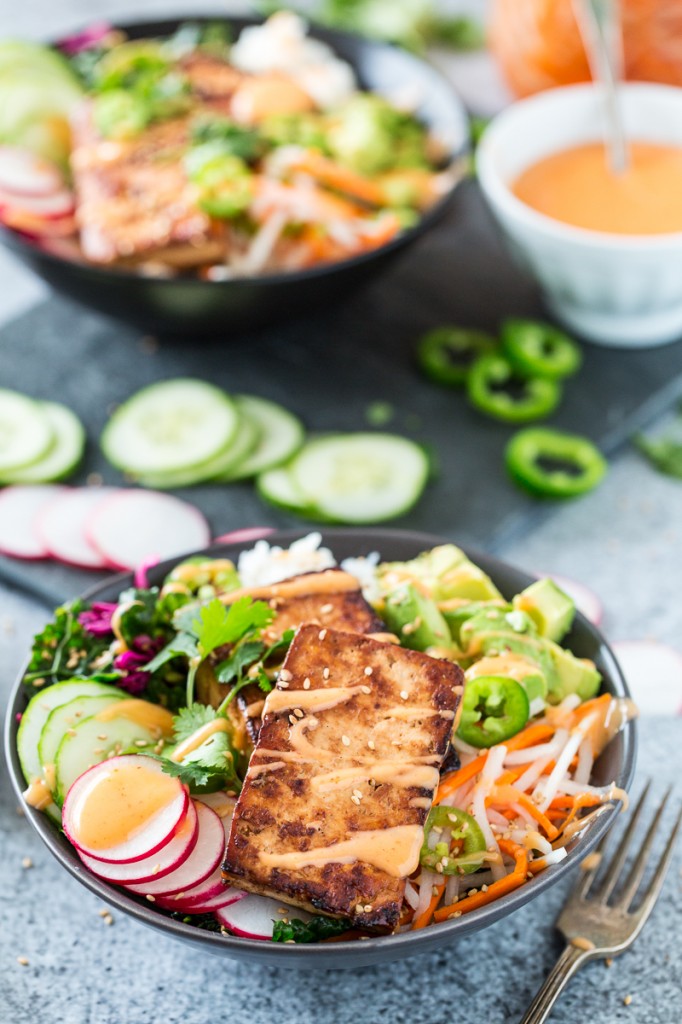 Instead of bread, I opted for a sticky, starchy white sushi rice (though, pretty much any grain could be used). When the vinegar from the pickled jalapeño, carrot & daikon salad seeps into the rice it makes for a pretty magical combination. With cool cucumber and fresh radish slices, creamy avocado, and a massaged kale and red cabbage salad, it makes for the perfect stage for the star of this dish to perform.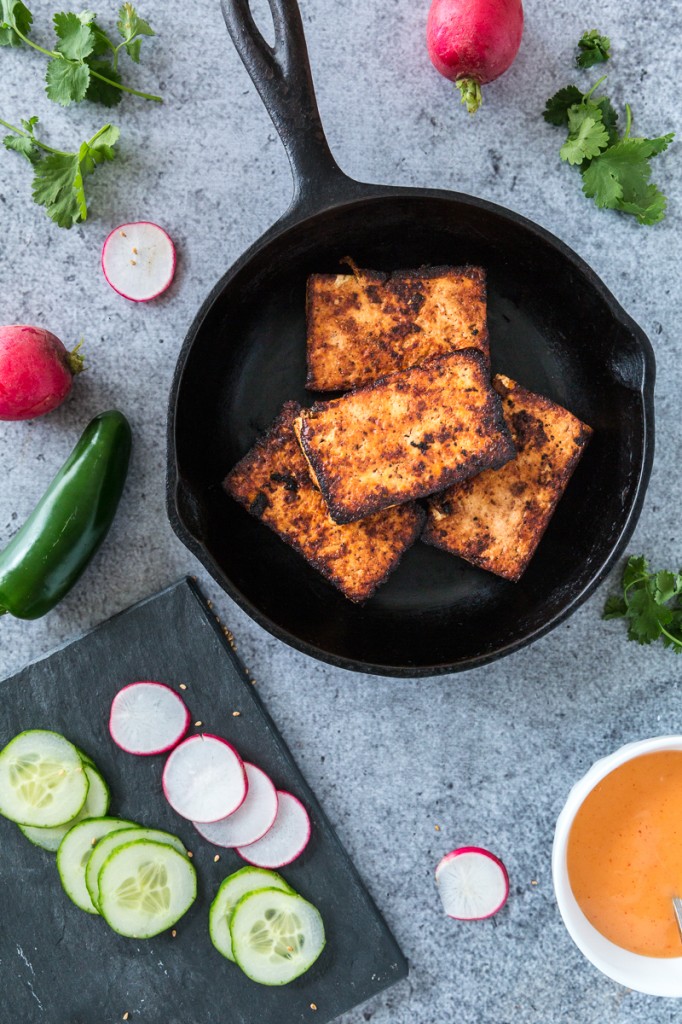 The star I'm referring to is the tofu steaks sitting atop this pile of goodness. Put all images of squishy, watery, bland tofu out of your mind. If you are not a fan of tofu, this is the tofu that will change your mind. Because it's pressed and then marinated for about 15 minutes in a savory lemon tamari sauce, these steaks are very firm but packed with flavor. Being pan-fried in coconut oil gives them a crisp exterior and once their marinade is poured into the pan, the sauce caramelizes, adding another layer of flavor to this tofu.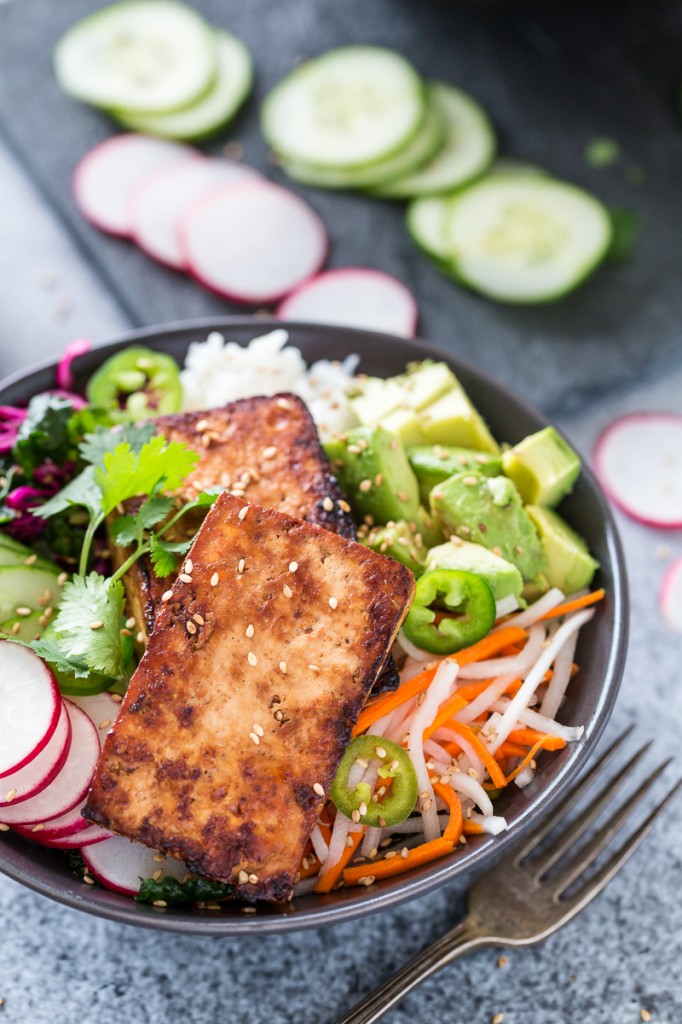 Imagine loading your fork up with this: A bite of this tofu, a chunk of avocado, some pickled jalapeño, carrot & daikon salad, a bit of rice, and a crisp slice of cucumber. Now lightly dab that fully loaded fork in some sriracha aioli before shoveling it into your mouth. The flavor explosion is almost too much to handle. Almost.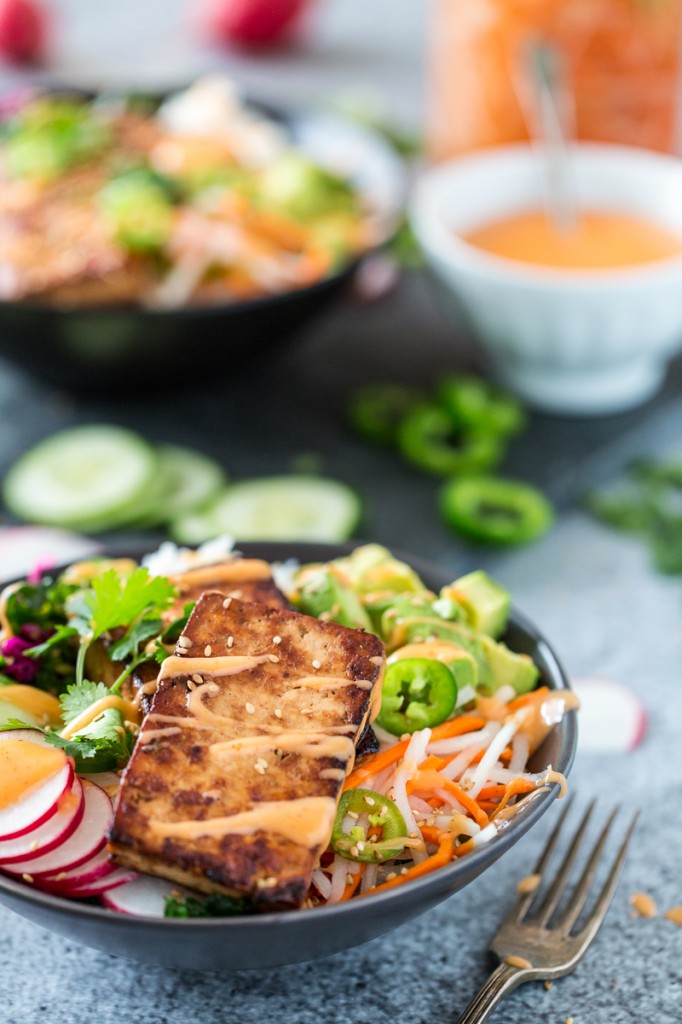 Alright, now is the time to go forth, my fellow sandwich-in-a-bowl-loving friends and banh mi-adoring pals and those of you who have never heard of either- NOW is the time to make this vegan goodness yours!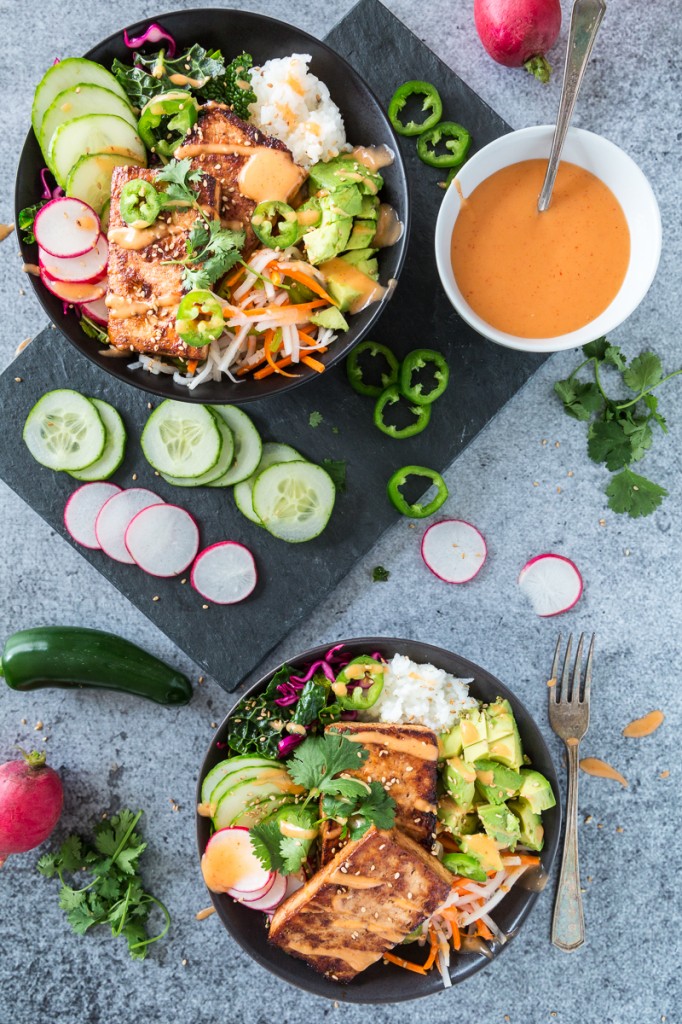 Banh Mi-less Banh Mi Bowl
Ingredients
pickled jalapeño, daikon & carrot salad

should be made at least 1 day in advance

2 cups julienned daikon radish
2 cups julienned carrot
2 small jalapeños, sliced
1 cup water
1/2 cup vinegar
1/2 cup rice vinegar
1/4 cup agave syrup
1/2 teaspoon salt
One 14-ounce block of extra firm tofu, drained, sliced into 4 rectangles (chop the block in half widthwise and then slice each half lengthwise, so you have 4 flat rectangles), and pressed for at least 1 hour
2 tablespoons tamari
1 tablespoon lemon juice
1 teaspoon maple syrup
1 teaspoon sriracha or other hot sauce
1 teaspoon liquid smoke
1/2 teaspoon garlic powder
1 tablespoon coconut oil
2 cups cooked white or brown rice (or other grain)
2 cups chopped kale
1 cup shredded red cabbage (use a mandoline, if you have one)
2 tablespoons fresh lemon juice
1 teaspoon sesame oil
1 cup thinly sliced cucumber
1/2 cup thinly sliced radish
1 avocado, chopped or sliced
fresh, chopped cilantro for garnish (optional)
chopped green onions for garnish (optional)
jalapeno slices for garnish (optional)
sesame seeds for garnish (optional)
sriracha aioli mixed with 1 tablespoon of water and 1 tablespoon of rice vinegar (the added liquid thins it out to a more dressing-like state)
Instructions
pickled jalapeño, carrot & daikon salad

A day prior to serving, make the pickled jalapeño, carrot & daikon salad. Combine the carrot and daikon shreds with the jalapeño slices in a large jar or airtight container. In a large measuring cup, stir together the water, vinegar, rice vinegar, agave syrup, and salt. Pour over the veggies in the container, and cover with lid. Shake the container to fully mix together and then refrigerate for at least 1 day. The salad will keep for two weeks.
Combine the tamari, lemon juice, maple syrup, sriracha, liquid smoke, and garlic powder in a 8x8-inch baking dish. Add the 4 pressed tofu rectangles and place them in the marinade. Flip them to make sure they are fully covered. Let them marinate for 15 to 20 minutes, flipping them once halfway through. While the tofu is marinating, you can prepare your veggies for the bowl (see instruction below under "bowl assembly."
After the tofu has finished marinating, heat the coconut oil in a large frying pan, preferably cast iron, over medium heat. Add the tofu rectangles and let them cook for about 2 to 3 minutes on each side or until each side has a crisp, golden exterior. Drizzle half of the leftover marinade to the pan and let the tofu cook in the sauce for 1 minute or until the liquid has been absorbed. Flip the tofu and repeat with the remaining marinade. Once the liquid has been absorbed, remove the pan from the heat.
While the tofu is marinating, you can chop your veggies (cucumber, radish, kale, red cabbage, avocado) for the bowl. Place the chopped kale in a large bowl. Add the lemon juice and sesame oil and massage the kale for at least 3 minutes or until the kale is tender. Stir in the red cabbage and set aside.
To assemble the bowls, add some of the kale salad to each bowl. Top with cooked rice (or grain of choice). Add pickled salad, cucumber and radish slices, and chopped avocado. Top with two tofu steaks per bowl. Garnish with ingredients of choice (fresh cilantro, chopped green onion, sliced jalapeño, sesame seeds). Serve immediately. Enjoy!
Notes
This recipe is easily doubled. The pickled salad does not need to be doubled- it will provide enough for 4 bowls. The tofu recipe should be doubled and the rice should be doubled. The sriracha aioli will also have to be doubled. The vegetables for the bowl can stay the same but if you want to go heavier on the veggies in each bowl, you can double them up too.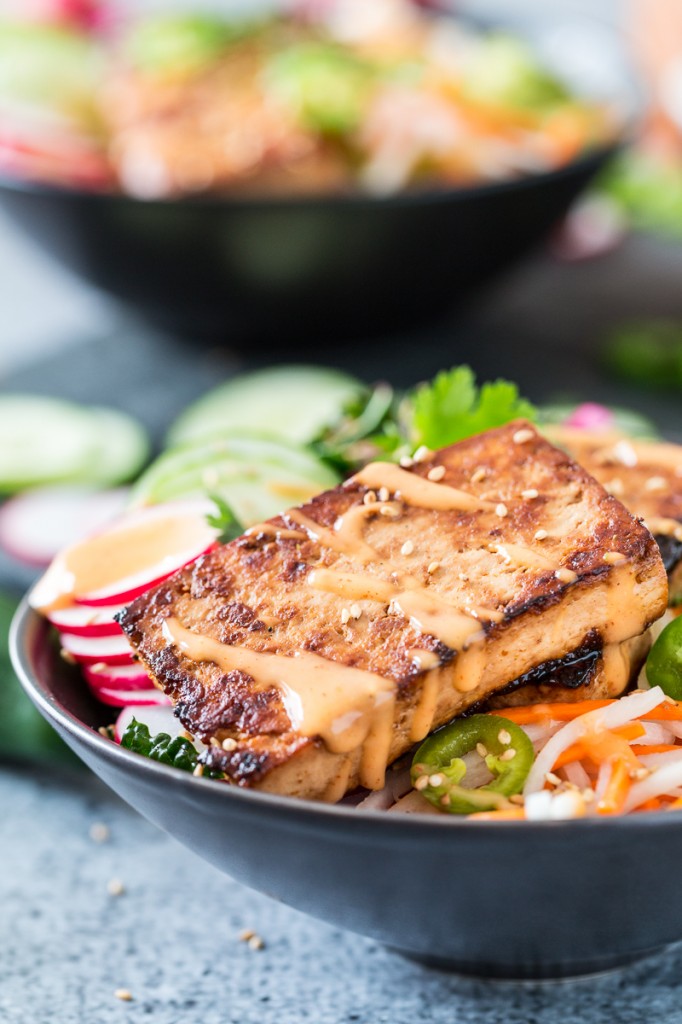 What is your favorite kind of bowl? What is your favorite kind of sandwich?
Photography by Chris Miller