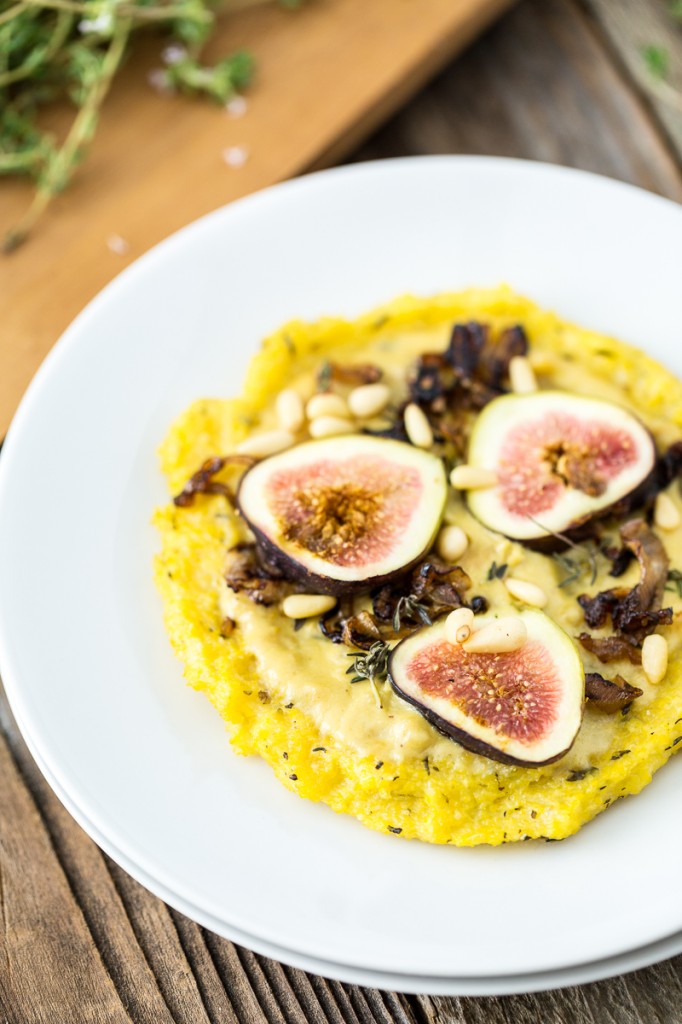 There's a lot of things I love about summer, but I think summer evenings are my favorite.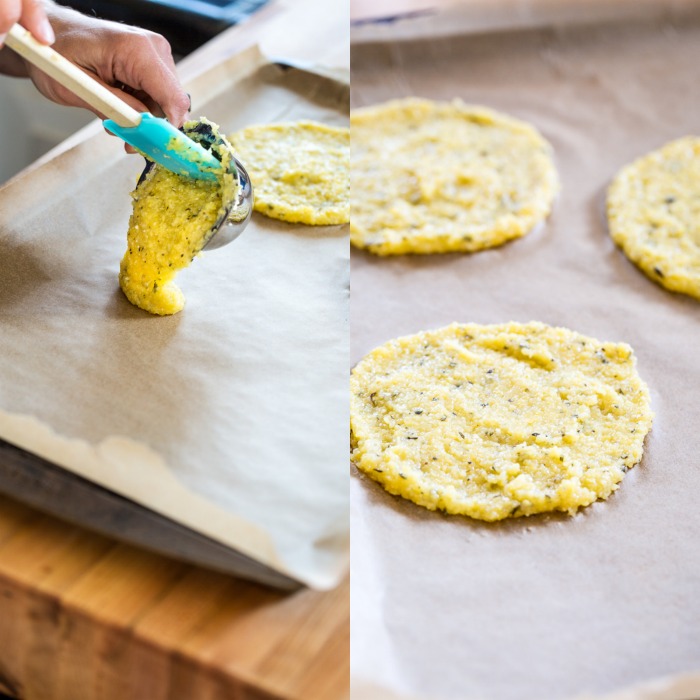 You know the ones- the sun hasn't gone down yet and though the warmth of the afternoon is still lingering, it has cooled considerably. The windows are open and a nice breeze flows through the house as you put the finishing touches on a light dinner.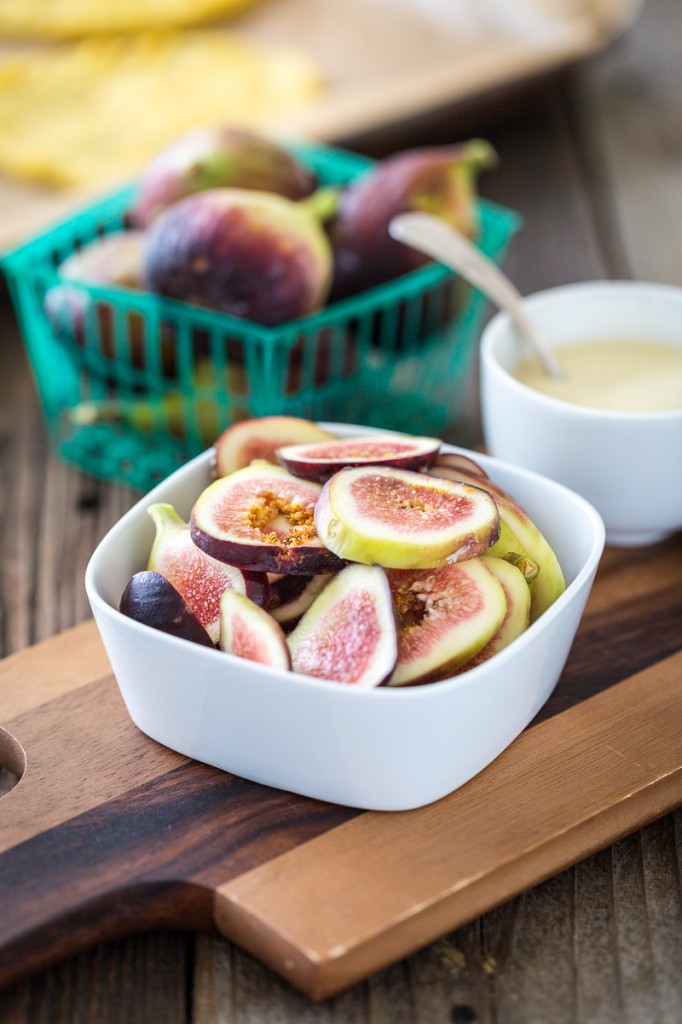 As you slice your figs to top mini polenta pizzas, you drop a fig on the floor. You quickly pick it up before the dog runs in and snatches it and as you do, you notice your toes still have sand caked to them from your walk on the beach this afternoon.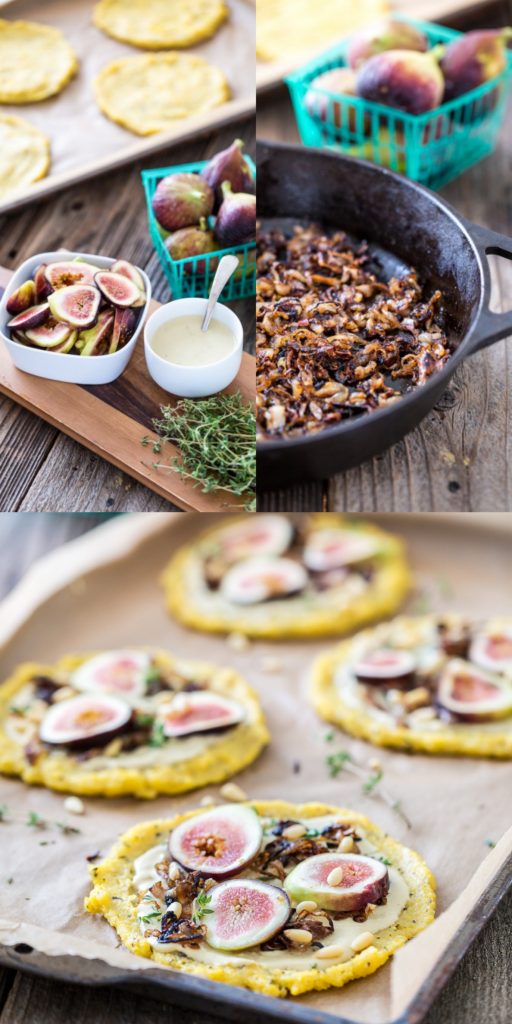 Your significant other (or friend)(or cousin)(or daughter) turns on some music. At first it's much too loud, but they quickly turn it down to a much more reasonable volume. Gladys Knight and the Pips always make for great background music.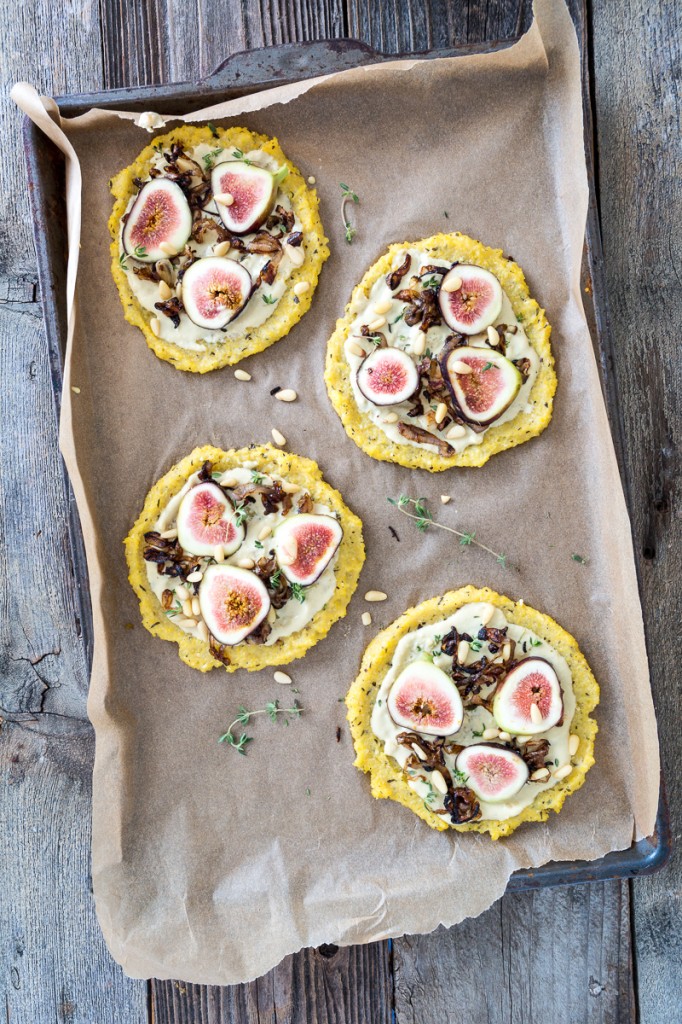 You take a sip from a glass of ice water (or wine)(or lemonade)(or beer) before you pour a simple lemon vinaigrette over your side salad.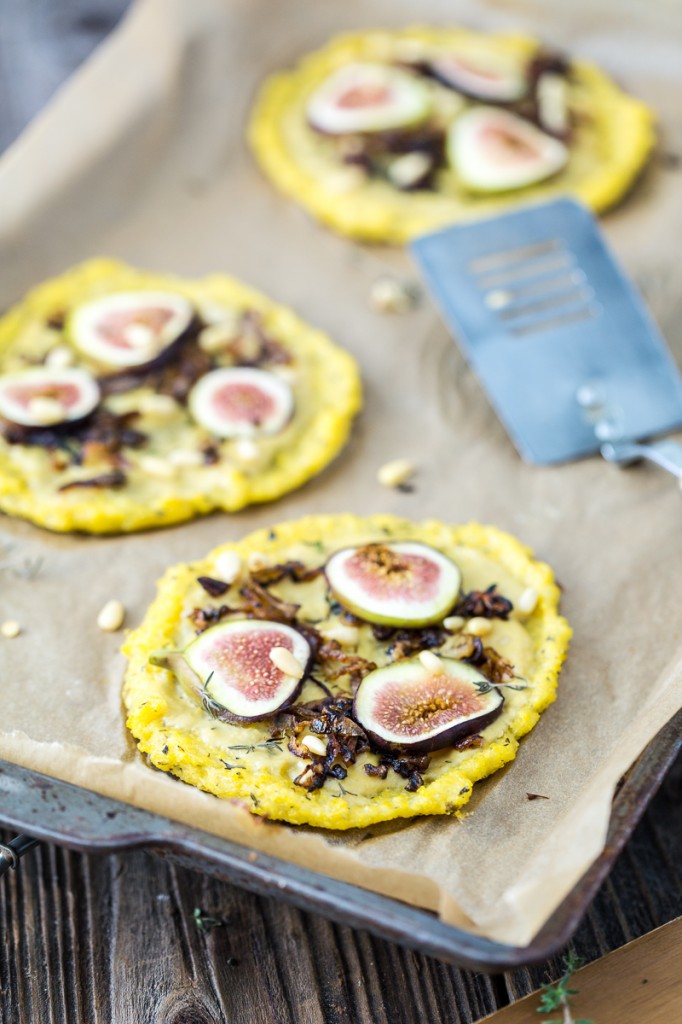 Before long, the pizzas are ready to come out of the oven. You use a spatula to serve up a couple mini pizzas for each person and let them add some salad to their plate before heading outside to the patio (or balcony)(or backyard)(or table and chairs located near an open window or door) for a peaceful meal. As you talk and laugh with your loved ones, the stars begin to come out of hiding.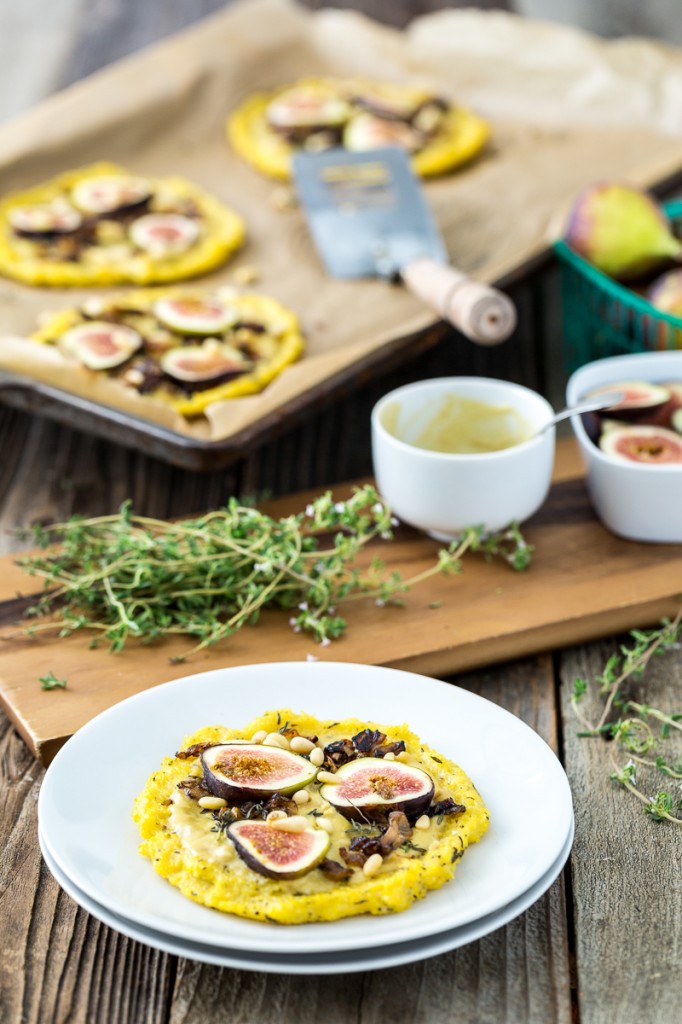 These mini polenta pizzas are so simple, yet so elegant and delectable and they make for a perfect dinner on lazy summer evenings. The base for the polenta crusts takes 15 minutes to prepare earlier in the day. If you aren't in the mood for polenta, you could always prepare regular pizza dough instead. When you're ready to start making dinner, pull the crusts out of the fridge and bake them while you caramelize the shallots and make your cheese sauce and sip on something refreshing. When they're done baking, you just spread out the luscious cheese sauce and pile on the caramelized shallots. Add some sliced figs (because figs on pizza = sophisticated deliciousness), fresh thyme, and a few pine nuts before popping them back in the oven (and as a side note, we discovered after shooting these that Phoney Baloney's coconut bacon makes a wonderful topping for these pizzas too). Minutes later, you're using this time of year to your advantage and doing summer evenings totally right.
Caramelized Shallot & Fig Polenta Pizzas with Thyme & Pine Nuts
Ingredients
2 cups water
1 1/2 cups vegetable broth
1 cup polenta/cornmeal
2 tablespoons olive oil, divided
1 teaspoon dried basil
1 teaspoon dried thyme
1/2 teaspoon garlic powder
1/2 teaspoon onion powder
1/2 teaspoon salt
4 large shallot bulbs, thinly sliced
4 to 5 figs, thinly sliced
fresh thyme
pine nuts
1 cup raw cashews
1/2 cup + 2 tablespoons water
4 tablespoons nutritional yeast
2 teaspoons white miso
salt to taste
Instructions
Line 2 large baking sheets with parchment paper.
Combine the water, vegetable broth, polenta, 1 tablespoon of olive oil, basil, thyme, garlic powder, onion powder, and salt in a medium pot. Whisk over medium-high heat until the mixture gets very thick, about 8 minutes. If it starts to bubble and sputter, turn the heat down and continue to whisk. Once it is very thick, remove from the heat.
Spoon the polenta into 1/2 cup measuring cup. Once it is almost full ( you want slightly less than a 1/2 cup per crust), scoop it onto the prepared baking sheet an use your spoon or a rubber spatula to spread into a 5-inch circle. Repeat with the remaining polenta until you have 8 crusts. Place the pans in the refrigerator and chill for at least 20 minutes or until ready to use (no more than 5 or 6 hours, though).
Once you are ready to start preparing dinner, preheat the oven to 350 F. Once it is preheated, bake the polenta crusts for 20 minutes and then remove from the oven.
While they are baking, you can make your cheese sauce. Combine the cheese sauce ingredients in a food processor or blender and process/blend until smooth. Set aside.
Now caramelize the shallots. Heat the remaining olive oil in a frying pan over medium heat. Add the shallots and let them cook, stirring occasionally, for about 15 minutes or until they are brown and caramelized. Add salt to taste and remove from the heat.
Once the crusts have cooked, increase the oven temperature to 425 F. Spread the cheese sauce on top of each crust. Top with shallots, sliced figs, fresh thyme, and pine nuts. Bake the pizzas for 10 minutes or if you want crispier pizzas you can pick up and eat, you may want to bake for 15 minutes. Serve immediately. Enjoy!
Notes
It was discovered after photographing these pizzas that sprinkling Phoney Baloney's coconut bacon on top, after baking, is a sure-fire way to take these pizzas up a notch.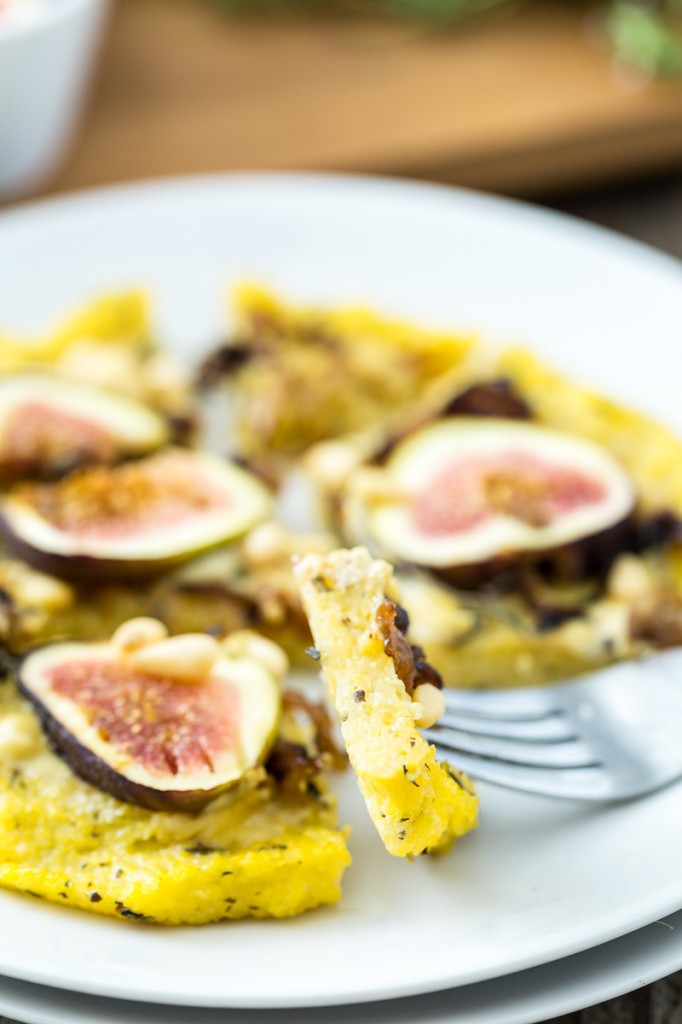 Thank you to everyone who entered the Bella Nut Butters Giveaway! The lucky winner is Lydia Greenfield! 
What's your favorite way to spend summer evenings?
Photography by Chris Miller