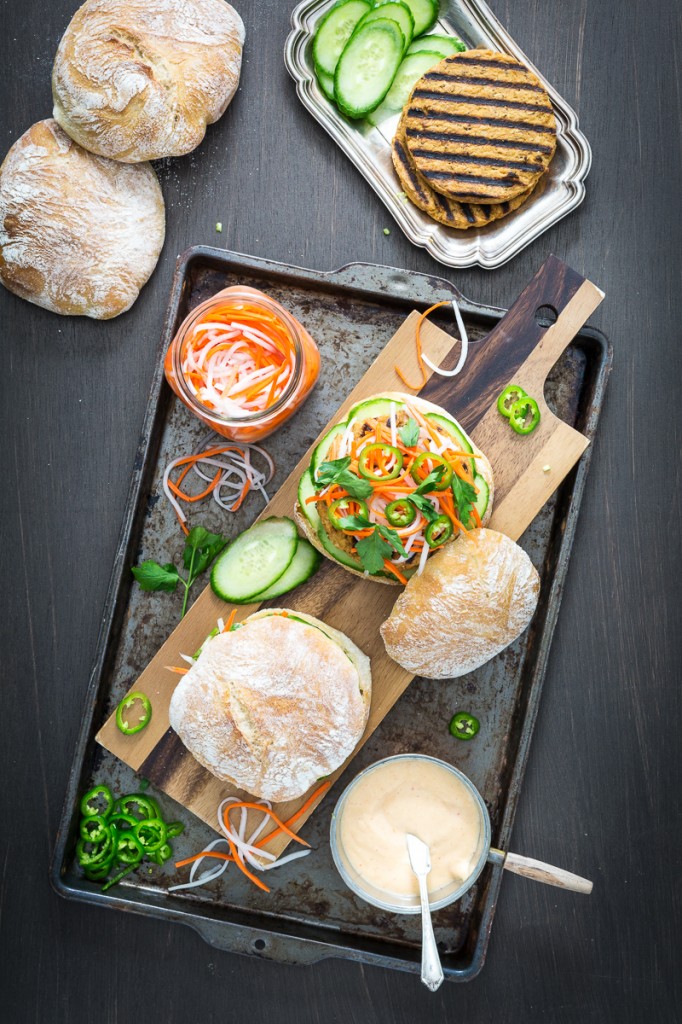 I've been on a Banh Mi kick lately.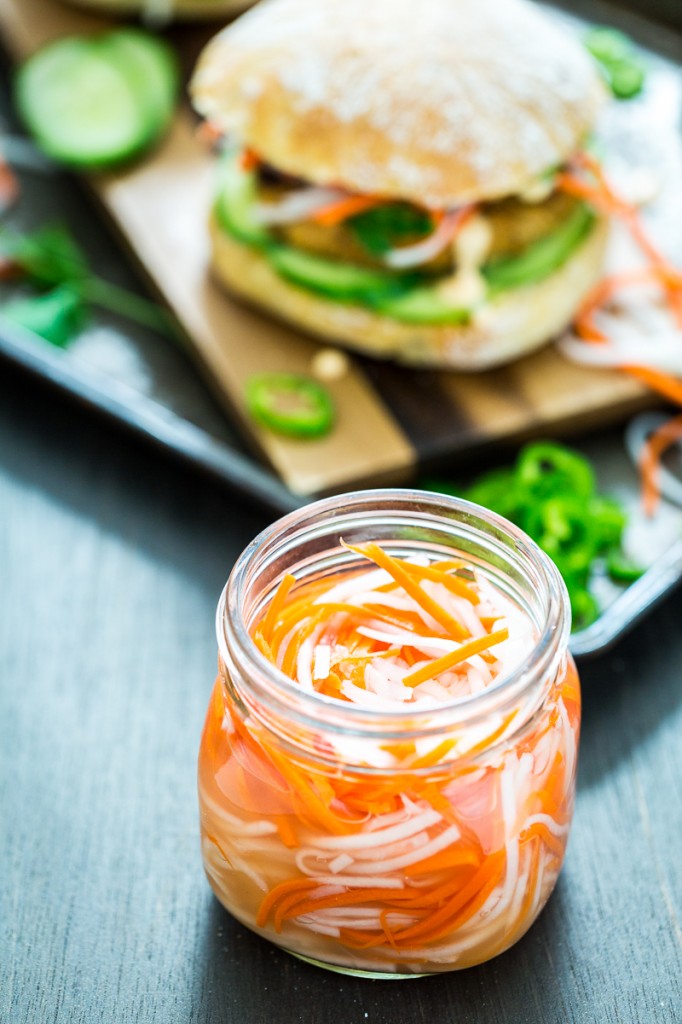 This kick came completely out of left field. I'd had a Banh Mi sandwich years and years ago, during my vegetarian days and thought that it was just alright. I never had any desire to have it again until a few weeks ago. Real Food Daily has a Tofu Banh Mi sandwich as one of their seasonal specials right now and when Chris and I went there a few weeks ago, suddenly my desire switched back on and I. Needed. It.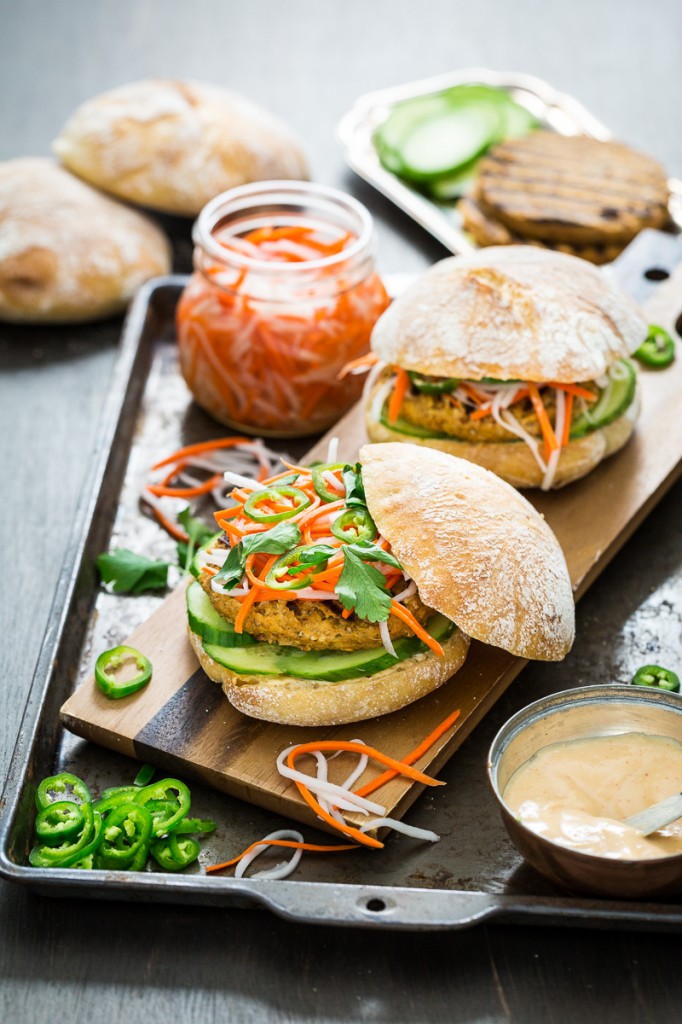 Ever since that meal, Banh Mi sandwiches are all I can think about. Well, that's an exaggeration. I think about my husband. And also my favorite website.
Since it's only one of three things I've been thinking about, of course I came up with several Banh Mi-themed meals but none got me as excited as the idea of a Banh Mi Burger. Hearty tofu-based burgers with lemongrass undertones. Slices of crisp cucumber. Pickled carrot and daikon radish with sliced jalapeños and fresh cilantro. Smothered in a spicy sriracha aioli. And of course, fresh ciabatta bread as the bun. Pretty soon, these burgers were one of the three things I think about.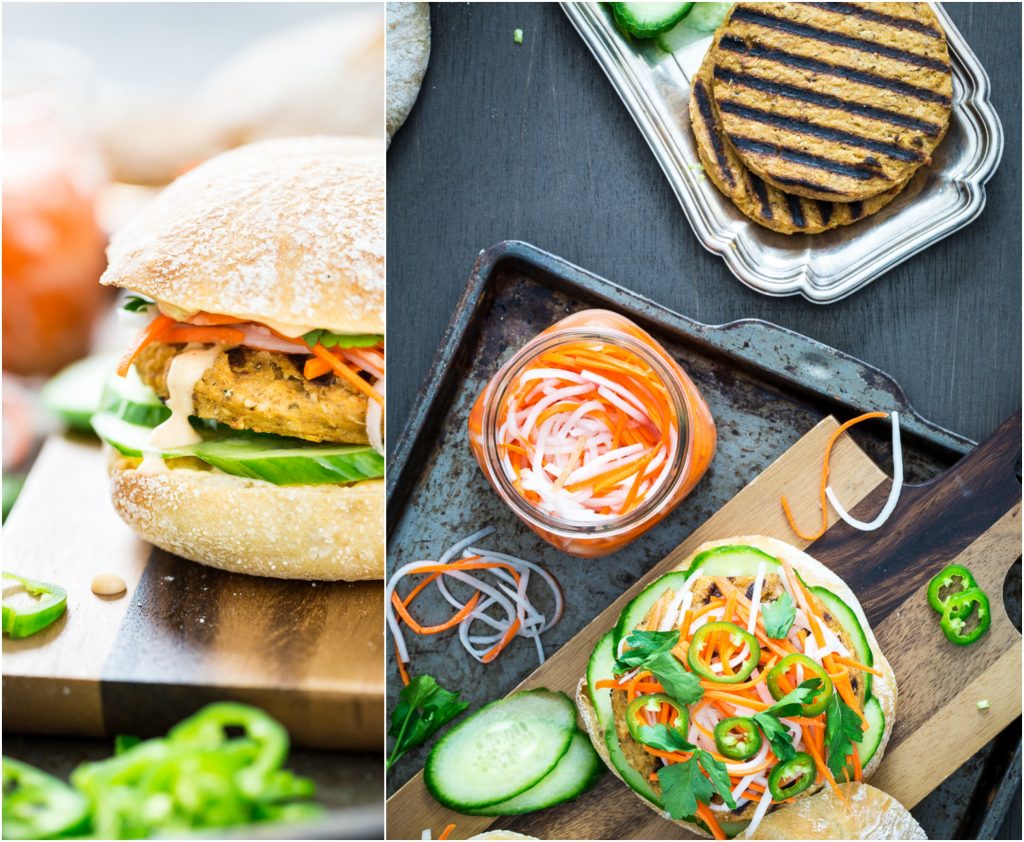 Now, besides exceeding my wildest expectations in the deliciousness department, these Banh Mi burgers were remarkably easy to prepare. If you have a julienne peeler, the pickled carrot and daikon salad comes together in about 15 minutes. Then it needs to marinate/pickle for at least an hour before serving. The aioli basically requires you to stir sriracha into vegennaise (along with a couple other ingredients).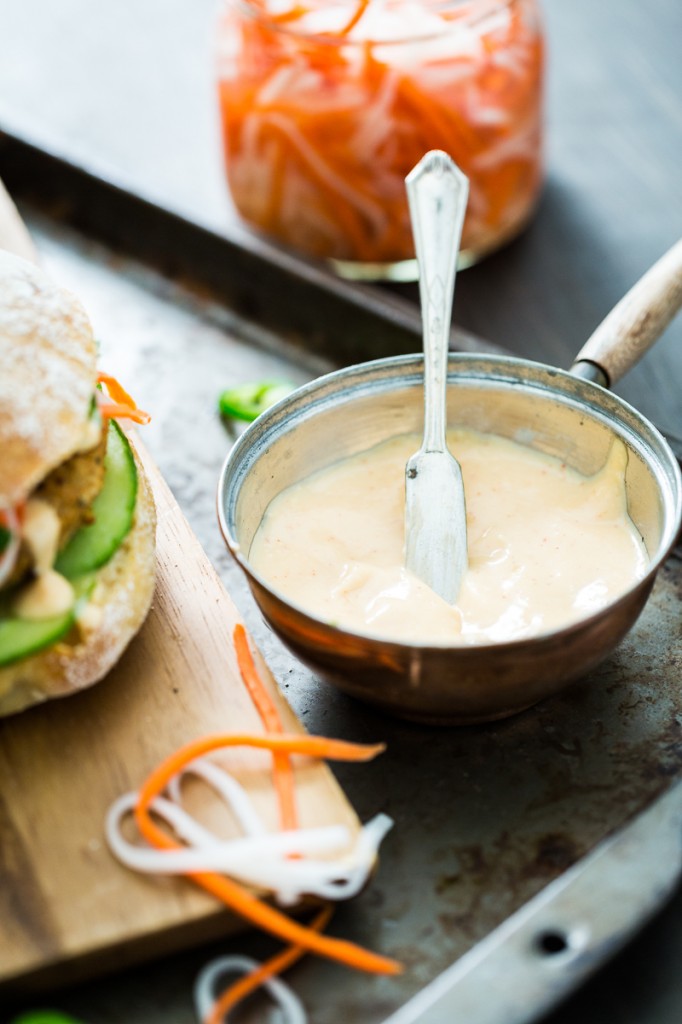 These burgers are probably one of the easiest burgers I've ever made. To prepare lemongrass, you must trim the ends of the stalk and then make a slit down the length of the stalk. Peel off the outer two woody layers and then you're set. Saute it with some onion and garlic and then let your food processor do the rest of the work. I cooked my burgers on my cast-iron griddle (giving it those gorgeous grill marks!) but you could pan-fry them as well (you could probably bake them, but I didn't try it).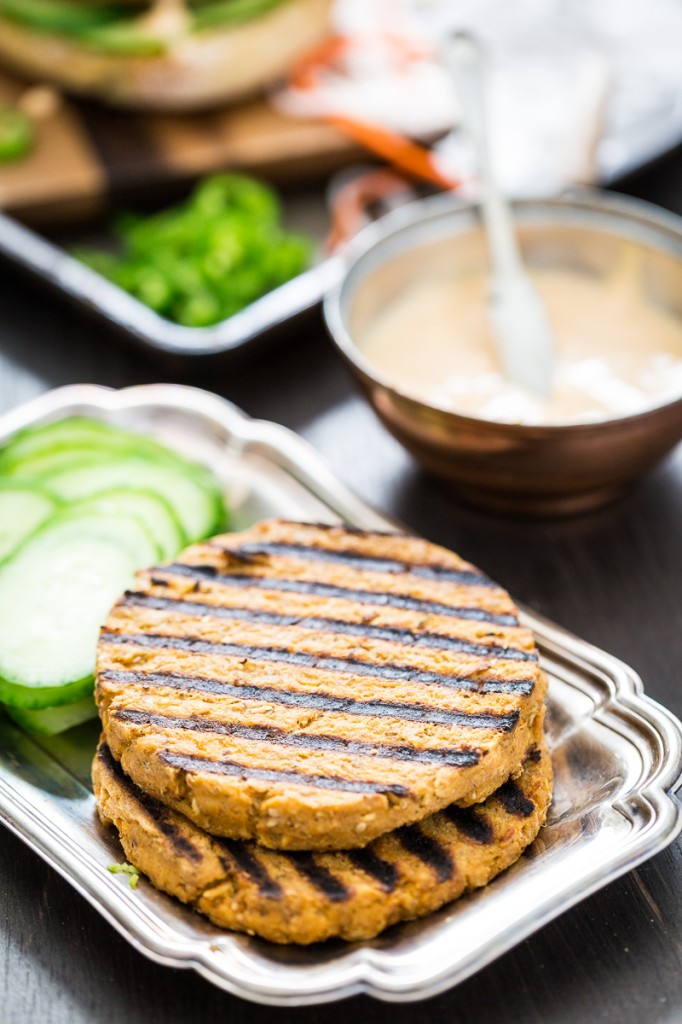 Did I mention these burgers were incredible? One bite and they're all you're going to be able to think about too.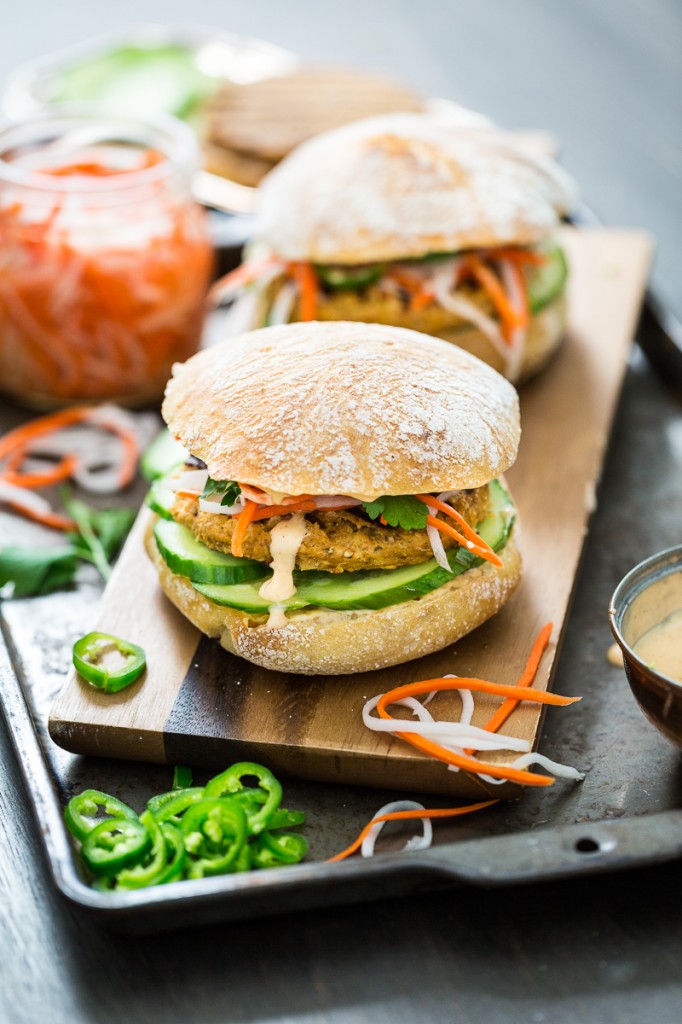 Lemongrass Tofu Banh Mi Burger with Sriracha Aioli
Ingredients
for the pickled carrot and daikon salad

4 to 5 large carrots, julienned (should be about 3 to 4 cups)
1 medium-large daikon radish, julienned (should be about 3 to 4 cups)
1 1/2 cups warm water
1 1/2 cups white vinegar
1/3 cup agave syrup
2 teaspoons salt

(double this recipe if you like to go heavy on sauces)

1/2 cup vegan mayonnaise
1 to 2 garlic cloves, minced and pressed
2 tablespoons lemon juice
1 tablespoon sriracha

for the lemongrass tofu burgers

one 14-ounce package of extra-firm tofu, pressed for at least 30 minutes
1 teaspoon toasted sesame oil
1 yellow onion, chopped
2 garlic cloves, minced
3 tablespoons chopped lemongrass
2 tablespoons tamari (or soy sauce/liquid aminos)
1 teaspoon vegan worcestershire sauce
1/2 teaspoon liquid smoke
1/2 teaspoon ground cumin
1/2 teaspoon smoked paprika
1/2 teaspoon ground coriander
1/2 teaspoon ground ginger
1/2 teaspoon dried basil
1/8 to 1/4 teaspoon cayenne pepper
salt and pepper to taste
3/4 cup rolled oats, divided
1/2 cup brown rice bread crumbs (or regular bread crumbs)
2 tablespoons sesame seeds
sliced cucumber (about 6 to 7 slices per sandwich)
1 to 2 jalapeños, seeds removed and thinly sliced
fresh cilantro
ciabatta rolls
Instructions
Make the pickled carrot and daikon salad at least an hour before you plan on serving the burgers. It's better if you can let it pickle even longer. Mix together the water, vinegar, agave syrup, and salt in a large jar or container with a lid. Add the julienned carrot and daikon and press until all is completely submerged. Cover and refrigerate for at least one hour. This will keep for a couple months.
In a cup or small jar, use a fork to mix together the sriracha aioli ingredients. Cover and chill until ready to use.
Now it's time to make the burgers. Heat the sesame oil in a large frying pan over medium heat. Add the onion, garlic, and lemongrass and saute until the onion is translucent. Transfer to a food processor. Add the tofu, tamari, vegan Worcestershire sauce, liquid smoke, cumin, paprika, coriander, ginger, basil, cayenne, salt and pepper, and 1/4 cup of oats. Process until smooth. Transfer to a large bowl.
Add to the tofu mixture the remaining oats, bread crumbs, and sesame seeds. Stir until combined.
Line a baking sheet with parchment paper. Divide the mixture into 6 equal parts. Using your hands or using a greased biscuit cutter (sized to fit the buns), form the mixture into patties and place on the baking sheet.
Heat a large grill pan of frying pan (preferably cast iron) over medium heat. Generously spray the pan with olive oil. Place 2 to 3 patties on/in the pan (however many will fit without being crowded) and cook for 4 to 5 minutes on each side. Remove from the heat and repeat with remaining patties.
To assemble the sandwich: Split a ciabatta bun in half horizontally. Lightly spread the aioli on both halves of the ciabatta. On the bottom half, spread out the cucumber slices. Top with a burger patty. Top the patty with a generous serving of the pickled carrot and daikon salad, jalapeño slices, and fresh cilantro. top with the other half of the bun. Repeat with the remaining sandwiches. Serve immediately. Leftover burgers can be kept, refrigerated for 5 to 7 days. Enjoy!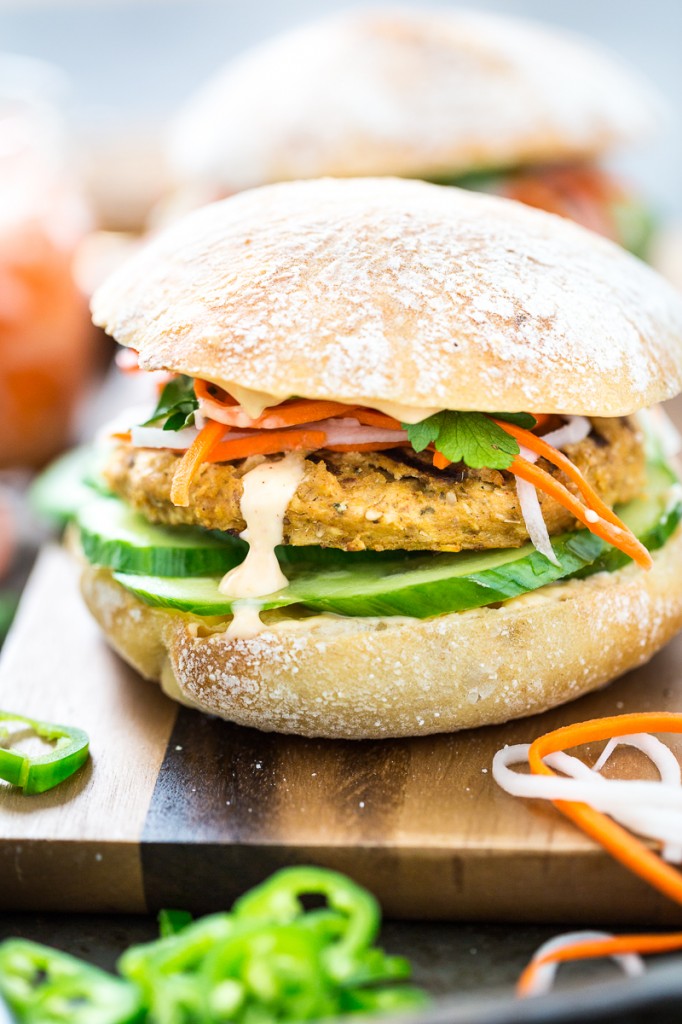 What's your current food obsession?
Photography by Chris Miller