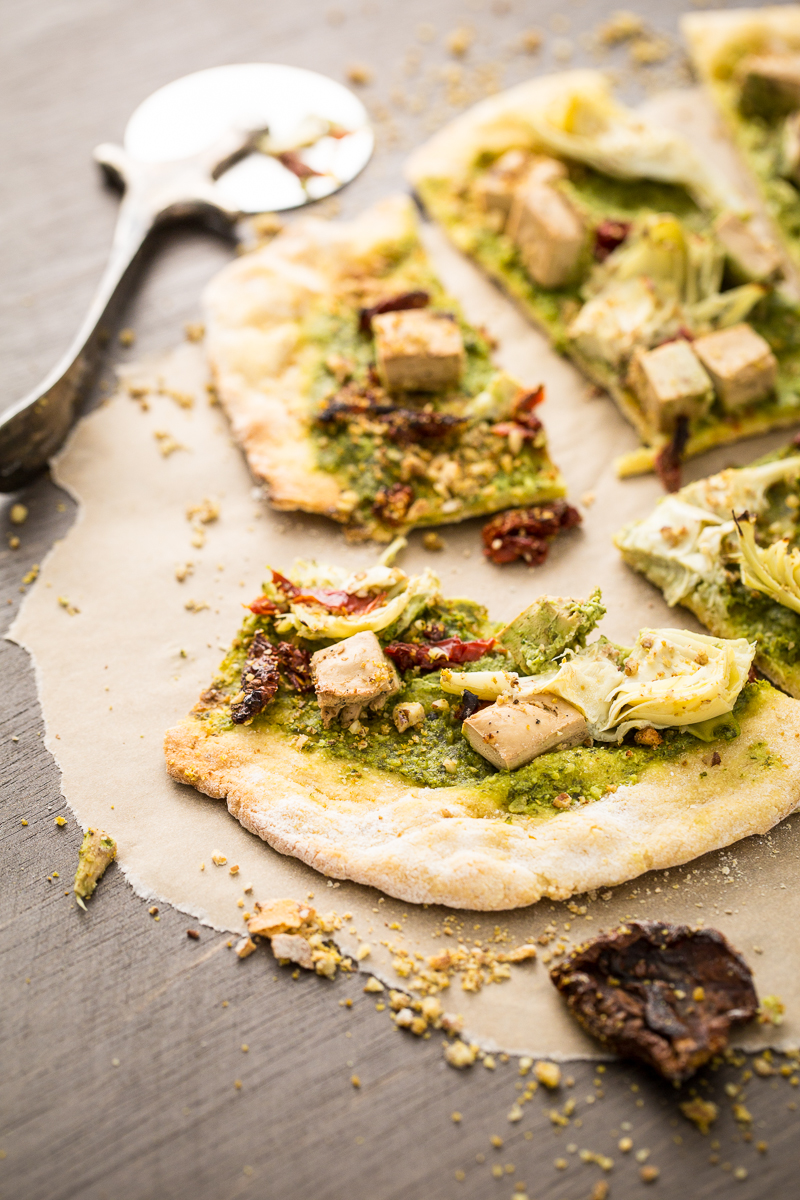 We don't usually keep faux meats in our house.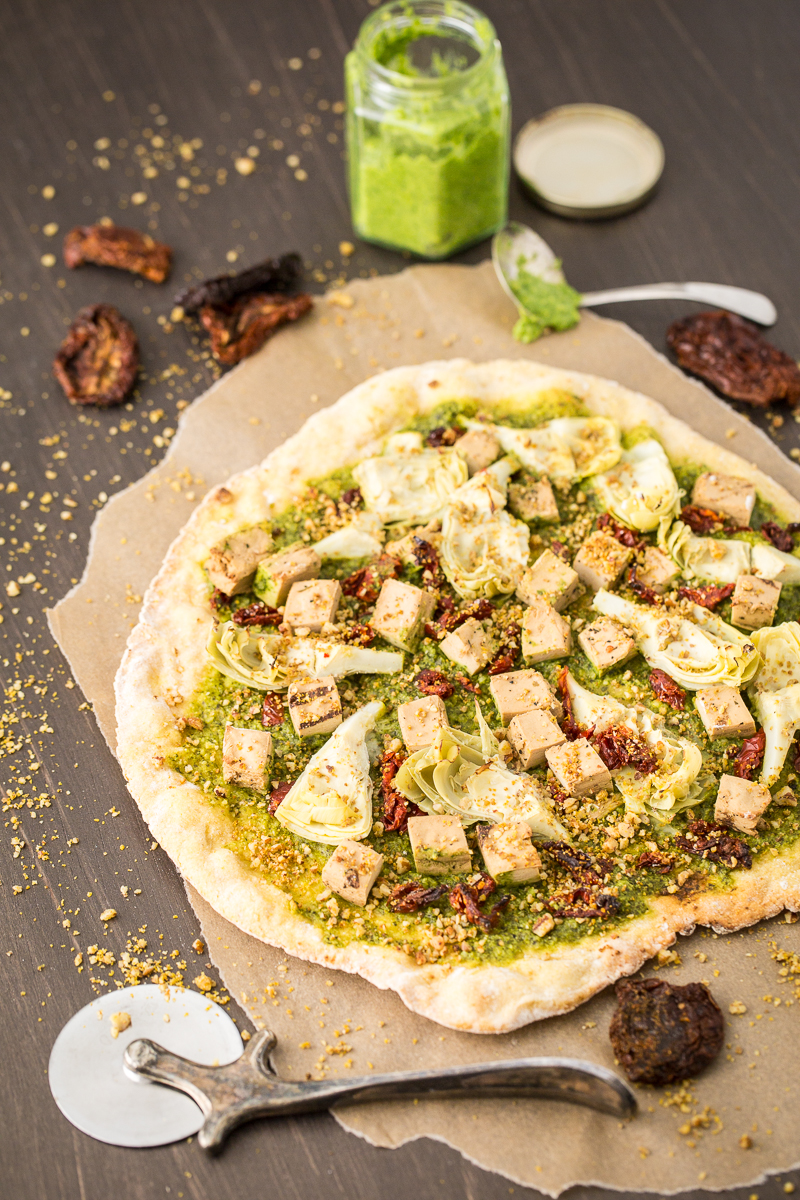 It's not because we don't like them. I don't have anything against them either. We just usually prefer whole food ingredients. During our transition into veganism, however, we relied on faux meats pretty heavily. I think they're great for a quick, convenient meal and totally perfect for satisfying any cravings a new vegan might have.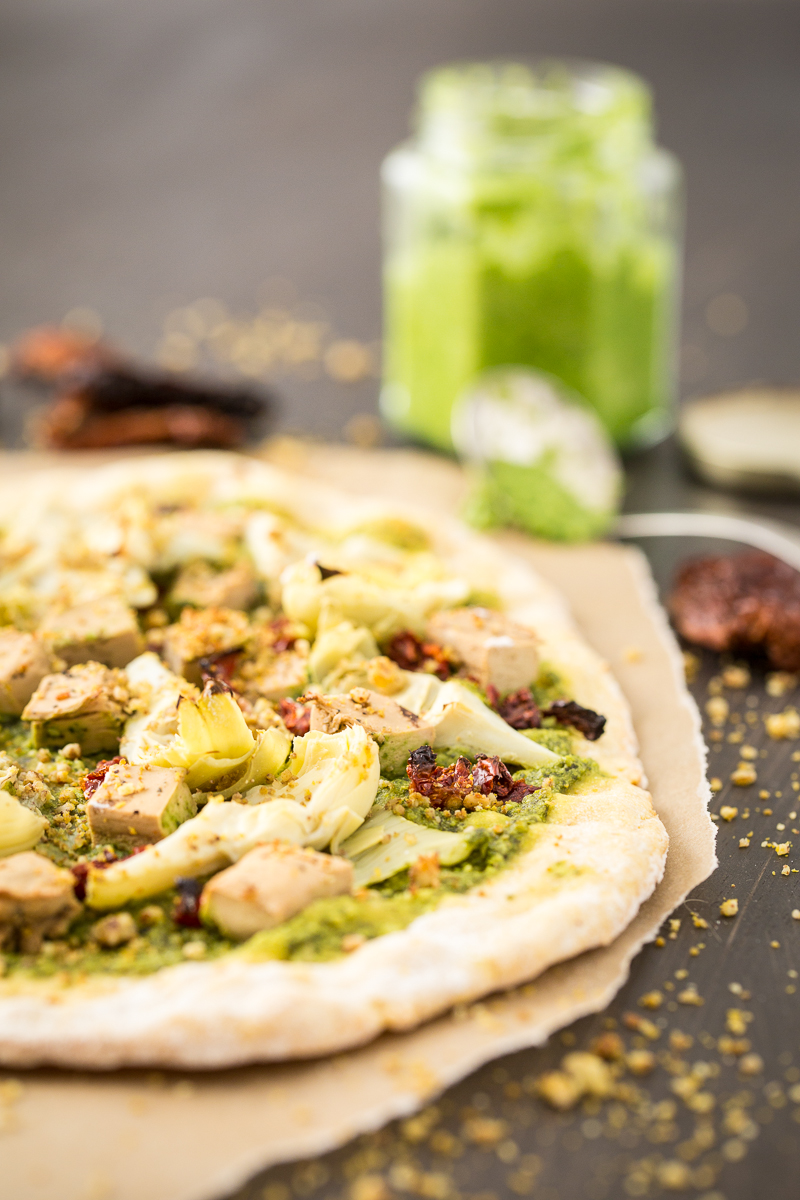 We actually usually buy Trader Joe's chickenless wings for the twins on occasion when I know I'll be testing a recipe they probably won't be into. Lately, though, I've been getting Beyond Meat's vegan chicken strips for them and they love them!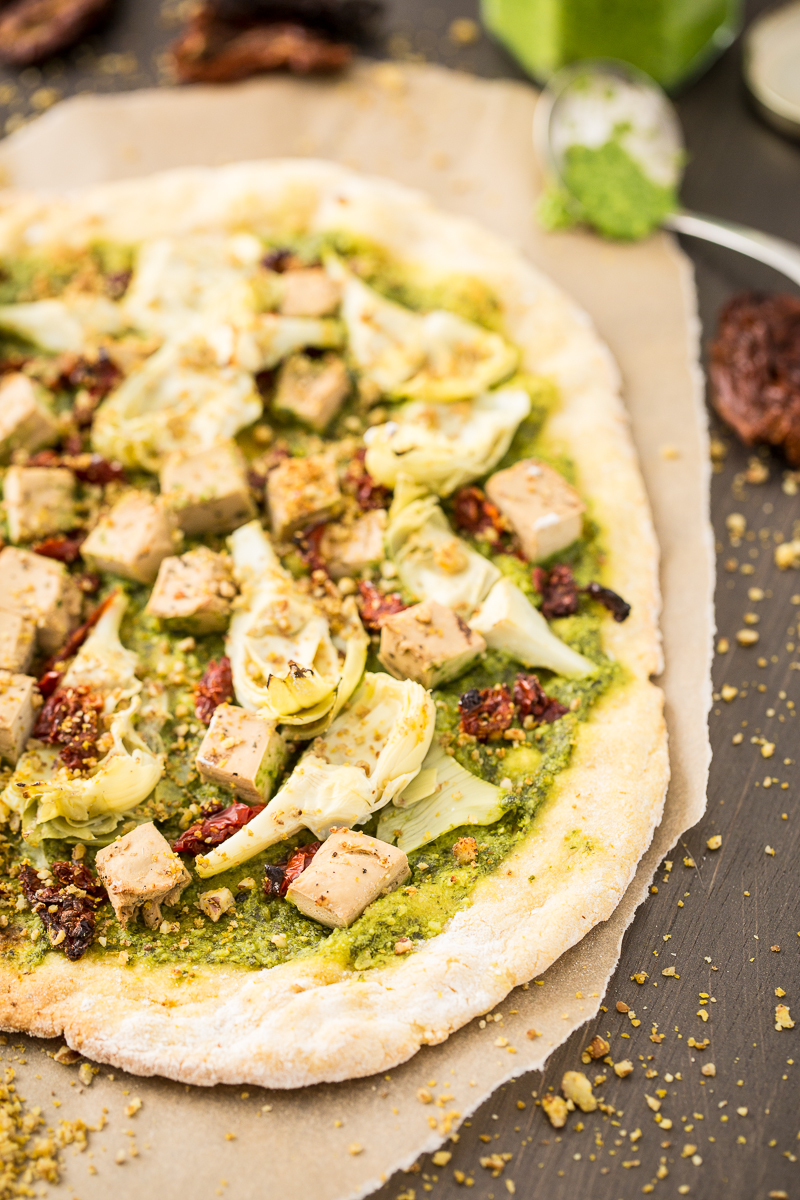 Chris and I have tried them a few times as well and really liked them too but like I said, I don't usually buy such things just for Chris and I. We did try their new vegan ground beef at Expo West over the weekend and also had pepperbellies from their food truck. They were easily one of our favorites from the weekend and by far had the best branding/marketing but I'll have more on Expo West in an upcoming post.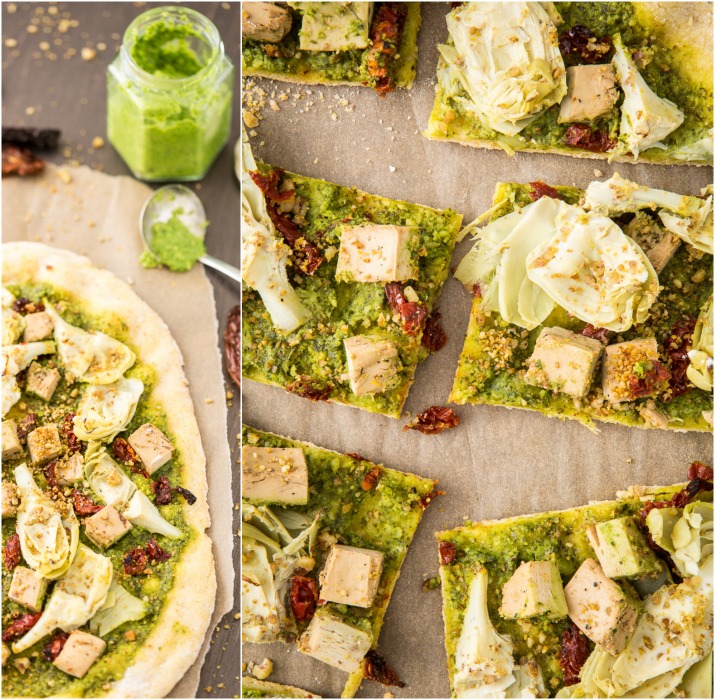 About a month ago, Beyond Meat was at Whole Foods, giving out samples and coupons. I took a coupon and it's been burning a hole in my purse ever since. Last week, when I was buying ingredients for this artichoke pesto pizza I'd been craving, I walked by the Beyond Meat display and remembered the coupon in my purse. Suddenly, nothing sounded better than adding chunks of their grilled chicken strips to my pizza. Yada, yada, yada, I don't have that coupon anymore and this pizza came to be.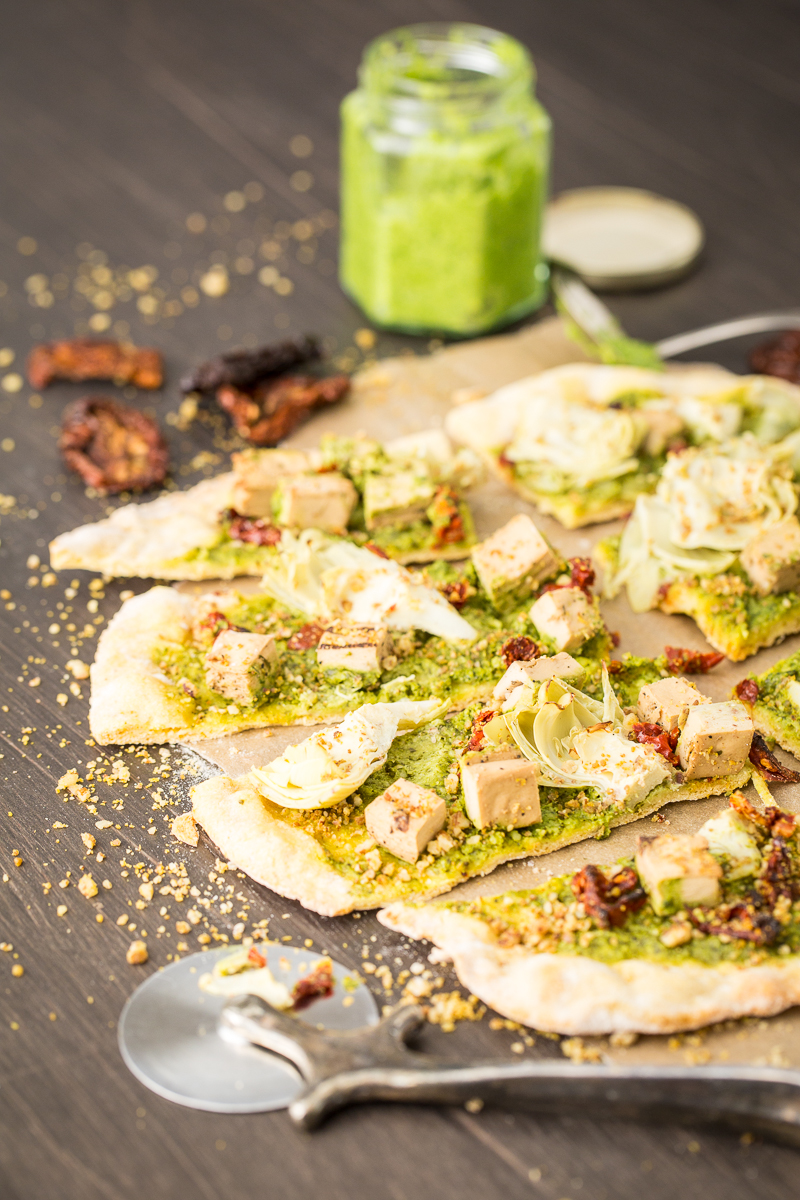 I don't know what I love about this pizza the most. How scrumptious it was? How the flavors all blended so well? How quick and easy it was to make? I just used leftover pizza dough from a pizza I'd made for the book but you could use storebought dough or make this recipe (or another recipe) in advance. The pesto comes together in seconds with some spinach that only had a day or 2 of life left, some fresh basil, and cashews. The artichoke quarters were canned so they just needed a quick rinse before they were ready to go on and the Beyond Meat chicken and sun-dried tomatoes were ready to go out of the package. As an afterthought, I sprinkled some leftover Pecan Parmesan over the pizza before I shut the oven door.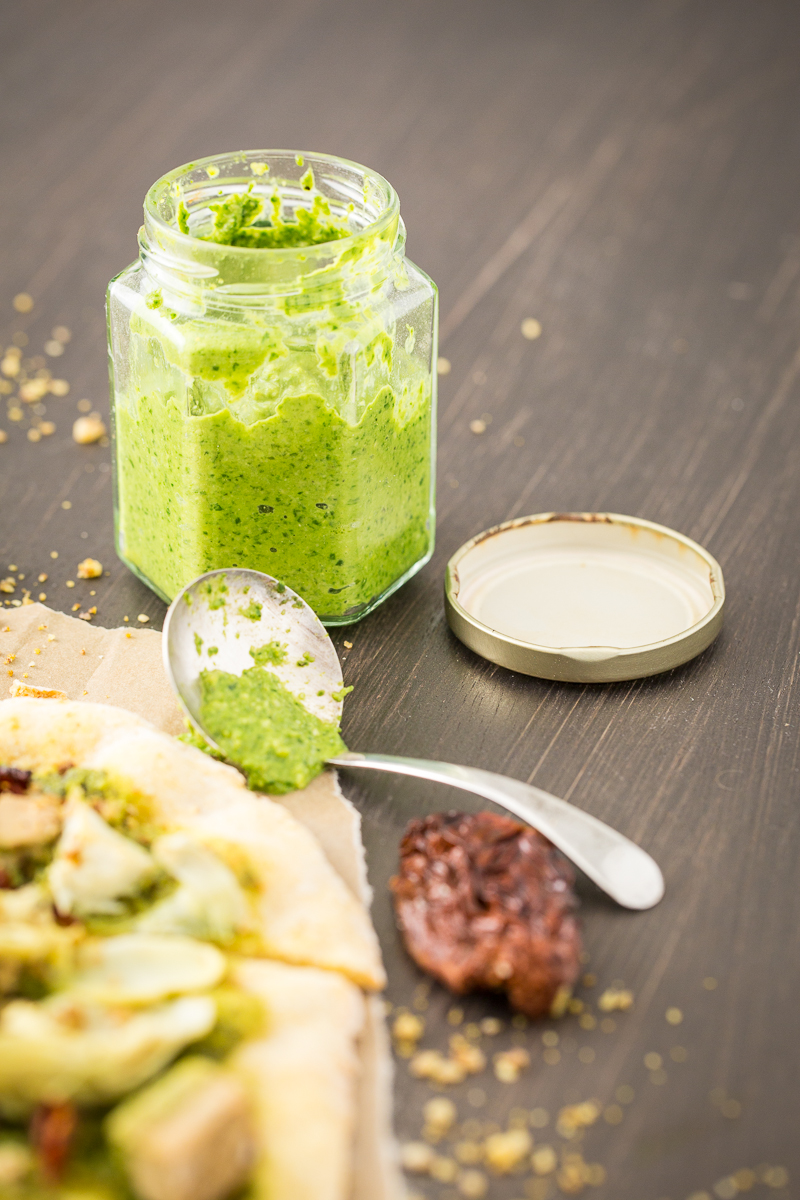 When it emerged from the oven just as Chris walked in the door, the aroma was heavenly. It was perfect for a very long, hectic day (for both of us) when all we wanted to do was collapse, eat pizza, and watch something silly (We're loving Jerry Seinfeld's Comedians in Cars Getting Coffee. The Louis CK episode in particular gave us stomach pains from laughing so hard).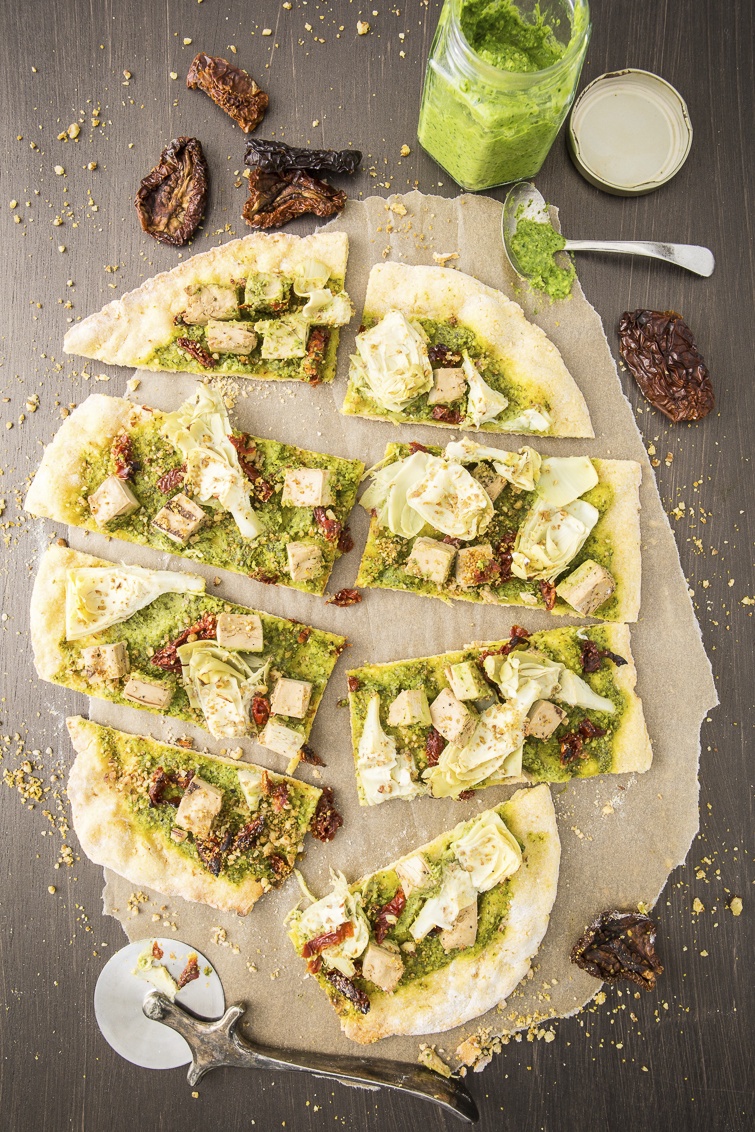 Vegan Chicken & Artichoke Pesto Pizza
Ingredients
1/3 cup cashews
2 to 3 garlic cloves
1 packed cup of baby spinach
1 packed cup of basil leaves
2 tablespoons nutritional yeast
2 tablespoons olive oil
1 tablespoon lemon juice
1 to 2 tablespoons vegetable broth
salt and pepper to taste
1/2 recipe pizza dough (or other pizza dough recipe or storebought)
6 to 8 strips of Beyond Meat chicken strips, chopped into 4 pieces each (or substitute 8-ounces of sauteed sliced mushrooms)
4 to 4 artichoke hearts, cut into quarters
1/4 cup softened sliced sun-dried tomatoes
a sprinkling of Pecan Parmesan, optional
Instructions
Combine all of the pesto ingredients except for the vegetable broth, salt, and pepper in a food processor and process until combined. Add 1 to 2 tablespoons of vegetable broth to thin it out to your desired consistency. Add salt and pepper to taste. Chill until ready to use.
Preheat your oven to 475 F and if using a pizza stone, place it in the oven while it preheats. If using a pizza pan of baking sheet, sprinkle a little bit of flour on the pan/sheet you plan to use. Set aside.
Roll out the dough on a floured surface until it is no less than 1/4 inch thick. Spread the pesto on the dough, leaving room around the edge for a crust. Top with Beyond Meat chicken pieces (or mushrooms, if using) artichoke hearts, and sun-dried tomatoes. Sprinkle the pecan parmesan, if using. Transfer the pizza to the prepared pan or to the stone in the oven. Bake for 10 to 12 minutes or until the crust has risen and is golden. Remove from the oven, slice, and serve. Enjoy!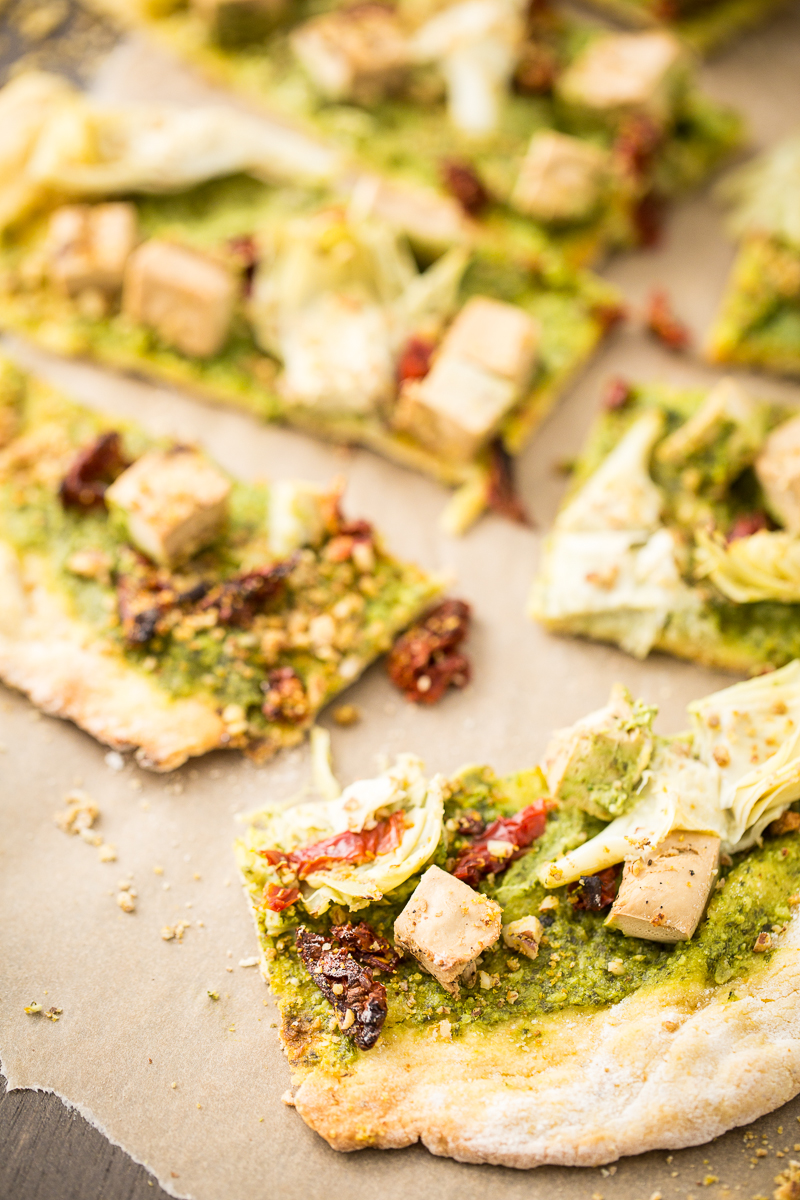 Congratulations to Abby Lawrence, the winner of the
Oh She Glows Cookbook giveaway
! Thank you to all who entered!
Disclaimer: I was not asked by Beyond Meat to write this post. I just really like their product.
Do you eat faux meats? Which ones are your favorites?
Photography by Chris Miller