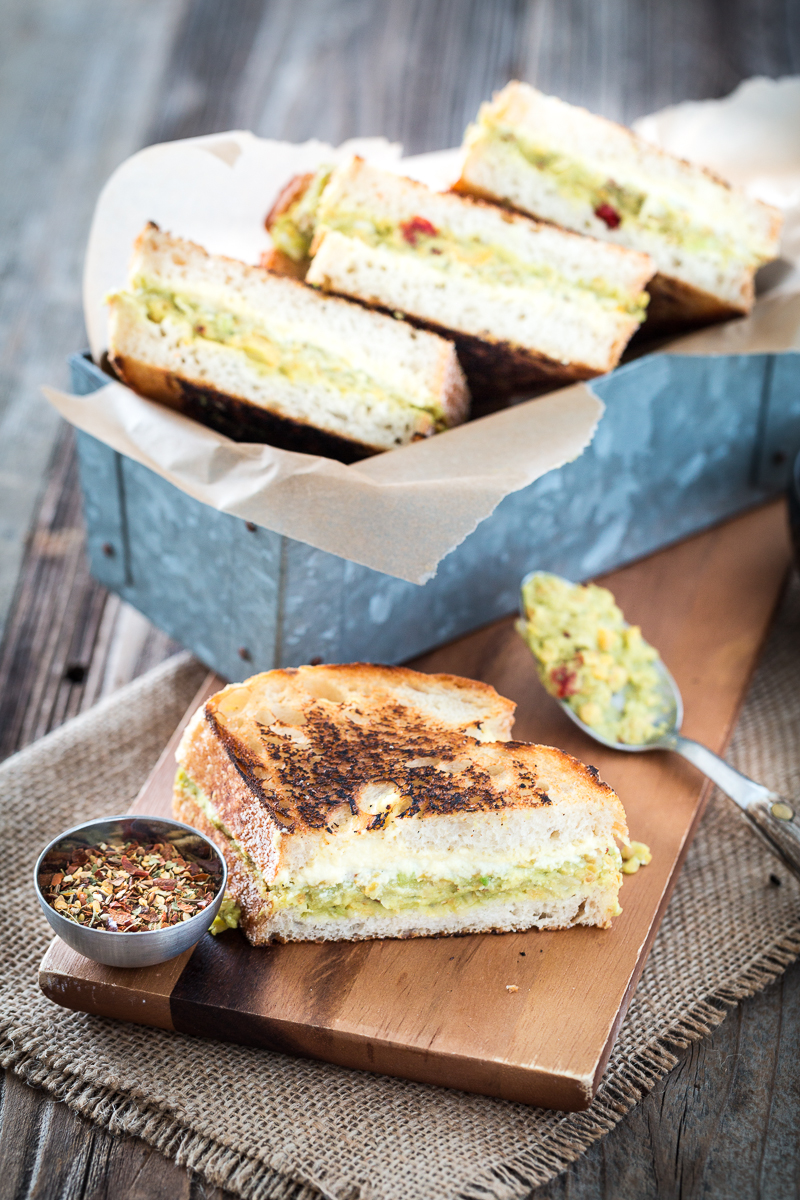 I couldn't let National Grilled Cheese Month pass me by without sharing at least one grilled cheese sandwich recipe.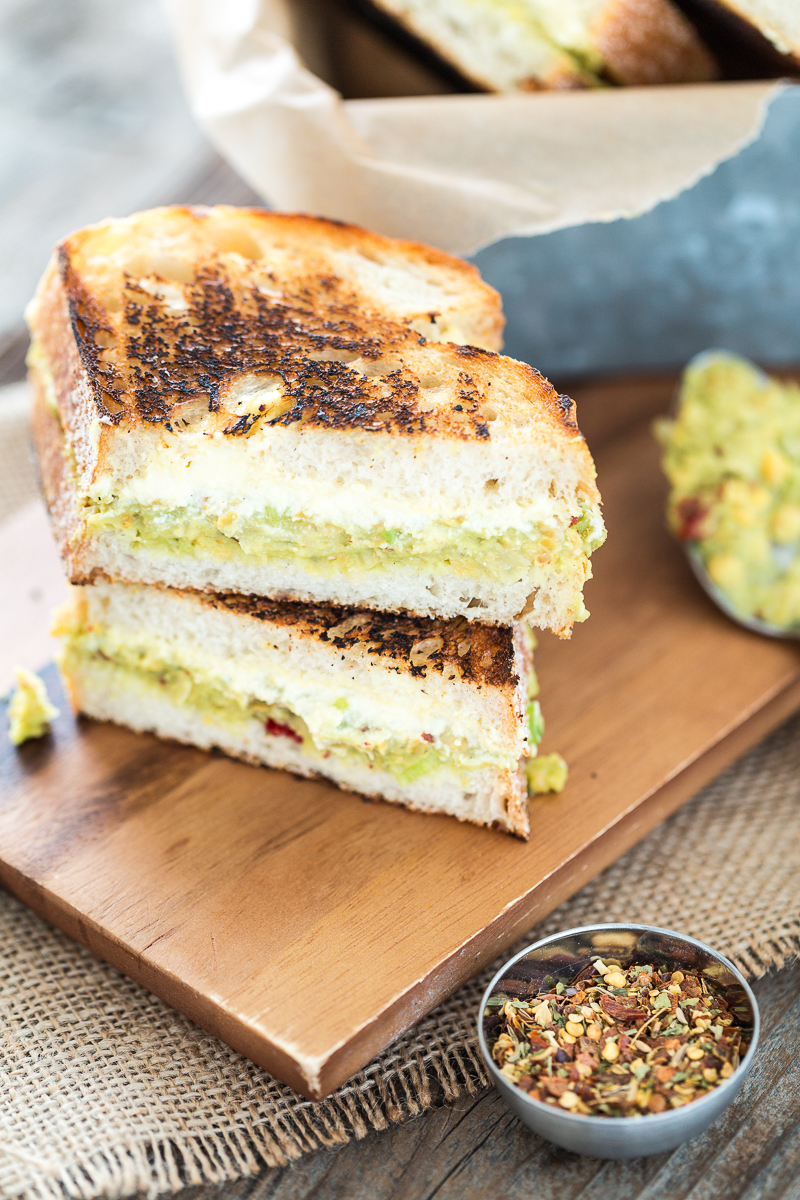 I've said many times that my favorite quick and easy dinner for nights when I don't feel like cooking is a chickpea avocado salad, usually stuffed into tacos.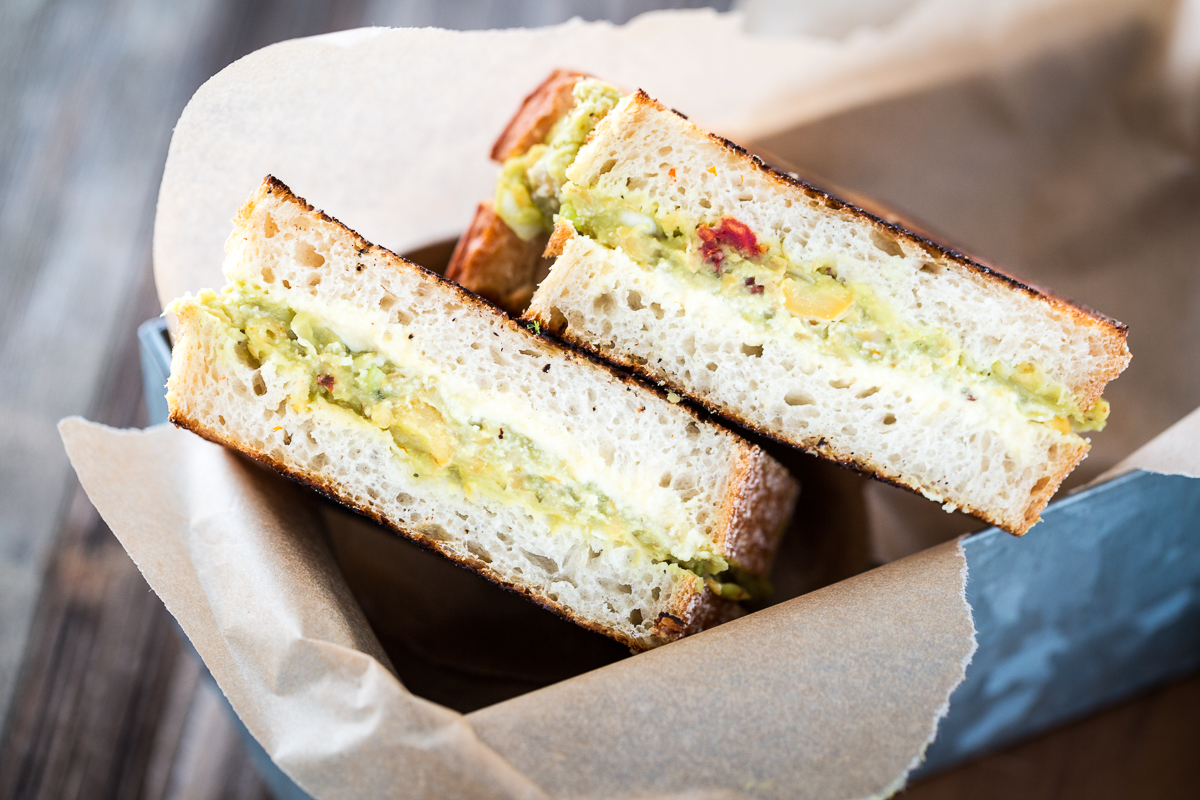 One day, a couple weeks ago, was one of those days. I wasn't in the mood to cook anything that required any amount of focus or skill. I decided to play around with my go-to chickpea avocado salad using some of the ingredients I had on hand. A Harissa spice blend that I'd randomly picked up on a recent grocery trip (yay for not shopping with lists!) found its way into the mix and just like that, I'd created mine and Chris's newest obsession. This Harissa spice blend is made up of chili flakes, garlic, parsley,caraway, and coriander and it adds a great deal of heat and spice to the salad which is something we love.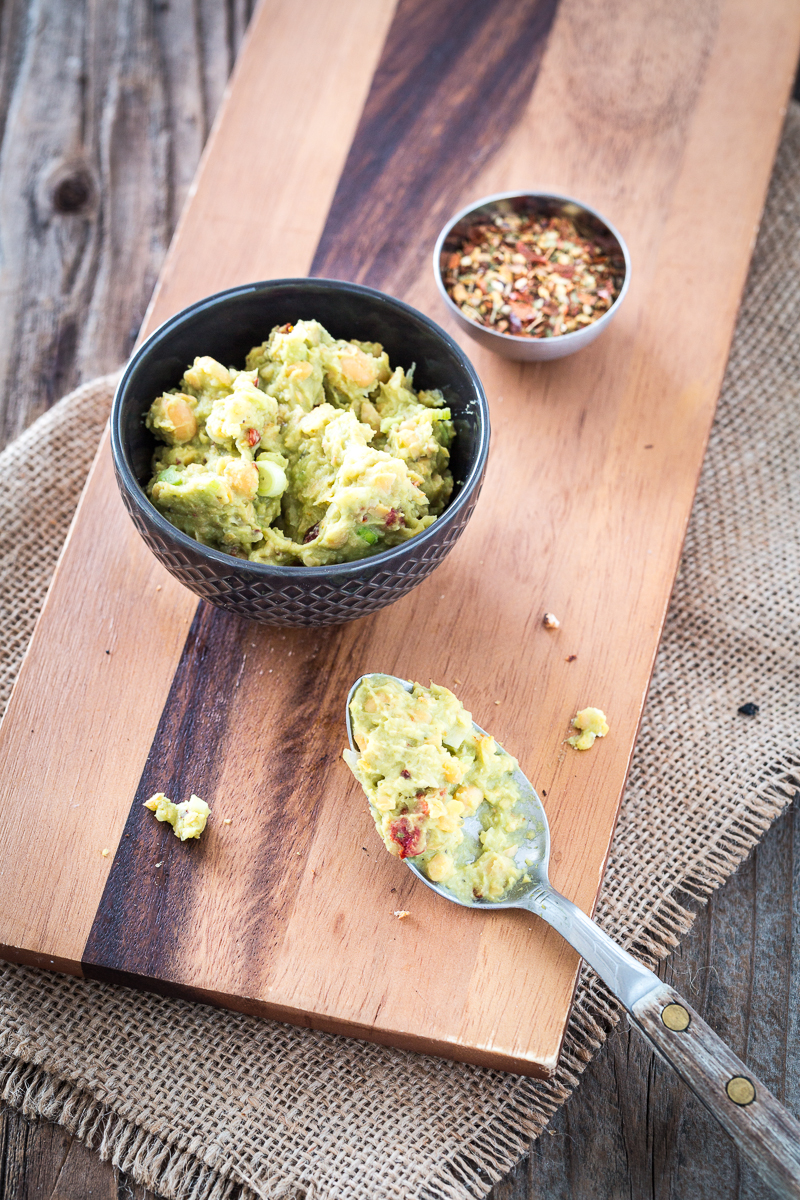 Sure, we put it into tacos. We also made tacos, using red cabbage leaves as the taco shells (similar to a recent lunch I shared on Instagram). When I remembered it was National Grilled Cheese Month (or rather when social media reminded me), I immediately began scheming on how to turn this into a grilled cheese sandwich. And so this happened.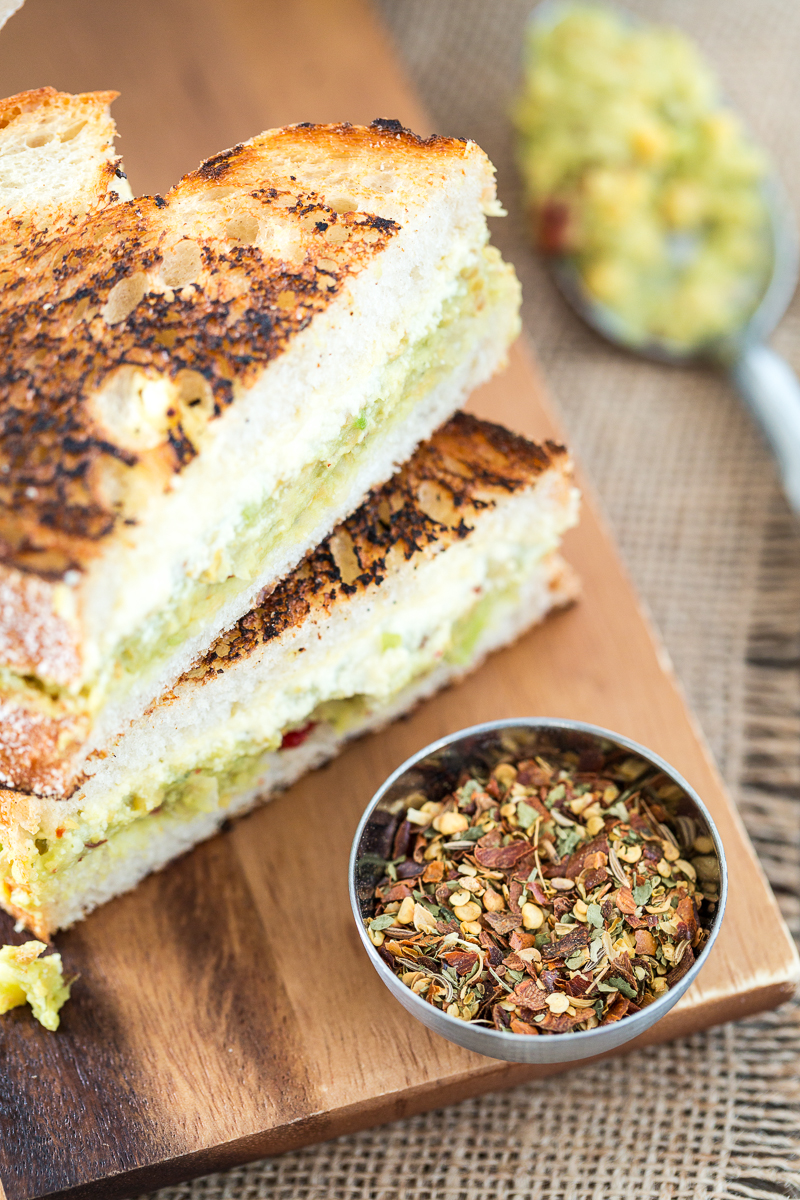 These Harissa-spiced chickpea avocado salad grilled cheese sandwiches are what dreams are made of. Toasty french bread. Spicy, thick, and filling salad made of mashed chickpeas and avocado. Creamy macadamia-based cheese getting all mixed up in the salad's business. We had plans for a date one night a couple days later and we chose to stay home and make the leftovers into more sandwiches. We. Were. Crazed.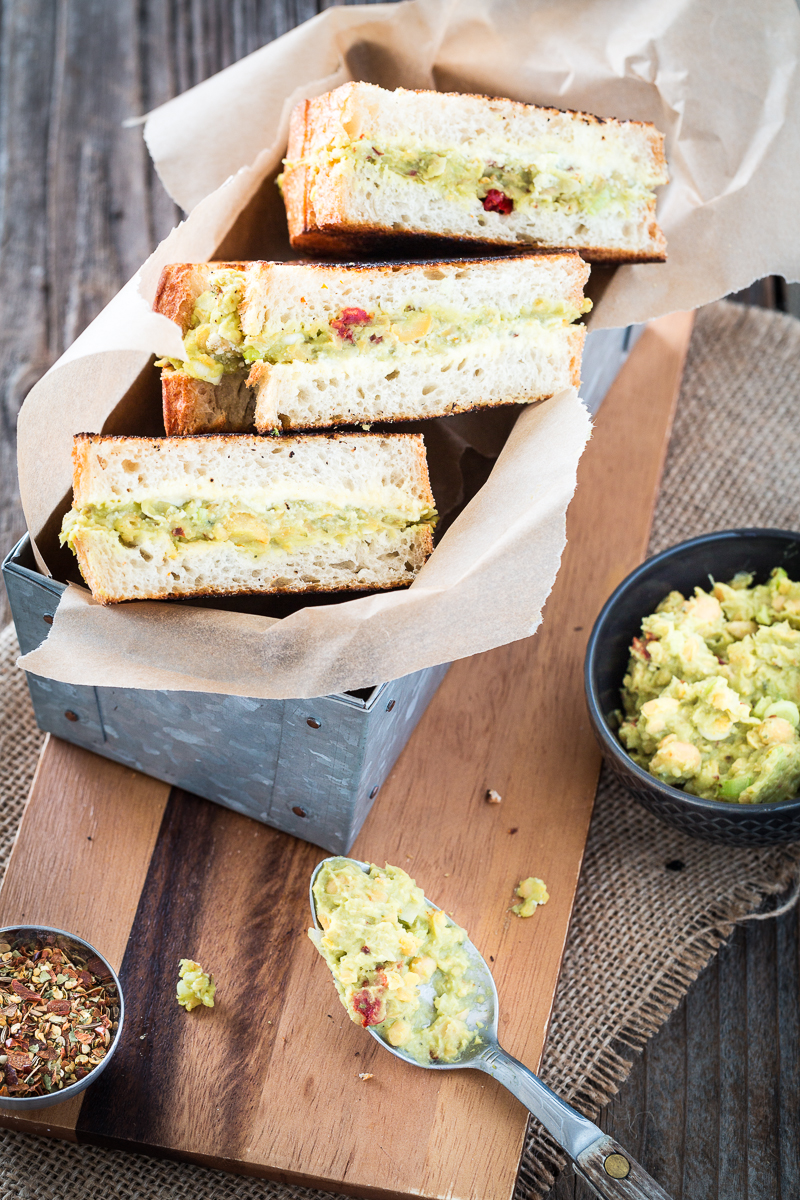 So here it is: My FGCM (Favorite Grilled Cheese of the Moment) and the revamped version of my favorite quick and easy dinner all wrapped up into one. You're going to love it!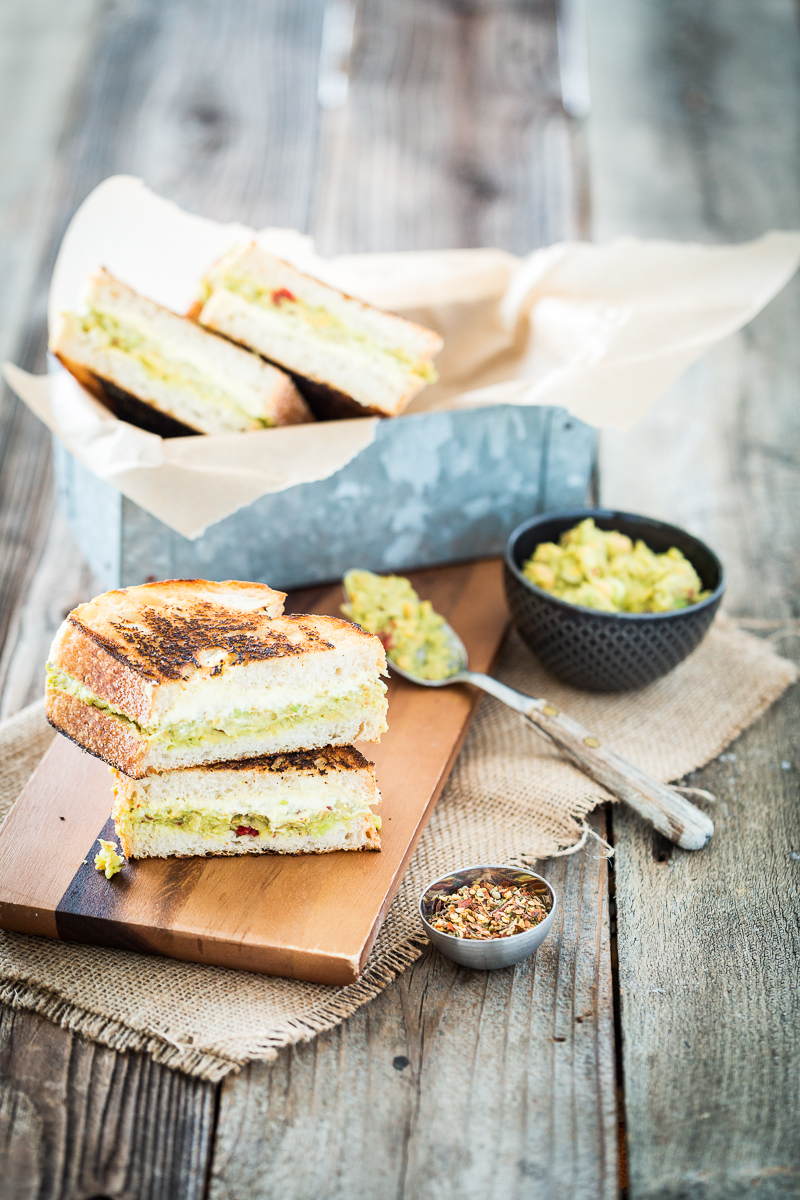 Harissa-Spiced Chickpea Avocado Salad Grilled Cheese Sandwiches
Ingredients
1/2 cup macadamia nuts, soaked in warm water for 1 hour (reserve the water)
3 tablespoons reserved soaking water
1 tablespoon nutritional yeast
1 tablespoon lemon juice
1 teaspoon ume plum vinegar (or red wine vinegar)
1/2 teaspoon white miso
1 1/2 cups cooked chickpeas (or one 15-ounce can, rinsed and drained)
2 tablespoons liquid aminos (or tamari/soy sauce)
1 avocado, peeled and pitted
2 1/2 tablespoons fresh lime juice
2 tablespoons chopped green onion
1 1/2 tablespoons vegan coconut yogurt, optional (adds creaminess)
2 teaspoons harissa spice blend
1/2 teaspoon garlic powder
salt and pepper to taste
1/4 cup chopped sun-dried tomatoes
4 sliced of french bread or regular sliced bread
Instructions
To make the cheese, combine all of the cheese ingredients in a food processor and process until smooth, pausing to scrape the sides as necessary.
Heat a large frying pan over medium heat. Add the chickpeas and cook for 2 to 3 minutes. Add the liquid aminos, stir, and cook until the liquid has been absorbed. Remove from the heat and use a fork or pastry cutter to mash the beans.
In a large bowl, mash the avocado. Add the mashed chickpeas, lime juice, green onion, yogurt, harissa, and garlic powder. Stir until combined. Add salt and pepper. Fold in the sun-dried tomatoes.
Assemble the sandwiches. On one slice of bread, spread 2 to 3 tablespoons of cheese. On the other slice, spread a thick layer of chickpea avocado salad. Put the 2 slices together (the cheese and salad facing each other, obviously). Repeat with the 2 remaining slices.
Heat a large frying pan over medium heat. Lightly spray with olive oil. Places the sandwiches in the pan. Spray the tops of the sandwiches with olive oil. Let the sandwiches cook for 3 to 4 minutes on each side or until crisp and golden. Remove from the heat and serve immediately. Enjoy!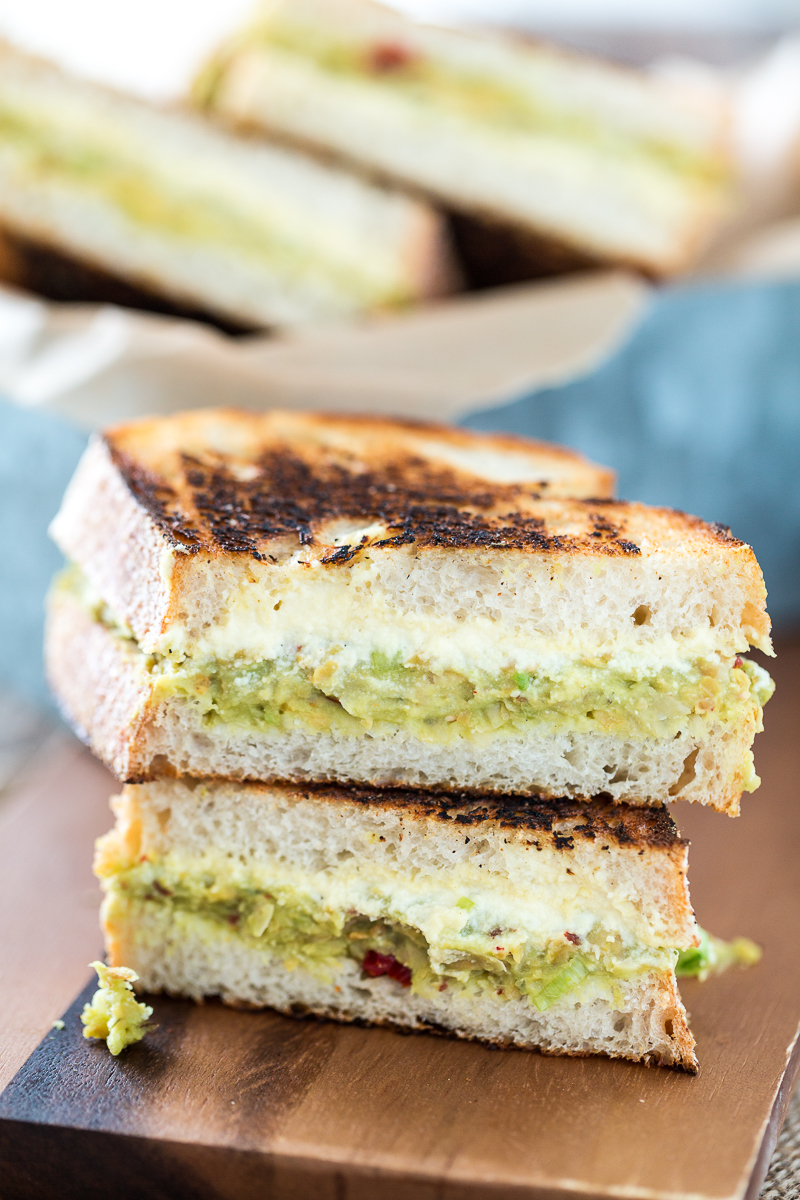 Congratulations to Meg Hartman, the winner of the My Gentle Barn giveaway! Thank you so much to everyone who entered! I loved all of your touching animal anecdotes. I would by lying if I said that I didn't get a little teary-eyed while reading them! Here was Meg's story:
I cannot wait to read this book. I have heard of The Gentle Barn, but I live in Oklahoma and have never had a chance to visit. I would love to spend time with the animals and be surrounded by like-minded people. Since I was a little girl I had a natural draw towards animals. They seemed to like me and I absolutely loved them, all types. One time when I was young, I walked right up to a fence that had cows enclosed and they came over to me and licked my arms. I just stood there letting them lick my arms and talking to them. I was only six at the time, but it showed me how gentle cows could be and how genuinely sweet and gentle animals can be if you show them the same in return.
What's your FGCM? What's your favorite quick and easy dinner?
Photography by Chris Miller