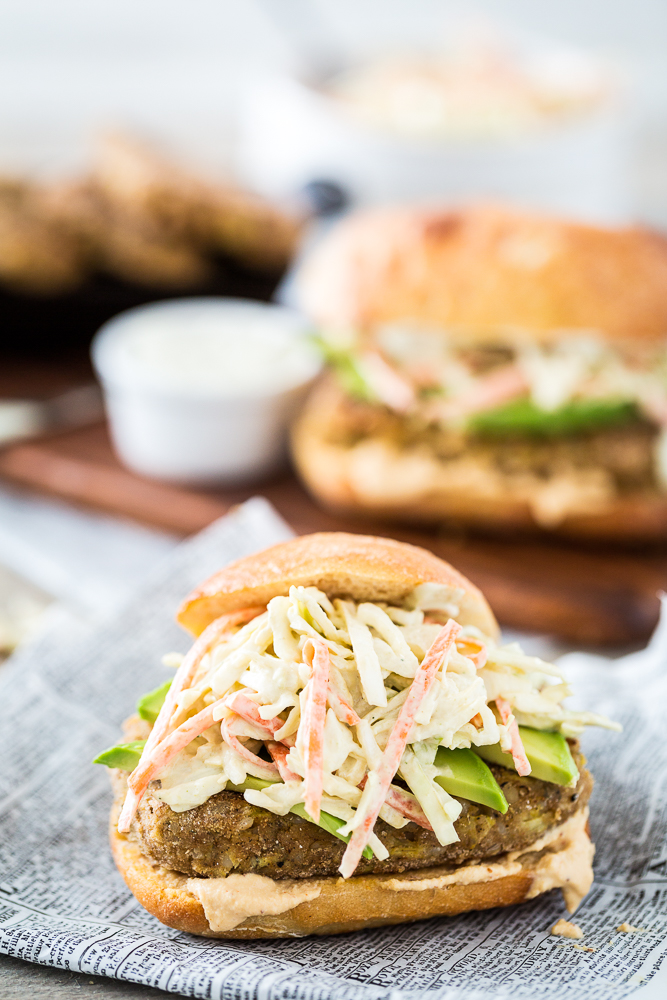 You know how when you're a kid, you form minor, fleeting obsessions with things? Like when you refused to wear anything but your favorite t-shirt (mine was a Ghostbusters t-shirt, accompanied by a fisherman's hat because who knows why?) for a month or seven? Or when you just had to watch the same movie (*cough* Goonies *cough*) every day for about 6 to 24 months? Or like when you kept in your pocket a feather that you found on the ground at school and insist on people referring to you as "Princess Star Feather," until even you got annoyed and/or bored with it? What? I'm alone on that one?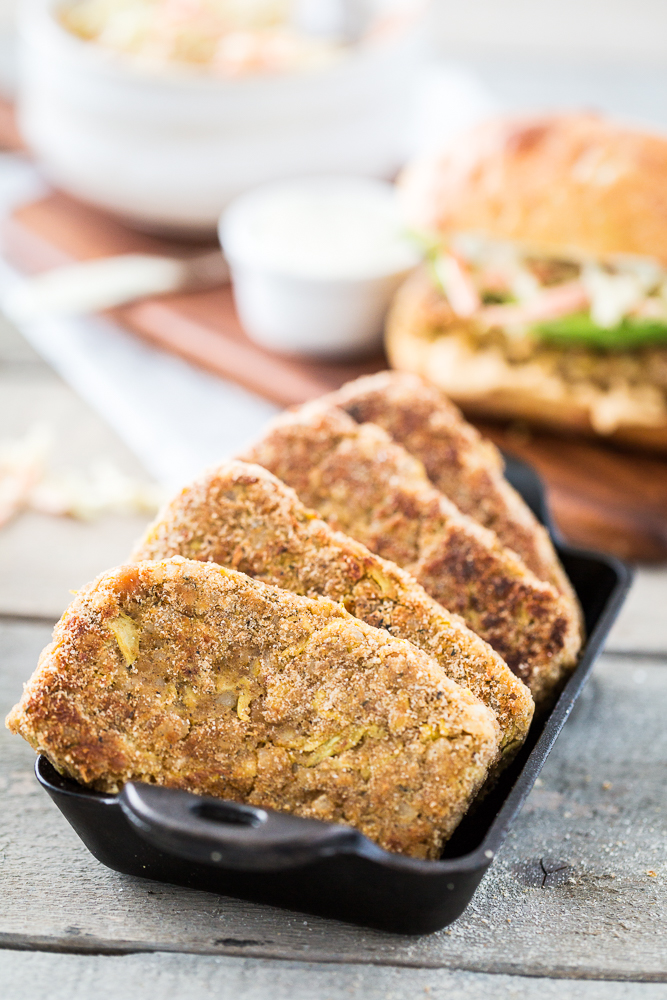 Perhaps these obsessions don't end in childhood. I guess it could be true that little, fleeting obsessions appear throughout our lives. I wore the same pair of knee-high burgundy Doc Martens every day of my senior year of high school (I even wore them to graduation. With a black flowery dress. Because it was the 90's, okay?). Chris and I go through periods of obsessive Netflix binge-watching (you may remember our Downton Abbey obsession?). I'm sure my recent hyper-organization/nesting bug could fall into that category as well.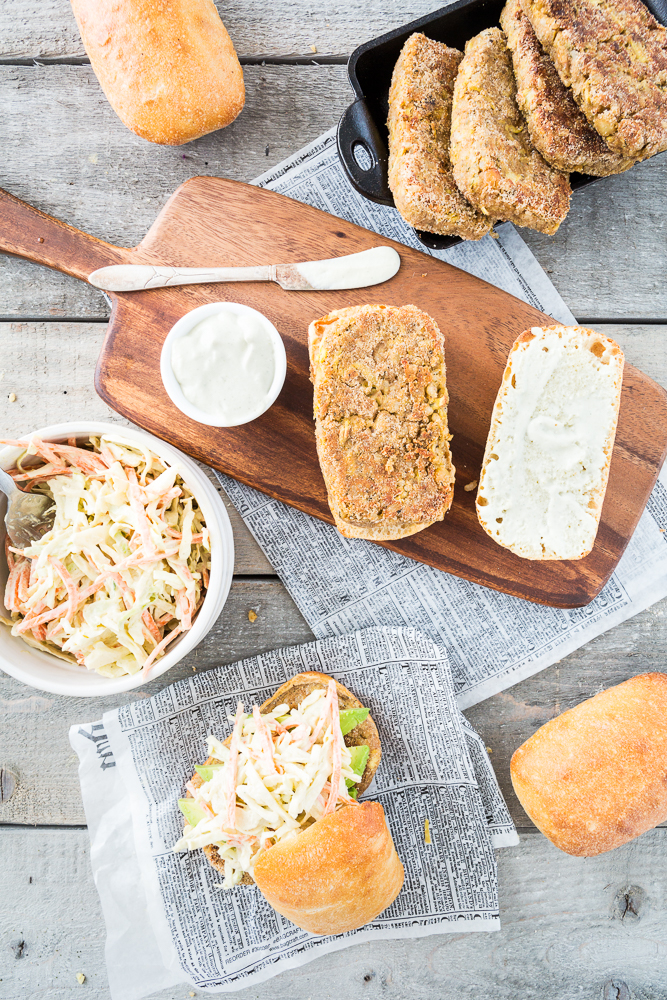 Recently, however, I was revisited by an obsession from my childhood. Growing up, my family was a fast-food family. We loved our Taco Bell and McDonalds. My mom always got the Filet O' Fish sandwich and I always wanted try it myself. Looking back, I think I was just fascinated by the patty's square shape and I loved the way its name just rolled off of my tongue: "Filet O' Fish." I would sometimes just mumble the name to myself because it sounded so pleasant to me. My mother, however, always told me that I wouldn't like it. I should just stick to my McNuggets (looking back, I'm a little horrified that "McNuggets" was such a common word in our house). One time, though, probably just to shut me up, she ordered one at the drive-thru for me. She was absolutely right. I did not like it. At all.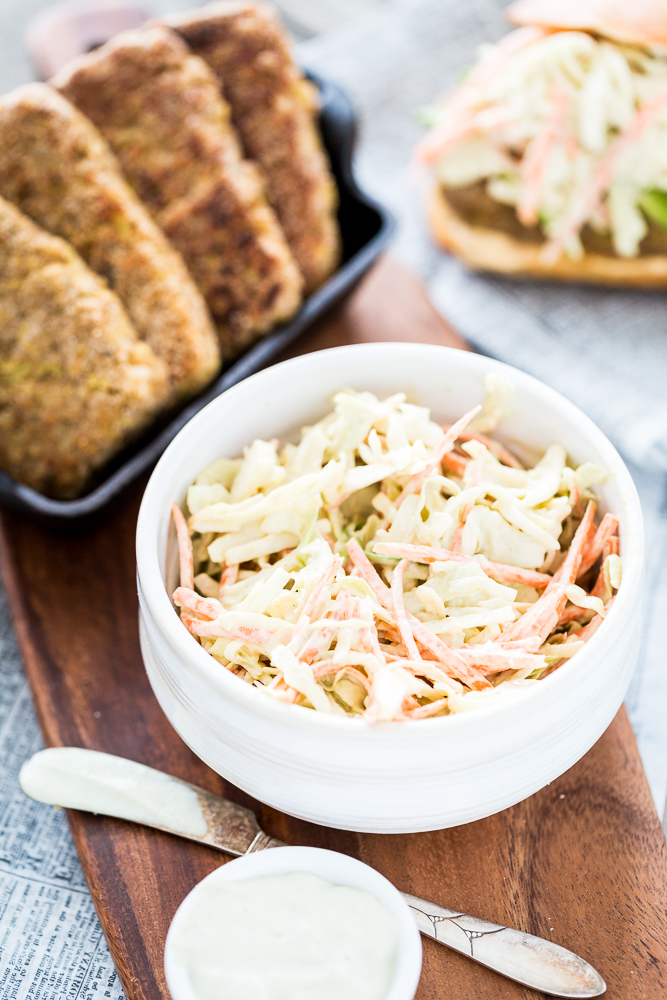 I pushed that sandwich out of my mind for the last, well, nearly 30 years until sometime a couple of weeks ago. The name came back to me and got stuck in my head, much the same way that a song might get stuck in your head (I actually get words stuck in my head much more often than songs). Being vegan now, it disturbed me that I had the name of a famous fish sandwich bouncing around in my head so I sought to remedy that. After some vegan word play (Filet O' Asparagus? Filet O' Tofu? Filet O' Sweet Potato?), my brain decided it liked the sound of "Filet O' Chickpea" the best.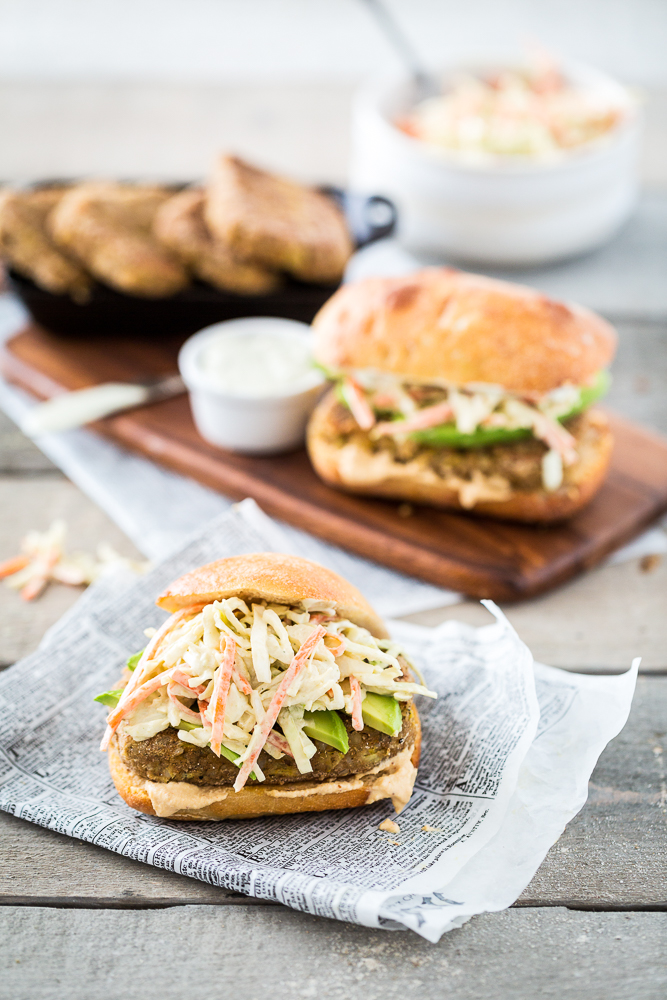 At first, I was happy just letting "Filet O' Chickpea" melodically bounce around in my head. After awhile, though, I needed an image to back it up. A recipe that I could match to the title. I needed a sandwich with a squarish, breaded filet, perhaps of the vegan seafood persuasion. And to the kitchen I went.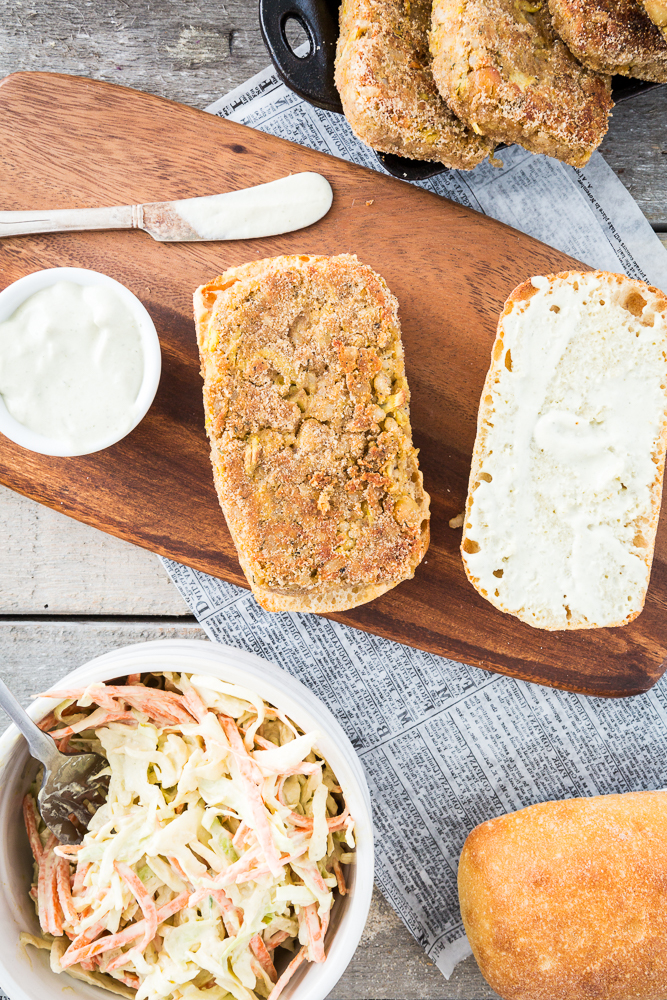 What happened was that one of the best sandwiches I've ever made was born. The filets (which I made into rectangles to fit the buns I was using, though they could be square or circle, if you prefer) are definite showstoppers in my book. They're made up of mashed pan-fried chickpeas, artichoke, brown rice, and chickpea flour but the Old Bay seasoning and kelp granules give them their over-the-top flavor (if you aren't into seafoody things, switch them with seasonings of your choice). Once the filets are shaped, they're coated in brown rice bread crumbs (though regular bread crumbs would work just as well) and pan-fried so they have a crisp outer exterior.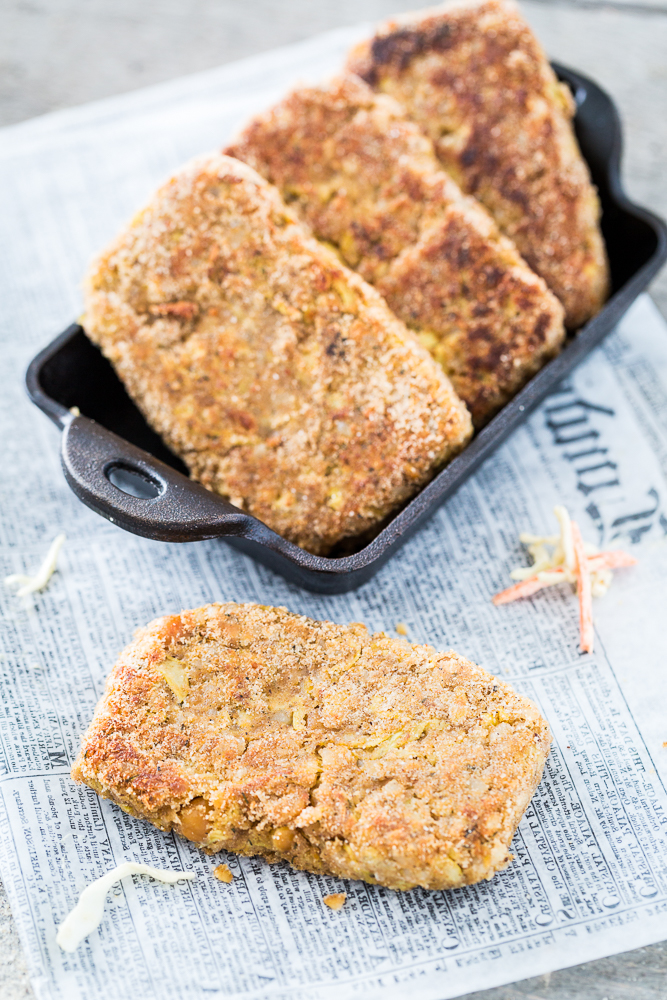 Once the filets are cooked, they go into their buns with a layer of simple macadamia/cashew cheese (though, my two-ingredient vegan cheese would also work here as well) and a layer of homemade tartar sauce. They're topped with some fresh avocado and a pile of cole slaw made with the same tartar sauce spread on the bread. It's a pretty magical combination. All of the flavors work so well together! When Chris and I were eating them, we kept stopping every couple bites to say "Oh my God. I mean, Oh my God, right?!" These filet o'chickpea sandwiches are definitely obsession-worthy. If you give these babies a whirl, don't be surprised if you start singing "Filet O' Chickpea" to yourself throughout the day.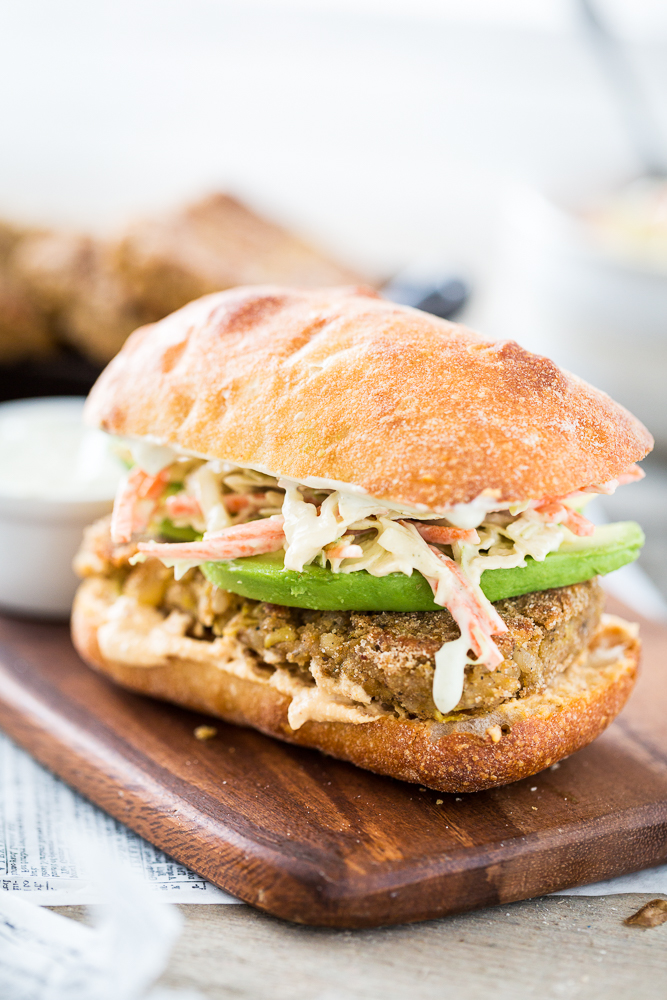 Filet O' Chickpea Sandwich with Tartar Sauce Slaw
Ingredients
1/2 cup cashews, soaked in warm water for 1 hour, water reserved
1/4 cup reserved soaking water
1/4 cup vegan mayonnaise
1/4 cup fresh lemon juice
1 tablespoon caper brine
1 teaspoon dried dill
3 cups shredded cabbage
1 cup grated or julienned carrot
1 1/2 cups cooked chickpeas (or one 15-ounce can, rinsed and drained)
1 tablespoon liquid aminos
one 15-ounce can artichoke hearts (about 8 hearts), rinsed and drained.
1 cup cooked brown rice
1/4 cup + 1 tablespoon chickpea flour
1 tablespoon old bay seasoning
1/2 to 1 teaspoon kelp granules (depending on taste preference)
1/2 teaspoon dried dill
salt and pepper to taste
brown rice bread crumbs (or regular bread crumbs)
vegetable oil for pan-frying
vegan hamburger buns or sandwich rolls
cheese sauce (or this one
sliced avocado
Instructions
Combine the tartar sauce ingredients in a food processor or blender and process/blend until smooth.
Combine the shredded cabbage and carrots in a large bowl and add 1/2 cup tartar sauce. Mix until fully combined. Let chill for at least 1 hour.
Heat a large frying pan, preferably cast iron, over medium heat. Add the chickpeas and cook for a couple of minutes. Add the liquid aminos and cook, stirring occasionally, for 5 to 7 minutes or until the liquid has been absorbed. Remove from the heat. Use a fork or a pastry cutter to gently mash the chickpeas. You only have to mash them a little bit- you still want them a little chunky.
Place the artichoke hearts in a food processor and pulse 5 to 7 times until the artichokes are broken down into little pieces (but not mushy).
Combine the chickpeas, artichokes, rice, and chickpea flour in a large bowl. Use your hands to mash and squeeze the mixture until it is fully combined and will hold together when you squeeze it. If it doesn't hold together, add more chickpea flour by the tablespoon until it holds. Add the spices and mix until combined.
Line a baking sheet with parchment paper. Pour the bread crumbs into a shallow bowl. Divide the mixture into 6 equal sections. One at a time, shape 1 section of the mixture into the filet shape of your choice, place in the bread crumbs, and gently flip until all sides are covered. Gently shake off the excess crumbs and place on the prepared baking sheet.
Heat a large frying pan over medium heat. Add oil until the bottom of the pan is thinly coated. Once the oil begins to shimmer, add 2 to 3 filets to the pan. Let them cook for about 4 minutes (flipping once halfway through) or until both sides are golden. Remove the filets from the pan and transfer to a plate lined in paper towels to absorb the excess oil. Cover with a clean kitchen cloth while you repeat with the remaining filets (adding more oil if necessary).
To assemble the sandwich, on the bottom half of a sandwich bun or roll, spread the cheese and on the top half, spread the tartar sauce. On top of the cheese sauce, place a filet, then some avocado slices, a pile of slaw, and then top with the top half of the bun/roll. Serve immediately. Leftover filets and slaw can be refrigerated in airtight containers for 3 to 4 days. Enjoy!
Notes
To make this meal gluten-free, simply use gluten-free bread or sandwich rolls.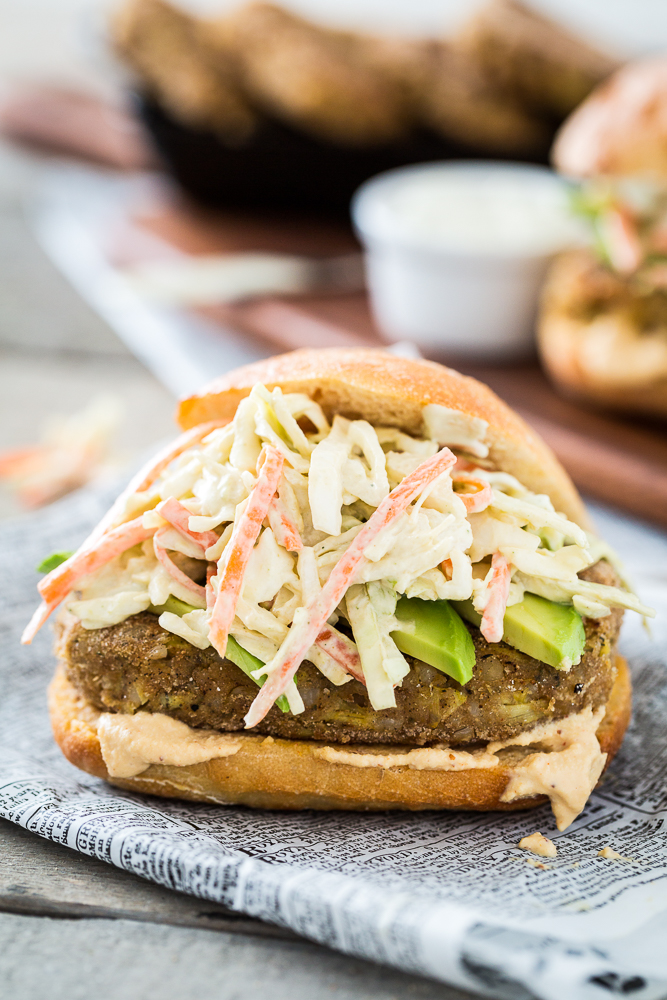 Have a wonderful holiday weekend, everyone! If you need some ideas for any July 4th shindigs, be sure to check out my list of 50 Vegan Summer Recipes. And if you're into salads, be sure to enter my Salad Samurai Giveaway!
What are some of your current obsessions (food or otherwise)?
Photography by Chris Miller