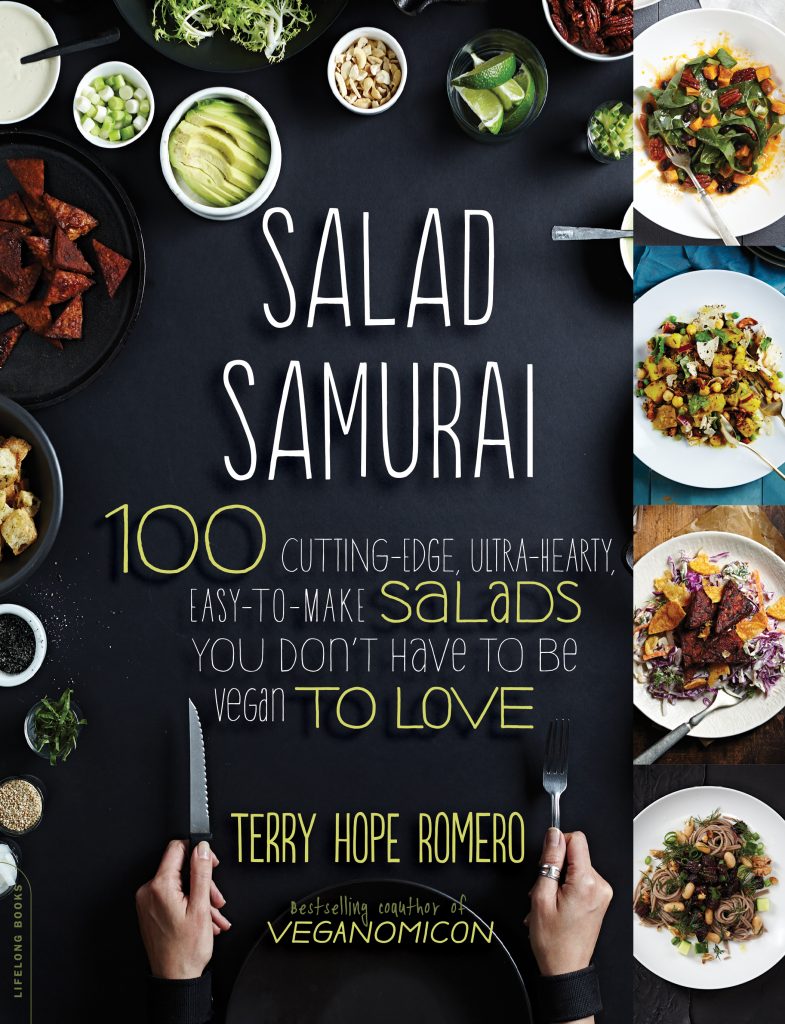 When I received my review copy of (culinary wizard) Terry Hope Romero's newest book, Salad Samurai: 100 Cutting-Edge, Ultra-Hearty, Easy-to-Make Salads You Don't Have to Be Vegan to Love, I died. I died and went to glorious salad heaven.
In Salad Samurai, Romero shares 100 salads, all broken down by season. There's also a slew of various dressings and salad toppings to take your salads to the next level. With my first flip-through, I spotted easily a dozen salads I knew I needed to make right away. The second time, I went through it, I dog-eared about 30 to 40 salads that I felt would be good for dinner that night (Kimchi Black Rice with Asian Pear, Smokehouse Chickpeas 'N' Greens Salad, Gingery Beets & Lentils with Tahini and Agave Nectar, BBQ Tempeh 'N' Dilly Slaw Bowl, and Pepperoni Tempeh Pizza Salad just to name a few). It's rare that I will cook from the same cookbook every night for a week (actually, it's never happened before) but this book, with it's gorgeous photography by V.K. Rees, is so enticing, I couldn't help myself. And the recipes make building an incredible salad so easy that I felt like I really was a samurai in the kitchen!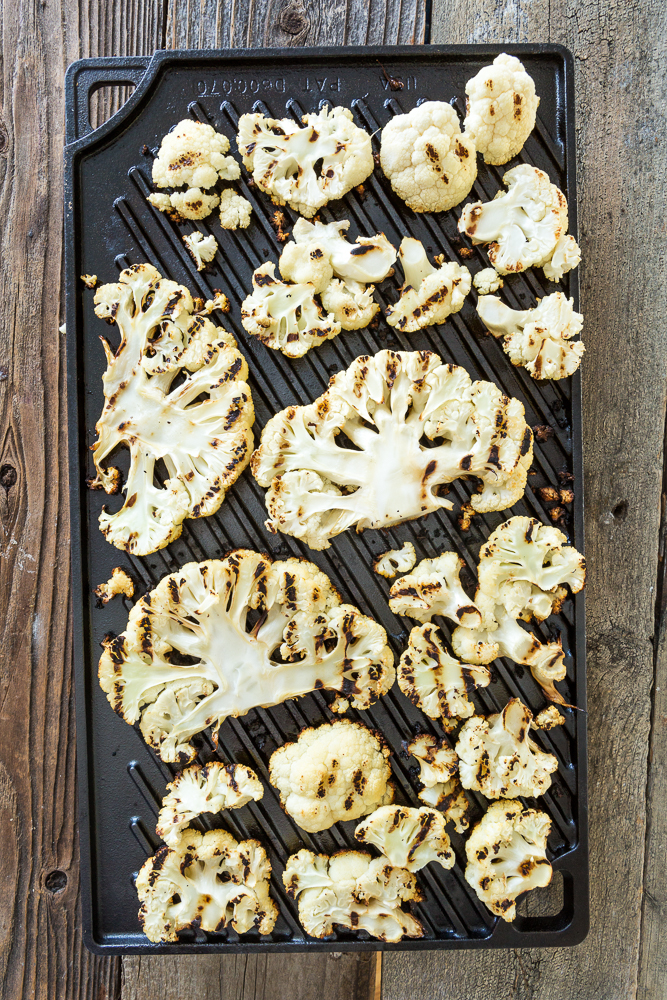 One of the salads I made was the Backyard Buffalo Caesar Salad. With several elements to the salad itself (buffalo tofu, croutons, a ranch dressing), I expected to be working in the kitchen for awhile. I was thrilled, however, by how simple the recipe was and how quickly it came together. It didn't hurt that the salad was pretty amazing and the first time I actually liked having croutons on a salad (these croutons, you guys... they're perfect!).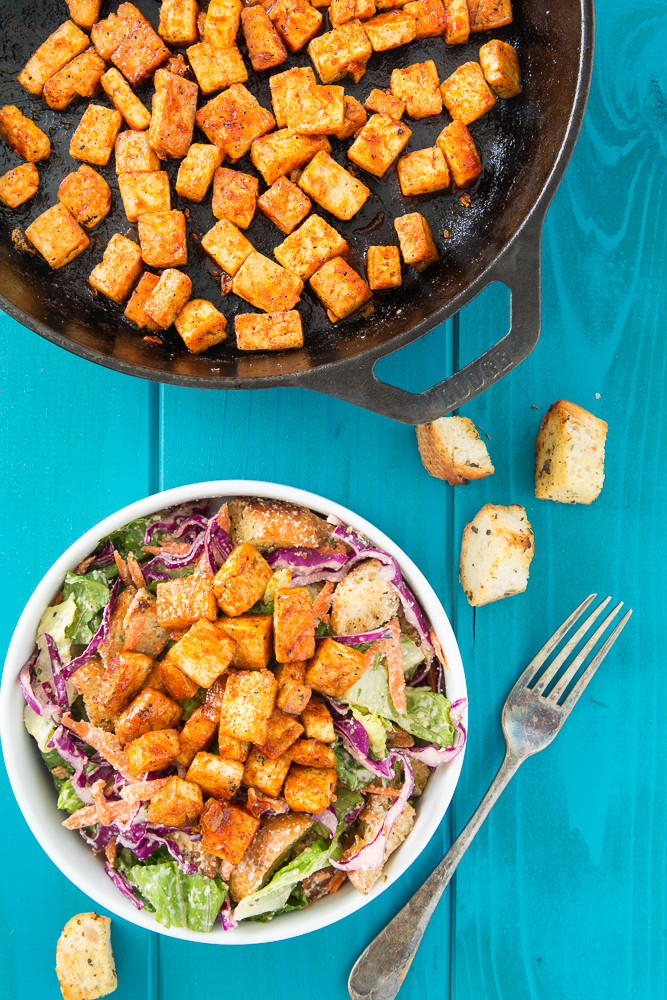 Another salad I made was the Tempeh Reubenesque Salad. I was able to use the leftover croutons from the caesar salad so again, the salad took very little time to make. Chris and I love Reuben sandwiches so this salad, piled high with sauerkraut, red cabbage, apples, tempeh bacon bits, and doused in Galapagos Island dressing made this salad our favorite that we've tried so far. We actually had it two nights in a row!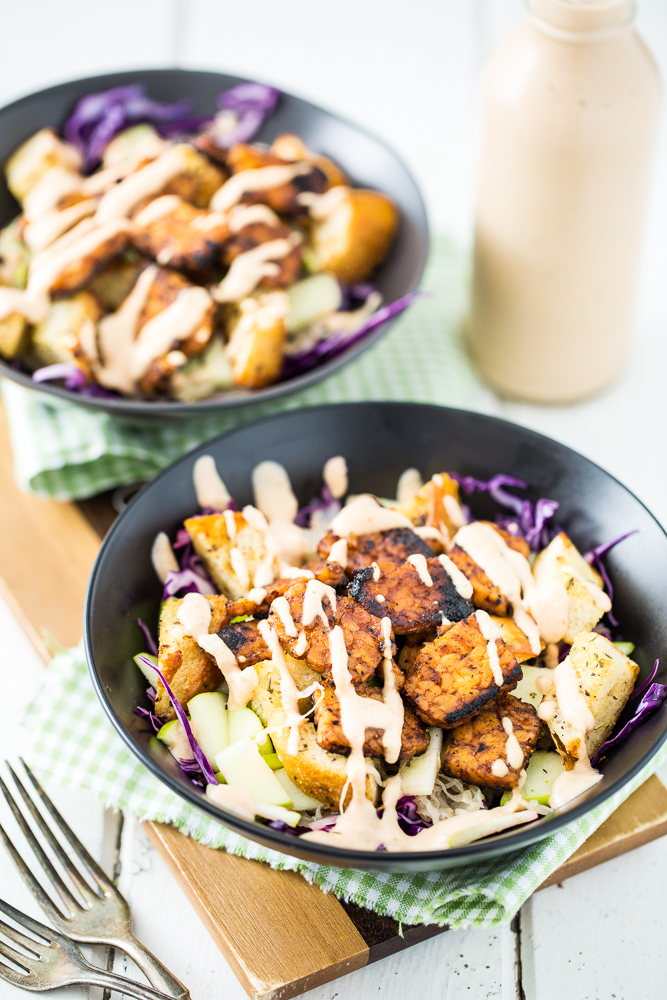 What I love most about Salad Samurai, is how simple Romero has made it for us to pull together beautiful, delicious, meal-sized salads without making it complicated. The instructions are straight to the point and so easy, I think Chris could probably follow them (he doesn't cook at all). The ingredients are ones that I keep stocked regularly. In fact, to make the Pesto Cauliflower & Potato Salad, all I needed to get at the store was fresh basil. I had never grilled cauliflower before and I loved how it didn't take much time for them to become tender and get beautiful grill marks. I never would've thought to add grilled cauliflower to a potato salad but with the pesto and pine nuts mixed in, it was an absolute delight. It even made a wonderful lunch the next day. Da Capo Press is being kind enough to let me share the recipe for this exquisite salad with all of you!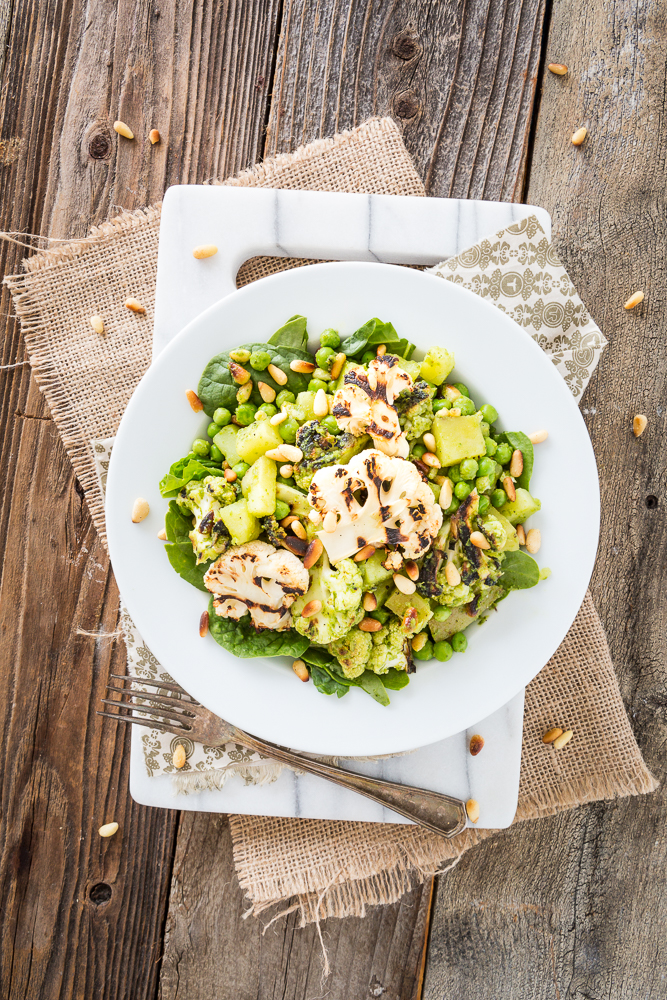 Pesto Cauliflower & Potato Salad from Salad Samurai
Ingredients
1⁄2 pound cauliflower (about 1/2 small or 1/4 medium cauliflower)
1 tablespoon olive oil
1⁄2 pound waxy yellow or white potatoes, unpeeled
1 cup fresh or frozen green peas
1⁄4 cup chopped toasted walnuts or toasted pine nuts
11⁄2 cups lightly packed fresh basil leaves
1 tablespoon white wine vinegar or white balsamic vinegar
1 tablespoon freshly squeezed lemon juice
4 teaspoons olive oil
3 cloves garlic, peeled
1⁄2 teaspoon freshly grated lemon zest
1⁄2 teaspoon salt
Salt and freshly ground black pepper to taste
Instructions
Remove the thick inner stem from the cauliflower, slice into thick 1-inch slabs. Preheat a cast-iron grill pan over high heat. Rub the cauliflower with olive oil and arrange the pieces in a single layer in the preheated pan. Grill the cauliflower until charred on the outside and crisp-tender inside, about 4 to 5 minutes, flipping halfway through. Transfer the cauliflower to a cutting board, chop into bite-size pieces, and place in a large mixing bowl.
Peel and dice the potato into 1⁄2-inch pieces, transfer to a large saucepan, cover with 4 inches of cold water, and bring to a rolling boil over high heat. Reduce the heat to medium and cook the potatoes for 6 to 8 minutes, or until almost tender.
Stir in the peas and cook another minute. Reserve 1⁄4 cup of cooking water, then drain the potatoes and peas and rinse with cold water. Add these vegetables to the cauliflower.
In a food processor, pulse together the pesto ingredients plus 2 tablespoons of the potato cooking water until smooth. Spoon onto the vegetables, add the nuts, and combine thoroughly.
Cover and chill for 10 minutes to blend flavors. Serve the salad slightly chilled or at room temperature. Garnish each serving with a few nuts.
Notes
From Salad Samurai by Terry Hope Romero. Reprinted with permission from Da Capo Lifelong, © 2014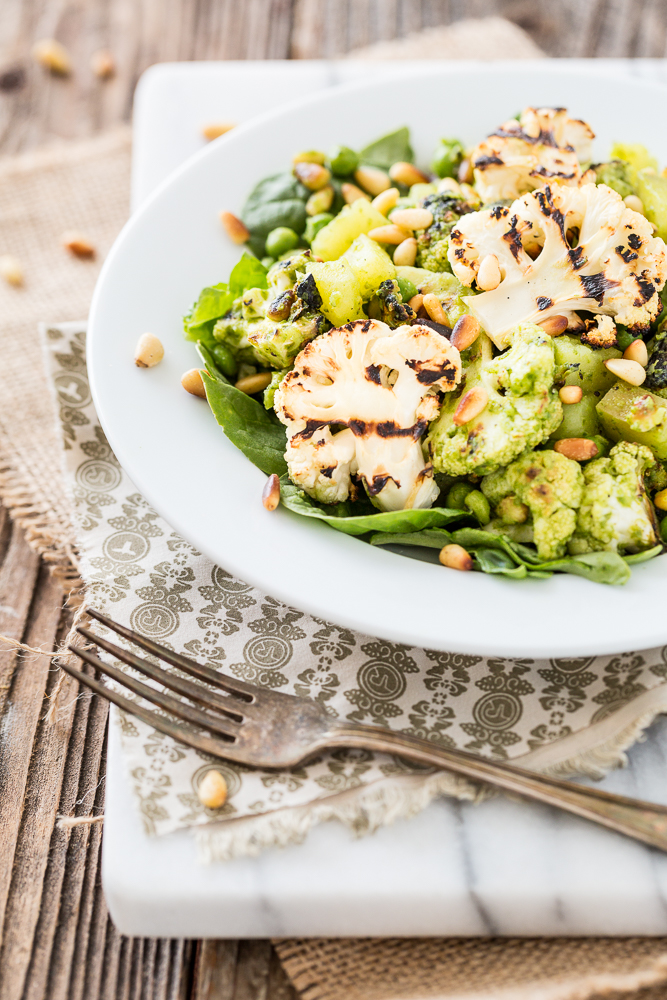 Da Capo Press is also being so generous as to give away 2 copies of Salad Samurai to my wonderful readers! You read it right- there'll be 2 winners! The giveaway will run until 11:59 pm PST on July 7th, 2014. Please use the box below to enter.

Thank you so much to Terry Hope Romero for writing this wonderful cookbook which is sure to be a staple resource in my kitchen and to De Capo Press for letting me review it. And thank you to all of you amazing readers for stopping by!
In your opinion, what makes a salad spectacular?
Disclaimer: I was given this book to review but the thoughts and opinions expressed here are my own.