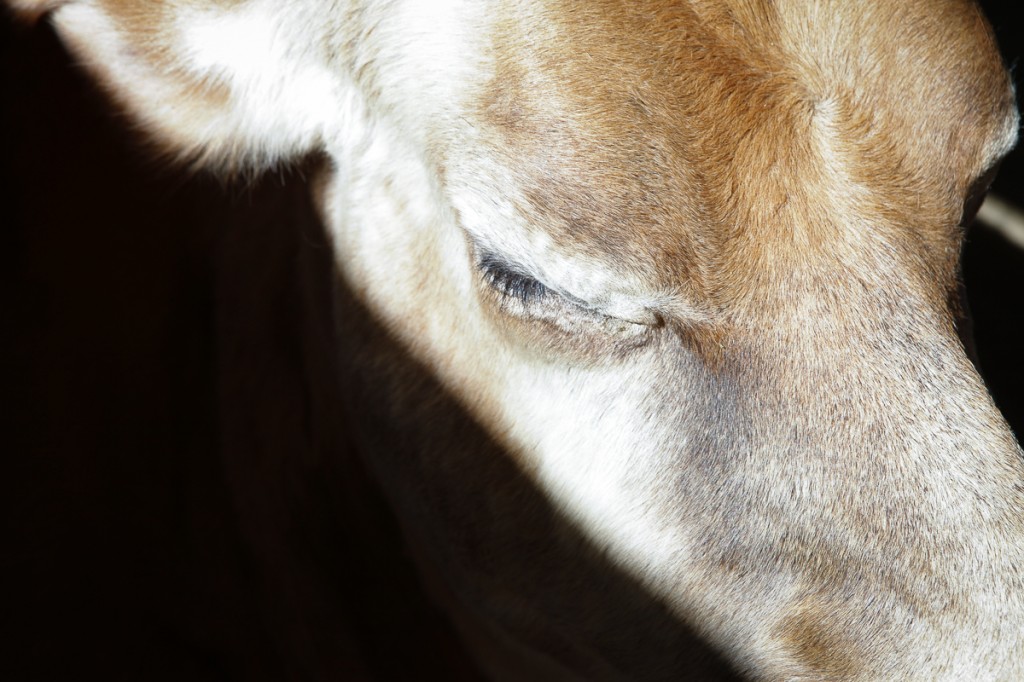 When I first became vegan, I felt an strong urge to be with farm animals. After doing a month of research about factory farms, the dairy industry, the egg industry, and learning other horrible truths about petting zoos, pony rides, and circuses, I was overwhelmed by the feeling that I needed to connect with some of these animals. I needed to see animals who had been rescued from these horrific situations and given a new chance at life. I needed to, in some way, apologize for ever contributing to those industries.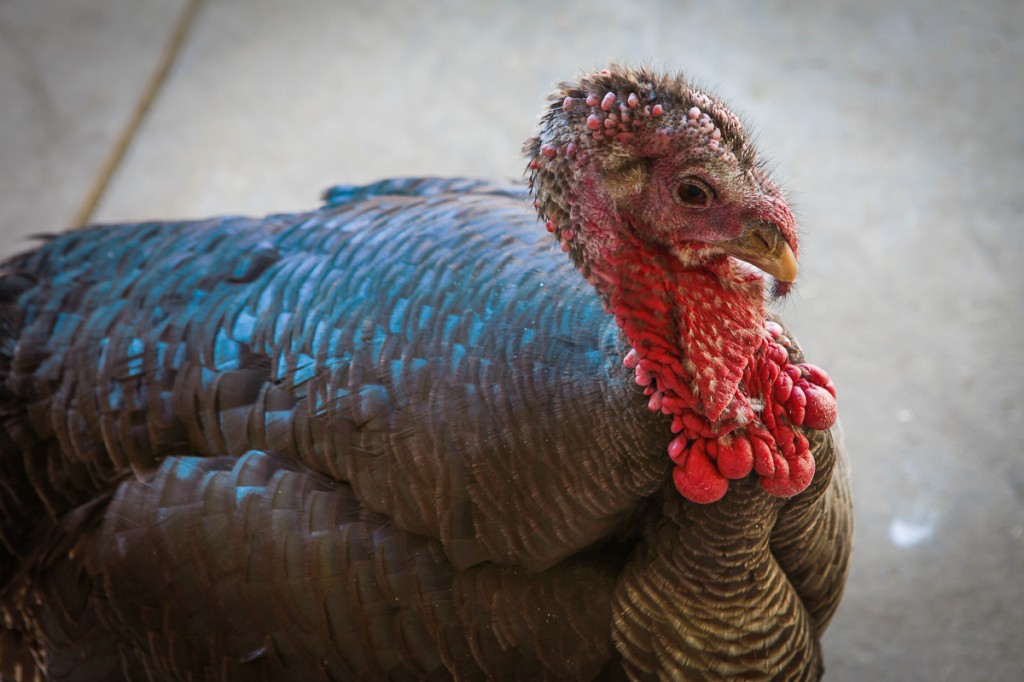 I began to research farm animal rescues and learned that there were actual sanctuaries dedicated to rehabilitating rescued farm animals and as it turned out, there was one just an hour away from where I lived. It was called The Gentle Barn and they allowed visitors on Sundays. It was November or December 2011 and the first free weekend we had, we made the drive up.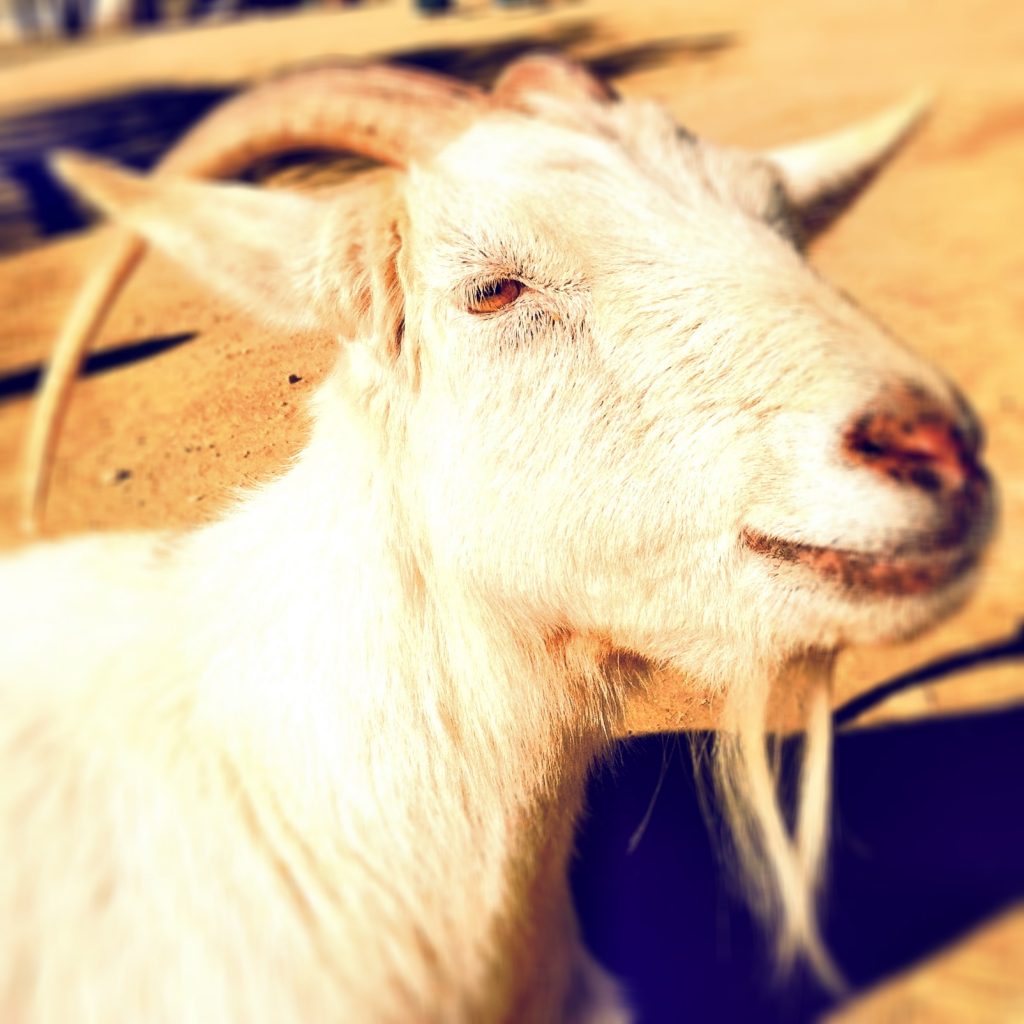 Upon entering the farm, the first pasture that you come to is one with several cows in it. Next to it is a barn with 2 or 3 cows laying and resting. There were volunteers that handed us brushes so we could brush the cows and told us we should try hugging one of the cows. I wanted to hug the cow so badly but I was nervous so I just began to brush her and pet her. It was then I learned that cows are truly the most peaceful and zen-like animals. I could've stared into that cow's eyes for days. After I felt comfortable enough, I did give the cow a hug and I actually choked back tears because I didn't want my family to see my crying over just hugging a cow. I had been harboring a lot of guilt over having been a fromagier in the past and actually working in the industry that causes cows so much pain. After that hug, I felt, in a way, forgiven. I could've spent the rest of the day just hanging out with the cows, but my family wanted to move on so we headed to the horse corrals.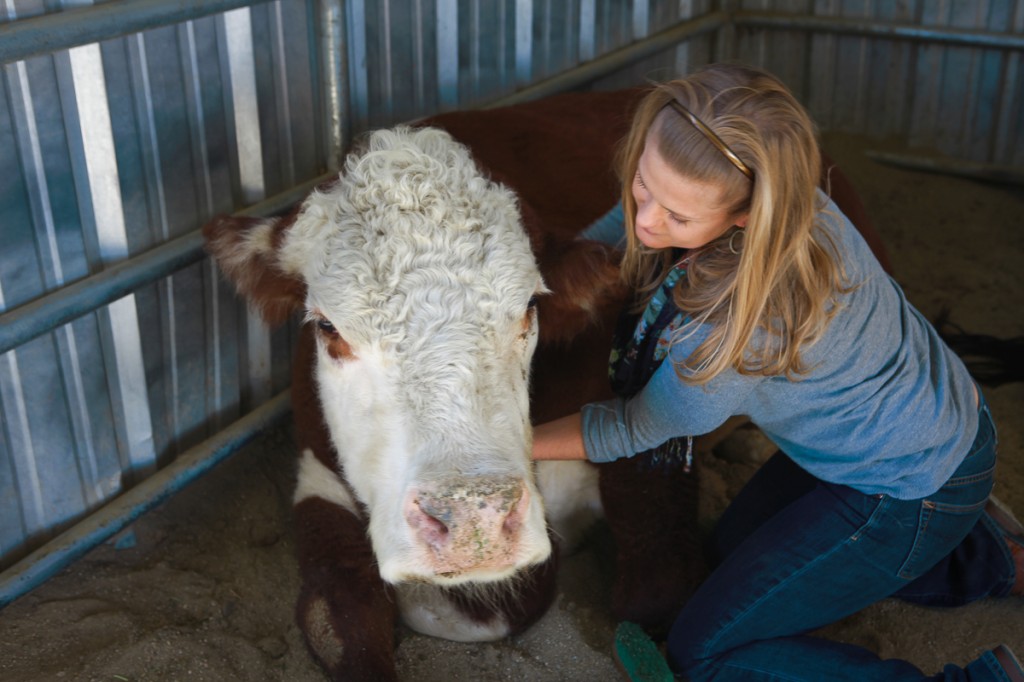 There was one horse there, Bonsai, that had been rescued from an alcoholic woman who would punch him in the face and he learned to be afraid of humans. At the Gentle Barn, he learned to trust humans again. I was amazed at how friendly he was and how much he seemed to love me rubbing that space just of his nose.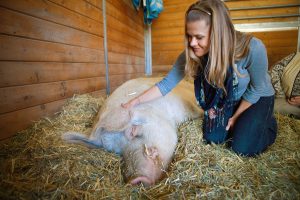 After the horses, we made our way up to a larger open area where pigs, goats, sheep, chickens, and turkeys all lived together. There were tons of volunteers there to tell us the animals' stories and show us how to know if the animals were okay with our petting them. If they walked away, that meant they weren't interested and we had to listen to them. I got down in the hay and rubbed pigs' bellies. Turkeys came up to me for attention and allowed me to pet their feathers. Sheep rubbed up against our legs. There was a goat that jumped and pranced. We spent about an hour in this pure bliss.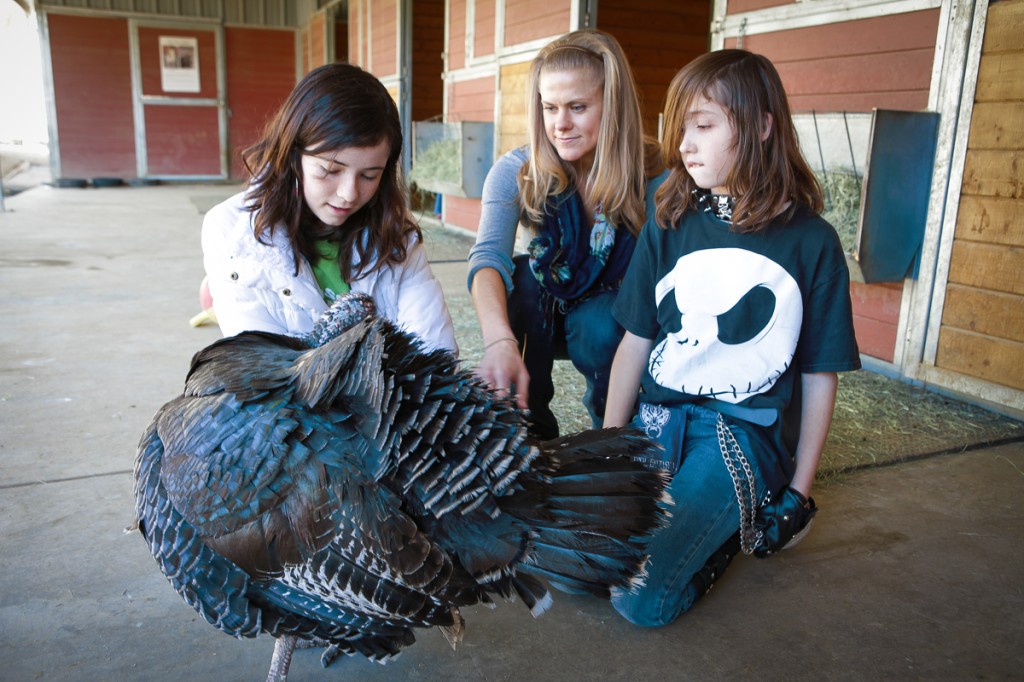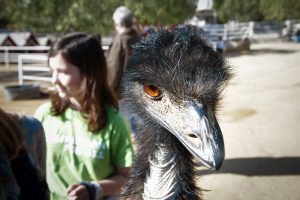 The animal that touched me the most was actually an emu named Yoda. I had never seen an emu in person before and was shocked by how huge it was. We were the same height (or maybe he was a couple of inches taller). He had been rescued from a hoarder and we were told he used to be very frightened of humans. I was shocked because Yoda had no problem getting right in my face which made me laugh to no end. The sweetest thing about Yoda, though, was that when you rubbed his neck or petted his head, he would lower his head and fall asleep right on your shoulder. It was so terribly sweet that this animal trusted me, a total stranger, enough to fall asleep on my shoulder. I wondered why we all couldn't be this trusting.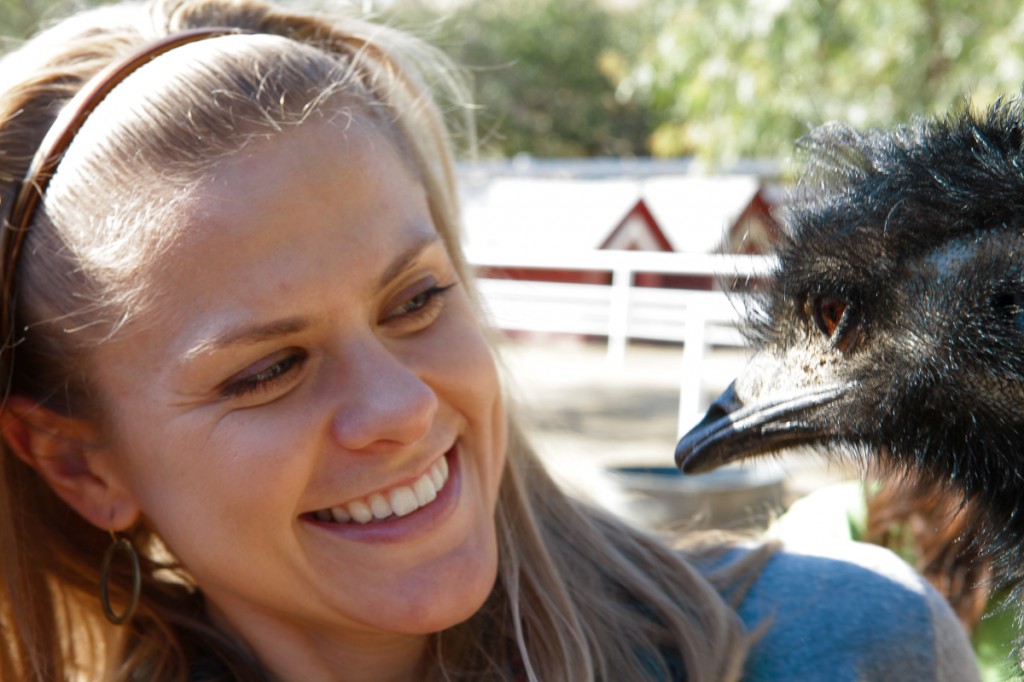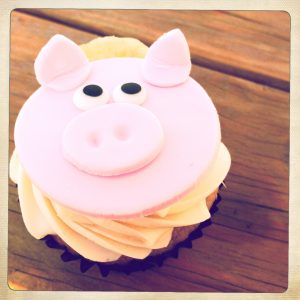 After our time with the animals, the farm was getting ready to shut down for the day. It was the founder, Ellie Lak's birthday, and they had vegan cupcakes for sale. We took the last two they had and as we ate them, I saw Ellie walking past with a huge smile on her face. I thought to myself, "I would be smiling too if I had created a place this amazing." I couldn't even wrap my brain around how one might make something like The Gentle Barn happen.
After that day, I began to follow The Gentle Barn on facebook and I would get excited whenever they showed pictures of their newest rescues or asked for help in naming them. I called my husband in tears the day they announced that Yoda had passed away. I read Ellie's touching post about her relationship with Yoda and my heart broke for her. I felt so blessed that I had been able to meet him.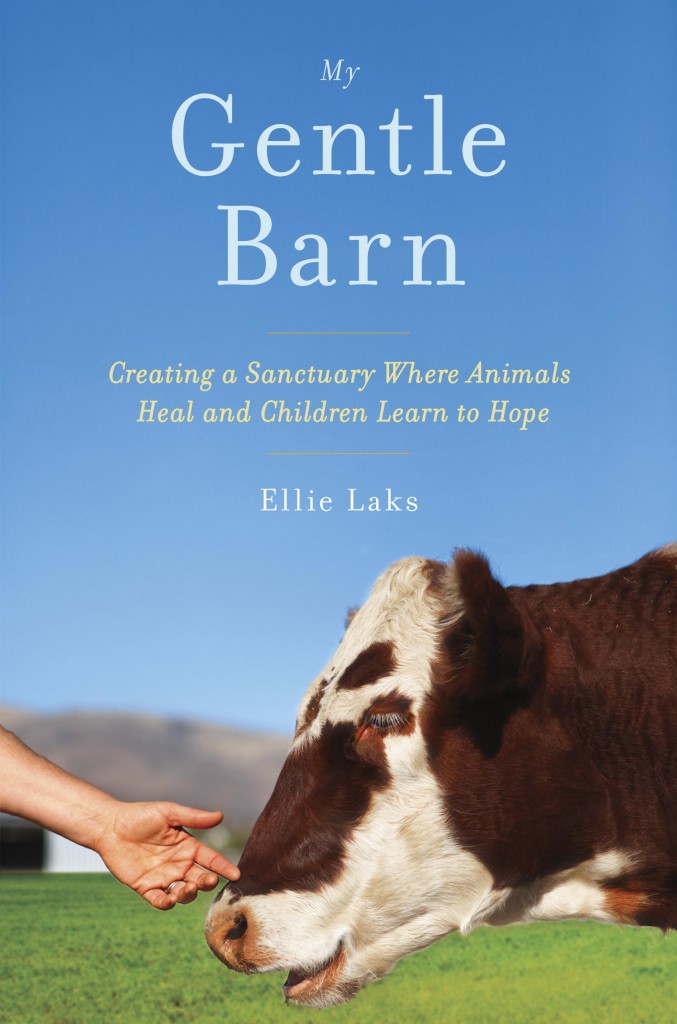 cover by Zach Cordner
When I was asked to review Ellie Laks' new memoir, My Gentle Barn, there was absolutely no question. I couldn't wait to hear the story of how The Gentle Barn came to be. As soon as I opened the book, I couldn't put it down. My heart felt for Ellie as I read about her troubled childhood and the rough path she traveled into adulthood. I was proud of her as she turned her life around and was inspired all through her story of how The Gentle Barn began. I couldn't believe some of the obstacles they had overcome and the miracles that occurred in order for them to continue to rescue animals and grow as a sanctuary.
I cried many times throughout the book, sometimes out of heartbreak, but usually because I was so touched by the stories of the animals that Ellie rescued. It was especially neat to hear the stories of some of the animals I had met just a few years earlier. I love hearing stories of animals being rescued from horrifying situations and how they heal and learn to trust again. Reading about each of these animals and how their healing process helped to heal Ellie just turned me into a big bag of emotions and I loved every moment.
One thing I had not been aware of (or perhaps I had forgotten) was that The Gentle Barn invites at-risk and special-needs children to the barn to visit the animals. I was amazed and touched (and I probably cried again) over how these animals who had an awful start at life gave these children hope and helped them move past their own terrible pasts.
Once I finished the last chapter, I was so disappointed that the book was done. I wanted to hear more. I wanted the story to keep going. I wanted to get in my car and drive to The Gentle Barn so I could hug a cow again.
I can't recommend My Gentle Barn enough. The story is so great, it's hard to put the book down and I don't think you can read it without feeling touched and inspired. I loved the book so much and I think everyone should read it. Since I can't give a copy to everyone, I'm going to give my copy to one of you. You can use the box below to enter but in order to qualify, you must leave a comment telling me how an animal has inspired or taught you. The giveaway will run until 11:59 pm on 4/19/14.

Thank you so much to Harmony Books for letting me review this incredible book. Thank you, Ellie Laks, for all of your work. You are amazing.
How has an animal taught or inspired you?
Unless otherwise mentioned, photography by Chris Miller