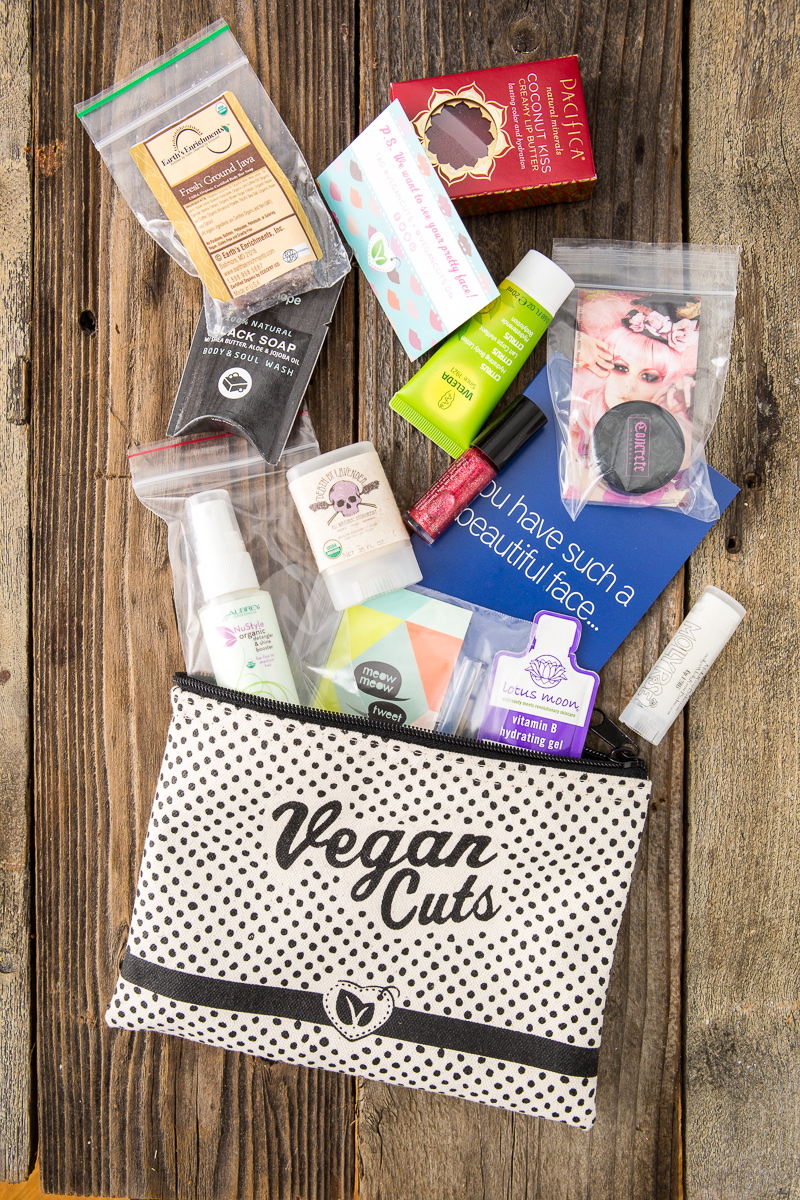 When I first went vegan, I spent countless hours searching for vegan and cruelty-free alternatives for my shampoo, conditioner, face wash, make-up, and numerous other products. If you're in the midst of that search now, there is no need to spend endless hours researching! Vegan Cuts has you covered.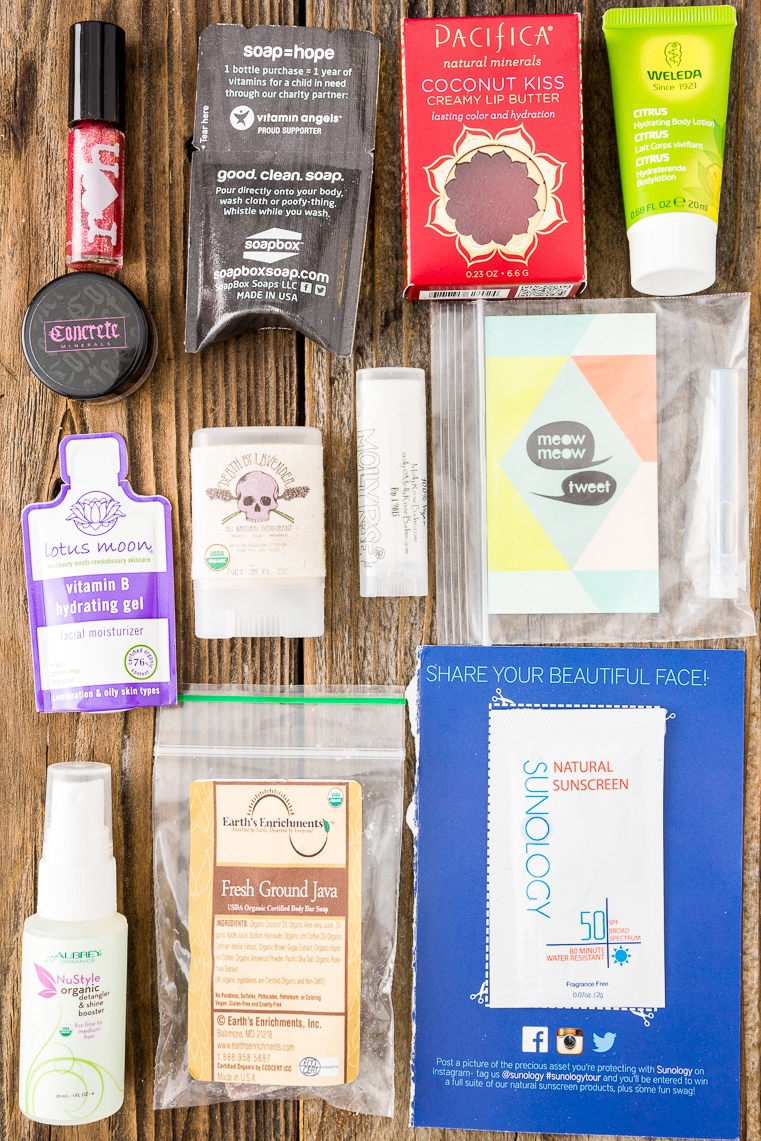 I've sung the praises of Vegan Cuts before- their online marketplace, their monthly snack box, and their monthly beauty box all rank pretty high in my book. For this new addition, the lovely people of Vegan Cuts have picked out their top 12 favorite beauty essentials to create a Beauty Essential Kit. In this kit, you'll get a surprise mix of those top 12 items. Plus, you get a limited edition, American-made Vegan Cuts makeup bag to put all your goods in.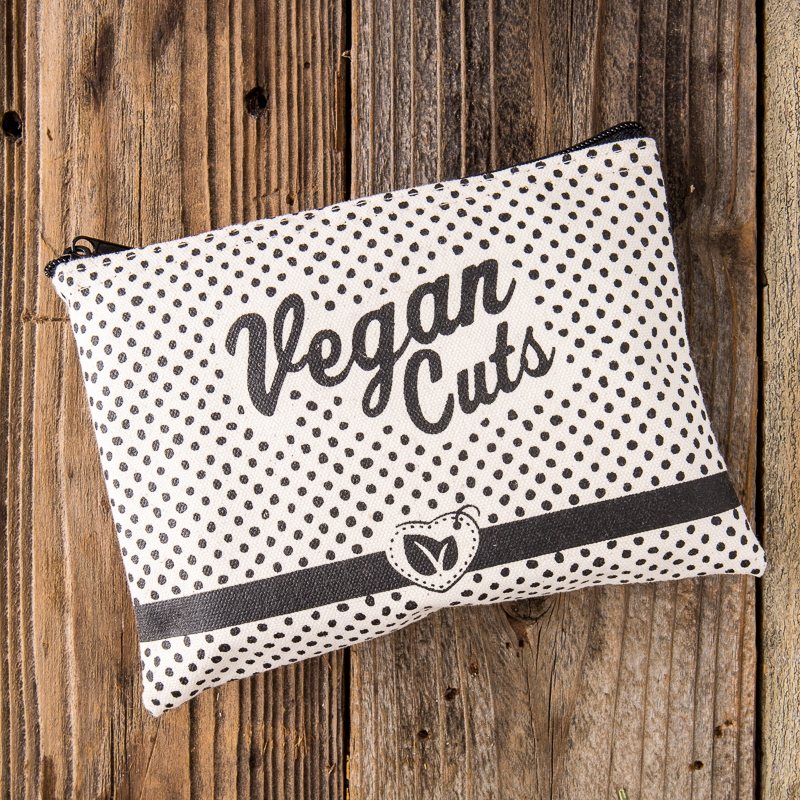 I haven't tried everything yet (though a few of the items I did get in the monthly beauty box I reviewed so I already knew I loved them) but here is what I got in my  kit (I made comments for the ones I've tried):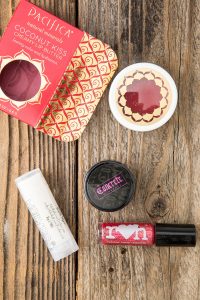 Concrete Minerals Eyeshadow: "Shimmery, ultra glamorous, and highly-pigmented mineral eyeshadow made without parabens and fillers." I got this in my monthly beauty box and I love it. It's my new favorite eye shadow (for those rare times I actually wear eye shadow).
Pacifica Coconut Kiss Creamy Lip Butter: "Get instant 100% natural color and deep hydration with our coconut infused lip butter. Supernatural ingredients, excellent antioxidant properties and long lasting wear will make you fall in love with this incredible formula." I adore this lip butter. I got it in 'Lava,' a solid red color which normally doesn't work on me but the sheerness of the butter was perfect and it was super moisturizing for my lips.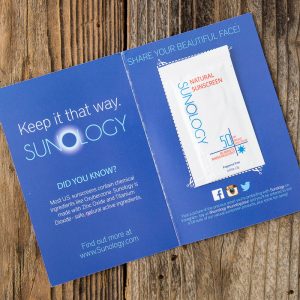 Rainbow Honey Nail Lacquer: "Brightly-pigmented, long-lasting nail lacquer made in the USA without icky chemicals." I haven't tried it yet, but it's super sparkly and pretty.
Molly Rose Lip Balms: "Made with at least 95% certified organic ingredients and free of parabens and petrochemicals, these treats for your lips are BURSTING with flavor!" I got the Pickles & Ice Cream "flavor" but I didn't notice a discernable taste or smell. It was very moisturizing, though!
Sunology Natural Sunscreen: "SPF 50. Sunology® is the only sunscreen in the world that contains VitaOleféraTM ComplexTM and FSG Complex, both breakthrough ingredients derived from nature."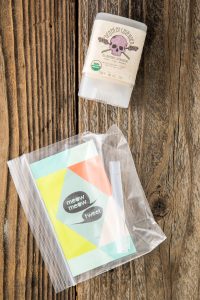 North Coast Organics Deodorant: "Aluminum-free deodorant formulated to neutralize odor and absorb wetness with organic ingredients and essential oils." This may be the best vegan deodorant I've ever tried. I got the Death by Lavender scent and I will for sure be ordering the full-size version of this one. 
Meow Meow Tweet Body Tonic: "A lightly-scented body tonic made with essential oils that refreshes, hydrates, and awakens." I can't stand perfume of any kind, but I really like the way this one smells. It's not overpowering or intoxicating at all.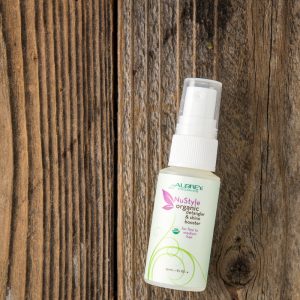 Aubrey Organics NuStyle Detangler & Shine Booster: "Organic quinoa protein smoothes the hair's cuticle to reduce frizzing and repair damaged ends, and herbal humectants replenish hair and scalp. Use it after or in-between shampoos to detangle, lightly condition and bring dull hair back to life."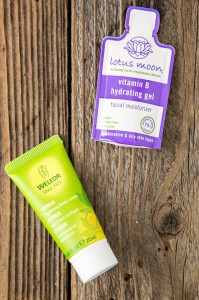 Weleda Body Lotion: "One moisturizing body lotion formulated to stimulate your senses and hydrate your skin."
Lotus Moon Vitamin B Gel: "A hydrating gel designed to moisturize your face without clogging pores." Seriously, this stuff makes my skin smoother than it's ever been. The sample lasts a long time too because you only have to use a little bit.
Soapbox Soap Body Wash: "Charcoal and sea salt enriched body wash that exfoliates and brings toxins out of your skin."
Earth's Enrichments Soap: "Body bar soap that combines organic coconut oil and aloe vera to soothe and heal dry skin."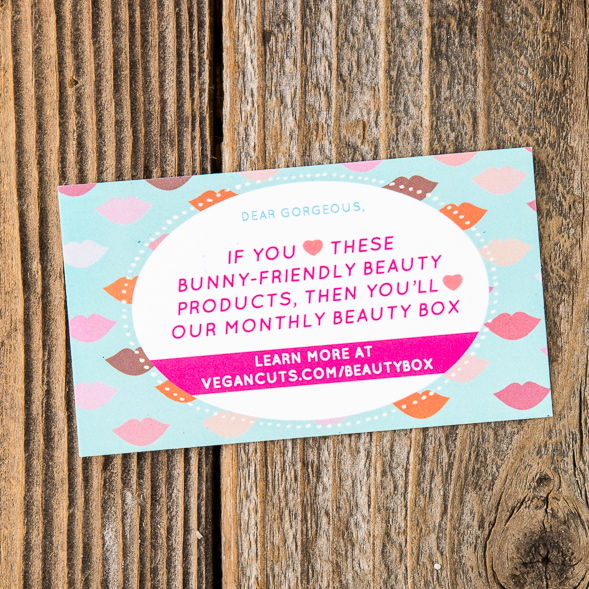 This Vegan Cuts Beauty Essentials Kit is worth $50 but you can get it right now for $27.95. That's almost %50 percent off! And shipping is free in the US. You can get it now here:  http://mbsy.co/dvZ2?url=http://vegancuts.com/offer/vegan-beauty-essentials-kit
Also, right now, in honor of Be Cruelty-Free Week, Vegan Cuts has a curated a Be Cruelty-Free Week Box with 7 full-size, certified cruelty-free products that you're sure to love as much as they do. It's worth over $100 and you can get it now for just $39.00! There's a limited supply so get yours now here: http://mbsy.co/dvZ2?url=http://vegancuts.com/offer/be-cruelty-free-week-box
Disclaimer: I was given these products to try but the thoughts and opinions expressed here are my own.
Photography by Chris Miller