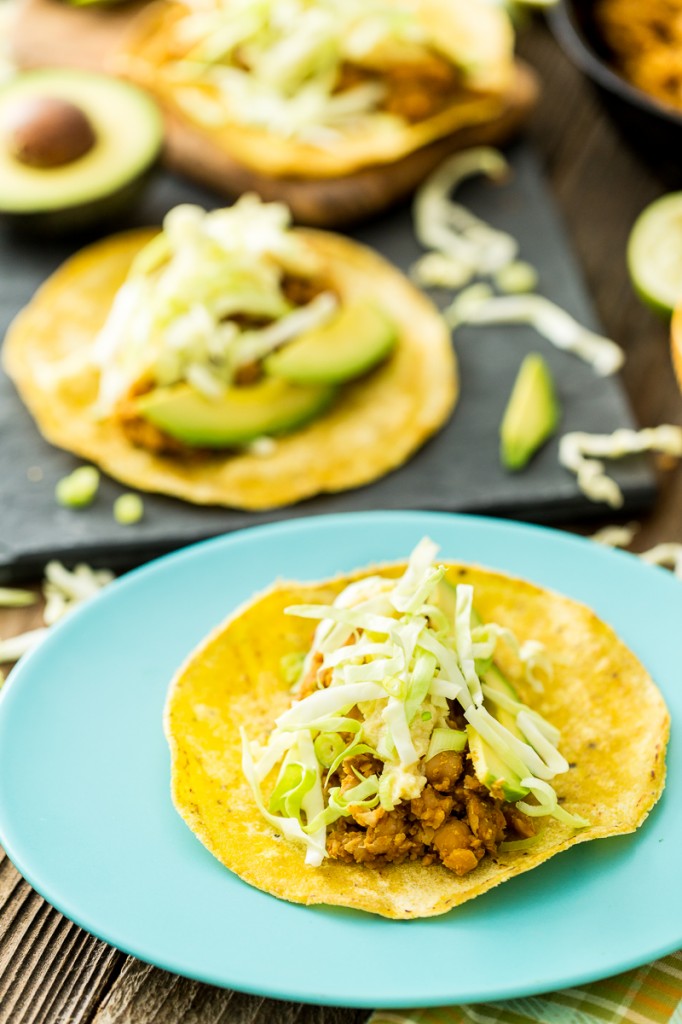 So lately, I'm all about quick and easy dinners. You may remember that I discussed this when I shared my Thai Peanut Tofu Salad Tacos. It also appears that lately, I'm all about tacos.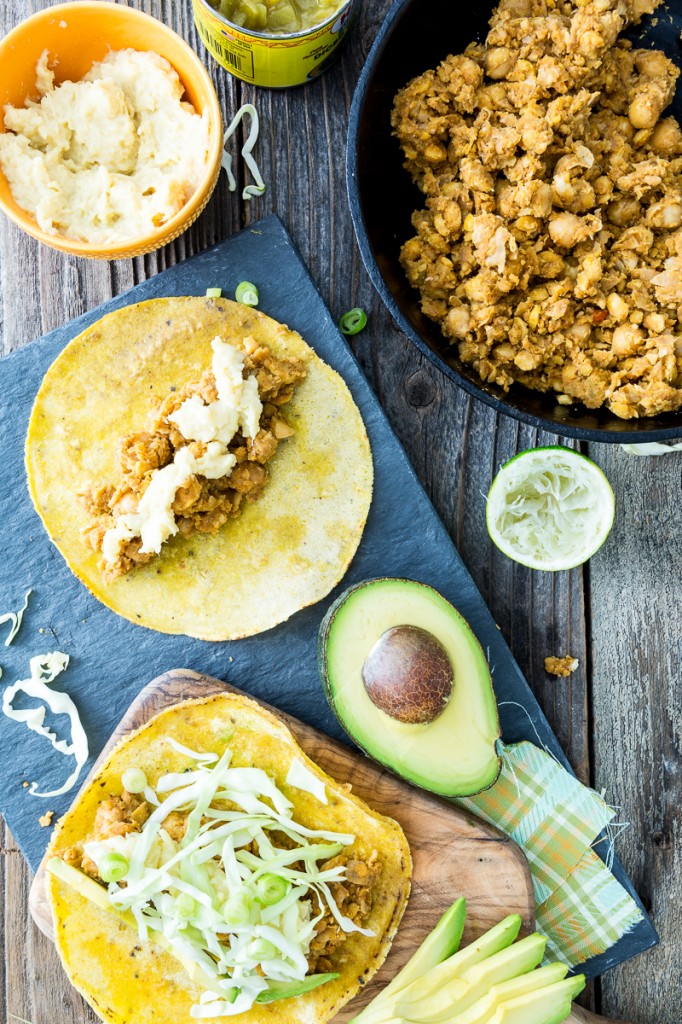 Maybe it's because tacos can be a really delicious and filling meal that can, generally speaking, be put together pretty quickly. They kinda have everything going for them in the weeknight meal department. Case in point: These bean and cheese tacos.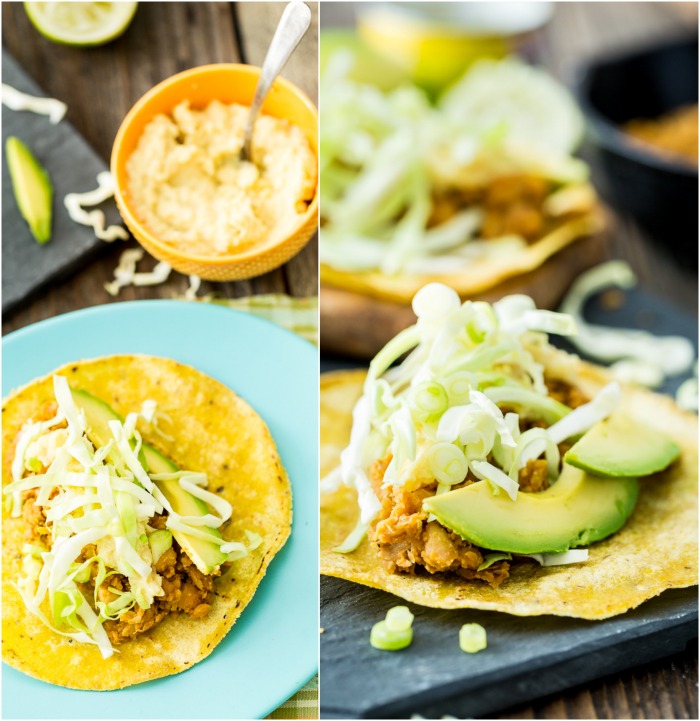 Let's start the clock the moment I get home. For some reason, the traffic gods were smiling on me and I get home at 7pm. I immediately run to the bathroom because I have to pee after such a long drive. Then I let Sam in the front yard so she can pee while I rinse out my empty lunch containers in the kitchen. When I'm done, I go let Sam in. It's now 7:10.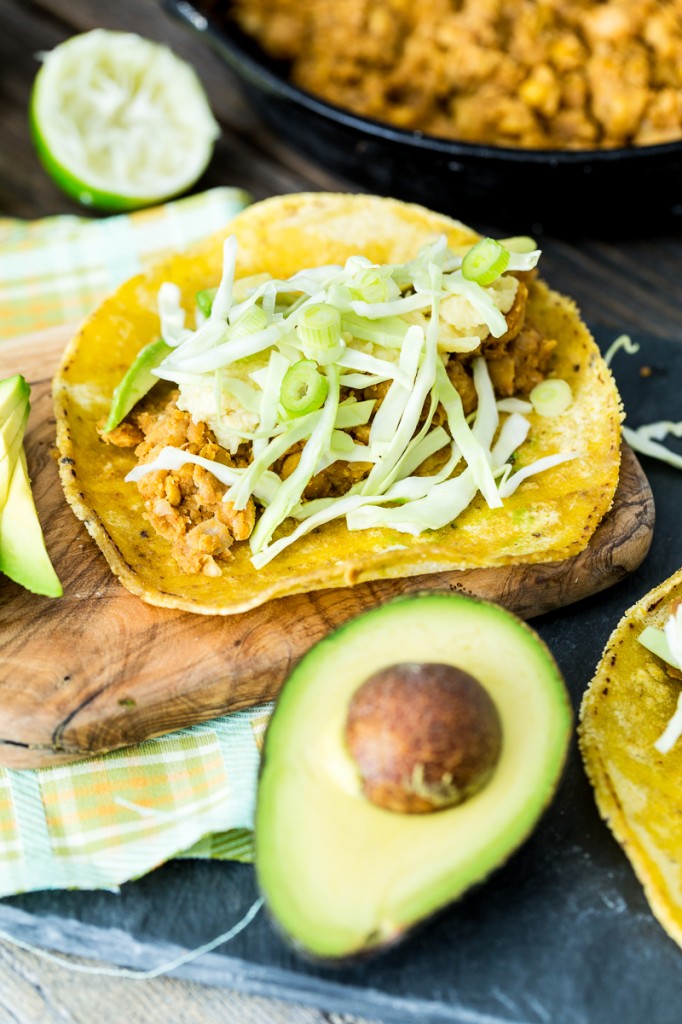 Chris gets home around this time and while he gets the mail, gives Sam her meds and feeds her, I go take off my dress and heels and put on sweat pants and a tank top and head to the kitchen to make dinner. 7:15. There's about 5 minutes of prepping a few of the ingredients before I get down to business.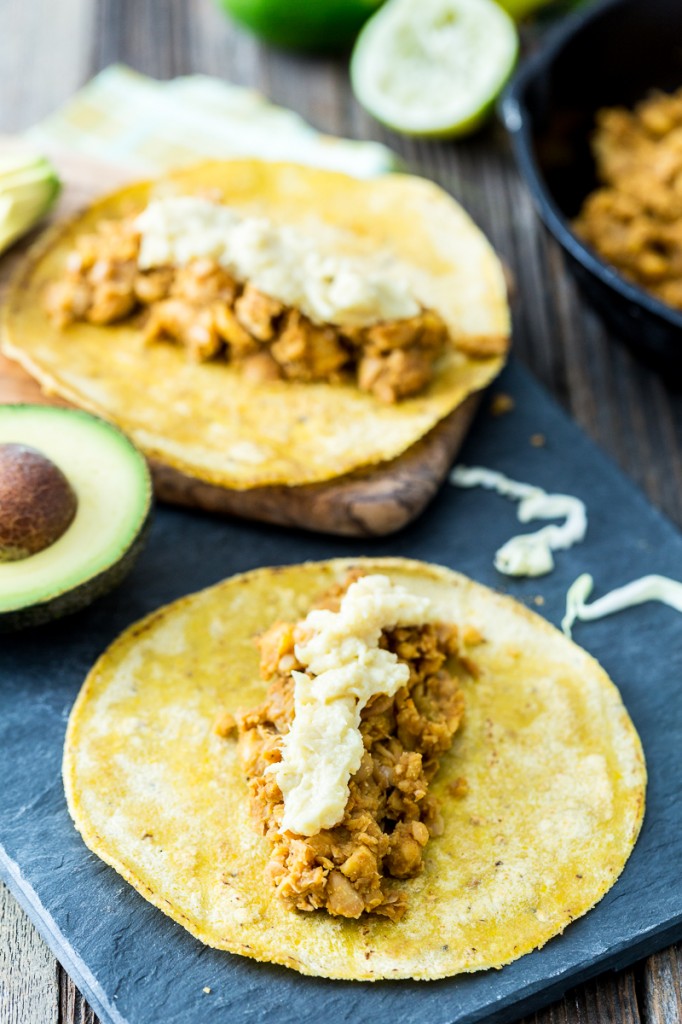 The semi-refried chickpeas take all of about ten minutes to cook. The two-ingredient cheese (which we'll get to a little later) comes together in about two minutes. Three minutes to slice an avocado and chop some green onions. Three to four minutes to heat up the tortillas and a couple minutes to assemble the tacos and dinner is ready.
Chris pours us both glasses of water and grabs napkins and we head down to eat at the coffee table (we most certainly could eat at the dining table but there's stuff on it and we would have to clean it and we're both too lazy to do all of that at this point). At 7:45, we're each biting into our new favorite tacos, while the theme song to our new favorite show begins to play (ohmygod- do you watch Archer? We've been binge-watching the series on Netflix and I can't get enough. I.  Just. Can't.). Spoiler Alert: Dinner is incredible.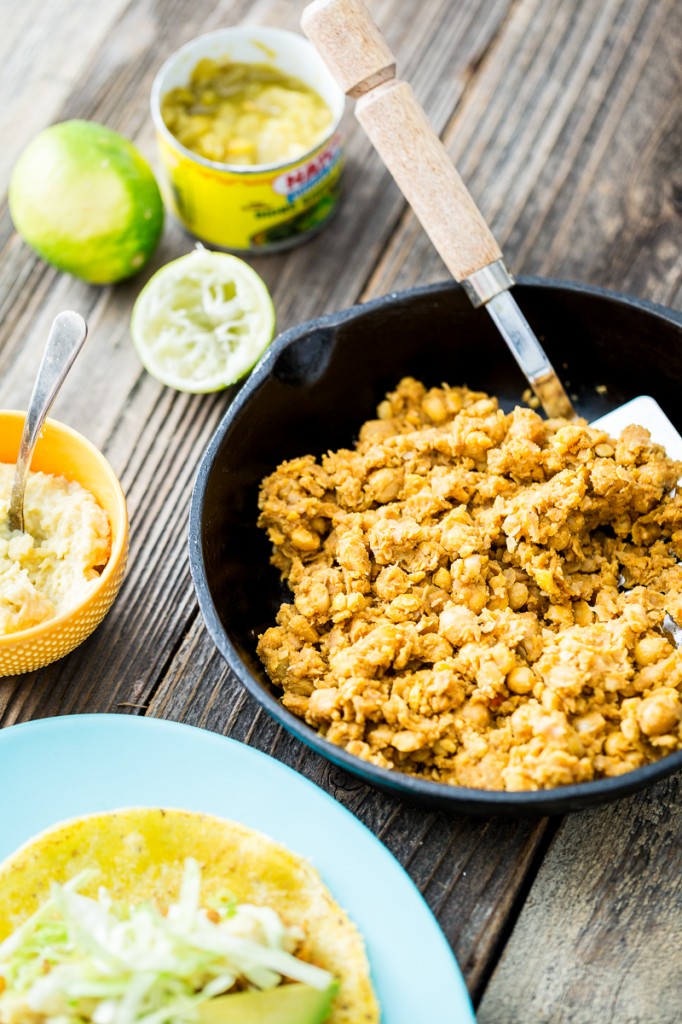 The combo of beans and cheese has long been one of my favorites. In this case the chickpeas are quickly cooked, mashed, and then quickly re-fried with some vegetable broth until the liquid has been absorbed. It tastes like refried beans but with more texture and plus, it's chickpeas, guys, so of course it's delicious. Then it's paired with a super quick and easy, gooey cheese made from none other than...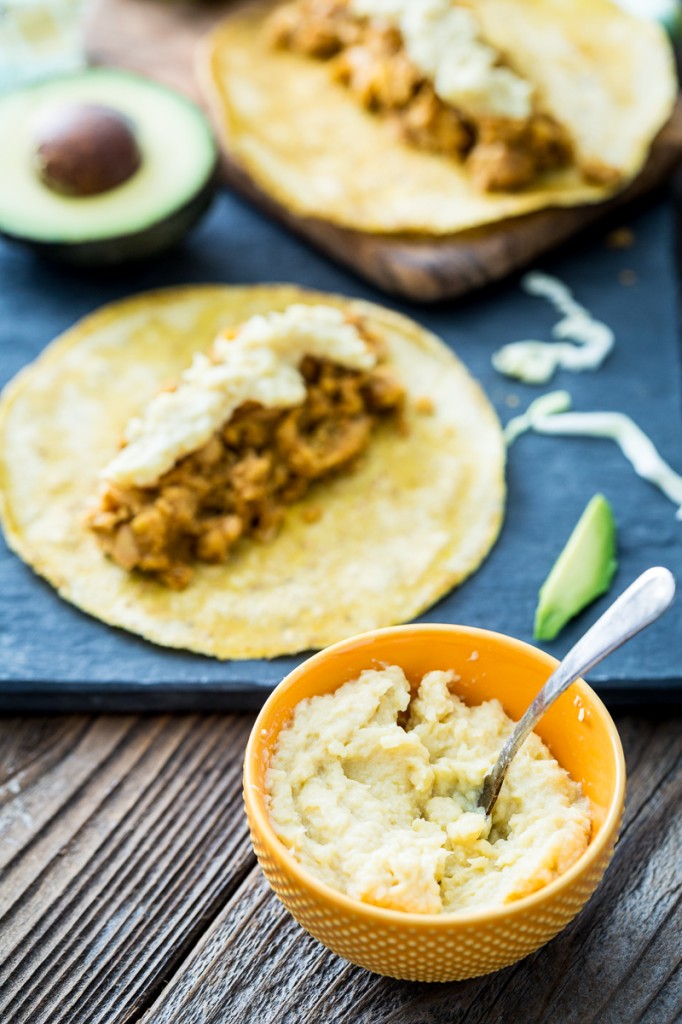 Heart of Palm and nutritional yeast! It's so damn simple yet so friggin' amazing, you don't have any excuse not to make it and put it on everything: tacos, wraps, sandwiches, or even as a dip for chips. All you have to do is put the heart of palm in a food processor and add 2 to 3 tablespoons of nutritional yeast (based on your cheesiness preference) and pulse until combined (but not smooth. You want this cheese to be chunky). One bite of these bean and cheese tacos and you can consider the way you do weeknight dinners and/or your whole life changed.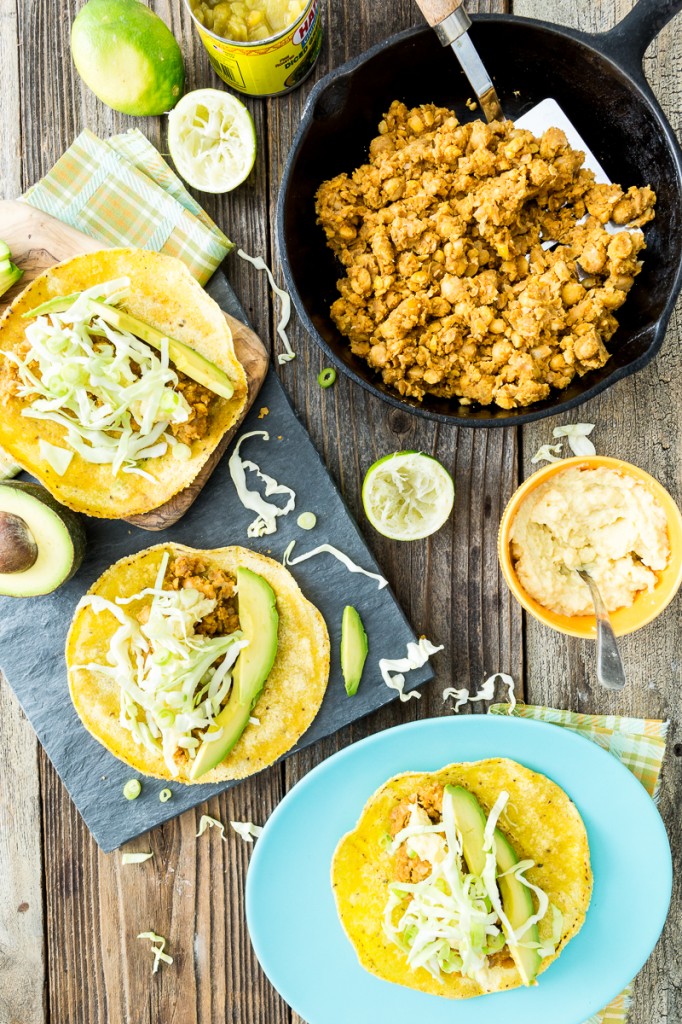 20-Minute Bean And Cheese Tacos with 2-Ingredient Vegan Cheese
Ingredients
One 14-ounce can of heart of palm, rinsed and drained (or about 4 to 5 short stalks)
2 to 3 tablespoons of nutritional yeast
3 cups of cooked chickpeas (or two 15-ounce cans, rinsed and drained)
1/4 cup liquid aminos
1 teaspoon ground cumin
1 teaspoon ancho chili powder
1/2 teaspoon ground coriander
1/2 teaspoon smoked paprika
1/4 cup vegetable broth
2 tablespoons canned green chiles
2 tablespoons lime juice
salt and pepper to taste
8 to 10 corn tortillas
olive oil spray
1 avocado, pitted and sliced
shredded cabbage
green onions
Instructions
Preheat a large frying pan, preferably cast-iron, over medium heat. Add the beans and let cook for about 2 minutes. Add the liquid aminos, cumin, ancho chili powder, coriander, and paprika. Let cook, stirring occasionally, for about 3 to 4 minutes or until the liquid has been absorbed. Use a potato masher or pastry cutter to quickly mash the beans, still leaving chunks and pieces. Add the vegetable broth and let cook, stirring occasionally, until the liquid has been absorbed. Stir in green chiles, lime juice, salt, and pepper. Remove from the heat.
While the beans are cooking, make the cheese. Combine the cheese ingredients in a food processor and pulse until combined and creamy, but still chunky. Set aside.
Heat a small frying pan over medium heat. Lightly spray with olive oil and add a tortilla. Let it cook for about 30 seconds on each side. Remove and place on a plate lined with a couple paper towels. Cover with a kitchen towel and repeat with the other tortillas.
To assemble the tacos, scoop some beans onto a tortilla and then top with some cheese, avocado, shredded cabbage, and green onions. Serve immediately. Enjoy. Leftovers will keep, refrigerated, for up to a week. Enjoy!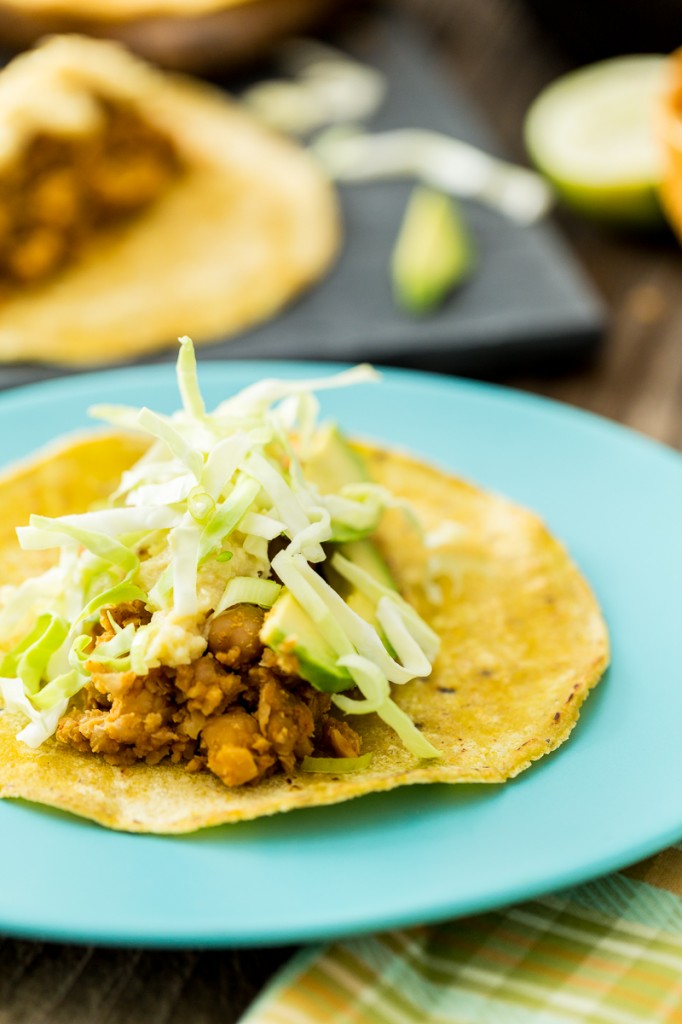 Seriously though, guys, do you watch Archer? Because ohmygod...
Photography by Chris Miller