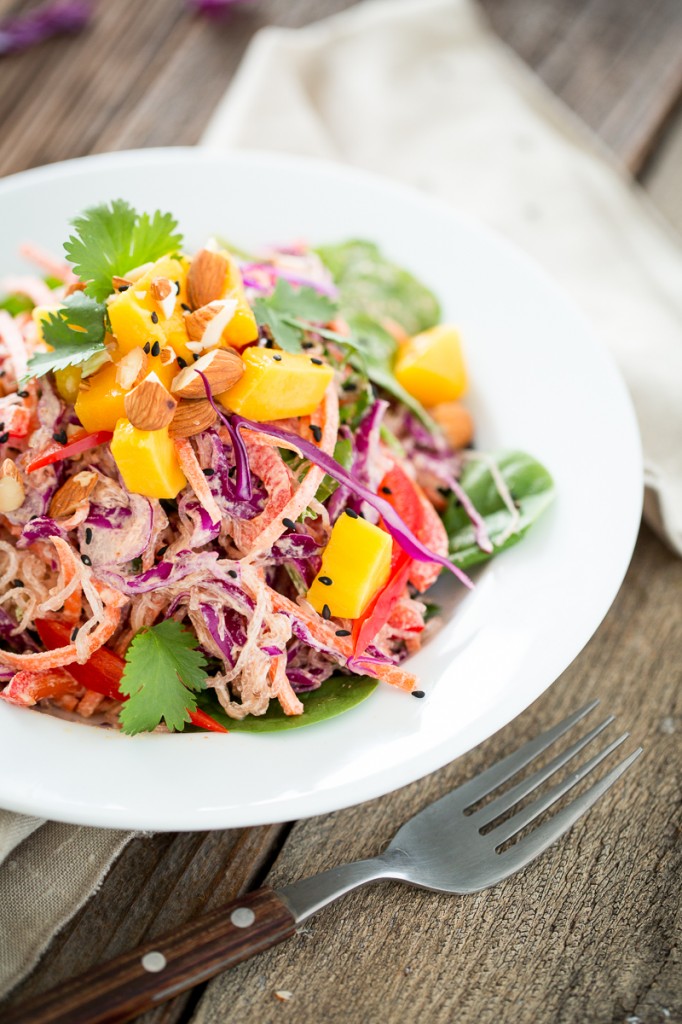 "Why is it 85 degrees at 8:00 am?" I yelled at my car radio this morning.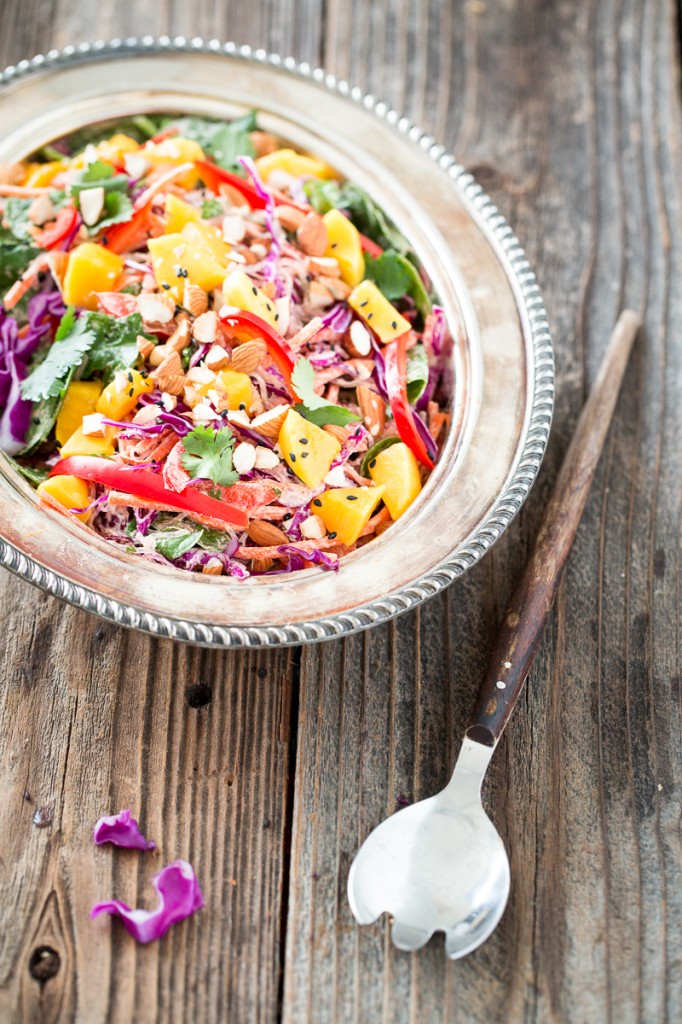 I am totally one of those people that you see talking or yelling while they're driving by themselves. I don't have road rage by any stretch of the imagination, but I do talk to the radio. I correct the way they pronounce "Insurance" (it's not "Isshurence") and question the traffic lady ("But what about the 405 north???"). I also take out my heat-related frustration on my car radio.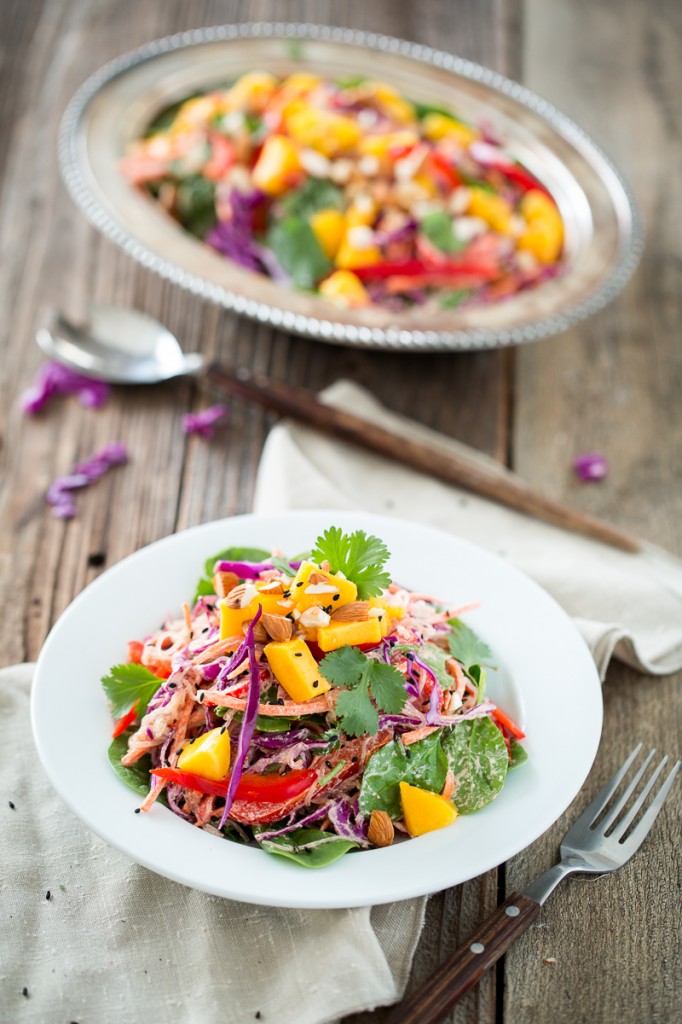 True, the weather has been in the triple-digits in Los Angeles this week, but I really have no reason to complain. My car has sufficient air conditioning (my last car did not so this time last year, you probably could've seen me begging and pleading with the vents to "just please blow some cool air on me!"), the office I'm working in has a little too much air conditioning, and usually my home, since it is on the coast, doesn't get as warm as the rest of the city. But still. Cooking is pretty much the last thing I want to do when it's hot so big-ass dinner salads have pretty much been the dinner of choice these days.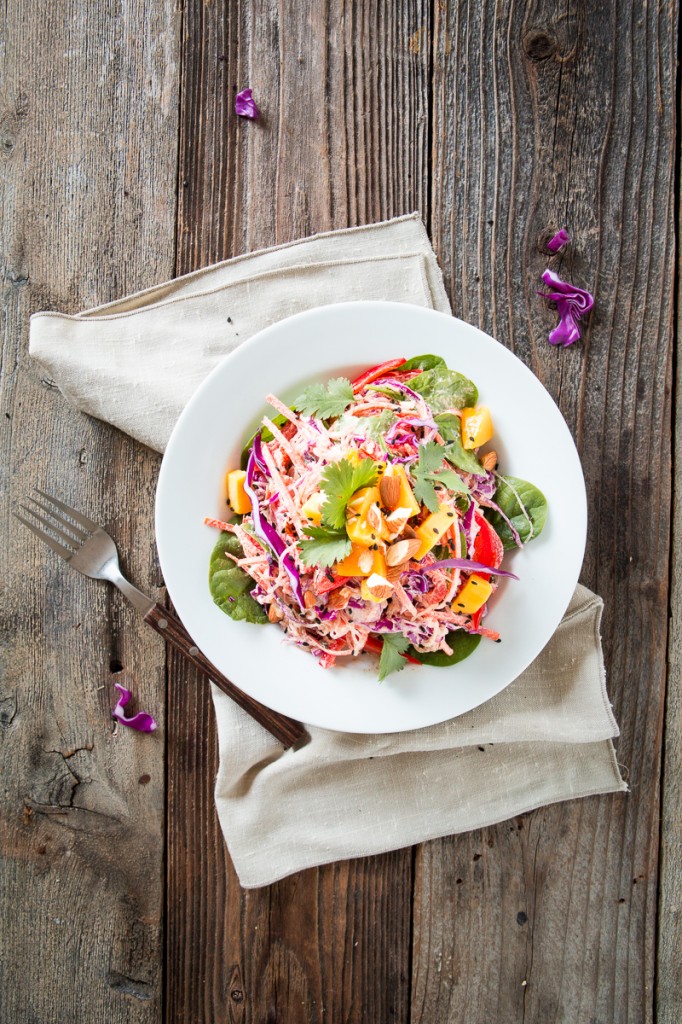 Kelp noodles (they're usually available at health food stores. I get mine at Whole Foods) are basically just that- noodles made from kelp. They have a very neutral taste and are slightly crunchier than normal pasta, but they are a great no-cook, mineral-rich (it is a significant source of iodine), alternative and taste great when doused in the sauce of your choice. Be sure to always rinse them well with warm water before using and I like to roughly chop them so the strands aren't so long.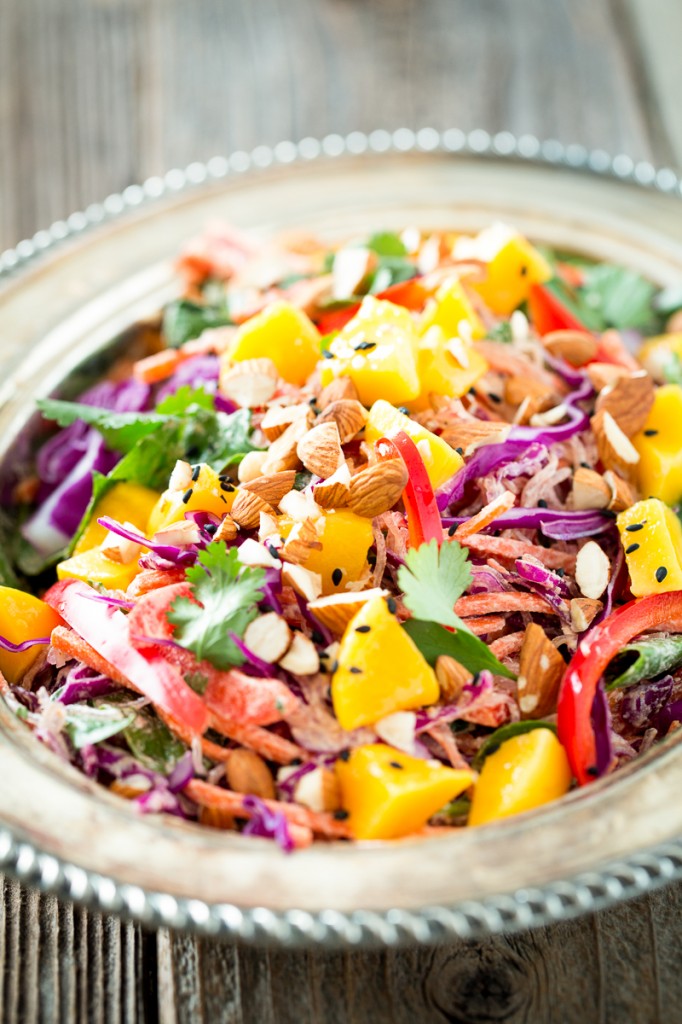 This kelp noodle salad is the perfect hot weather salad (It's inspired by the Rainbow Bowl on the Real Food Daily current seasonal menu. Ok, maybe inspired isn't the right word. Maybe I completely ripped off the idea. But it's just so good!). You may break a sweat chopping all of the brightly colored, raw veggies but it will be worth it. Once it's tossed with the tangy lemon almond ginger dressing, and you can sit down in front of the fan, preferably in nothing but your undies, you'll be totally refreshed. You'll be full and satisfied when you've finished your bowl, but you won't feel heavy or weighed down. No one is going to judge you, though, if you decide to thank me by talking directly to your computer.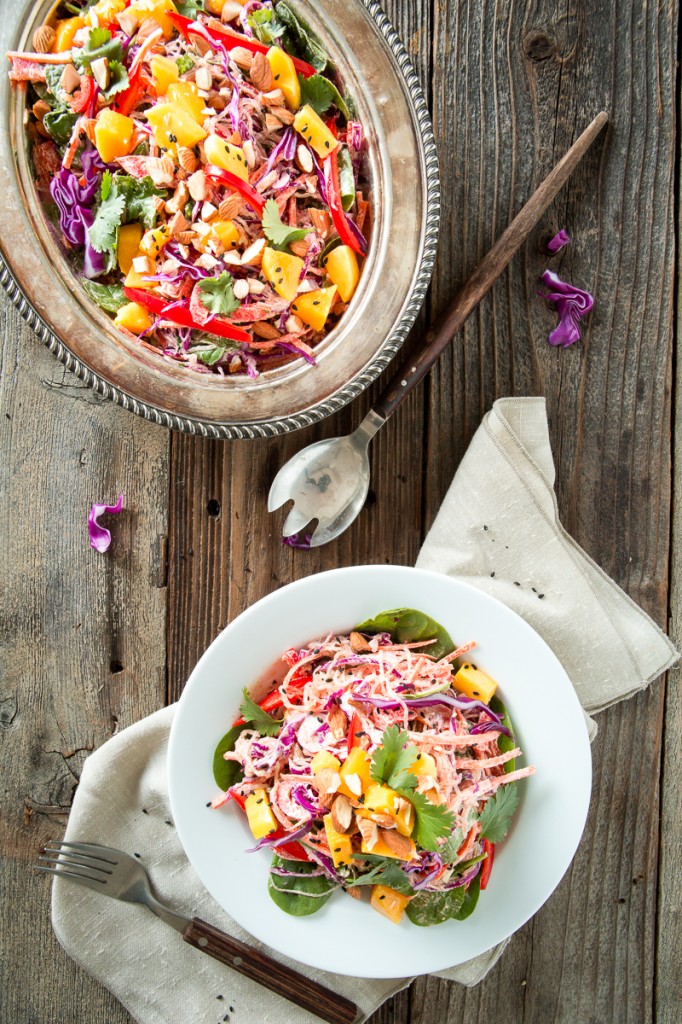 Rainbow Kelp Noodle Salad with Lemon Almond Ginger Dressing
Ingredients
for the lemon almond ginger dressing
1/2 cup raw almonds, soaked for 1 hour, water reserved
1/2 cup reserved soaking water
1/4 cup lemon juice
2 tablespoons apple cider vinegar
1 tablespoon agave syrup
1 teaspoon ground ginger
1 teaspoon liquid aminos (or tamari/soy sauce)
1/2 teaspoon white miso
for the salad
1 package of kelp noodles, rinsed thoroughly
2 carrots, julienned
1 red bell pepper, sliced very thinly
1/4 head of red cabbage, cored and grated or very thinly sliced
3 cups baby spinach
1/4 cup chopped cilantro
2 cups chopped mango
chopped almonds for sprinkling
sesame seeds for sprinkling
Instructions
Combine the dressing ingredients in a blender or food processor and blend or process until smooth. Set aside.
Combine the kelp noodles, spinach, carrots, bell pepper, red cabbage, and cilantro in a large bowl. Add the dressing and toss until combined. Serve topped with mango, chopped almonds, and sesame seeds. Enjoy!
Notes
Be sure to always rinse the kelp noodles well with warm water before using and I like to roughly chop them so the strands aren't so long.
What is your favorite "It's-Too-Hot-To-Cook" Dinner?
Photography by Chris Miller