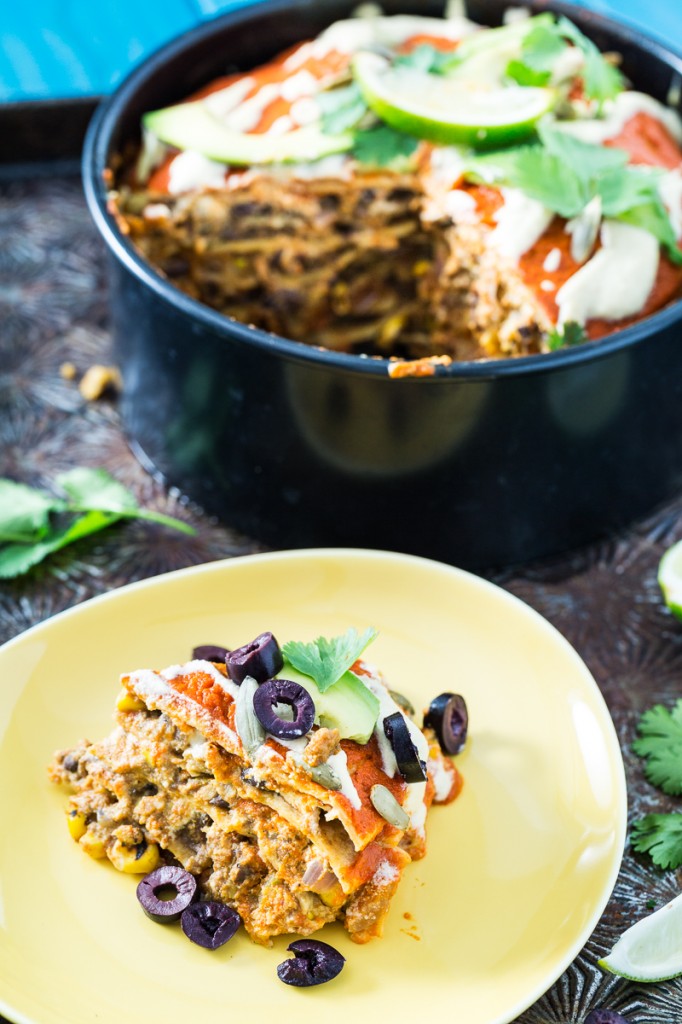 Happy Cinco de Mayo everyone!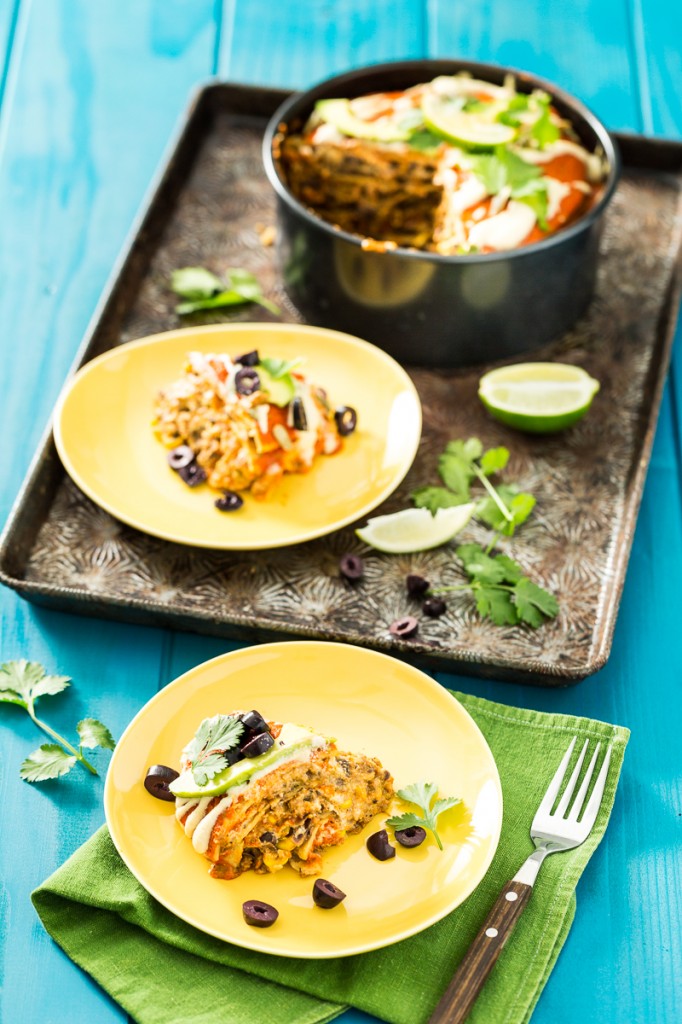 Back in my 20's, I used to go all out for Cinco de Mayo. If we weren't going out for dinner, I'd make a whole spread of Mexican-inspired dishes. Let's be honest, though- I was mainly in it for the margaritas. Back in those days, if I could get away with having margaritas for lunch and throughout the rest of the day, it was a pretty good day.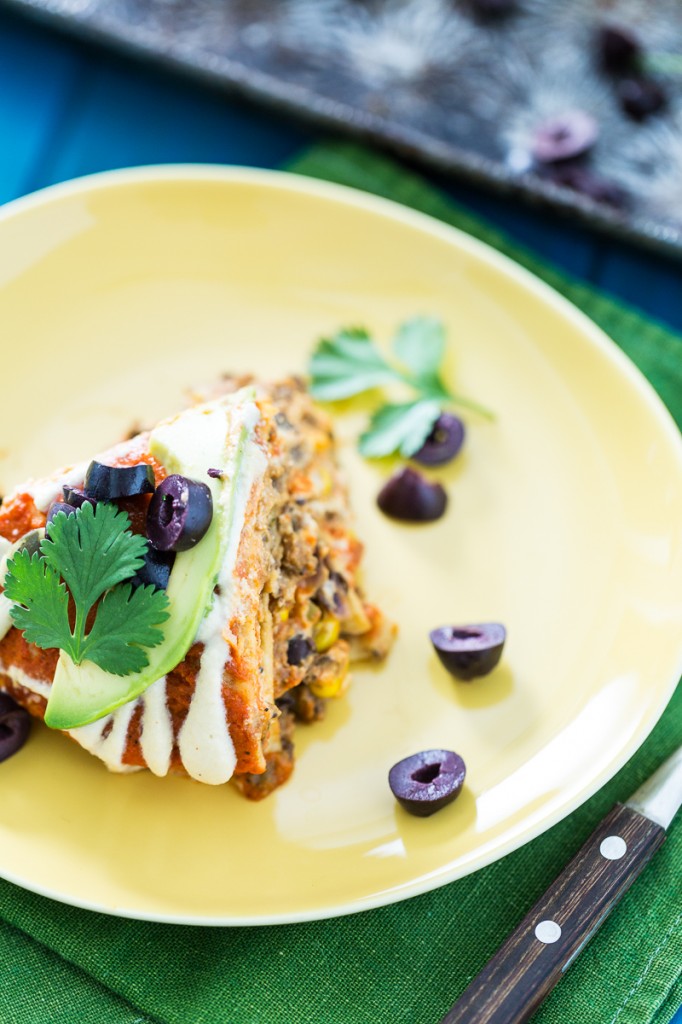 These days, I don't even think I could handle a sip of tequila. What I can handle, though, is Mexican food. And  by "handle," I mean "eat by the tons." I could probably live quite happily on just beans, tortillas, and guacamole. But why do that when there's so many more creative ways to enjoy Mexican food?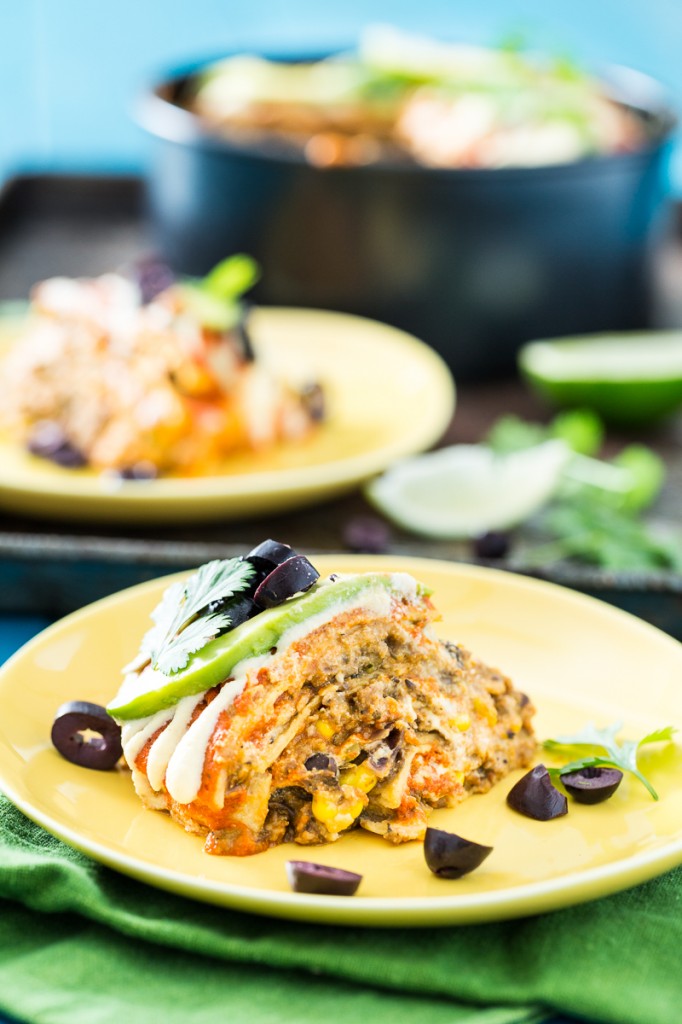 Take this Stacked Enchilada Pie. They're basically lazy girl enchiladas because all you do is stack the tortillas, filling, and cheese sauce instead of rolling each one. Ugh. I'm getting tired just thinking about it (all the rolling, that is).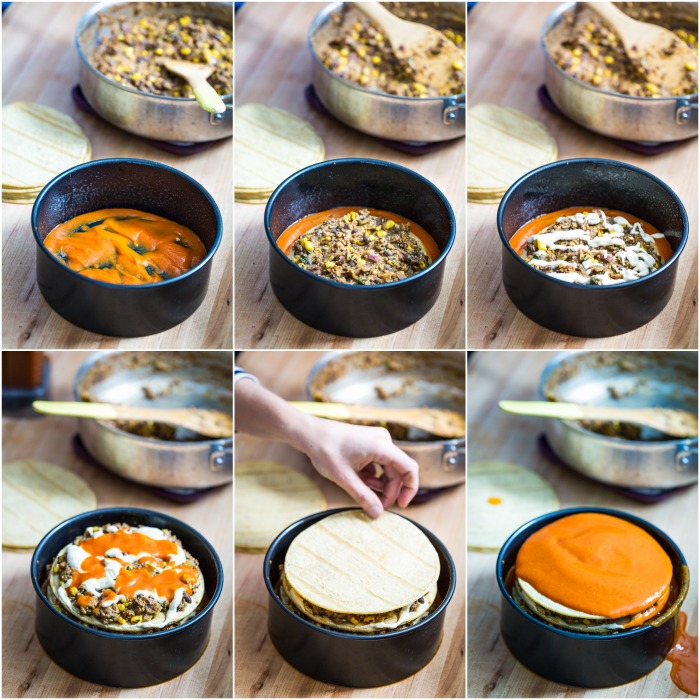 For the filling, I used a mixture of homemade mashed black beans and Beyond Meat's new Beef-Free Crumbles (I used the Fiesty flavor). I used it because I'd been really wanting to try it and it added a delicious taco meat texture, but you could just as easily double the bean recipe or add more vegetables. I didn't because I was feeling too lazy too chop any (I'm not always this lazy, but when I am, I do it full-force).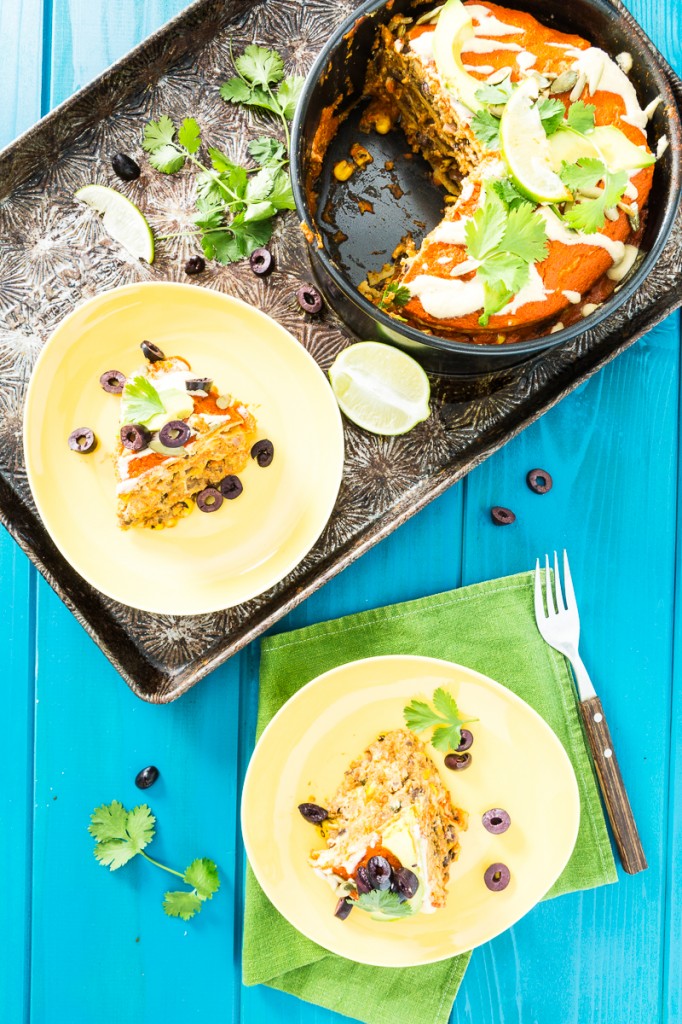 I made a quick and easy cashew cheese to drizzle on each layer as well as all over the top. I also made an ultra-simple roasted red bell pepper enchilada sauce to cover the pie but if you want something a little more "involved," I do have a great roasted chile enchilada sauce that would work as well. You'll have leftovers of each, probably enough to make a whole other pie. If you're serving a big crowd, double the filling and the tortillas and just make 2 pies instead of one. I just froze the sauce and used the cheese on other things (salads, sandwiches, chips). The prep for this enchilada pie was probably less than 30 minutes and the stacking part is pretty fun. Even if you're just as lazy as me, you have no excuse to try it.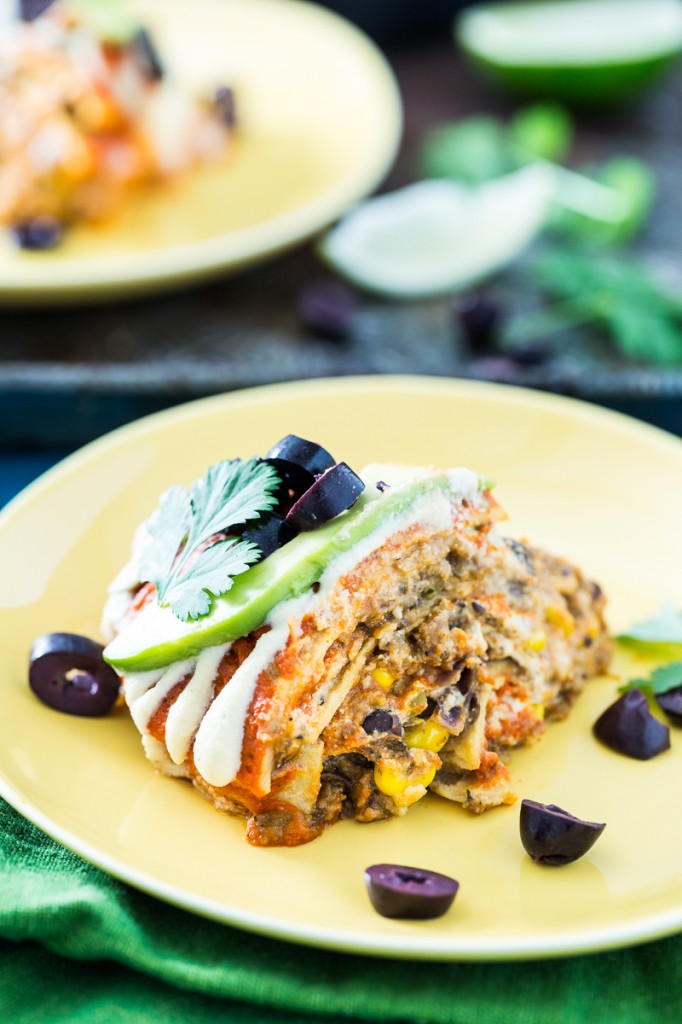 The pie makes 6 cute little wedges/slices. If this is all you're serving, you'll probably only feed 3 people. If you're serving other things, 1 slice each would be fine. If you're planning on making a big vegan Mexican spread for tonight, here's some other Mexican (and Mexican-Inspired) recipes you may want to consider:
1. Nacho Cheese Tofu Scramble Enchiladas
3. Roasted Portobello Soft Tacos
4. Mini Skillet-Grilled Chili Cheese Burritos
5. Cilantro Avocado Chickpea Salad Tacos
7. Chanterelle, White Bean, & Cheesy Roasted Kabocha Tacos
No matter what you decide to make for Cinco de Mayo, I hope you have a fun and safe night. Me, I'm still feeling pretty lazy so I'll probably be getting the enchilada sauce out of the freezer to make another enchilada pie!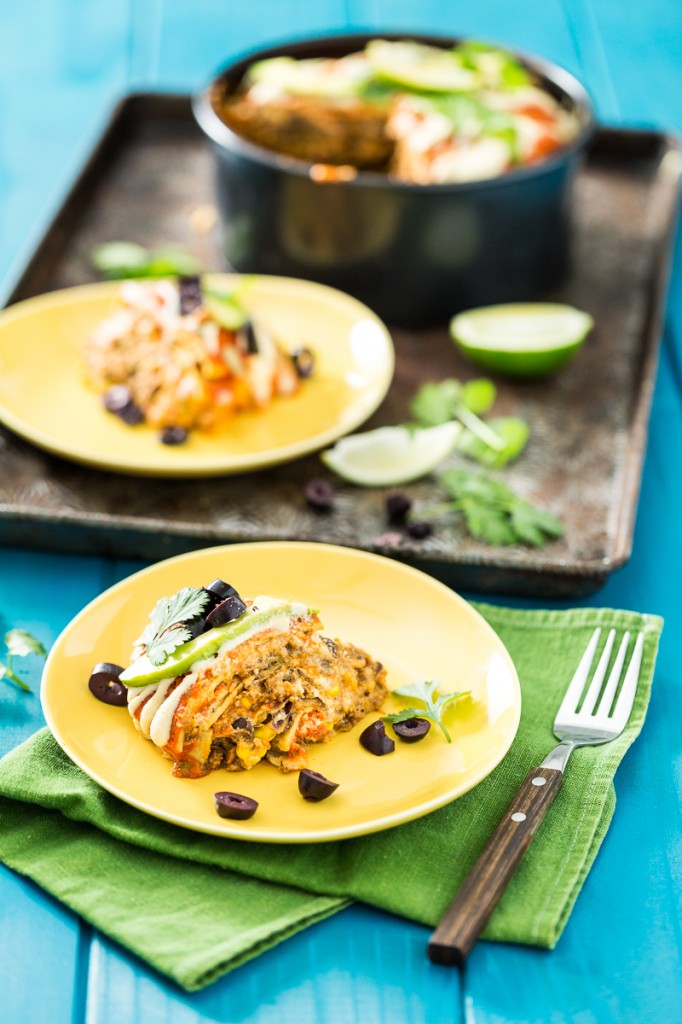 Vegan Stacked Enchilada Pie
Ingredients
1 teaspoon olive oil
1/2 sweet onion, diced
2 garlic cloves, minced
one 15-ounce can unsalted, diced, fire-roasted tomatoes
1 cup chopped roasted red bell pepper
2 tablespoon canned diced green chiles
1 1/2 cups vegetable broth
1 teaspoon ancho chile powder
salt and pepper to taste
for the cheese sauce

1 cup raw cashews, soaked for 1 hour in warm water, water reserved

10 tablespoons reserved soaking water
2 tablespoons nutritional yeast
2 tablespoons lime juice
1 tablespoon white vinegar
1 teaspoon white miso
1/2 teaspoon garlic powder
1/2 teaspoon onion powder
a few dashes of smoked paprika
salt to taste
1/2 red onion, diced
2 to 3 cloves garlic, minced
1 1/2 cups cooked black beans (or one 15-ounce can, rinsed and drained)
1 1/4 cups vegetable broth
1 tablespoon liquid aminos
1 teaspoon ground cumin
1/2 teaspoon ancho chile powder
1/2 teaspoon smoked paprika
1 package of Beyond Meat Beef-Free Crumbles (I used the Fiesty variety)
1 cup frozen corn kernels
1/4 cup fresh chopped cilantro, plus some for garnish
2 tablespoons canned diced green chiles
1 tablespoon lime juice
salt and pepper to taste
6 corn tortillas
avocado slices, for garnish
sliced black olives, for garnish
pepitas, for garnish
Instructions
Preheat the oven to 400 F. Lightly spray a 7 or 8-inch springform pan (or a deep 7 or 8-inch regular cake pan) with olive oil.
Make the enchilada sauce first. Heat the olive oil in a large frying pan over medium heat. Add the onion and garlic and saute until the onion is translucent. Transfer to a blender and add the remaining sauce ingredients. Blend until smooth. Set aside.
Next, make the cheese. Combine the cheese ingredients in a food processor and process until smooth, pausing to scrape the sides as necessary. It should be thick but easily drip off of a spoon. If it is too thick, add water by the tablespoon until you have the desired consistency. Set aside.
Now, make the filling. Heat the olive oil in a large frying pan (preferably the one you already used) over medium heat. Add the onion and garlic and saute until the onion just becomes translucent. Add the beans, 1/2 cup of vegetable broth, liquid aminos, and spices and cook until the liquid has been absorbed. Use a potato masher to lightly mash the beans and add 1/4 cup vegetable broth. Cook until the liquid has been absorbed. Add the beef-free crumbles, corn kernels, and the remaining vegetable broth and cook until the liquid has been absorbed. Add the 1/4 cup cilantro, green chiles, lime juice, salt, and pepper. Remove from the heat.
Pour 1/4 cup of enchilada sauce into the prepared pan and spread to coat the bottom. Place 1 tortilla in the bottom. Top the tortilla with some of the bean/beef-free mixture. Drizzle about 2 tablespoons of cheese sauce over the bean/beef-free mixture and then top with about 1/8 cup enchilada sauce. Place another tortilla on top and repeat the process until all of the ingredients have been used and you have a tortilla on top. Pour enchilada sauce over the top until the pan is 1/2 way full. Place the pan on a baking sheet. Bake for 25 minutes. Remove from the oven and let rest for about 10 minutes.
After it has cooled, drizzle more cheese sauce over the top. Slice a wedge and serve topped with avocado, olives, cilantro, and pepitas. Enjoy!
Notes
Make 2 pies by doubling the enchilada ingredients. The sauce and cheese recipes can stay as-is.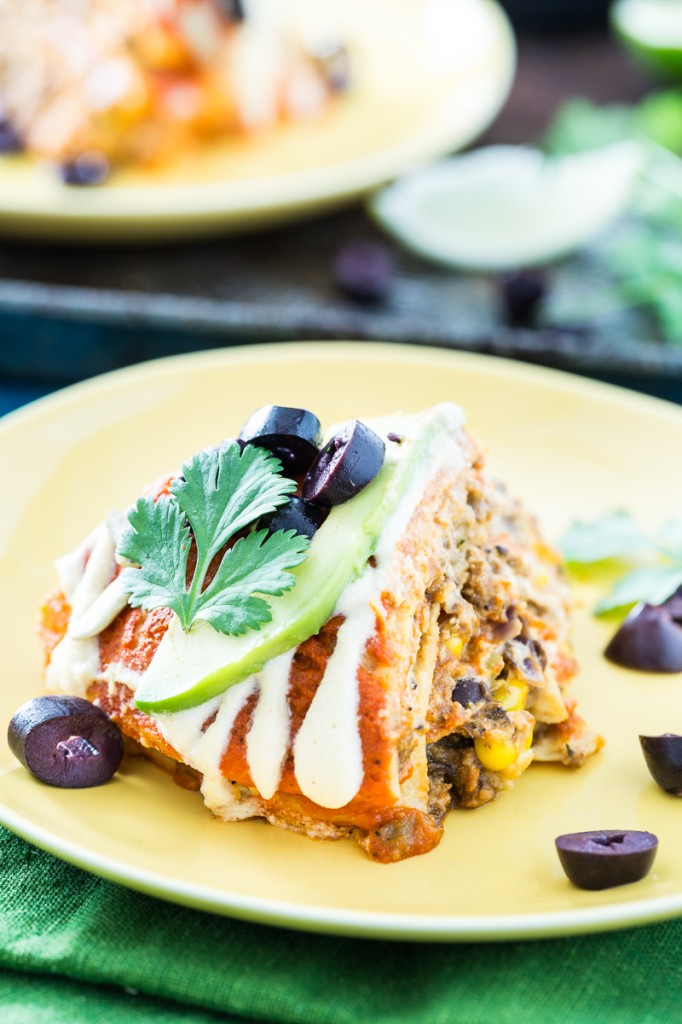 What are your Cinco de Mayo plans?
Photography by Chris Miller