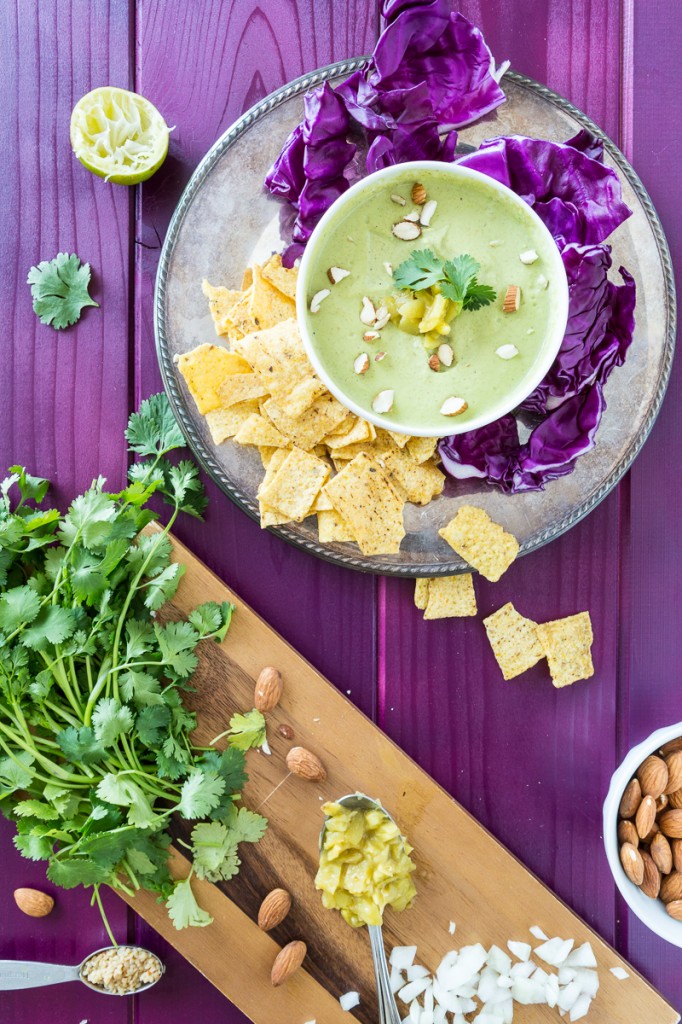 First of all, I want to thank all of you for the overwhelming support regarding my upcoming cookbook. I was blown away by all of the positive response and so touched by those of you who mentioned that Keepin' It Kind has been helpful in your transition to veganism. I've been literally (ok, figuratively) (I'm trying not to abuse the word "literally" anymore. It's this new thing I'm trying) floating on giddiness the last few days! You all are simply the best. The. Best.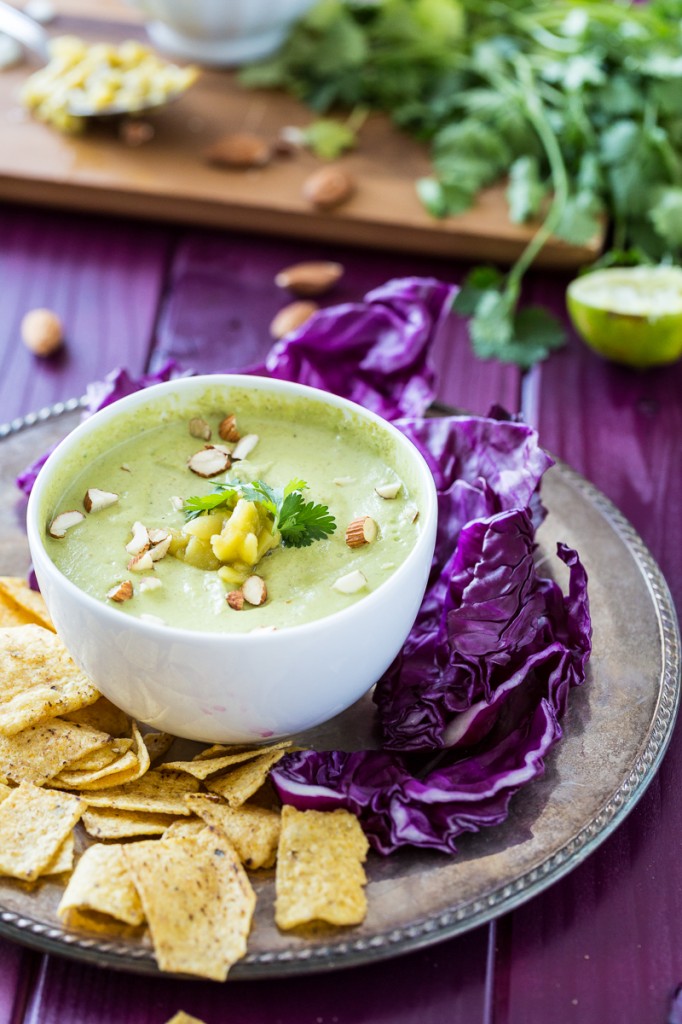 I'm so enthralled with all of you right now that I wish I could invite you over so you could share this dip with me. Because, holy moly! This dip, you guys.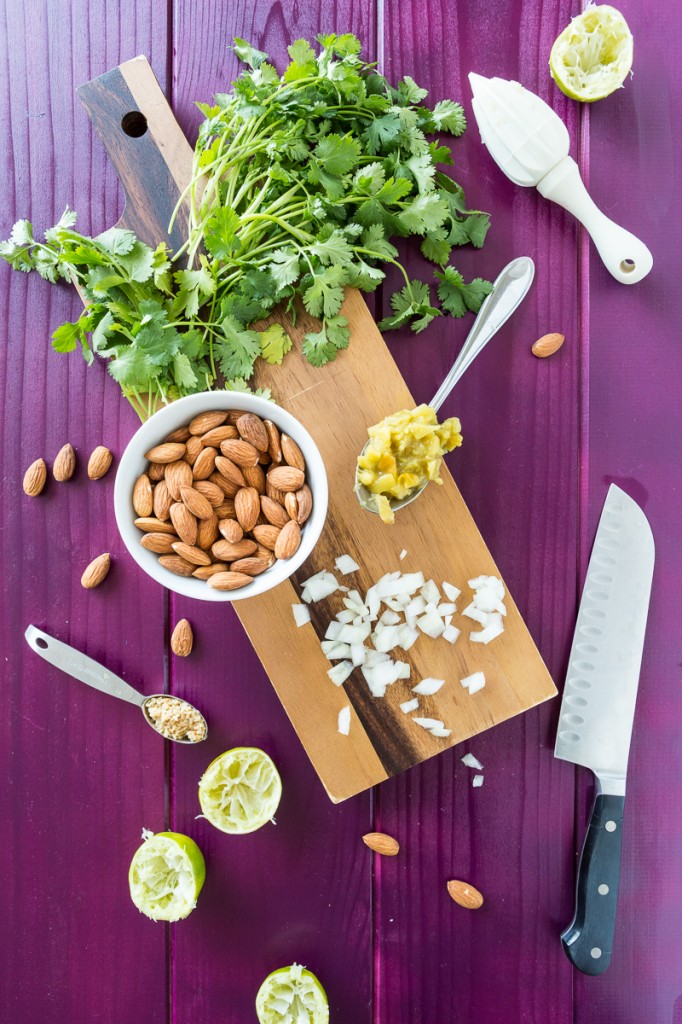 There's no arguing the fact that the best green dip out there is guacamole. It's a well known fact. It's science. But if science were to signify a 2nd best green dip in the world, it would be this one.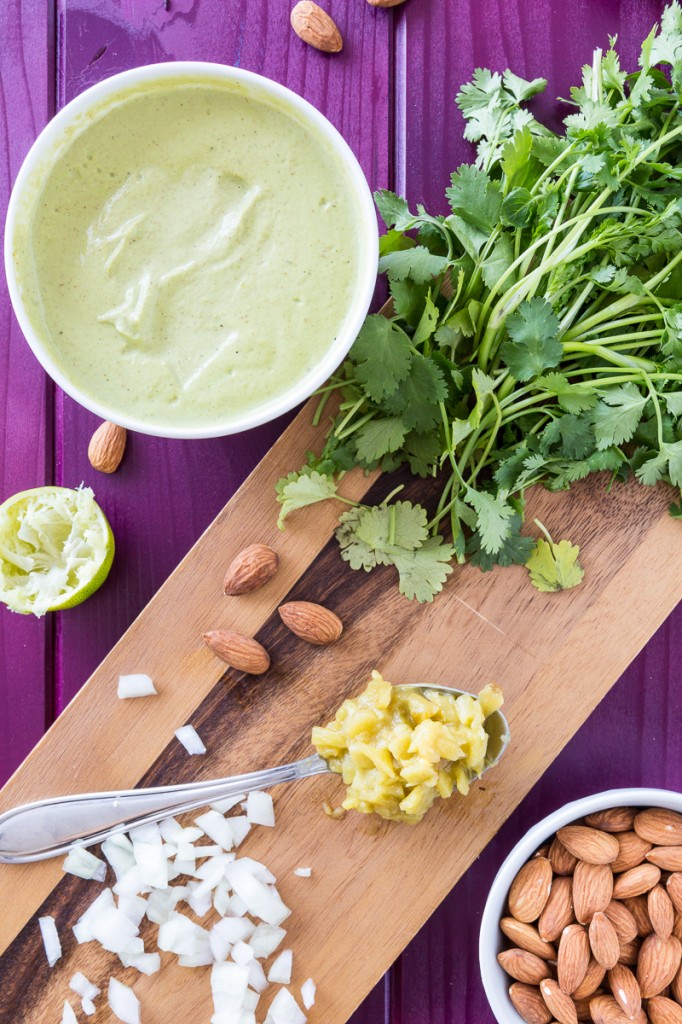 It all started at a sample station at Whole Foods a couple of months ago. There was a dude giving samples of a new sauce called Bitchin' Sauce. When he asked if we wanted a sample, I asked if it was vegan like I always do and I waited for him to quietly withdraw with "Actually, no. Sorry." Instead, he surprised us with "Absolutely! And it's gluten-free!" So we tasted his product and just like that, we were addicted. We bought a container of the Cilantro Chile flavor on the spot and we were on our way.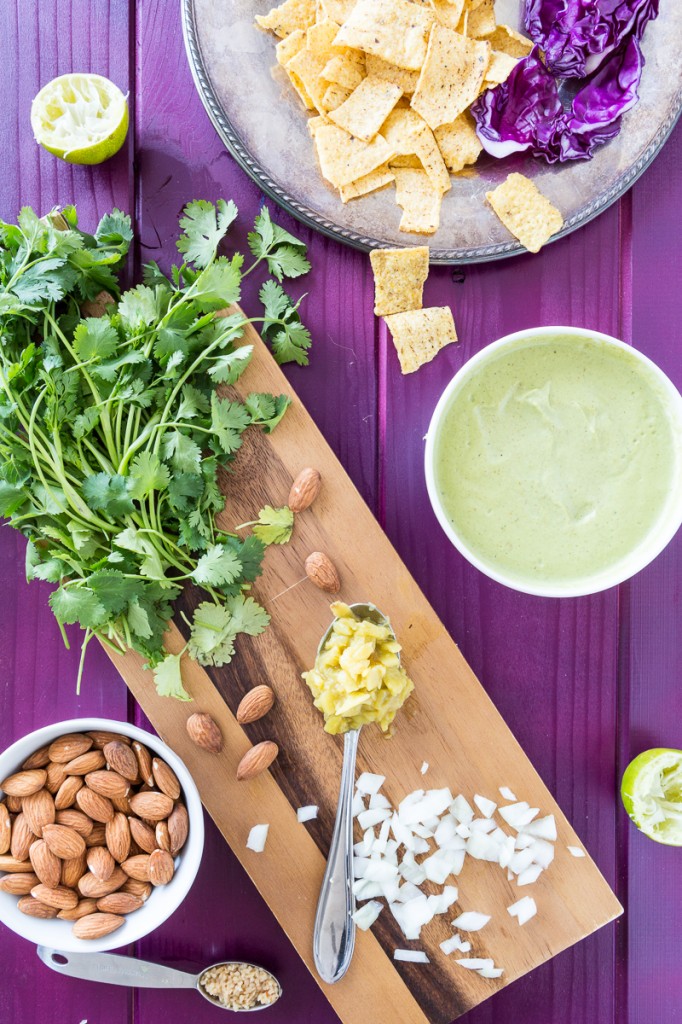 This dip became our new favorite thing. It was thick and creamy while still being light and refreshing. Neither the cilantro or chile flavors were overpowering but there was something about it that made us keep coming back for more. I loved that all of the ingredients were items I had in my kitchen already so I began trying to use those ingredients to replicate it. We kept buying more of the dip (for the sake of science) and we would taste it side-by-side with my rendition until I came up with a version we actually like better than the original. That's when I knew I had to share it with all of you.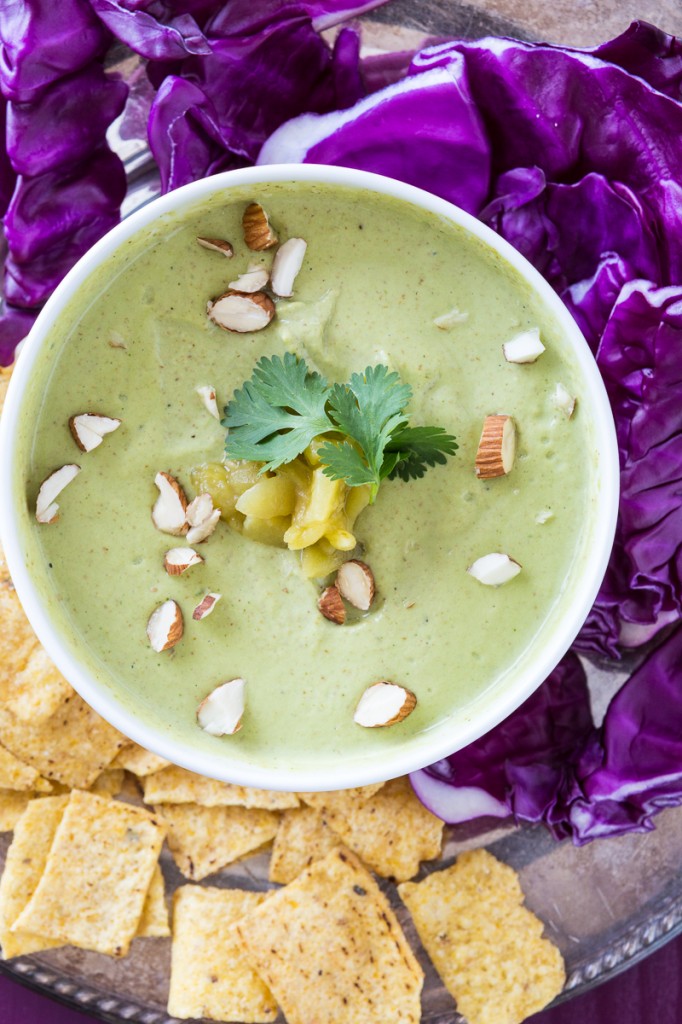 The amazing thing about this dip is its versatility. Our favorite thing is to dip red cabbage leaves into it, though other veggies and chips work just as well. It also makes for a luscious spread for toast and/or sandwiches. You can add a couple tablespoons of water to thin it out and use as a sauce or salad dressing. I particularly like spooning it, as-is, over a bowl of roasted veggies, beans, and rice. It's basically become one of our go-to dips/sauces this summer.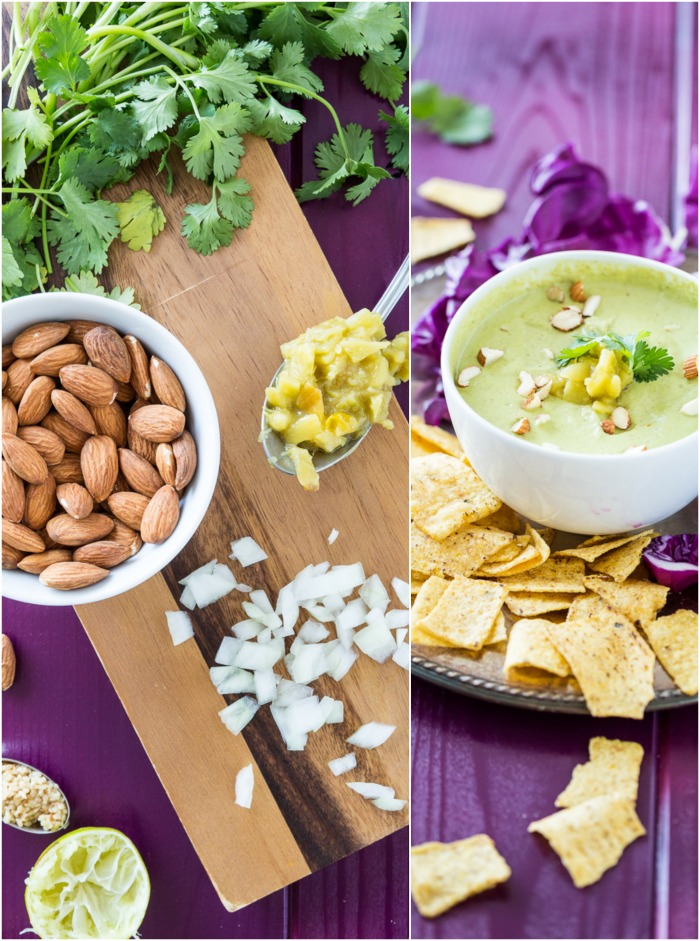 Don't wait any longer- Get this awesome (it will literally inspire awe) cilantro chile almond dip in your life now. And put it on everything (figuratively speaking) and watch your life get really, really great. You're welcome.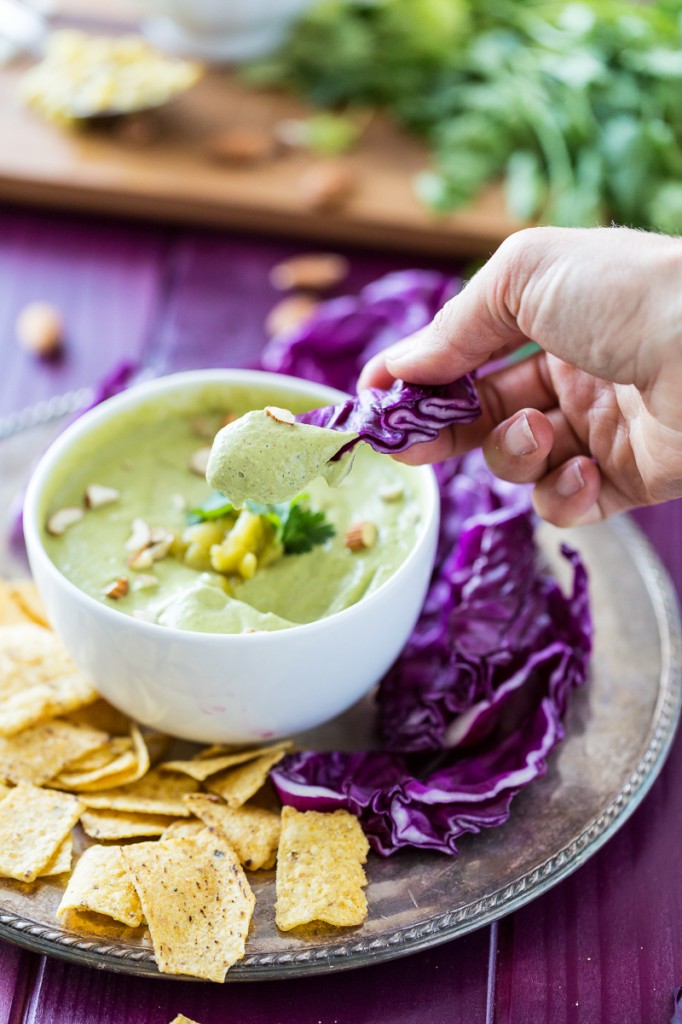 Cilantro Chile Almond Dip
Ingredients
1 cup raw almonds (soaked in warm water for at 1 hour- Skip the soaking if using a high-speed blender)
1 cup water
1 cup roughly chopped cilantro
4 tablespoons fresh lime juice
4 tablespoons canned diced green chiles
2 tablespoons liquid aminos (or tamari/soy sauce)
2 tablespoons chopped yellow onion
4 teaspoons nutritional yeast
2 teaspoons chopped garlic
1 teaspoon ground cumin
a few dashes of cayenne pepper
salt and pepper to taste
Instructions
Combine all of the ingredients in a high-speed blender or food processor and blend/process until smooth and creamy. Transfer to an airtight container and refrigerate for 1 hour prior to serving. It will keep for up to 4 days.
Notes
If you don't think you will be using it all within 4 days, the recipe is easily halved. To use as a thinner sauce, add water by the tablespoon until it drips easily off a spoon. To use as a salad dressing, you can add all water or alternate adding water and rice wine vinegar by the tablespoon until it drips easily off a spoon. For a more savory sauce, blend in another tablespoon of liquid aminos, a teaspoon of white miso paste, and then add water by the tablespoon until it drips easily off a spoon.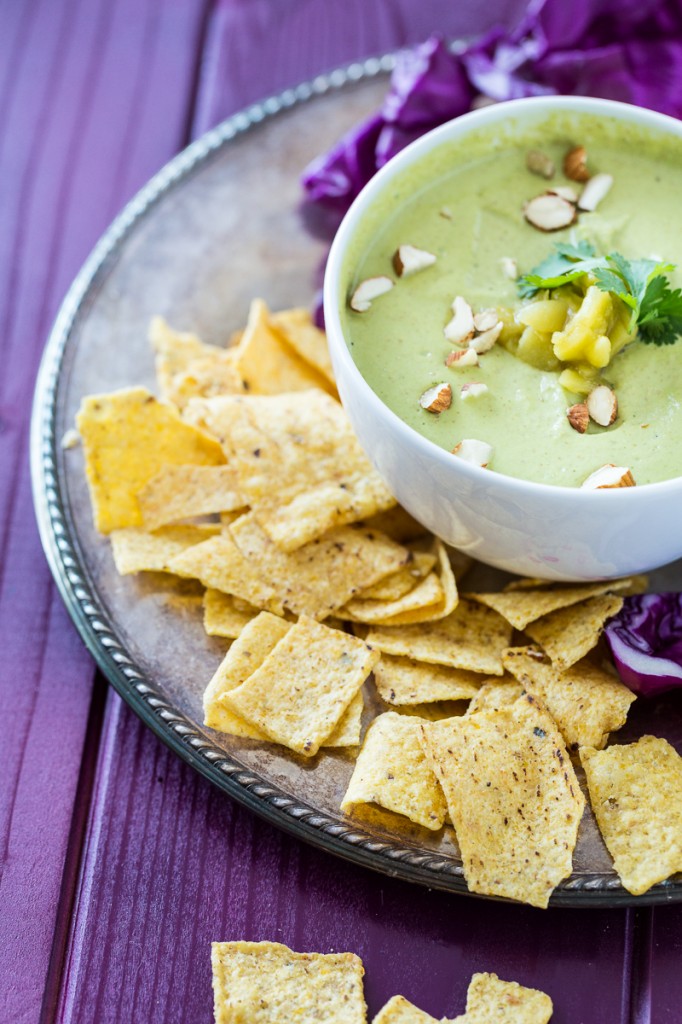 What's your favorite dip?
Photography by Chris Miller