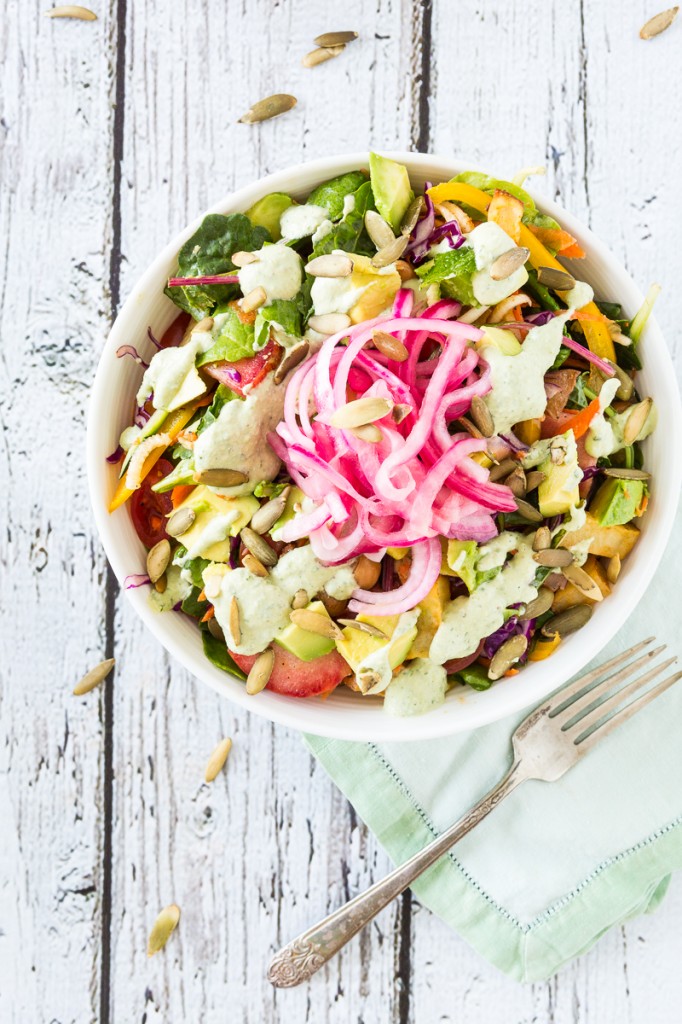 The Big-Ass Salad. Enemy of Hunger. Titan of Tastiness. Friend to vegans everywhere.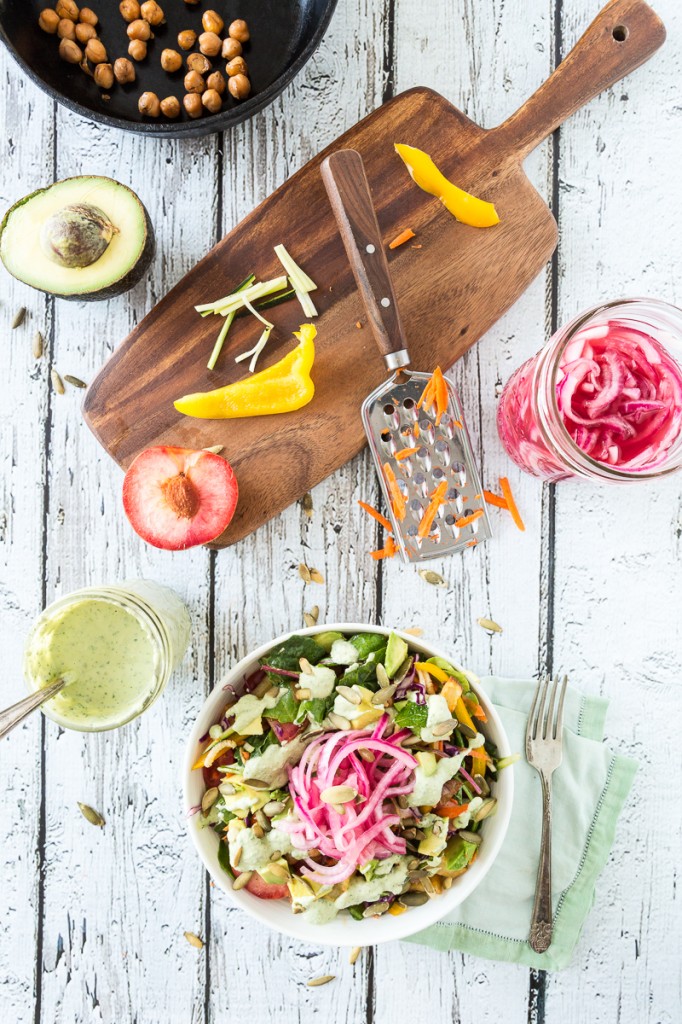 You know the image of the stereotypical scrawny, pale vegan, sadly eating a pitiful bowl of lettuce? It's about as accurate as saying badgers are sweet, cuddly, winged creatures that fart gumdrops. Vegans are vibrant, healthy people who know how to do salads up right. We make colossal salads so delectable they make grown men weep.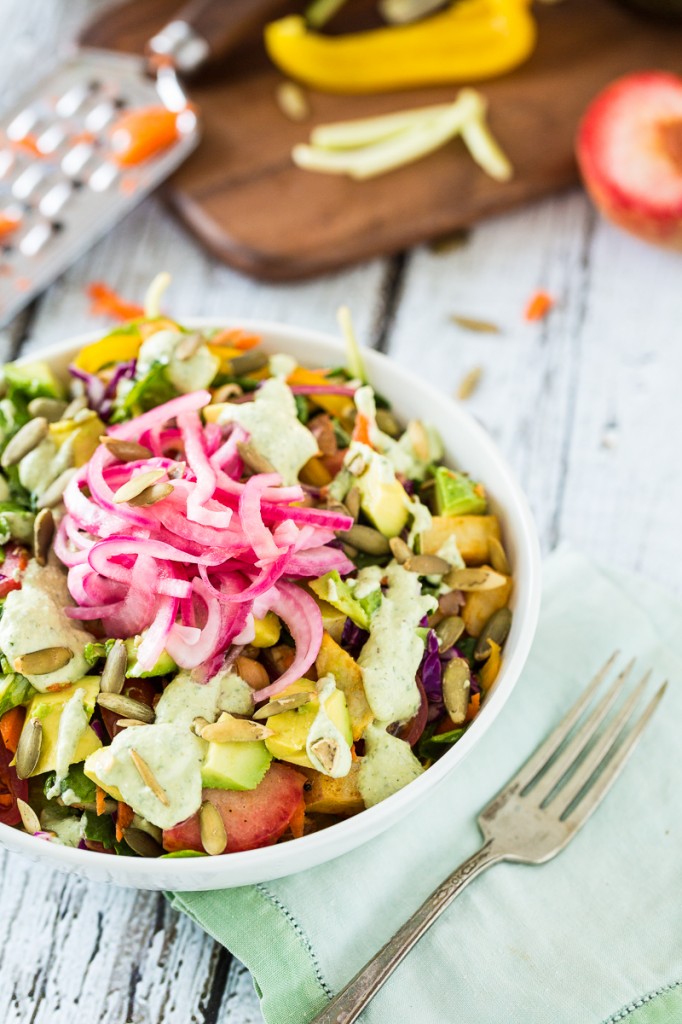 A big, satisfying salad with tons of flavors and textures is definitely one of my favorite meals, especially during the summer when something light and healthy, yet filling is even more appetizing. We probably have one for dinner at least two to three times per week. There's no real recipe to it- I pretty much just throw in anything I have on hand. There are a few elements, however, that I've been craving recently and they seem to find their way into every salad. Things like gently spiced roasted potatoes, savory pan-fried chickpeas, pickled red onions, and a creamy dressing (particularly a basil ranch dressing).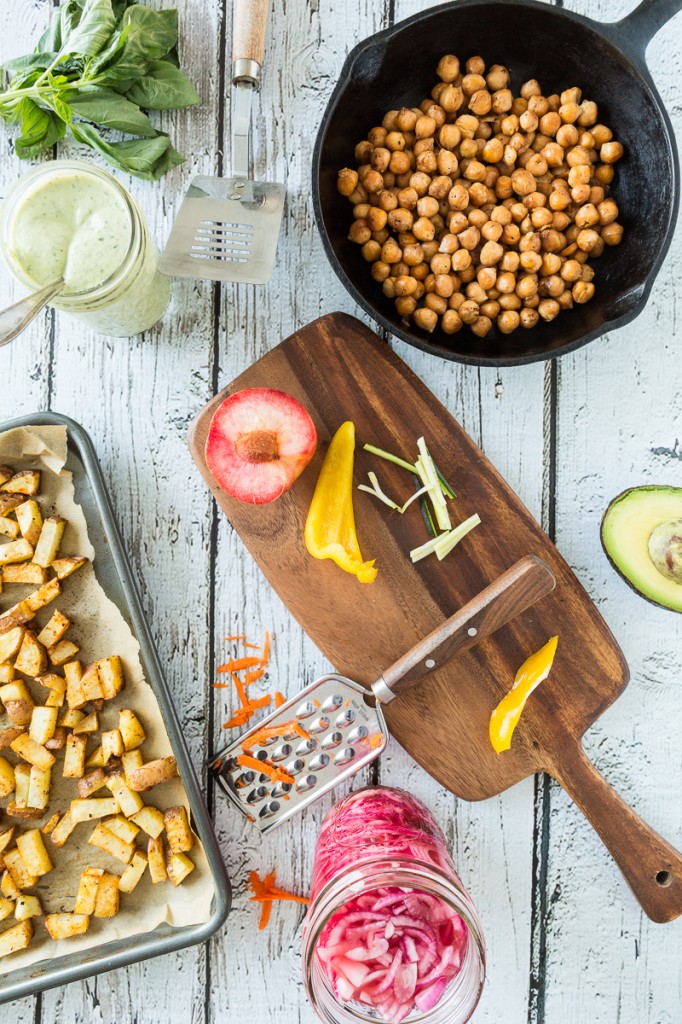 When I posted a picture of this salad a few weeks ago (did I mention I've been making this salad A LOT?), many of you asked for the recipe for the dressing. Sadly, I hadn't really written it down. Sadly (*she said sarcastically*), that meant I would have to make it again so I could record it in all of its greatness and share it with the world. If I used hashtags in places other than social media (which I don't), I would have to call this #foodbloggerproblems. But I don't do that. Anywho, this dressing is everything ranch dressing is supposed to be- rich, luscious, creamy- but it's made better with the addition of bunch of fresh basil. Basil is like avocado: it makes everything better.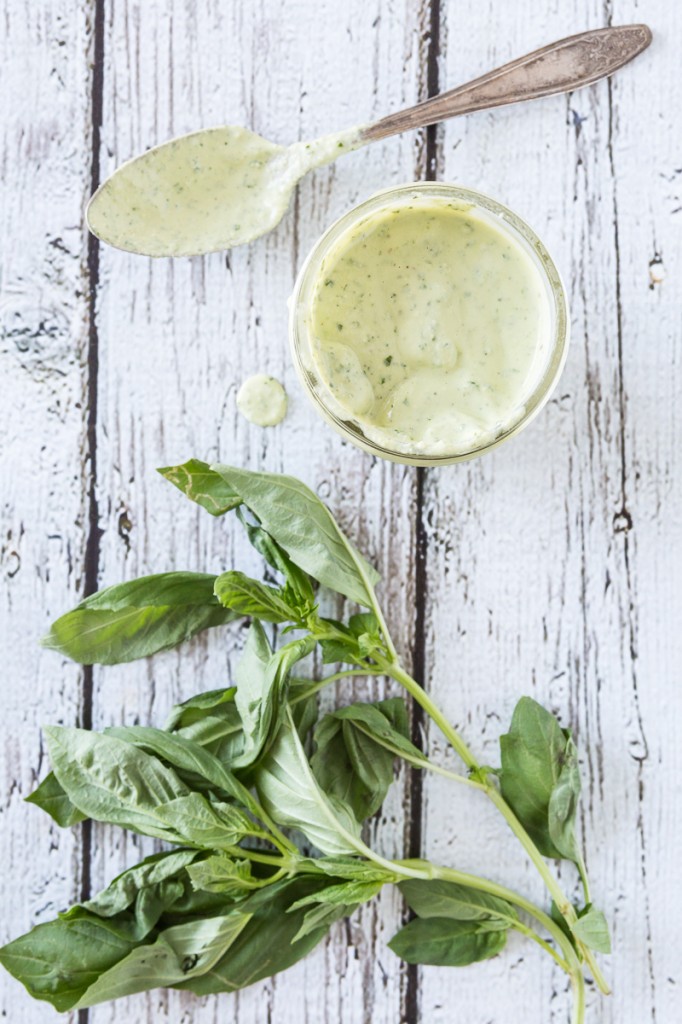 Because I like a bit of sourness in my salads, pickled foods, namely pickled red onions, have been a star-player in many of my salads lately. I don't bother with cooking anything or doing any sort of canning methods like some people like to do because as my 14 year old stepson says all the time now, "Ain't nobody got time for that." I just do a quick mixture of vinegar, agave syrup, salt, and allspice berries in a jar before stuffing in very thinly sliced red onions. A few hours later, you're set.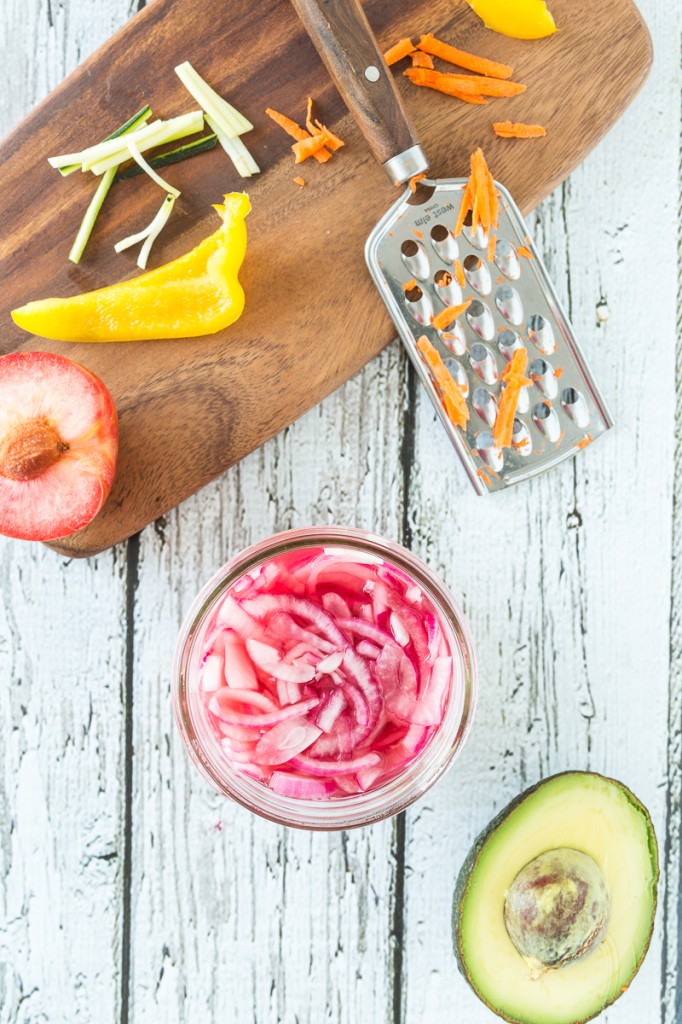 The roasted potatoes started off as an addition purely because I was running low on groceries. But my husband and I loved them so much, I've started keeping red potatoes on hands at all time so they can go in all of our salads. Not only does the addition of a cooked vegetable add a great, toothsome texture to the salad (roasted broccoli, cauliflower, zucchini, winter squash, beets, or brussels sprouts all make great additions too), but they taste great and make the salad a little more filling.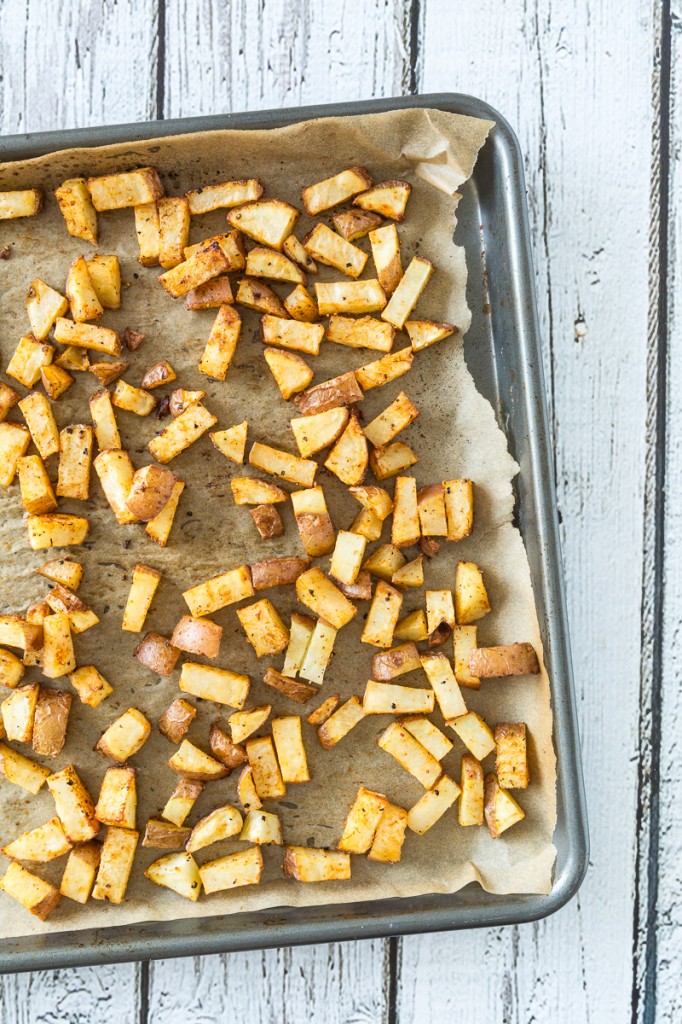 And now, the chickpeas. I've been putting these chickpeas in my salads for ages. Cooking chickpeas this way is also the basis for my Filet O' Chickpea Sandwiches and my Chickpea Avocado Salad. The liquid aminos add a great umami flavor and the chickpeas add protein, turning this salad into a satisfying one-bowl meal.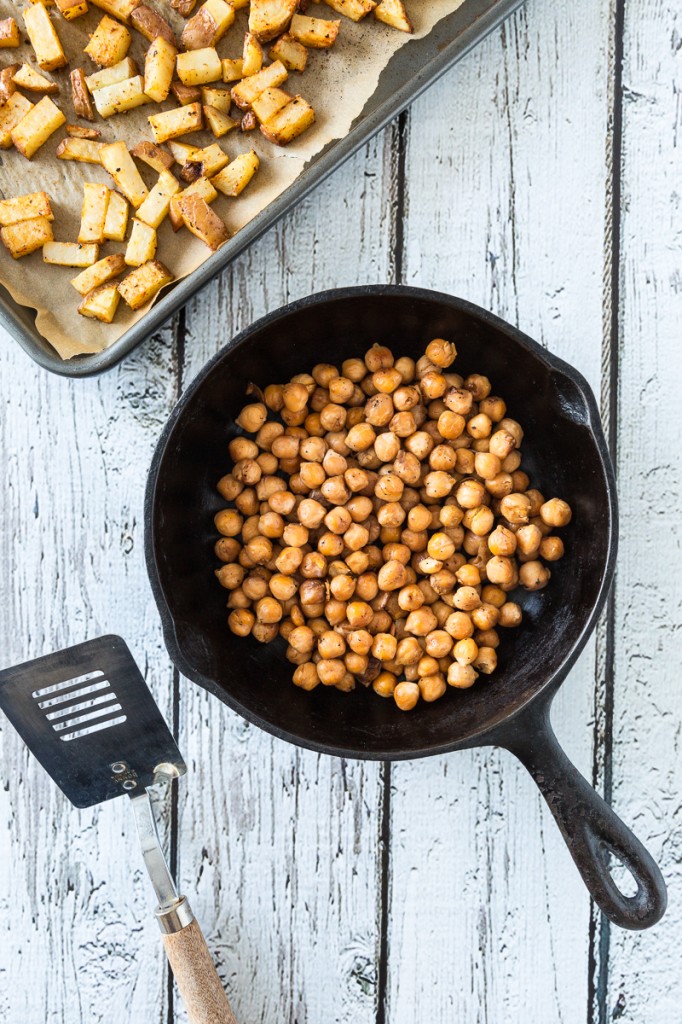 Those are the main elements I've been loving in our big-ass salads lately. As I said earlier, the rest is a hodgepodge of fruits and vegetables I have on hand. I do always try to create a rainbow, using an ingredient of each color. Also as I mentioned earlier, avocados make everything better so there's always avocado. I also like to add some crunch by sprinkling nuts or seeds on top, though I've been known to add a generous portion of coconut bacon (I love Phoney Baloney's brand)(I could make my own but as I mentioned earlier "Ain't nobody got time for that!").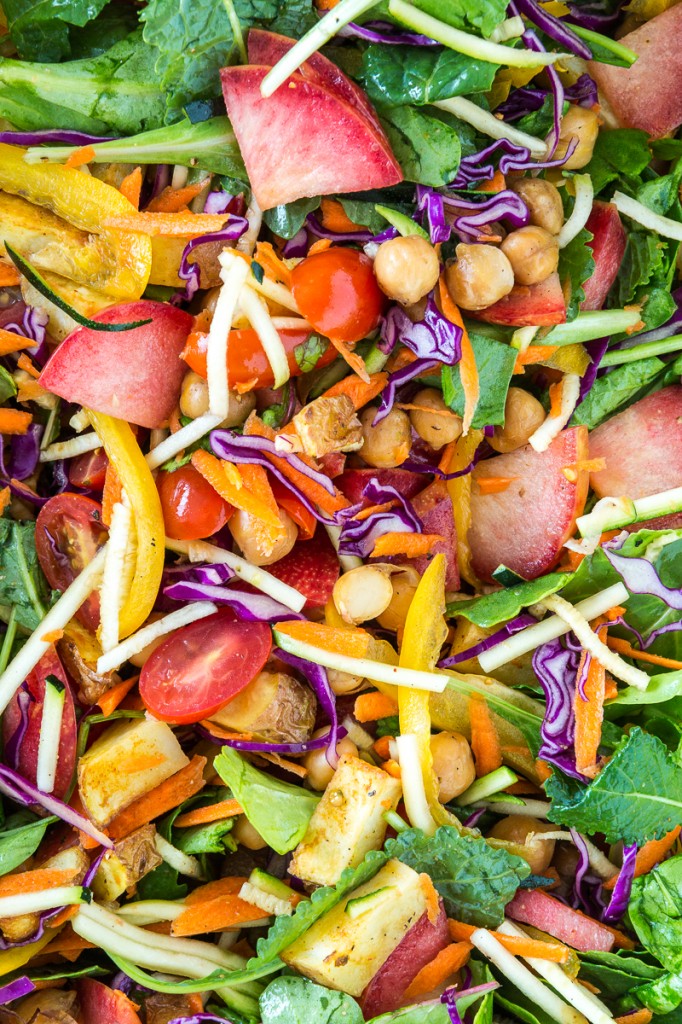 There you have it: The Big-Ass Salad. Go forth and make one for yourself. Make them often. Share them with friends. Let's show the world the salads vegans are capable of! (*cue epic instrumental number*)
The Big-Ass Salad with Basil Ranch Dressing & Pickled Red Onions
Ingredients
1/2 cup apple cider vinegar
1 tablespoon agave syrup
1 teaspoon salt
3 to 4 allspice berries
1 red onion, halved and very thinly sliced (I use a mandoline)
1/2 cup raw cashews (if not using a high-speed blender, soak them in warm water for 1 to 2 hours prior)
5 tablespoons water
2 tablespoons fresh lemon juice
2 tablespoons apple cider vinegar
1 teaspoon agave syrup
1/2 teaspoon salt
1/2 teaspoon garlic powder
1/2 teaspoon onion powder
1/4 teaspoon dried dill
1/4 teaspoon celery seed
1/2 cup tightly packed fresh basil
2 medium-large red potatoes, chopped (no larger than 1-inch pieces)
olive oil spray
a few dashes of garlic powder
a few dashes of smoked paprika
salt and pepper to taste
1 1/2 cups cooked chickpeas (or one 15-ounce can, rinsed and drained)
2 tablespoons liquid aminos (or tamari/soy sauce)
1 tablespoon fresh lemon juice
4 to 5 big handfuls of greens
whatever fruits and veggies you have on hand (I used 1 shredded carrot, a heaping cup of shredded red cabbage, thinly sliced bell pepper, halved cherry tomatoes, julienned zucchini, and a couple pluots)
diced avoacado
nuts or seeds to sprinkle on top (I used pepitas)
Instructions
In a 12-ounce jar, stir together to apple cider vinegar, agave syrup, and salt. Add the allspice berries. Stuff in the sliced red onion and press down until all is submerged. If there's not enough liquid, cover with more apple cider vinegar. Seal the jar and if you added more vinegar, shake to incorporate. Refrigerate for at least 3 to 4 hours, if not over night. This will keep for at least a month, if not longer.
Combine the cashews, water, lemon juice, apple cider vinegar, agave syrup, salt, garlic powder, onion powder, dill, and celery seeds in a high speed blender or food processor and blend/process until completely smooth. Add in the basil and process until fully incorporated and the basil is in tiny bits and pieces. Transfer to an airtight container and chill until ready to use. This can be made a day in advance and it's best if used in 2 to 3 days.
Preheat the oven to 425 F. Line a baking sheet with parchment paper. Spread the potatoes out on the baking sheet. Spray with olive oil. Top with garlic powder, smoked paprika, salt, and pepper. Toss to coat. Roast for 20 minutes, tossing once halfway through to ensure even cooking. Remove from the oven and let cool for at least 5 minutes before adding to your salad.
Heat a large frying pan, preferably cast-iron, over medium heat. Add the chickpeas and cook for a couple minutes. Add the liquid aminos and cook, stirring occasionally, for 4 to 5 minutes or until the liquid has been absorbed. Add the lemon juice and cook for 1 more minute. Remove from the heat and let cool for at least 5 minutes before serving.

to assemble the big-ass salad

Combine the greens and all fruits and vegetables you are using. After they've cooled for at least 5 minutes, add in the chickpeas and roasted potatoes and toss until combined. Add in the avocado and gently toss until incorporated. If serving more than yourself, divide the salad amongst serving bowls. Drizzle dressing generously over the top. Add a generous "forkful" of pickled red onions and sprinkle with nuts or seeds. Serve immediately. Enjoy!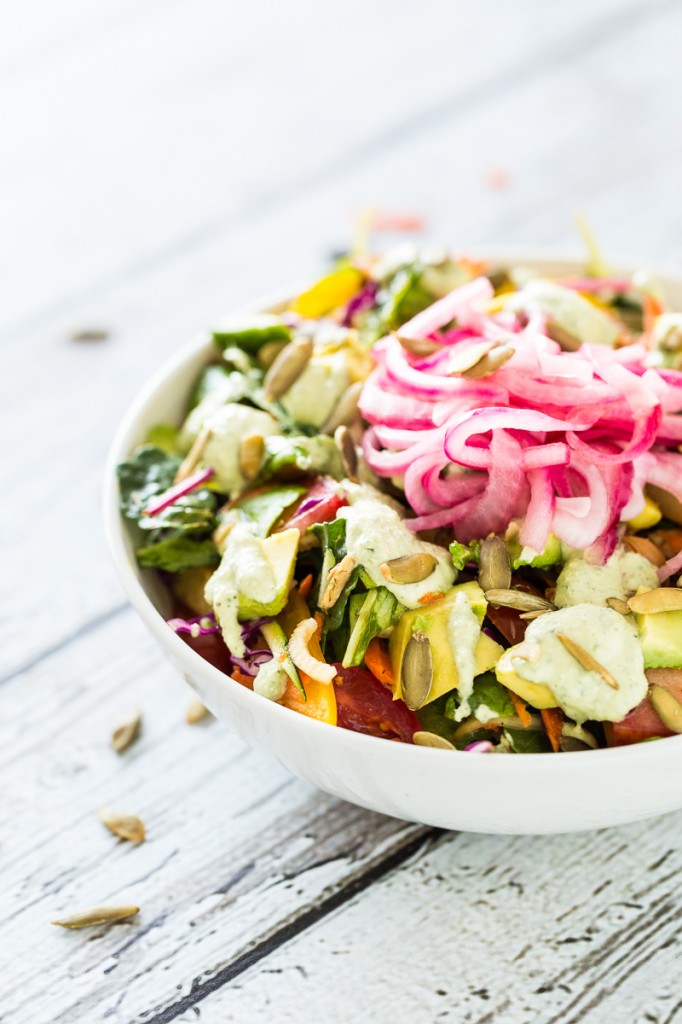 Is the Big-Ass Salad part of your weekly meal line-up?
Photography by Chris Miller