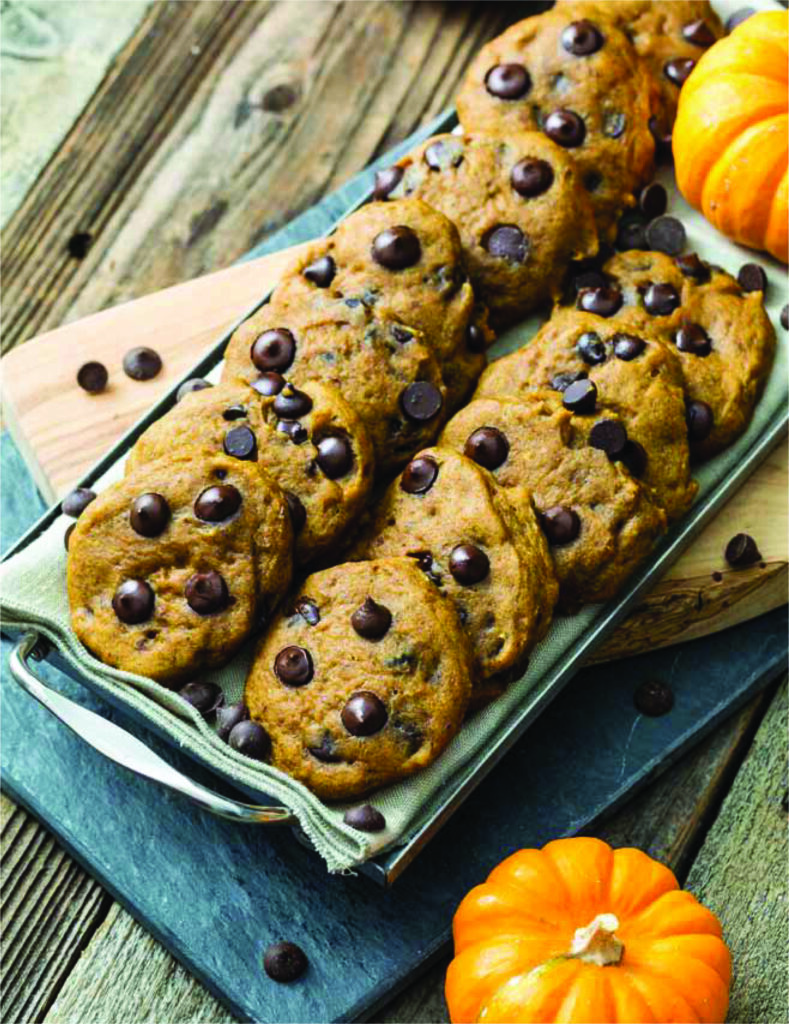 Hey everyone! Since we last talked, a lot has happened!
Most importantly, we found Buster! It was definitely a defining moment in my life and every time I look at his sweet face, my heart melts all over the damn place because I can't believe he's home and I can hold him and love him. His little vacation has turned out to be a blessing in disguise because it helped him build some confidence and he's much more comfortable than he was before. Thank you so much to everyone who donated to our GoFundMe account or even just sent us positive, loving vibes. All of it helped so much! You can read all about his rescue here.
Now that he's back, this is how I wish I could be spending all of my days: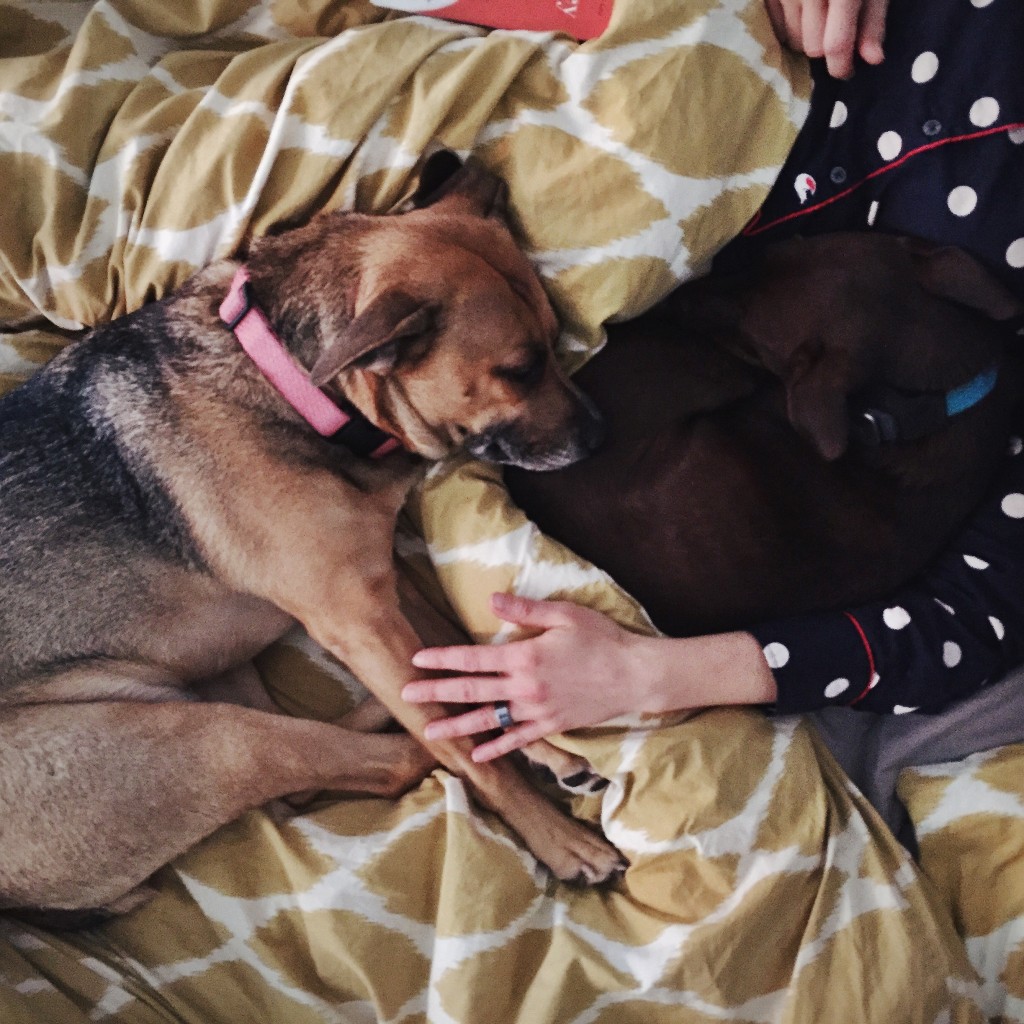 We also selected all of our recipe testers and they're hard at work, testing all of the recipes for my next book! Thank you to all 500 of you who applied. I'm sorry that I couldn't take all of you. It was a difficult task, but we narrowed it down to a team of 32.
Last week I looked at the calendar and realized that it was exactly 30 days before my manuscript is due to the publisher. I promptly proceeded to have a panic attack and spent the next half hour with my head between my knees. Then I kicked my ass into gear and I've been working to get that finished up.
We watched all of Jessica Jones on Netflix and now we're suffering major withdrawals.
Unfortunately, due to the hecticness of life recently, I haven't been able to do my annual Vegan Cookie Swap Party for the first time in 4 years. I've been sharing some of my favorites via social media, but if you're looking for cookies, please check the archives: 2012, 2013, 2014.
Also, I'm sharing these lovely Pumpkin Chocolate Chip Cookies from my book, But I Could Never Go Vegan! (Shameless plug: This book makes a great holiday gift! Order now and you can probably get it before Christmas!). The pumpkin acts as a binder and the pumpkin flavor is very subtle. But the flavor on these cookies is huge! They're one of my favorites and I've made them for a couple of book signings. They all disappeared pretty quickly. Before I give you the recipe, though, I have to share a pretty hilarious story (to me) about the last time I made them for a book signing.
My last book signing event was at BookPeople in Austin, Texas. That morning, we had brunch with our dear friends, Cadry and David. We spent a long time leisurely chatting and after we ate, we decided to head over to Austin's famed Whole Foods, check it out, get some ingredients for the cookies I was baking for the event that night, and then all go back to our AirBnB and hang out while I baked cookies. So we left in our separate cars and this is when things turned south. Chris remembered that in an hour, he had a skype interview and had to get back to his computer to prepare for it. So Chris dropped me off at Whole Foods and Cadry and David were nice enough to give me a ride back to the AirBnB after we explored the store and I bought my ingredients.
Now let me paint this picture: We get back to the AirBnB and I start getting ready to bake. Chris is locked in the bedroom, just starting his interview. David leaves to go across the street and check out a record store and as I'm setting up, I start telling Cadry about how I'm not good at talking while I'm cooking and that's the main reason I don't want to do cooking demos and/or videos. As I'm telling her this, I start trailing off because, seriously, I can't do both at the same time. Cadry is so sweet, she gets it. She sits quietly on the couch while I bake and Chris does his interview in the bedroom. David comes back and I try to make conversation (I say "try" because I'm still cooking). As we're talking, Chris pokes his head out and says "Can you keep it down? We can hear every word. Just five more minutes." So we pipe down. We're silent for 5 minutes. Then Chris comes out and says he has to call his boss- it'll just be a few minutes. And he steps out on the balcony. And I'm still cooking/not talking. Eventually, David and Cadry decide to head out and get ready for the VVC Meet & Greet. I feel terrible. When Chris comes in, he's also sad to see that our company had left. Moral of the story: If we invite you over, don't accept. We are the worst hosts ever. We will ignore you, and if you so much as make a peep, we will tell you to quiet the hell down. Luckily, David and Cadry are amazing and laughed it off with us after we apologized and promised to never make them come over again.
So here's the cookie recipe. Talking while baking is suggested.
Pumpkin Chocolate Chip Cookies + A GIVEAWAY!
Recipe from But I Could Never Go Vegan!: 125 Recipes That Prove You Can Live Without Cheese, It's Not All Rabbit Food, and Your Friends Will Still Come Over Dinner, copyright © Kristy Turner, 2014. Reprinted by permission of the publisher, The Experiment. Available wherever books are sold.
Ingredients
1¾ cups (220 g) unbleached all-purpose flour or gluten-free flour blend
1 tablespoon flaxseed meal
1 teaspoon baking soda
1 teaspoon ground cinnamon
½ teaspoon ground ginger
½ teaspoon salt
¼ teaspoon ground nutmeg
¼ teaspoon ground cardamom
1 cup (240 g) pumpkin puree (not pumpkin pie filling)
½ cup (70 g) vegan butter, melted
¼ cup (60 ml) maple syrup
⅓ cup (40 g) coconut sugar or vegan brown sugar
1 tablespoon unsalted smooth almond butter or whatever nut butter you have
1 cup (180 g) vegan chocolate chips
Instructions
Preheat the oven to 350°F (175°C). Line two baking sheets with parchment paper or silicone baking mats.
Whisk together the flour, flaxseed meal, baking soda, cinnamon, ginger, salt, nutmeg, and cardamom in a large bowl. Set aside.
Use a hand mixer (or whisk very quickly) to mix the pumpkin puree, vegan butter, maple syrup, coconut sugar, and almond butter. Add the wet ingredients to the dry and mix until just combined. Fold in the chocolate chips.
Use a tablespoon or ice cream scoop to scoop roughly 2 tablespoons of dough and place on the prepared baking sheets about 2 inches apart. Wet or lightly grease the bottom of a measuring cup and gently press down on each cookie to flatten. If you want them more evenly shaped, wet your fingers and gently form them into circles. Bake for 8 to 10 minutes, until firm with lightly browned edges. Cool on the baking sheet for 2 to 3 minutes before transferring to a cooling rack. Let cool completely before serving (or not—it would be a shame not to try at least one while they're hot!).
Notes
It is especially important with this recipe to measure the flour by shaking spoonfuls of flour into the measuring cup until full. If you scoop with the measuring cup, the flour will be too packed and will affect the texture of the cookies.
And now for the Giveaway!
Over the year, I've received a number of cookbooks to review. I've kept a handful but if I kept all of the books that get sent to me, my house would be overrun with books. To prevent that from happening, I'm giving them to you! TWO LUCKY WINNERS will receive a mystery selection of vegan cookbooks. To enter, leave a comment telling me about your favorite cookbook that you discovered this year.
And there's a BONUS GIVEAWAY! Because it's the holidays! If you have not bought or received my book, But I Could Never Go Vegan!, you get a chance to win it! To enter, leave a comment telling me a.)That you're entering to win But I Could Never Go Vegan! and b.) What your biggest excuse is/was for not going vegan.
You can enter both giveaways, but please enter separately for each one. Both giveaways will end at 11:59pm PST on December 27th, 2015.
Thank you for entering! Happy Holidays, my friends!
Photography by Chris Miller