Hi everyone! Welcome to the 3rd Annual Keepin' It Kind Vegan Cookie Swap Party! It's just like real life cookie swap parties, except some of your favorite bloggers are going to be stopping by Keepin' It Kind throughout the next month, sharing their favorite holiday cookie recipes. Fun, right? In case you missed it, you can check out the 2012 party and the 2013 party. If you're curious, you can also check out all the entries to this year's party! Also, be sure to scroll to the end to enter the VITAMIX GIVEAWAY!
Today's guest needs no introduction. You've probably been to her blog, An Unrefined Vegan, or you may know her has the mastermind behind the Virtual Vegan Potluck. You may also be eagerly awaiting her upcoming cookbook. Whatever the reason, you are all probably already familiar with Annie's warm personality, her humorous/insightful/heartfelt writing, and perfectly delicious/unrefined vegan recipes. This is Annie's 3rd year at the Cookie Swap Party and I think this chocolate hazelnut sandwich cookie recipe is her best yet!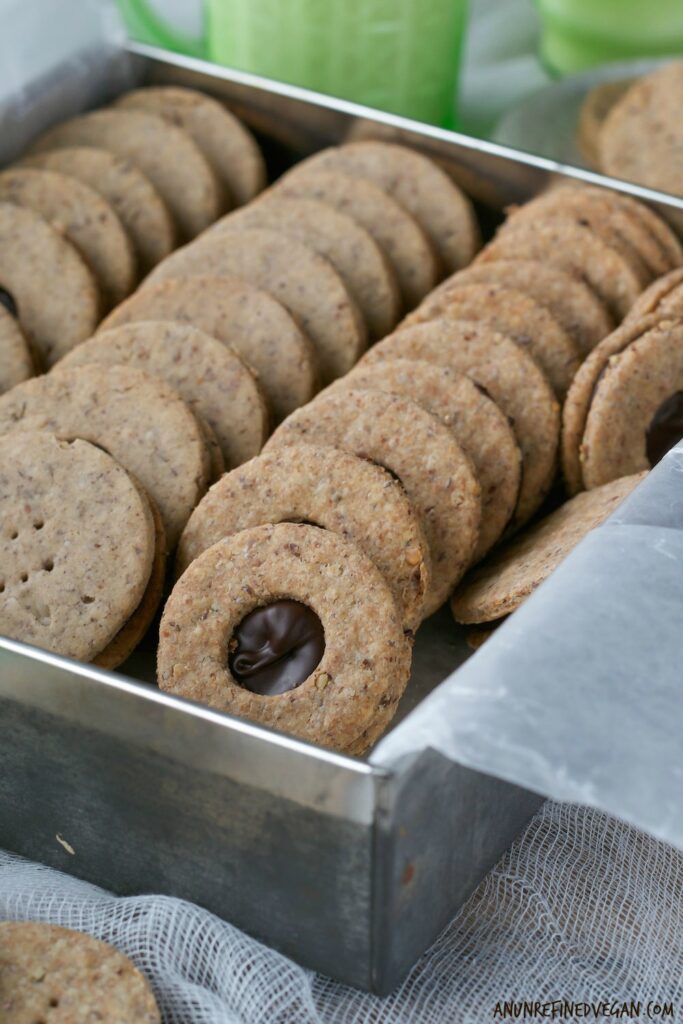 Jerry: Because this is very good.
Elaine: And that would be good.
Jerry: That would be good, too. The idea is to combine the this and the that. But this cannot be disturbed.
Elaine: Yeah, we just wanna take this and add that.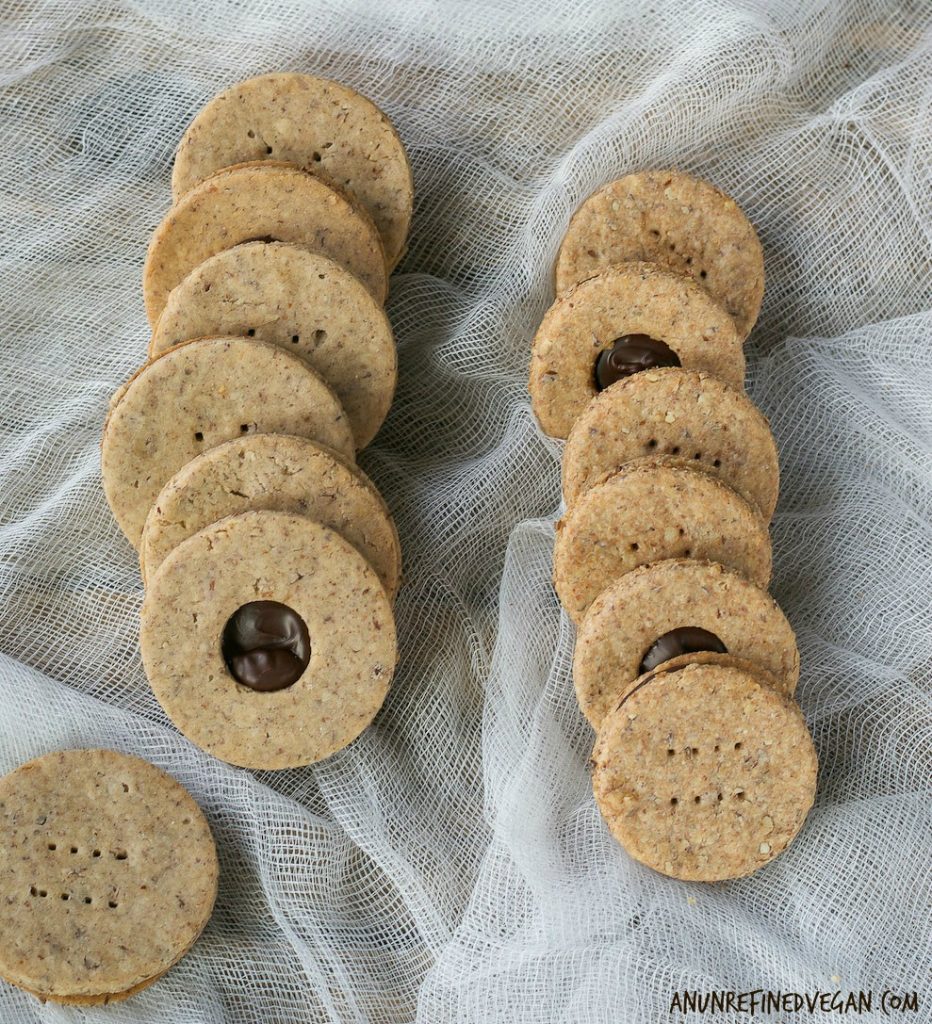 Of course Jerry and Elaine are talking about friendship and sex. But just for grins, let's imagine they were talking about sandwiches and cookies. It could happen! Because sandwiches are good, right? And cookies are good! So combining sandwiches and cookies is certainly very, very good - as anyone who has twisted apart an Oreo, a Joe-Joe's, or (as in my pregan days) a Pepperidge Farm Milano cookie knows! These crispy, nutty cookies with a rich chocolate filling are perfect for dunking into your favorite non-dairy milk. I'm pretty sure Santa would be on these like white on snow.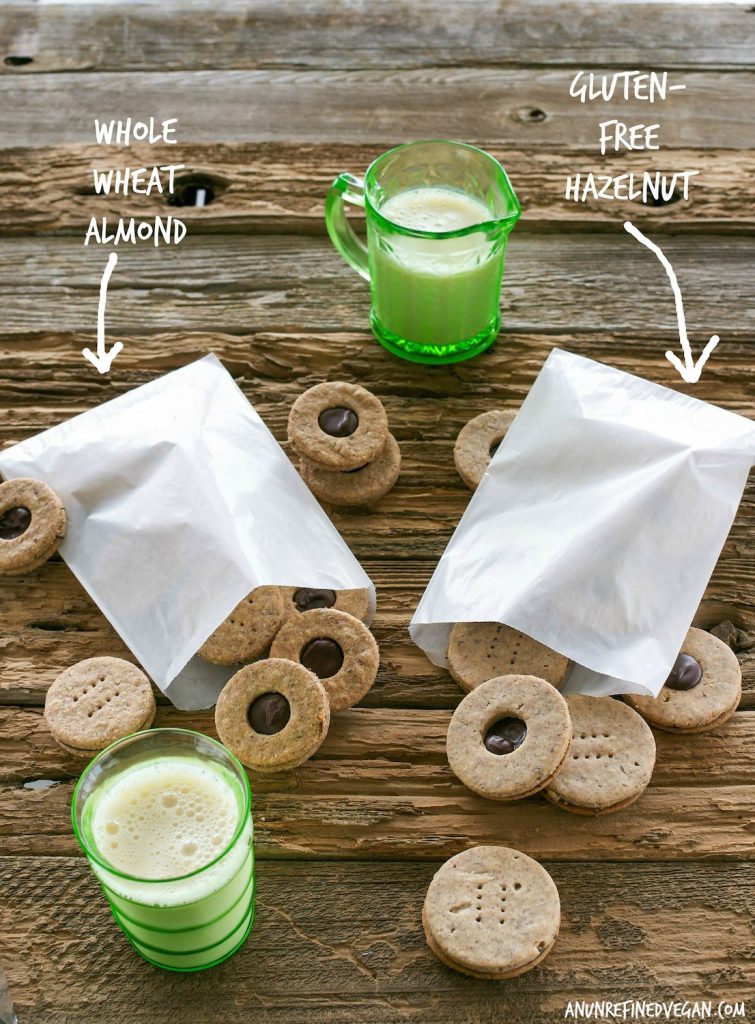 Thank you, Kristy, for inviting me to participate once again in your fabulous Cookie Exchange! It wouldn't be a proper December without it. Merry Christmas, Happy Holidays, and Happy New Year to one and all!



Annie's Chocolate Hazelnut Sandwich Cookies
If you can tolerate gluten, you can make these subbing whole wheat pastry flour for the gluten-free flour. And, if you can't get your hands on hazelnuts or hazelnut butter, these taste just as good made with almond meal and almond butter. These cookies are ideal for cookie exchanges because they're sturdy and have a long shelf life - especially if you freeze them.
Ingredients
1 1/2 cup gluten-free flour blend
1/2 cup hazelnut meal
2 Tbsp. flaxseed meal
2 Tbsp. maple sugar (or brown sugar)
pinch sea salt
pinch ground cinnamon
1/2 cup roasted hazelnut butter
1/4 cup coconut oil (in solid form)
1/2 tsp. vanilla-flavored stevia liquid
~10 Tbsp. ice water
3/4 cup semi-sweet vegan chocolate chips
1 tsp. coconut oil
Instructions
Preheat the oven to 375-degrees and line 2 baking sheets with parchment paper.
In the bowl of a food processor, pulse the flour, meals, sugar, salt, and cinnamon until evenly combined. Add the hazelnut butter and coconut oil and pulse until you have a mixture that looks like coarse meal. With the processor running, add the water and stevia to the flour mixture. Process until it begins to come together in a ball. Scrape out the dough, form it into a round, flat disk and cover in plastic wrap. Chill for at least 30 minutes.
Place the unwrapped disk of dough onto a (gluten-free) floured board. Roll the dough until it is about 1/4-inch thick. Using a 2 1/2-inch round cookie cutter, cut out as many circles as you can and place them on one of the baking sheets. Scrunch up the dough scraps, knead a bit, then roll out again. Cut more circles, place them on a baking sheet. Do this one more time. You should end up with 34 cookies.
If you like, take a smaller-sized round cookie cutter and cut out circles in half of the cookies. Keep those tiny circles and bake them with the rest of the cookies - they're delicious! Or, using the tines of a fork, press small holes into half of the cookies. Now bake the cookies for 12-15 minutes, switching pans in the oven halfway through for even baking. You want the cookies to be very firm and just beginning to brown at the edges. Allow cookies to cool for a few minutes on the pans, then gently transfer them to wire cooling racks to cool completely.
When ready to assemble the cookies, carefully melt the chocolate chips and coconut oil in a double-boiler or microwave.
Place the "bottom" cookies on one wire rack and the "top" cookies on another. Working quickly, divide the melted chocolate between the "bottom" cookies and spread the chocolate almost to the edges of the cookies. Lay the "top" cookies on the "bottom" cookies. Let cookies set before storing and/or eating.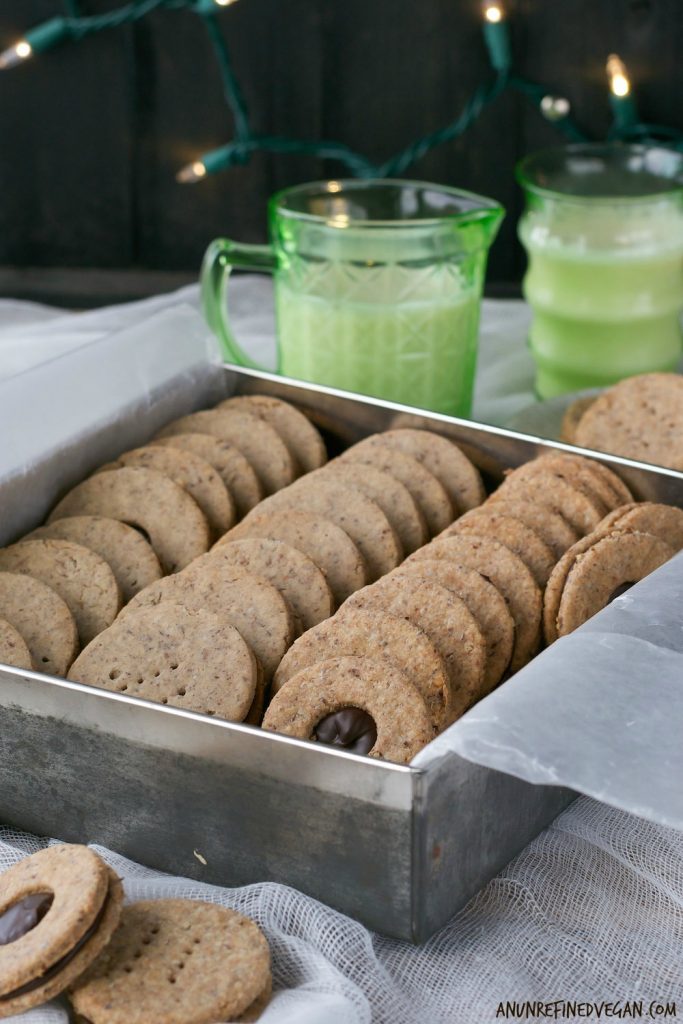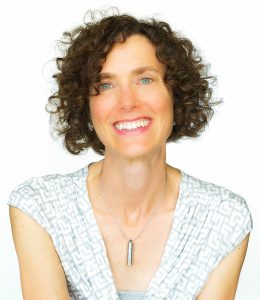 Before escaping the mean city streets for the windy plains of Oklahoma, Annie was an administrative assistant and office manager at a subscription fulfillment company in Boulder, a think-tank in Santa Monica, a university in Cambridge, in the Green Zone in Baghdad, and a non-profit in D.C.
Now she spends most of her time roaming the pastures, baking bread, stirring pots, writing, reading, trying to solve crossword puzzles (with a pen and a lot of Wite-Out), and blogging at An Unrefined Vegan and Virtual Vegan Potluck  She lives in blissful satellite- and cable-free isolation with her husband, Kel, and their only son, Ike (part dachshund, part Labrador). Annie's first cookbook, Crave Eat Heal: Plant-based, Whole Food Recipes to Satisfy Every Appetite will be published in April 2015 by Front Table Books. She is also working on a companion e-book, crave. eat. heal. outtakes. which will be self-published.
Find Annie on Facebook, Twitter, Instagram, Pinterest, and Google+
Thank you for stopping by, Annie! If you want to see what everyone else has brought to the party, check out the rest of the 2014 Vegan Cookie Swap Party! And you can enter…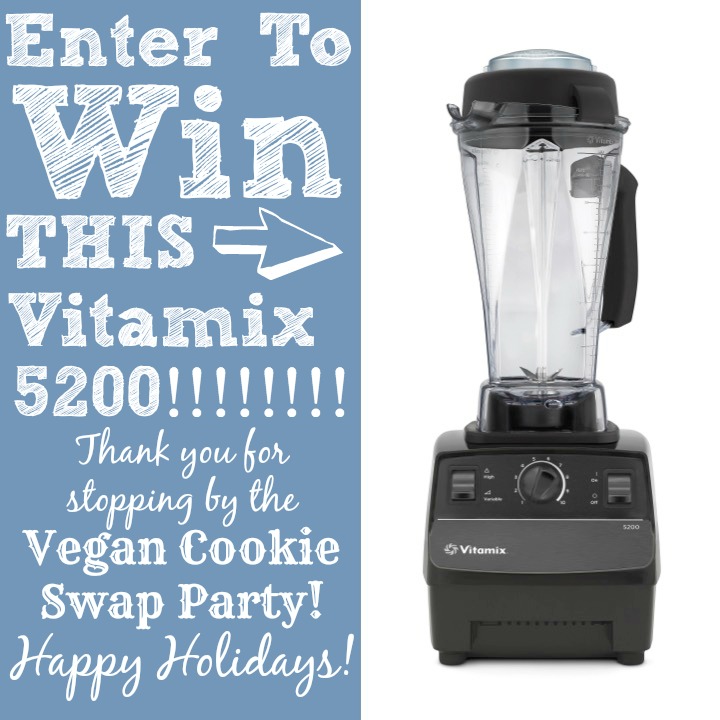 I wanted to do something extra special for all of you readers who've been joining us for the Vegan Cookie Swap Party fun and for supporting Keepin' It Kind all year. The amazing folks at Vitamixwere so incredibly generous to donate a Vitamix 5200 for a giveaway! Please click here for more info and TO ENTER! Good luck!