Hi everyone! Welcome to the 3rd Annual Keepin' It Kind Vegan Cookie Swap Party! It's just like real life cookie swap parties, except some of your favorite bloggers are going to be stopping by Keepin' It Kind throughout the next month, sharing their favorite holiday cookie recipes. Fun, right? In case you missed it, you can check out the 2012 party and the 2013 party. If you're curious, you can also check out all the entries to this year's party! Also, be sure to scroll to the end to enter the VITAMIX GIVEAWAY!
Today, one of the loveliest, sweetest bloggers out there, Courtney from The Fig Tree, is here sharing a veganized version of one of her family's holiday favorites. What makes it even sweeter is that, though she's been vegetarian for many years, this is her first holiday season as a vegan! I am so excited for her and this new journey she's on! It is such an honor to welcome Courtney here today! And these chocolate pecan butter tart, oh my word...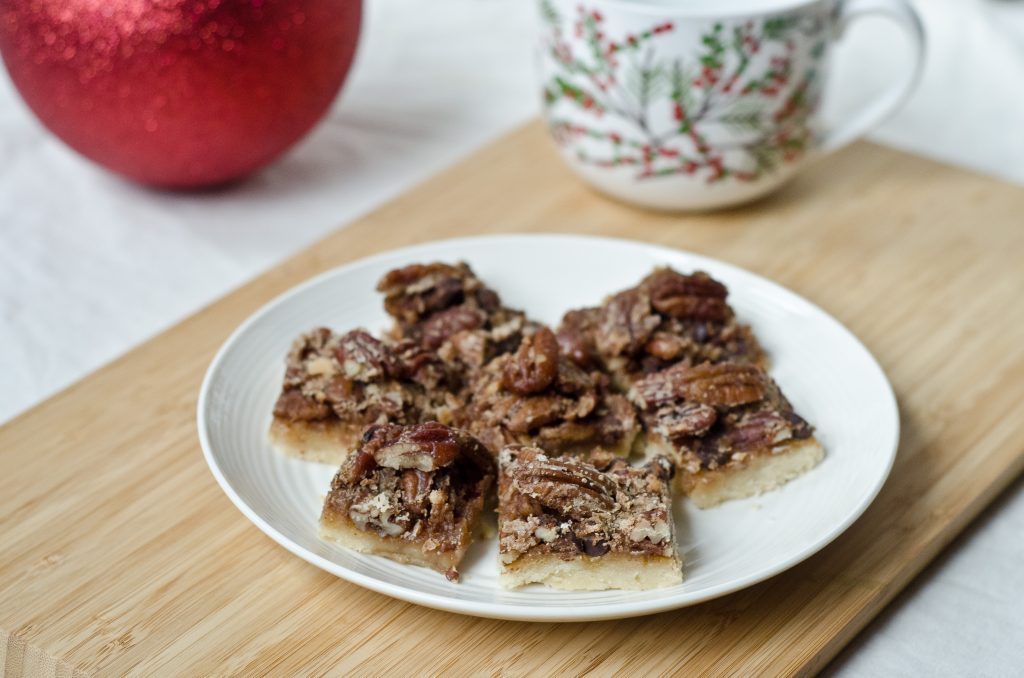 Hello and Happy Holidays! My name is Courtney and I am the blogger behind The Fig Tree. I am thrilled to be guest posting on Keepin' It Kind today and sharing my chocolate pecan butter tart recipe with all of you lovelies! Kristy, thank you so much for having me! I just love your annual cookie recipe swap! I love sharing great tried and true recipes with other bloggers.
This Christmas is extra special for me. Even though I have been a vegetarian for 17 years, this is my first Christmas as a vegan. To be honest, as a new vegan, I was worried that I would no longer be able to participate in the Christmas baking traditions that my family has had for years. Our go to recipes are shortbread, gingerbread, Mexican wedding cakes and the Canadian classic - butter tarts.  However, becoming a vegan has inspired me in so many new ways and I've been learning to adapt all of my family favourites. Last weekend, my mom, sister and I did our annual Christmas baking together. We made a number of dairy free treats and everyone loved them!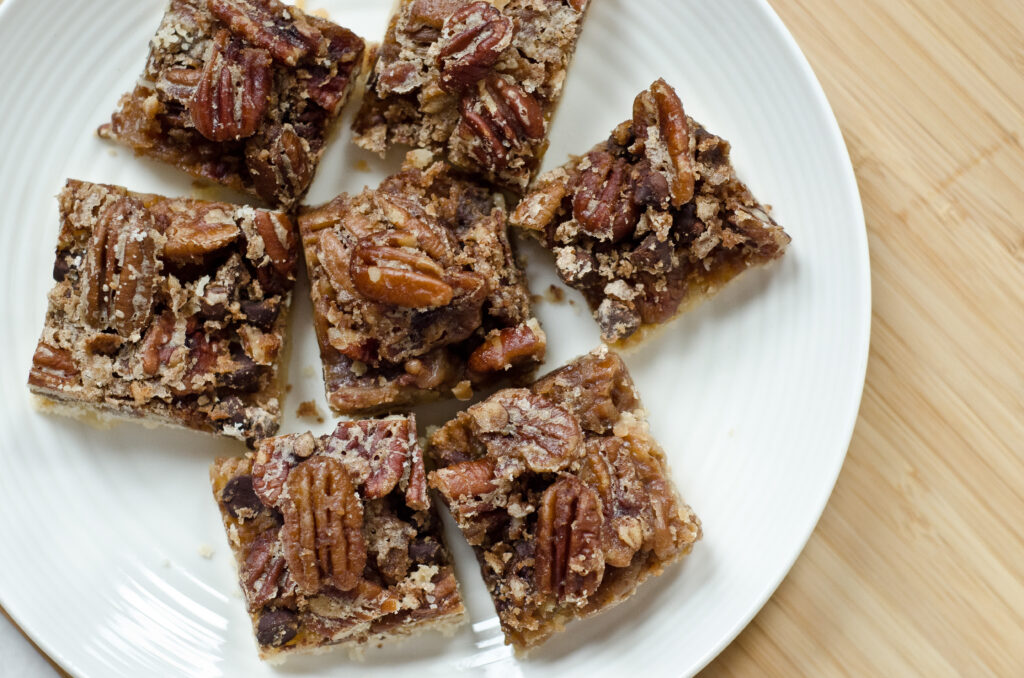 So, I present to you - vegan chocolate butter tarts! They are ooey, gooey and irresistible!!! The base is a buttery shortbread. Once the base has cooled, you combine pure maple syrup, butter and brown sugar. Add in some pecans and some chocolate chips, pour on top of the crust and then bake for 25 minutes. The result - a sweet, lusciously creamy butter tart with hints of chocolate and toasty pecans. You'll be hooked!
Wishing you all a wonderful holiday season. May it be merry and bright!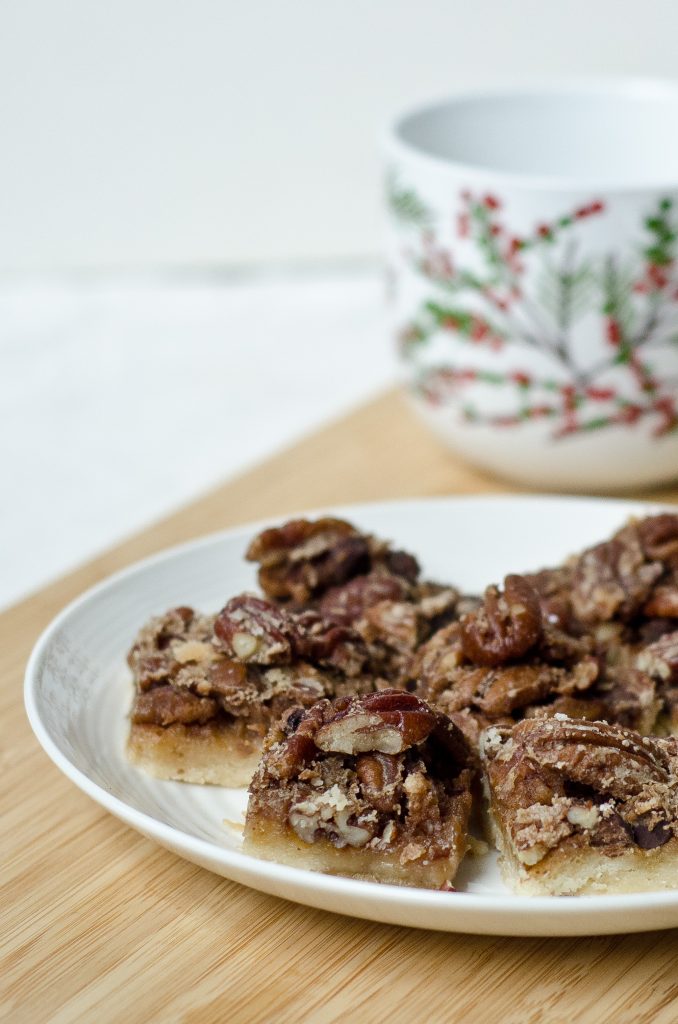 Courtney's Chocolate Pecan Butter Tart Squares
Ingredients
1 and 1/4 cups of all-purpose, unbleached flour
1/2 cup of icing sugar (confectioner's sugar), sifted
1/4 teaspoon of salt
1/2 cup of cool vegan butter (such as Earth Balance)
1/2 cup of packed brown sugar
1 tablespoon of cornstarch
1/2 teaspoon of baking powder
1/4 teaspoon of ground cinnamon
Egg replacer equivalent to two eggs (I used Ener-G egg replacer)
1/2 cup of pure maple syrup
1/4 cup of vegan butter, melted
1 teaspoon of pure vanilla extract
1 teaspoon of apple cider vinegar
2 cups of pecan halves
3/4 cup of vegan chocolate chips
Instructions
Preheat oven to 350'F. Grease and line an 8-inch square baking pan with parchment paper so that the paper hangs over the sides of the pan.
In a small bowl, combine the flour, sifted icing sugar and salt. Using a pastry cutter, cut in the butter until the mixture resembles coarse crumbs. NOTE: you can also use a food processor for this. Press the mixture into the prepared pan. The mixture will look quite dry, but that's okay!
Bake the base for 15 minutes, or until the edges start to turn golden. Set base aside to allow it to cool completely.
Meanwhile, prepare the filling for your butter tart square. In a large bowl, combine the brown sugar, cornstarch, baking powder and ground cinnamon. Whisk in the egg replacer (mixed with water), maple syrup, melted butter, pure vanilla extract and apple cider vinegar. Fold in the pecan halves and chocolate chips. Pour filling over the cooled shortbread base.
Bake the butter tart square for 25 minutes, or until the edges are bubbling and the centre still has a bit of a jiggle. Cool to room temperature.
Chill completely in the fridge before removing the square from the pan. Slice into 25 squares. Store in the fridge for up to 5 days.
Notes
I've made this recipe a number of times and found that the Ener-G egg replacer works best. It allowed the filling to set properly. I also tried using an extra tablespoon of cornstarch in lieu of the eggs and found the filling did not set. Silken tofu may work as a replacement for the eggs, but I have not yet tested it.
Source: adapted from Maple Pecan Squares by Anna Olson
Courtney lives in Winnipeg, Manitoba, Canada with her husband Jesse. She loves cooking, baking, reading, theatre and binge-watching shows on Netflix. She credits her mom for inspiring her to get in the kitchen and be creative. Courtney also loves to travel and enjoys learning new languages. Please check out The Fig Tree website. You can also find The Fig Tree on Facebook, Pinterest, Twitter and Instagram.
Thank you for stopping by, Courtney! If you want to see what everyone else has brought to the party, check out the rest of the 2014 Vegan Cookie Swap Party! And you can enter…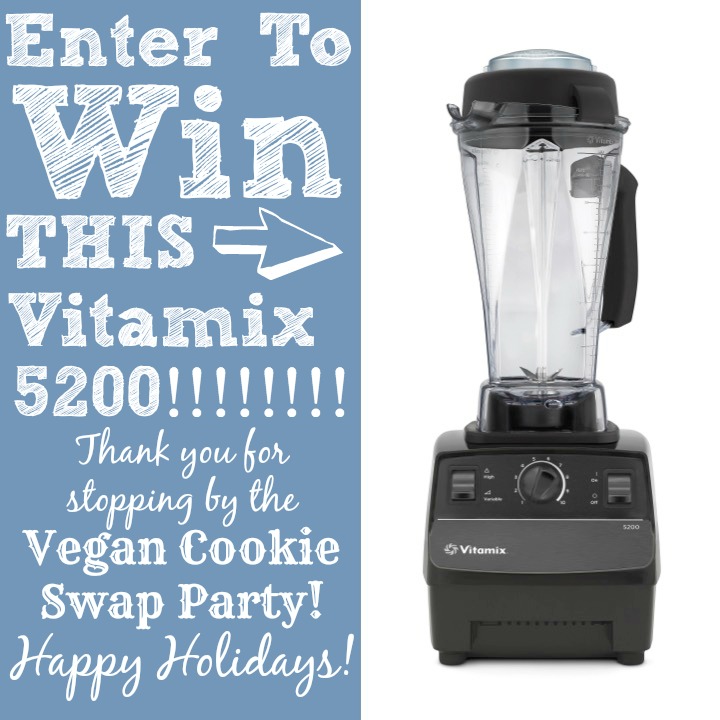 I wanted to do something extra special for all of you readers who've been joining us for the Vegan Cookie Swap Party fun and for supporting Keepin' It Kind all year. The amazing folks at Vitamix were so incredibly generous to donate a Vitamix 5200 for a giveaway! Please click here for more info and TO ENTER! Good luck!