Hi everyone! Welcome to the 3rd Annual Keepin' It Kind Vegan Cookie Swap Party! It's just like real life cookie swap parties, except some of your favorite bloggers are going to be stopping by Keepin' It Kind throughout the next month, sharing their favorite holiday cookie recipes. Fun, right? In case you missed it, you can check out the 2012 party and the 2013 party. If you're curious, you can also check out all the entries to this year's party! Also, be sure to scroll to the end to enter the VITAMIX GIVEAWAY!
When I first became vegan there were a few blogs I turned to very consistently to help me figure out what to make for dinner (and all the other meals). Happy. Healthy. Life. was one of those few. Without knowing it, Kathy, with her eloquent food writing skills, impeccable recipes, and stunning photography, helped me find my way early in my vegan journey. Now, I'm so lucky to call this outstanding lady my friend. AND not only that, she's here sharing a recipe for one of my favorite winter flavor combos: Chocolate + Candy Canes!
I am so happy to be a part of Kristy's amazing cookie swap party that she rounds up each year. For my cookie contribution, I wanted to share something festive and decadent, yet sneakily, still pretty healthy. So I am happy to share my recipe for these fudgy, minty, festive chocolate cookies..
When I first taste tested these I actually said the words, "Too much chocolate?" To test this question, I quickly placed a warm fudgy cookie in my husband's hand and said, "Taste this." He gobbled it down in two bites and gave me a thumbs up as he proceeded to head into the kitchen to go grab another cookie. I guess my taste buds were a bit overly sensitive on the chocolate front.
But Chocolate is a funny thing for me, sometimes I find rich dark chocolate a little too bold and, well, chocolate-y. But when I am craving chocolate, there is nothing more satisfying than indulging in a bite of something deep, dark and rich in cacao flavor. Well these cookies win both ways, I think. They have a rich, bold, deep dark chocolate flavor, but that sweet minty accent of festive candy cane lightens everything up and cools off all that cocoa intensity. This holiday cookie is a crowd pleaser!
Good Stuff! And these gluten-free cocoa cookies are not only tasty, but also packed with good things. We all know that cocoa powder is rich in antioxidants, and oat flour is fiber-ful and gluten free (I made mine in my Vitamix using rolled oats). So brownie points there. Or, cookie points. And I sweetened these gems with coconut sugar (which is less refined than white sugar, and its vegan) and I used virgin coconut oil as the fat.
So often "Christmas Cookies" involve white flour, dairy butter and loads of white refined sugar. But the truth is, you can totally switch out refined ingredients and animal products for vegan substitutions and still have dreamy, happy holiday cookies. Like these!
These cookies would pair perfectly with one of my favorite holiday sips on my blog:
* Pumpkin Spice Lattè
* Fresh Ginger Tea
* Holiday Hot Toddy
* Mulled Wine
Kathy's Candy Cane Cocoa Cookies
Ingredients
3/4 cup oat flour
3/4 cup coconut sugar
1 tsp baking powder
1/2 cup cocoa powder
1/4 cup coconut oil, melted
1/2 tsp apple cider vinegar
1/4 tsp vanilla extract
1/2 tsp salt
1 1/2 Tbsp cold non-dairy milk
1/4 cup crushed candy cane, vegan
Instructions
If making homemade oat flour, blend enough rolled oats in a high-speed blender or food processor to have 3/4 cup oat flour.
Preheat oven to 350 degrees.
Combine all the following ingredients in a large mixing bowl: oat flour, sugar, baking powder, cocoa powder and salt.
Fold in the vinegar, vanilla and coconut oil. Stir well until a thick crumbly dough forms.
Fold in the cold non-dairy milk and candy cane pieces. The dough should thicken up as the cold liquid touches the coconut oil-infused dough.
Lightly grease a baking sheet or use a baking cookie mat. Form small dough balls with your hands and press the balls into flat circles with your palms. Place on cookie sheet.
Bake at 350 degrees for 12-15 minutes, cook a bit longer if you like a crunchier cookie texture, less for soft and fudgy.
Allow cookies to cool at least twenty minutes before serving. Fully cooled, the cookies will be ready to handle and pack in baggies for storing or sharing!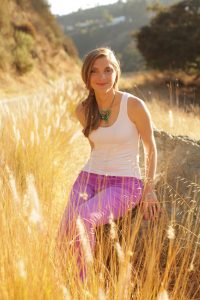 Kathy Patalsky is a vegan food blogger and author. Her two websites are Lunchboxbunch.com, aka (HealthyHappyLife.com) and FindingVegan.com. Kathy is the author of the cookbook 365 Vegan Smoothies from Penguin's Avery Books and Healthy Happy Vegan Kitchen (HHVK) out in late April 2015, published by Houghton Mifflin Harcourt. Kathy's recipes and photography work have been featured on websites including Saveur, BuzzFeed, LATimes, Fox, CNN and more.
Kathy grew up in the sunny and foggy surfside town of Santa Cruz in Northern California. Kathy loves travel, writing and photography, cooking (of course!), everything on the topic of wellness, farmer's markets, beach days, movie nights, animals big and small (including her two brother rescue kittens) and all things cozy and lovely.
Twitter: Lunchboxbunch
Instagram: KathyPatalsky
Facebook: Lunchboxbunch
Thank you for stopping by, Kathy! If you want to see what everyone else has brought to the party, check out the rest of the 2014 Vegan Cookie Swap Party! And you can enter...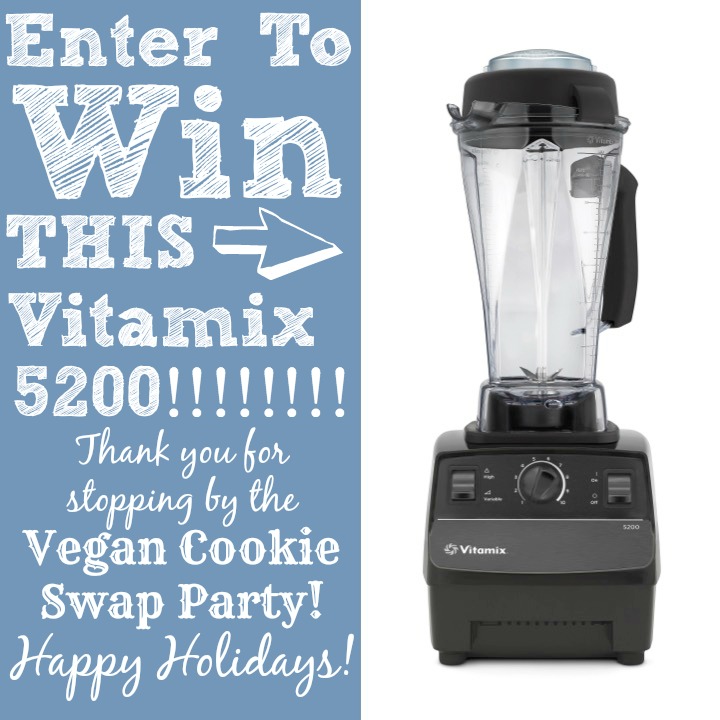 I wanted to do something extra special for all of you readers who've been joining us for the Vegan Cookie Swap Party fun and for supporting Keepin' It Kind all year. The amazing folks at Vitamix were so incredibly generous to donate a Vitamix 5200 for a giveaway! Please click here for more info and TO ENTER! Good luck!