Hi everyone! Welcome to the 3rd Annual Keepin' It Kind Vegan Cookie Swap Party! It's just like real life cookie swap parties, except some of your favorite bloggers are going to be stopping by Keepin' It Kind throughout the next month, sharing their favorite holiday cookie recipes. Fun, right? In case you missed it, you can check out the 2012 party and the 2013 party. If you're curious, you can also check out all the entries to this year's party! Also, be sure to scroll to the end to enter the VITAMIX GIVEAWAY!
One of my most favorite healthy, vegan food bloggers is here today for the cookie swap party! Yay! Emma of Coconut and Berries never fails to come up with delicious and enticing recipes that just so happen to be healthy. Plus, each of her posts are studded with mouth-watering photos. I have a hard time not getting hungry when I'm visiting her blog. I'm super excited about the cookies she's brought to the party today too- I think I'll be making shortbread cookies sometime in my near future!
Hello Keepin' It Kind readers and thank you again to Kristy for inviting me here to join in the Cookie Swap Party! One day I hope I can meet some bloggers in person for a real-life cookie swap, but a virtual party is definitely the next best thing – and a lot more practical seeing as we all live in different parts of the world!
Shortbread were one of my favourite tea-time treats growing up. They still are in fact. I make them with different ingredients now I'm vegan but they're definitely just as good. Light and buttery with a crumbly melt-in-the-mouth texture that's simply irresistible.
They don't "need" any adornment but a little fresh lemon zest and a sprinkling of chewy cranberries is certainly welcome, and dipping them in dark chocolate takes them over the top! It's nearly Christmas after all!
Go ahead and get creative with flavours. Try different dried fruit or nuts, finely chopped fresh herbs, orange, lime or grapefruit zest instead of lemon, or even dried tea leaves.
These delicate little treats are much healthier than the traditional kind too. As well as being vegan they're gluten-free and free from refined sugars. Coconut sugar brings a slightly caramel-like flavour and coconut oil stands in wonderfully for butter.
I kept the recipe as simple and quick as possible too as I know everyone's especially busy at this time of year. No chilling or rolling out of dough necessary.
Emma's Chocolate Dipped Lemon & Cranberry Shortbread Cookies
Ingredients
1/4 C Coconut sugar
1/3 C Potato starch OR Tapioca flour
1/2 C Coconut oil, softened but not fully melted
2 Tbsp Coconut nectar
1 tsp Vanilla extract
Zest of 1 large lemon
1 C All-purpose gluten-free flour
1/8 tsp Salt
1/3 C Dried cranberries
80g/3oz Dark chocolate, chopped OR 1/2 C Non-dairy chocolate chips
1 tsp Coconut oil
Instructions
Preheat the oven to 170C/340F. Line 2 baking sheets with parchment paper.
Blend together the coconut sugar and potato starch in a high-powered blender or coffee grinder.
In a medium bowl, beat together the softened coconut oil, coconut syrup, vanilla and lemon zest with a wooden spoon.
Sift in the coconut sugar/potato starch mix, along with the flour and salt and stir to combine, then bring together to form a ball with your hands.
Shape the dough into a large rectangle with your hands and pat down until approx 1 cm thick. Sprinkle over cranberries and press lightly to stick. Slice dough into your desired shapes then transfer to the prepared baking sheets.
Bake for 12-18 minutes, until just beginning to golden. Leave to cool completely on the baking sheets.
Melt the chocolate and coconut oil together in a small bowl over a pot of boiling water, or in the microwave. Dip the shortbread in the chocolate then return to the baking sheets to firm up at room temperature or in the fridge.
Store in a tightly sealed container at room temperature.
I hope you give these simple lemon & cranberry shortbread cookies a go and please let me know how you like them – I always appreciate feedback and especially love seeing pictures of your creations.
Emma is the passionate vegan foodie behind the blog, Coconut and Berries, where she shares healthy and creative plant-based recipes and writes about her kitchen adventures and travels.
Find her on Facebook, Pinterest, Instagram and Twitter!
Thank you for stopping by, Emma! If you want to see what everyone else has brought to the party, check out the rest of the 2014 Vegan Cookie Swap Party! And you can enter…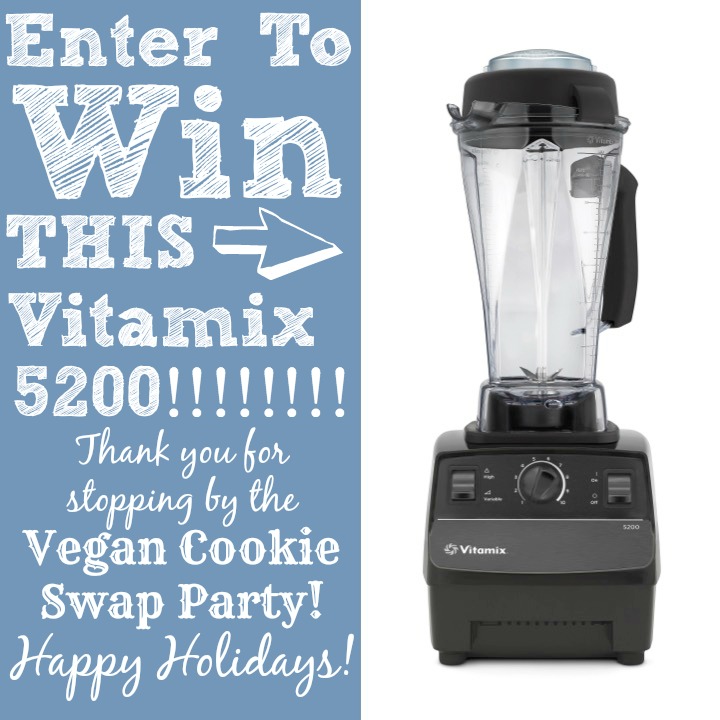 I wanted to do something extra special for all of you readers who've been joining us for the Vegan Cookie Swap Party fun and for supporting Keepin' It Kind all year. The amazing folks at Vitamix were so incredibly generous to donate a Vitamix 5200 for a giveaway! Please click here for more info and TO ENTER! Good luck!