Hi everyone! Welcome to the 3rd Annual Keepin' It Kind Vegan Cookie Swap Party! It's just like real life cookie swap parties, except some of your favorite bloggers are going to be stopping by Keepin' It Kind throughout the next month, sharing their favorite holiday cookie recipes. Fun, right? In case you missed it, you can check out the 2012 party and the 2013 party. If you're curious, you can also check out all the entries to this year's party! Also, be sure to scroll to the end to enter the VITAMIX GIVEAWAY!
Getting this party started right is my friend, Gabby of The Veggie Nook! For the few of you who don't already know, Gabby, I'm sure you're going to fall in love with her sense of humor and down-to-earth vibe. When she gives nutritional advice (because she's a certified nutritional practitioner, yo!), she does it in a non-preachy, I'm-just-telling-you-because-you're-my-friend-and-I-care-about-you way, all the while delivering up the delicious goods. And also, she's adorable. I'm going to stop gushing so you can get on to the cookies! 
I am so happy to once again be participating in Kristy's Cookie Swap Party, even more so because I get to kick it off! I mean I'm sure you all know this, but Kristy is pretty much the bomb. So when she suggests something, I dive in head first. It usually works out pretty well for me, especially in this case because I got to bake cookies for you all wayyy ahead of Christmas. No I did not need an excuse to start my Christmas baking in early November (I would have done it anyway), but it definitely gave me an excuse to blast some Christmas tunes earlier than is socially acceptable.
Christmas is my absolute favourite time of year. From the store displays, to the songs, decorations, and general good feelings I can't get enough. My favourite thing though has to be the food. When else do you get to make tons of decadent food and snacks, eat all day and totally justify it?
Christmas baking usually involves making tried and tested recipes that bring back good memories of family. My mom has been making our nutmeg logs (which I healthified a couple years ago) since she was my age and the raspberry/rum balls were something we added when I was a kid. While nothing else has consistently made the cut every year, I keep making one new treat every season just to mix it up and keep my parents guessing. And I can't wait to get them to try these cookies!
These are a spin off of a couple of my favourite cookies of all time. A local Toronto company, Sweets of the Earth, is a bakery that delivers the most decadent, delicious and entirely vegan baked goods. You can find them almost anywhere in Toronto now and while they are constantly surprising me with their creations, their Flourless Cashew Cookie has to be my faovurite. Reminiscent of a peanut butter cookie but more complex from the cashew butter, it gets me every time. While simply recreating this cookie would have been a pretty solid endeavour, I took it a little further.
Another of my favourite cookies has to be these sesame anise biscotti I make (although I can't share the recipe because it isn't my own, sorry!). I DO NOT like black licorice so the fact that one of my favourite cookies has anise in it is a complete mystery to me. Must be the combination with the sesame. It produces a cookie that tastes refined and feels very grown up. So what do you get when you combine sesame and anise with the buttery texture of a cashew cookie? These epic Flourless Sesame Anise Cookies.
These Flourless Sesame Anise Cookies are vegan, gluten-free, paleo, nut-free, refined sugar-free and grain-free so they cover all the bases when it comes to food restrictions. And since the holidays are all about togetherness, shouldn't the cookies be inclusive of all eating styles? I hope you'll give these a chance on your holiday table, you won't regret it! Also, please stop by The Veggie Nook sometime and say hello!
Gabby's Flourless Sesame Anise Cookies
Ingredients
1 cup tahini (not the super runny kind, should have the same consistency of almond/peanut butter)
5 tbsp coconut sugar
3 tbsp maple syrup
2 tsp vanilla extract
2 tbsp ground flax
1/2 teaspoon freshly ground anise seed
1/2 tsp baking soda
1/2 tsp baking powder
large pinch sea salt
sesame seeds for sprinkling
Instructions
Combine all ingredients in a bowl and chill the dough in the fridge for 30 min.
Preheat oven to 350F, grease a baking tray or line with parchment paper.
Roll cookie dough in to balls and lightly press them into the pan. They will spread slightly when baking so the flatter you press them, the flatter the cookie will be.
Bake for 8 min and cool for 5 before transferring to a wire rack to cool completely.
Thank you for stopping by, Gabby! If you want to see what everyone else has brought to the party, check out the rest of the 2014 Vegan Cookie Swap Party!
Gabby is a Certified Nutritional Practitioner, MPH candidate, blogger and veggie addict. She believes healthy eating and living should be simple, fun and delicious, so her goal is to get you eating your veggies and enjoying them too! Check out her blog The Veggie Nook and connect with her on Facebook, Twitter and Instagram.
Thank you for stopping by, Gabby! If you want to see what everyone else has brought to the party, check out the rest of the 2014 Vegan Cookie Swap Party! And you can enter…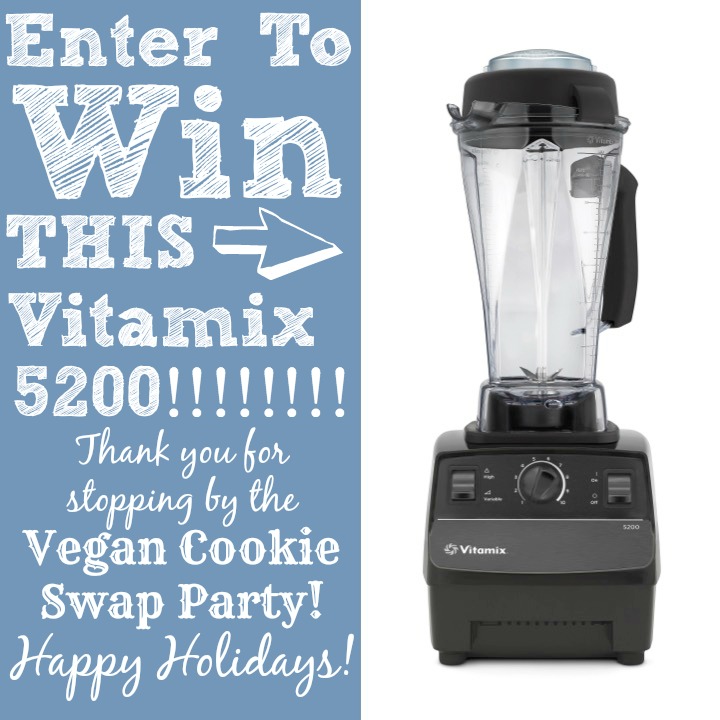 I wanted to do something extra special for all of you readers who've been joining us for the Vegan Cookie Swap Party fun and for supporting Keepin' It Kind all year. The amazing folks at Vitamix were so incredibly generous to donate a Vitamix 5200 for a giveaway! Please click here for more info and TO ENTER! Good luck!