Hi everyone! Welcome to the 3rd Annual Keepin' It Kind Vegan Cookie Swap Party! It's just like real life cookie swap parties, except some of your favorite bloggers are going to be stopping by Keepin' It Kind throughout the next month, sharing their favorite holiday cookie recipes. Fun, right? In case you missed it, you can check out the 2012 party and the 2013 party. If you're curious, you can also check out all the entries to this year's party! Also, be sure to scroll to the end to enter the VITAMIX GIVEAWAY!
I am so excited to have Kristina (a.k.a. Spabettie) here today sharing another one of her mouth-watering recipes. I first discovered Spabettie when I was looking for vegan desserts when I first went vegan and was awe-struck at her delectable collection of recipes. Kristina has been wowing me ever since and her contribution to the Vegan Cookie Swap Party is no exception. I mean, don't these Salted Caramel Bourbon BonBons look amazing!
I love the holiday season - and for me, it officially begins the day after Thanksgiving.
Okay, that is not entirely true. Honestly, by now I have been planning for a while. Parties, get togethers with friends and family, Ugly Sweater Karaoke, travel, and menus for all the events. It's all on the calendar and I am just giddy.
However.
I do make myself wait until the day after Thanksgiving to start talking about things. Holiday music is playing. Rosemary the Dachshund gets her pajama. Decor. Dachshund ornaments. All the holiday things.
and all the holiday treats!
This year I am excited and honored to be participating in Kristy's Keepin' It Kind Vegan Cookie Swap - and I knew I wanted to make one of my favorite things, a boozy holiday bonbon!
Bite size desserts and I are great friends - and when you invite me to a party - holiday or otherwise - I almost always show up with a treat. From the sublime - Lavender Cream Truffles and Dark Chocolate Apricot - to the silly - Spicy Chipotle Ganache Mustaches - and the surprising - Raspberry Jalapeño Chocolates - the difficult part is trying to decide what to bring!
Since this week is Whiskey Week over at spabettie, I decided to create some snow white chocolatey caramel decadence - a couple steps and some downtime, but easy as pie [well, easier even!] to make. These bite size sweets always go quick, you should just plan now to make a double batch.
Thank you for inviting me to the festivities, Kristy - and happy holidays everyone!
Kristina's Salted Caramel BonBons

dairy, egg, soy and gluten free, vegan

Ingredients

10 large Medjool dates, pitted
1/4 cup bourbon
3-4 tablespoons water
pinch sea salt
3.5 ounces 72% dark chocolate, chopped
vegan powdered sugar, for dusting

Instructions

In blender, combine dates and bourbon. Blend at high speed, adding water by tablespoon until a smooth paste forms. Stir sea salt into paste. Set aside.
In saucepan over low heat, melt chocolate. Remove from heat, allow to cool slightly. Add to blended date mixture, combine completely.
Transfer to covered container and refrigerate several hours / overnight. Once cool, spoon small amounts and form into half rounds, just under one inch in size. Roll through powdered sugar to coat. Return to refrigerator to set.
Cheers!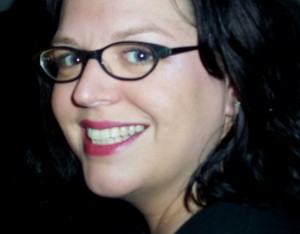 Kristina lives in Vegan Mecca Portland Oregon with her husband Jason and dachshund Rosemary. She is better known online as spabettie, where she shares vibrant plant based recipes. A former spa director and accountant, Kristina traded her ten key for her Vitamix, preferring a day in the kitchen and behind the camera. She sometimes still spends a day in a spa. Follow her on twitter, Facebook, Instagram, Pinterest, and spabettie.com.
Thank you for stopping by, Kristina! If you want to see what everyone else has brought to the party, check out the rest of the 2014 Vegan Cookie Swap Party! And you can enter…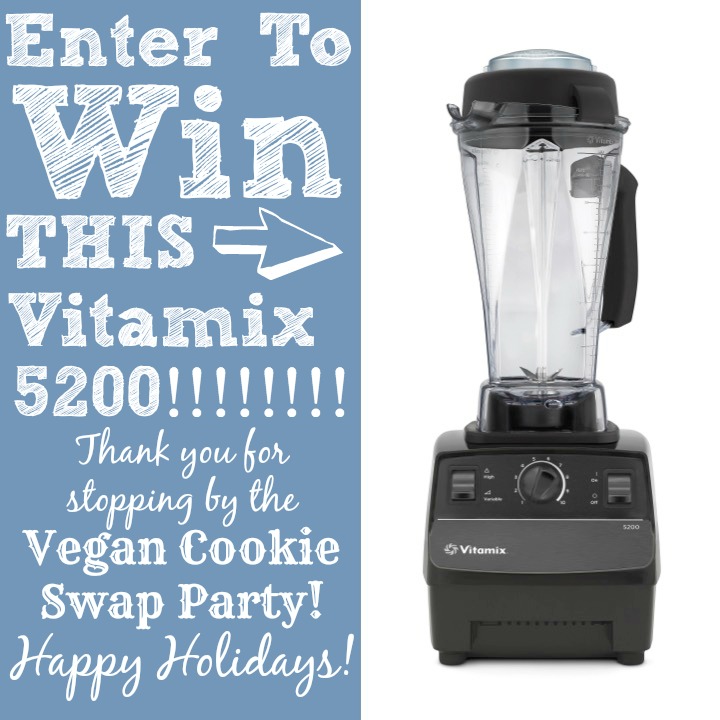 I wanted to do something extra special for all of you readers who've been joining us for the Vegan Cookie Swap Party fun and for supporting Keepin' It Kind all year. The amazing folks at Vitamix were so incredibly generous to donate a Vitamix 5200 for a giveaway! Please click here for more info and TO ENTER! Good luck!