Hi everyone! Welcome to the 3rd Annual Keepin' It Kind Vegan Cookie Swap Party! It's just like real life cookie swap parties, except some of your favorite bloggers are going to be stopping by Keepin' It Kind throughout the next month, sharing their favorite holiday cookie recipes. Fun, right? In case you missed it, you can check out the 2012 party and the 2013 party. If you're curious, you can also check out all the entries to this year's party! Also, be sure to scroll to the end to enter the VITAMIX GIVEAWAY!
I feel so lucky to have Gena of Choosing Raw (as if she needs an introduction!) here today sharing one of her favorite cookie recipes! I love Gena's blog because it never stops with the super simple recipes that pack in the flavor and she always writes the most insightful, thought-provoking posts. Every time I stop by, I learn something new, either about cooking or nutrition or about myself. As much as I love Choosing Raw, I adore Gena 10x more. She is such a warm, fun, and supportive soul and I am lucky to be able to call her a friend. Now let's move on from this love letter to the cookies!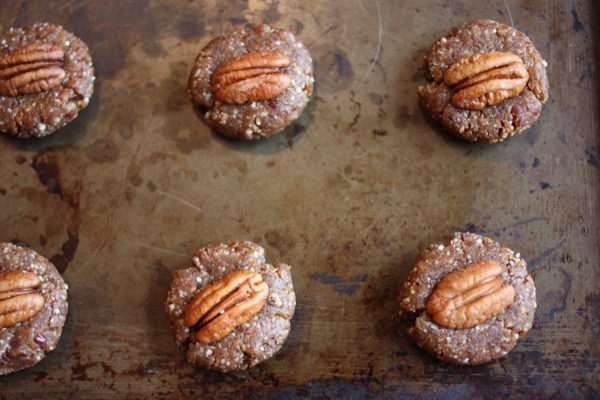 Hey everyone!
I'm so grateful and excited to be participating in Kristy's cookie swap for the second year in a row. It's a dream of mine to one day have a tea party with all of the incredible vegan bloggers who participate in Kristy's annual online cookie celebration. But until we can all swap recipes in person, we can at least exchange them virtually.
These raw pecan sandies are by far one of my favorite holiday cookies (or anytime cookies!). I was first introduced to pecan sandies by my best friend's grandmother. I thought they wonderful—so buttery and sweet—and I wondered what secret ingredient made them so delicious. As it turns out, part of the magic of pecan sandies is that the traditional recipe is really simple: butter, eggs, sugar, salt, vanilla, and pecans.
Simplicity translates well into the realm of raw desserts, which typically feature only a handful of natural ingredients. As you'll see, these raw cookies don't quite resemble pecan sandies (they're darker and more textured), but they capture that sweet, vanilla-infused flavor really nicely. And of course, they also feature the nutty flavor of raw pecans.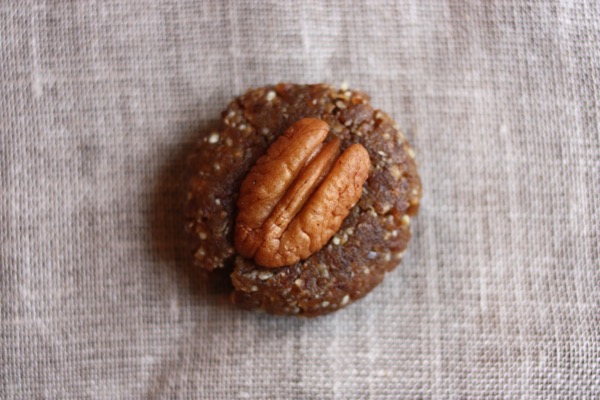 The recipe is wonderfully simple: nothing more than pecans, medjool dates, vanilla, salt, a drizzle of agave, and—for a subtle sweetness that compliments vanilla perfectly—lucuma, a superfood powder that can be found online or in many health stores. The lucuma is optional; I love what it does for the recipe, but the cookies will taste perfectly delicious without it.
The cookies are also easy to prepare: just process the ingredients in a food processor and shape them with your hands. No rolling, freezing, chilling, or the like. I also love to gift these cookies up for friends and family; I've often put them in a mason jar and shared them with loved ones at this time of year, and they get rave reviews each time.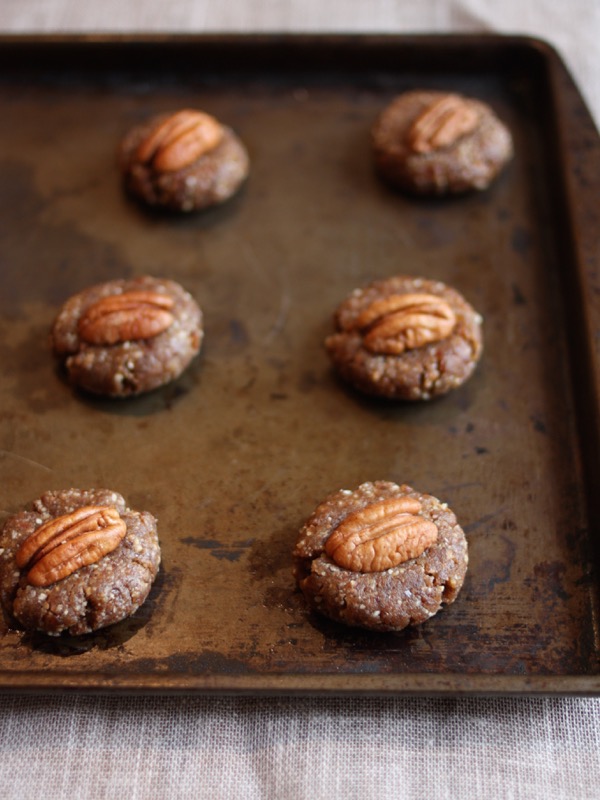 Here's the recipe.
Ingredients
1 heaping cup raw pecans (halves or pieces), plus 12 whole pecan halves for decoration
¼ teaspoon salt
½ teaspoon cinnamon
2 tablespoons lucuma powder (optional)
1 teaspoon vanilla powder (substitute vanilla extract)
1 cup medjool dates, pitted (10-12 dates)
1 tablespoon agave
Instructions
Place the pecans, salt, cinnamon, lucuma, and vanilla in a food processor and process until everything is roughly broken down.
Add the dates and agave. Process the mixture until the everything is even and sticking together (about 1-2 minutes). When you squeeze a small amount of the mixture in your hand, you want it to stick together easily.
Shape the mixture into 1" balls. Flatten each slightly with the palm of your hand, and then press a pecan half on top. Store the cookies in an airtight container in the fridge for up to ten days.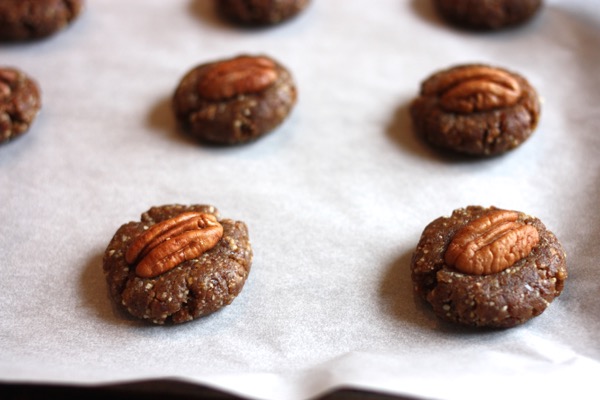 I hope that you'll enjoy these sweet, yet healthy treats throughout the holiday season. This is the right time of year for baked treats, but sometimes it's nice to take a break and enjoy something a little more wholesome and straight-from-the-earth. Let these cookies be your raw food indulgence throughout the month—and all year long!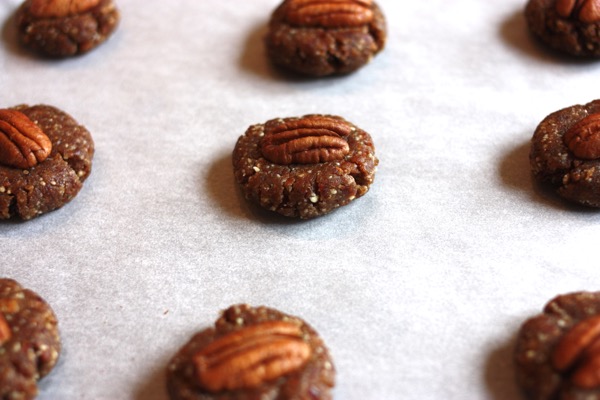 Gena Hamshaw is a certified clinical nutritionist and author of the blog Choosing Raw and a cookbook by the same name. Her work has been published in O Magazine, VegNews Magazine, Food52, and Whole Living Daily. She sees clients around the country, and specializes in digestive health, disordered eating histories, and plant based diets.
Thank you for stopping by, Gena! If you want to see what everyone else has brought to the party, check out the rest of the 2014 Vegan Cookie Swap Party! And you can enter...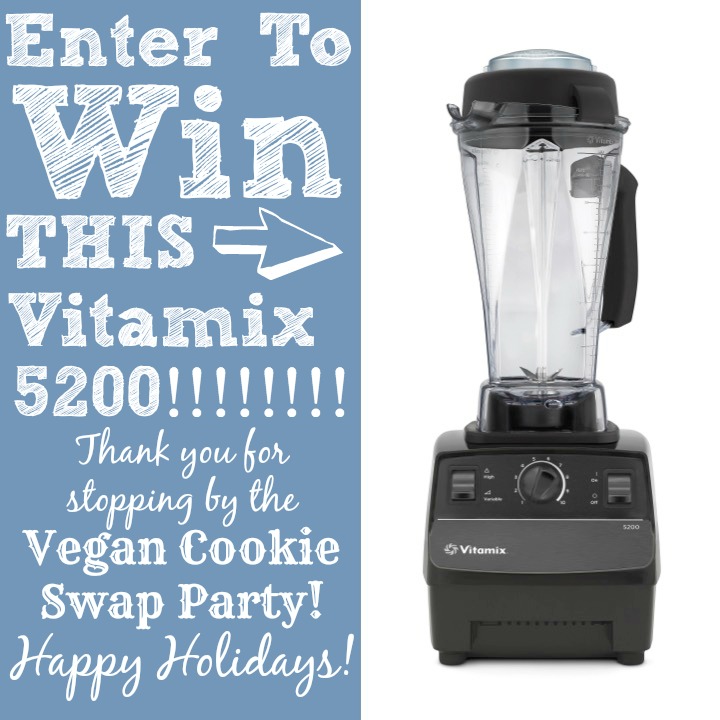 I wanted to do something extra special for all of you readers who've been joining us for the Vegan Cookie Swap Party fun and for supporting Keepin' It Kind all year. The amazing folks at Vitamix were so incredibly generous to donate a Vitamix 5200 for a giveaway! Please click here for more info and TO ENTER! Good luck!