Hi everyone! Welcome to the 3rd Annual Keepin' It Kind Vegan Cookie Swap Party! It's just like real life cookie swap parties, except some of your favorite bloggers are going to be stopping by Keepin' It Kind throughout the next month, sharing their favorite holiday cookie recipes. Fun, right? In case you missed it, you can check out the 2012 party and the 2013 party. If you're curious, you can also check out all the entries to this year's party! Also, be sure to scroll to the end to enter the VITAMIX GIVEAWAY!
Today we have one of the blogosphere's most friendly and generous food bloggers, Angela of Canned Time! I love down-to-earth bloggers that I can relate to and Angela totally falls into that category. The kindness in her voice is always very refreshing and her recipes are always delicious, and the cookies she's brought today are no exception!
I'm so happy to be joining Kristy's Keepin' It Kind Vegan Cookie Swap again this year.  Last year, my   5 Layer Lime Brulee Bar Cookies were slightly more complicated than my recipe for this year's event.  No bake and raw, these Maca Chia Chews will be the hit of any holiday party and likely, the most healthy treat on the tray!
Topped with a naturally sweetened glaze and a pinch of my favorite Pistachios, this cookie is a perfect choice for any diet, any taste, any cookie lover~!
Chocolate Chips?  Cacao?  Maple Syrup?  How can you go wrong with these babies?
I love raw cookies for the same reason that people so love cookie dough.  You cut out a step, baking that is, and in the process, allow for more of the ingredients natural health benefits to maintain their full potential.  Making a cookie with fresh, healthy ingredients in the first step in creating a "more than just delicious" snack option.  For the holidays, these also will mix up quickly, keep in the freezer or make up in minutes for a last minute dessert treat for the best of guests.
Thanks so much Kristy for inviting me to share these beauties with everyone this year.  And hoping the best for each one of you this Holiday.  Make life kinder as Kristy always does ♥
Angela's No-Bake Maca Chia Chews with Pistachio Maple Glaze
Ingredients
2 cups pitted Medjool Dates
1 cup Almond Meal
1 cup sweetened Coconut flakes
1/2 cup Cacao Nibs
1/2 cup ground Organic Chia Seeds
1/4 cup Maca/Cacao/ Hemp Powder
( I used Navitas brand Organic Superfoods blend)
1/3 cup Cocoa Powder - non-alkaline
1 Tbs. ground Cinnamon
1 tsp Coarse Sea Salt
1/ 4 cup Maple Syrup
Optional 1 cup Non-Dairy Chocolate or Carob Chips
1 cup shelled Pistachio Nuts - raw
1/3 cup Maple Syrup
2 Tbs. Chia Seeds
Pinch of Sea Salt
Instructions
In a food processor fitted with the S blade, pulse dates, almond meal, coconut flakes and cacao nibs to create a sticky blend, about 15 times. Add in remaining cookie ingredients, except for the chips and blend until a coarse dough ball is formed, scraping down the sides of the processor as needed. Add in chips and pulse several times to incorporate the chips with the dough. Place dough in the refrigerator for about 15 minutes to make it easier to handle for making the cookie balls.
When the dough is chilled, pinch off pieces of dough enough to form a large, 1 inch ball in your palm. Place each ball on a non-stick surface. With a dampened finger tip, push down gently into the center of each ball to form a well for your icing so sit in. Smooth the outsides of each ball to make a firm, round cookie shape.
For icing: Stir together Chia Seeds, Maple Syrup and Salt. Allow the mix to sit for about 10 minutes. Drop small spoonfuls of icing into each cookie well. Top with shelled, raw Pistachios. Store cookies in the refrigerator or freeze them, covered until serving.
Angela lives in Washington D. C. with husband Bob and spoiled rotten, Mr. Floyde the cat.  
She started her blog,  Canned-Time.com,  in 2010 to share food canning techniques.
In 2012,   health problems and growing concerns about factory farming practices proved to her that she should change to a Vegan, cruetly-free lifestyle.
She now shares recipes, life events and tips on staying healthy in a busy world.
Find Angela on the web at Facebook, Twitter, Instagram, Pinterest and Canned-Time.com
Thank you for stopping by, Angela! If you want to see what everyone else has brought to the party, check out the rest of the 2014 Vegan Cookie Swap Party! And you can enter…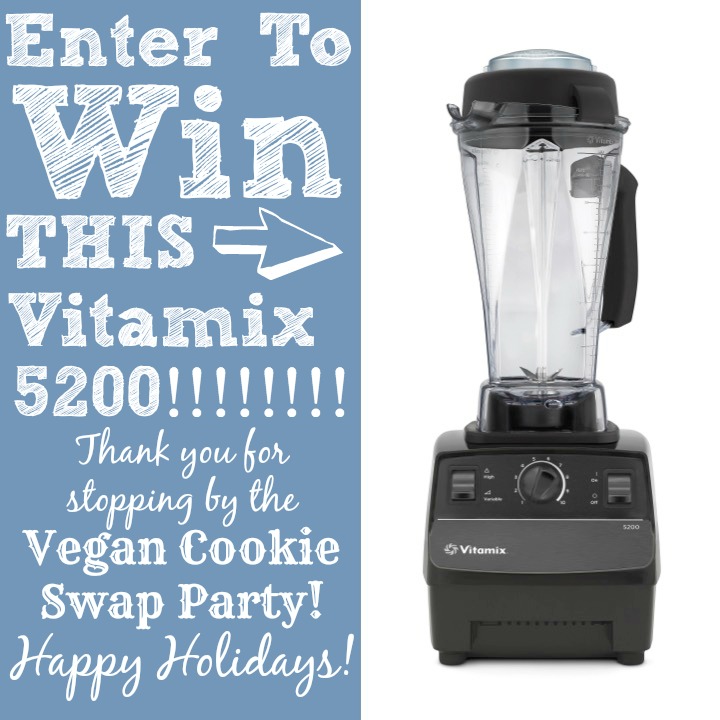 I wanted to do something extra special for all of you readers who've been joining us for the Vegan Cookie Swap Party fun and for supporting Keepin' It Kind all year. The amazing folks at Vitamix were so incredibly generous to donate a Vitamix 5200 for a giveaway! Please click here for more info and TO ENTER! Good luck!