Back in my pre-vegan days, I used to love a good cookie swap party. Now that I'm vegan and don't have many vegan friends close-by, I'm bringing the cookie swap party to Keepin' It Kind! Each day, for 25 days, one of my favorite bloggers will visit and share one of their favorite holiday cookies! That's 25 Days of Cookies, my friends! Happy Holidays!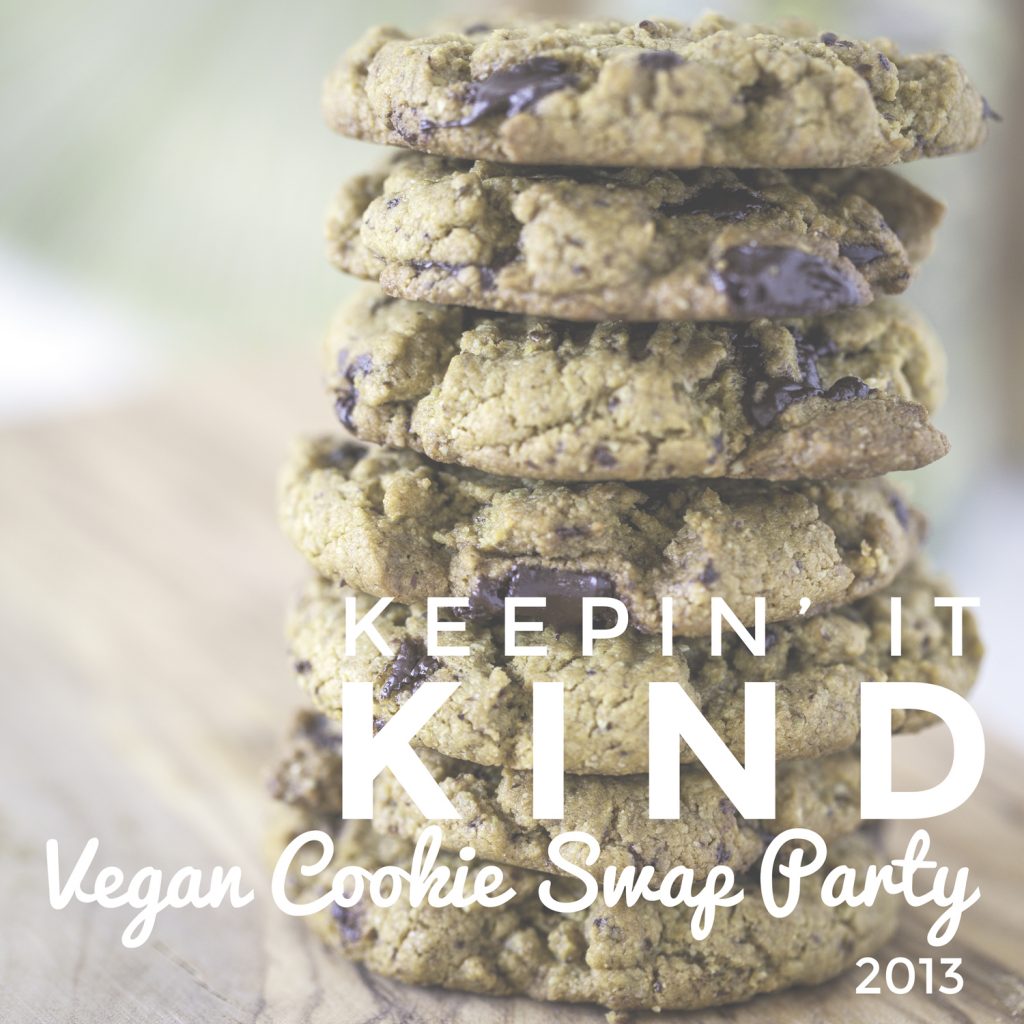 I discovered Canned Time about a year ago and have been blown away by Angela's incredible creativity and exciting flavor combinations when it comes to recipe development. On top of that, Angela is super-duper friendly and fun so I knew that whatever she brought to the party would be amazing. As you are about to see, I definitely wasn't wrong!
I'm so pleased to be a part of Kristy's Cookie Swap Party! I've been a fan of Keepin' It Kind for about a year and always look forward to Kristy's recipes. She has a unique way of bringing serious issues to us without being preachy, self-serving or unkind to those of us who are struggling to do the right thing when it comes to eating and respecting animals. She's just a true sweetie! Thanks Kristy ♥
So today I'm sharing a new recipe that combines so many of my favorite dessert flavors; chocolate, almond, caramel, vanilla, citrus just to name a few.
These bars have of a little of everything in each bite.
The contrasting crisp and creamy, the sour vs. crunchy caramel in the bruleed lime topping all combine for one great cookie treat. Oh, and don't forget the chocolate drizzle hiding in between everything else. Yes, they would be just as tasty without the candied Limes on top of each bar but heck, it's the holiday season and I'm going all out these days to jazz up my recipes. I love lime with chocolate and I love that hint of crunchy caramelized Turbinado sugar topping with these bars. Yea, the limes are a little extra time to make up a head but well worth the taste in the end.
Crunchy Turbinado with the pow of sour limes........made for each other in your mouth!
All 5 taste layers blend into 1 sweet bite.
For the candied lime recipe, check HERE.
5 Layer Lime Brulee Bar Cookies
For the crust: 2 cups Vegan Almond Cookies (crushed), 1/2 cup Pecans (chopped) 15 pitted dates soaked in 1 cup fresh lime juice, 3 flax eggs or egg substitute. Reserve 1/2 of the cookie + pecan mixture for a topping.
For the Chocolate layer: Melt 1 cup vegan chocolate chips with 1 tsp oil
For the Cream Layer: 8 oz. Vegan Cream Cheese, Zest of 1 Lime, 1 tsp vanilla, 1 tsp liquid Stevia
Plus you will need Coarse Organic Cane Sugar and the Candied Limes for topping
Instructions:
Start out by making the Candied Limes a day ahead of time.
For the crust, blend the cookies until they are crumbs, chop the pecans. Divide the cookie/pecan mixture to reserve 1/2 for the topping. Blend the dates, lime juice and egg substitute until it forms a paste. Then mix all the ingredients together and press into the bottom of an 8 X 5 pan. Chill the crust to harden. Drizzle the melted chocolate on top of the crust to form the second layer and chill again to harden the chocolate. Blend together the Cream layer ingredients until smooth and poor over the crust / chocolate layers to form a thin cream layer. Chill the pan again to set up the cream layer. Gently pour the second cookie/pecan reserve over the cream layer to cover the top. Line the top layer with candied limes. Freeze until firm.
To serve, cut cookie squares, add additional sugar to each square and brulee the tops with a torch until lightly browned. The squares will be thawed just right after being bruleed so there is no need to thaw them out before serving. Store in a covered container in the freezer for up to 6 months. Makes 12 2 inch cookie squares.
Angela, creator of Canned-Time.com lives in Washington, D. C. with her husband and best friend, Mr. Floyde the cat. She has been blogging since 2009, first on home canning and nutrition and now concentrates on Veganism and Animal Rights. She loves making super healthy ingredients taste so good you'd never miss the meat or dairy. She still loves to preserve fresh fruits and veggies for food storage and promotes the best nutrition at the least cost and effort.
Canned-Time can be seen around the web on Facebook, Twitter, Instagram and Pinterest.