Back in my pre-vegan days, I used to love a good cookie swap party. Now that I'm vegan and don't have many vegan friends close-by, I'm bringing the cookie swap party to Keepin' It Kind! Each day, for 25 days, one of my favorite bloggers will visit and share one of their favorite holiday cookies! That's 25 Days of Cookies, my friends! Happy Holidays!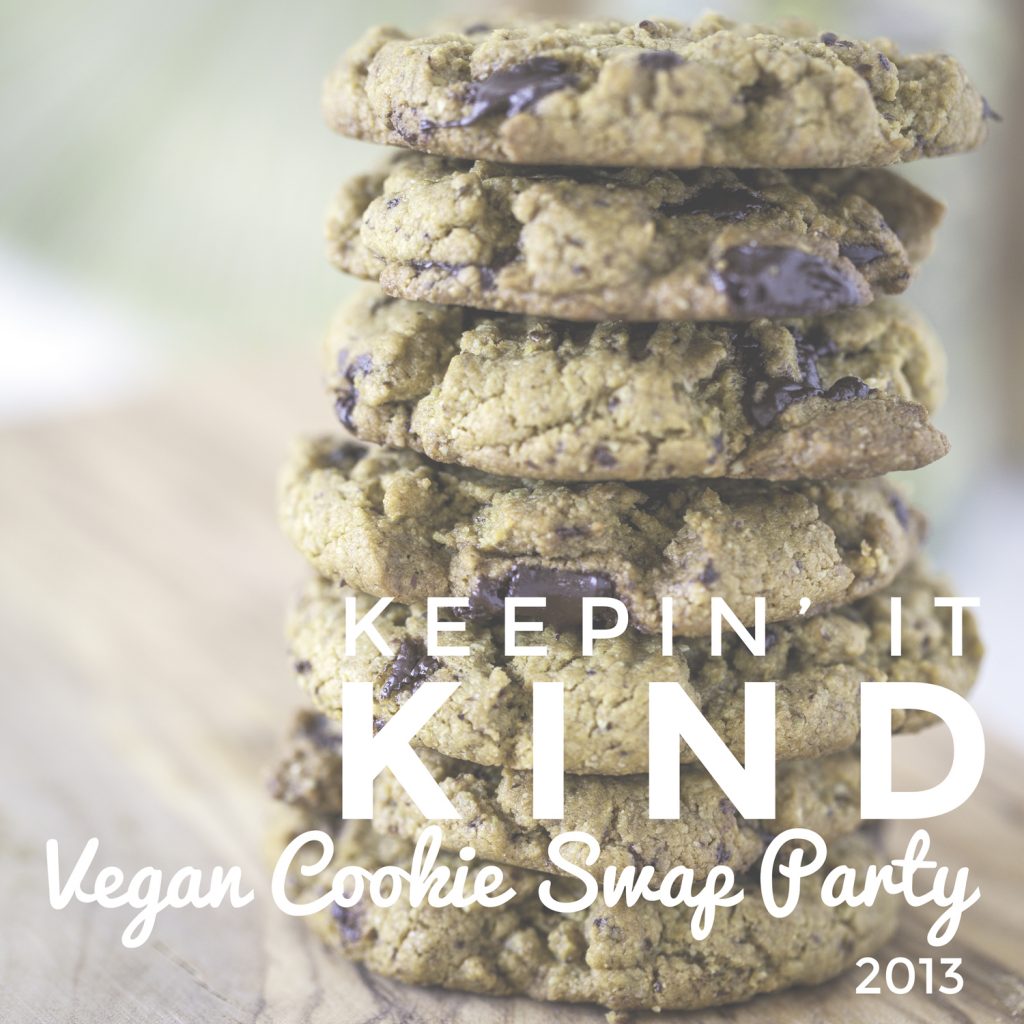 Cara of Fork and Beans is one of those people who exude warmth and positivity all the time. Just one look from her is like a welcoming hug from an old friend. And her blog! Oh my word! I know I'm not alone in admitting that I've spent hours drooling over all of the delectable vegan and gluten-free treats she's shared and I absolutely cannot wait for her book to come out!  When Cara told me what she was bringing today, I was simultaneously blown away and ecstatic. I am just  overjoyed to have Cara here today sharing these amazing treats!
We've all been baking like crazy elves over here at Keepin' It Kind--consider it our goodwill to vegan mankind--for this amazing cookie swap party. I love a good party, especially ones that are thrown by extremely beautifully-spirited, creative and passionate people (cue our hostess with the mostest: Kristy!) I'm a big fan of this girl--who wouldn't want to bake her something special?
These fortune cookies aren't for the faint of heart, I'm just putting that out there right now. The first (and second) round had me in such an angry frenzy, even my cat was afraid to be around me. Okay, I actually don't have a cat but if I did, well...you get the point.
Making fortune cookies requires a lot of patience (which I don't typically have) but I guarantee the final product is worth it. Drizzled with non-dairy white and semi-sweet chocolates, these secret message-filled cookies are so much fun to give away to someone special for such a special occasion.
Here are some tips on how to make a successful fortune cookie:
Use a Silpat to line your cookie sheet. I tried greasing the heck out of a naked baking sheet, I used a piece of parchment paper and then finally tried the Silpat and found the Silpat to be the only success.
When you pour the batter onto the sheet, make sure it spreads evenly. If the middle has more batter than the sides, the sides will burn and the middle will be chewy. You want an even bake.
Careful when you are handling the cookies out of the oven when folding. They will be HOT and you will have to work quickly.
Have a muffin tin ready to place the folded cookies into to keep their shape.
If you find that the middles are still a little chewy, place the entire muffin tin with the cookies inside into the oven and bake for 5-8 minutes to firm up some more.
Cara's Homemade Fortune Cookies
Ingredients
1/2 c. Cara's Gluten-free Flour Mix
1/3 c. powdered sugar
2 Tbsp. water
1 Tbsp. Ener-G egg replacer + 4 Tbsp. water, whisked until frothy
1/4 tsp. almond extract
1/4 tsp. vanilla extract
pinch of salt
Melted chocolates
10 strips of paper with fun messages inside
Instructions
Preheat the oven to 400 degrees.
Mix all of the ingredients together to create a thin batter that easily drizzles off of the spoon.
Line a baking sheet with a Silpat. Baking 2 cookies at a time, distribute the batter onto the sheet to create 4" circles. Make sure the batter is evenly distributed.
Bake for 8 minutes or until the edges begin to brown. Remove from heat and work quickly but diligently to not burn your fingers.
Place the strip of paper on top of the circle cookie and fold it like a taco. Make an indent in the middle with the mouth of a cup to make that classic fortune cookie shape. Place into an empty slot of a muffin tin and allow to fully cool.
Drizzle with melted chocolate or however you'd like.
Notes
Gluten, egg, and dairy-free Adapted from Paula Deen's recipe (and every other Fortune cookie recipe out there)
Cara is the crazy person (no really, she's nuts folks) behind the site Fork & Beans--a place dedicated to all your gluten, egg, and dairy-free baking fantasies. She even has an obsession for candy-making, from homemade Health Bars, Kit Kats, to White Chocolate Candy Cane Kisses--nothing is off-limits to this girl. Come join the fun where imagination is unleashed and there is no such thing as food restrictions. (You can even pre-order her newest cookbook: Decadent Gluten-Free Vegan Baking here).