Back in my pre-vegan days, I used to love a good cookie swap party. Now that I'm vegan and don't have many vegan friends close-by, I'm bringing the cookie swap party to Keepin' It Kind! Each day, for 25 days, one of my favorite bloggers will visit and share one of their favorite holiday cookies! That's 25 Days of Cookies, my friends! Happy Holidays!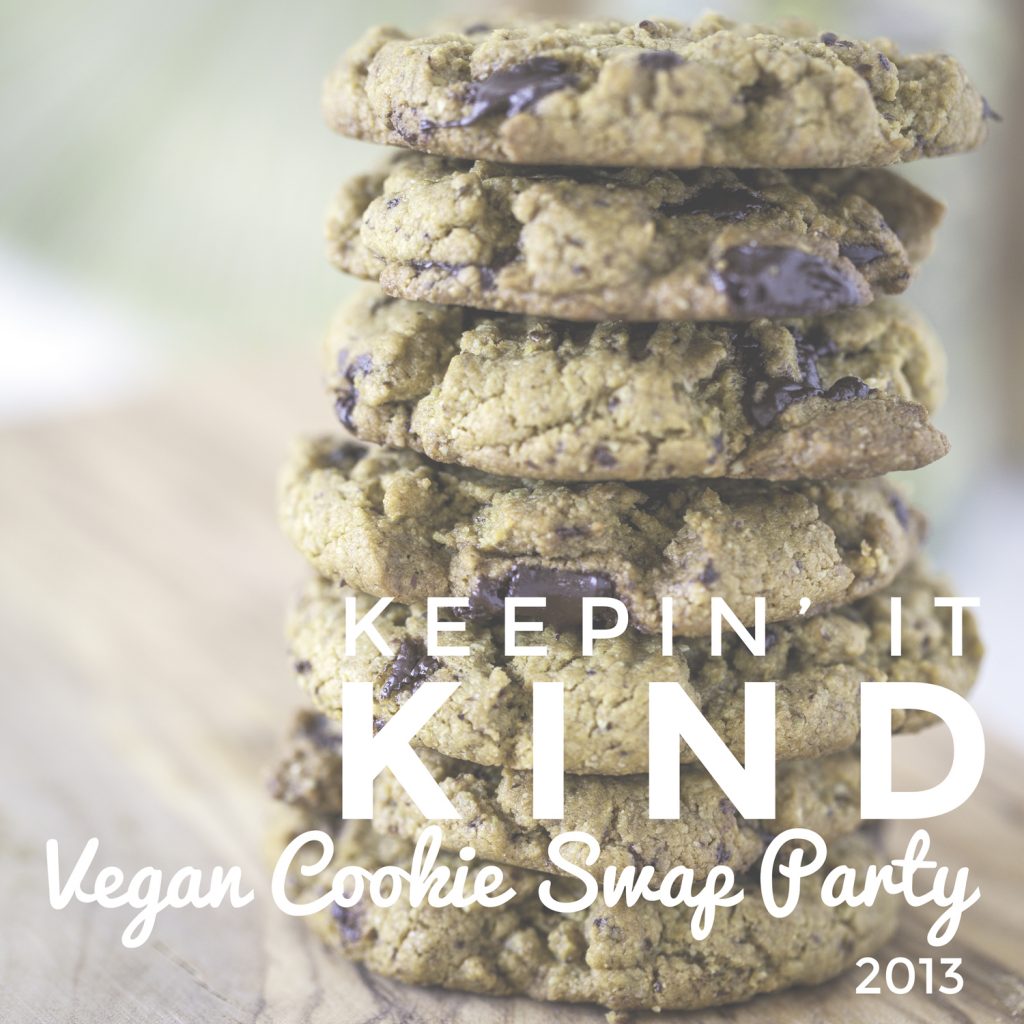 Ever since I discovered Luminous Vegans about 8 months ago (I know, right?! Where was I?), I've tried not to miss a post. Ketty's sense of humor and writing style just tickle my funny bone, her recipes always look so delicious and inviting, and I never tire of the pictures of her dogs. Her blog has definitely become one of my favorites and I am just giddy to have her here today!
When Kristy invited me to this year's cookie swap party, I eagerly accepted as Kristy is one of my favorite bloggers. Sure I'd be moving across country around that time. And yeah, I'm not a baker and had never created a cookie recipe before. No problem! Riiight....that's when panic set in. What was I thinking??
Though I don't make or create cookies often, I like to eat a lot of cookies a lot of the time. So I knew exactly what I wanted to bring to the swap. Jam-filled thumbprint cookies. I wanted them to have a vanilla-almond shortbread-y base with actual almond flecks in them. And I wanted them to be a little crunchy on the outside but softer on the inside with a raspberry filling. It was a tall order for a cookie newb. So began weeks and weeks of some intense cookie recipe testing (and the best part, intense cookie eating).
I started with a simple shortbread recipe, subbing in refined coconut oil for margarine. That's when I learned that coconut oil did not make a good 1 to 1 sub for margarine in this case. What followed was some seriously hardcore scientific experiments in my kitchen. Thanks to all my science teachers for showing me that in any good experiment, you only change one variable (ingredient in this case) at a time. It helped and actually works.
I wasthisclose to gettin' this cookie down, but it was still a little too crumbly to make a proper cookie. The inspiration to add almond milk came from this recipe by Mihl. And when I added it...well, let's just say that I imagine that this is what Marie Curie must have felt like when she discovered radium. Surely one day they'll expand Nobel Prizes to include vegan cookies, right?
These buttery almond cookies are flecked with real almond pieces and have sweet raspberry jam centers that shine like rubies. They're not overly sweet and have hints of almond flavor in each bite. The outside has a slight crunch that complements the chewier inside. Mission accomplished. Thank you so much Kristy for hosting such a fun and festive event!
Ketty's Raspberry Almond Thumbprint Cookies

Ingredients

4 level tbs of refined coconut oil (Note that the oil should be solid and does not have to be packed into the spoon)
1/2 cup of sugar
1 tsp vanilla extract
1 tsp almond extract
1 cup flour
1/2 tsp baking soda
1/2 cup ground almonds (I used raw almonds with the skin on and my food processor for this)
2 tbs almond milk
1-2 tbs of raspberry jam
powdered sugar for dusting (optional)

Instructions

Preheat oven to 350 F.
Add the coconut oil, sugar, vanilla extract and almond extract to a bowl. Use a fork to cream everything together until it makes a sugar paste. In another bowl, mix together the flour, baking soda and almond meal.
Add the flour mix to the sugar paste and mix with a fork until the flour mix is incorporated with the "wet" ingredients. You will have a semi-moist crumbly mess at this point.
Next add the almond milk. Mix with a fork initially but then switch to kneading it with your hands. The dough is drier and more crumbly than most cookie doughs but with some kneading and mushing it will moisten and be one cohesive dough ball.
To make the individual cookies, tear off chunks from the dough and roll into 1-inch balls. Push in about half way through the center of each ball with your thumb to make a "thumbprint". It's okay if the dough cracks on the edges a little when you do this.
Bake on a parchment lined pan for 6 minutes at 350F. Take the cookies out and fill each center with about 1/4 tsp of raspberry jam. I find that the "thumbprints" aren't as deep after baking for 6 minutes. So before filling them with jam, I "refreshen" the thumbprints by gently pressing the center in with the back of the 1/4 tsp spoon.
Bake for another 6 minutes and then take out and let them cool completely before eating. Dust with powdered sugar if desired.

Notes
Ketty is a constantly evolving long time vegan who enjoys showing people how easy and delicious a compassionate lifestyle can be. She lives with her partner and two rescued greyhounds in Atlanta, GA. They are currently packing up and trading in the hot summers of the south for the lush and damp Pacific Northwest. You can read more of Ketty's creative and deceptively simple recipes, lifestyle-related posts and ruminations on animal rights at luminousvegans.com.