Back in my pre-vegan days, I used to love a good cookie swap party. Now that I'm vegan and don't have many vegan friends close-by, I'm bringing the cookie swap party to Keepin' It Kind! Each day, for 25 days, one of my favorite bloggers will visit and share one of their favorite holiday cookies! That's 25 Days of Cookies, my friends! Happy Holidays!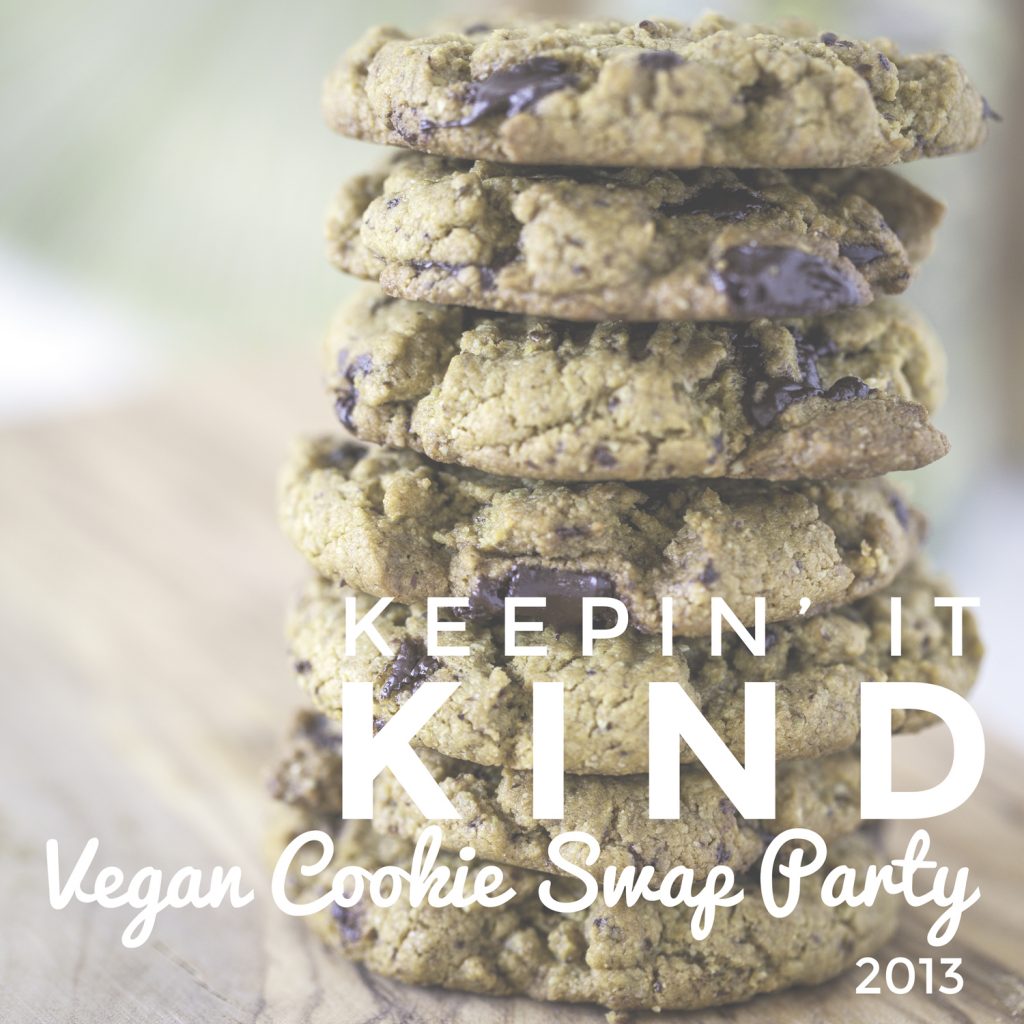 I'm not sure when I found Pickles & Honey, but as soon as I did I knew I'd found a kindred spirit. I came for one of her recipes but stayed for the honest and spirited writing, the lovely photography, and of course, her pups, Honey and Barley. When reading some of her posts, it feels like we must think the same thoughts. All of her recipes look incredible and I can never get enough pictures or videos of her dogs. Whether it be on her blog or via instagram, her canine companions always put a smile on my face. The cookies Amanda has brought today totally take me back to my childhood and I am so excited that she is sharing a vegan version her today!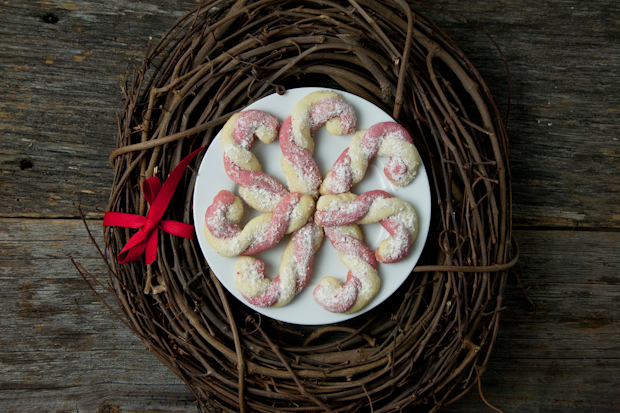 I'm so honored to be a part of Kristy's 25 Days of Cookies party! I started reading Keepin' It Kind about a year ago and instantly fell in love with the beautiful recipes, photography, and writing. More than anything though, I love the sense of community Kristy (and Chris!) have created around veganism, most recently in the form of a cookie swap!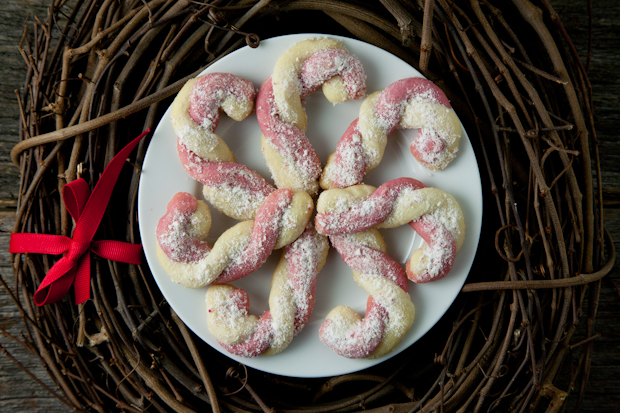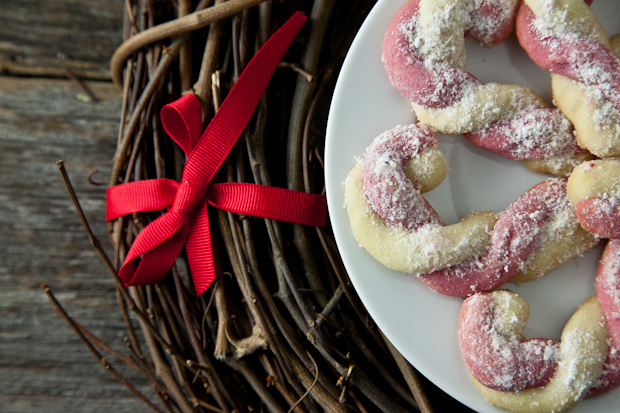 When I was brainstorming a recipe to share, I immediately settled on candy cane cookies. You see, I happen to be married to a cookie monster, and each Christmas, Aaron always returns from visiting his family with a giant tin of candy cane cookies. He loves these cookies, and while I've considered veganizing them in the past, I always get too intimidated. His mom has been making this same recipe for more than thirty years - that's a lot of history (and pressure)!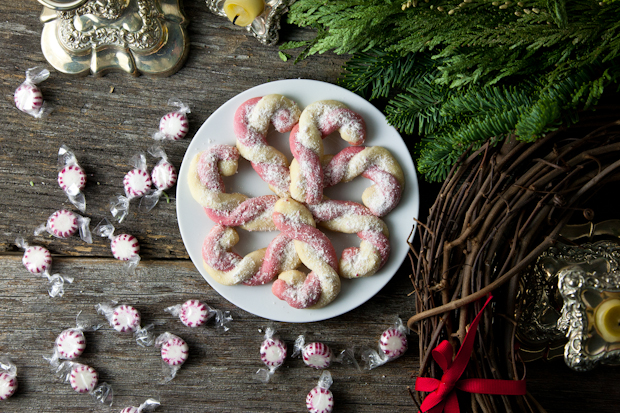 For some reason though, I found myself emailing Kristy that I would be making these famous little cookies before my mind could catch up with my typing, and before I had even looked over the original recipe to see what I'd be working with. Turns out, these candy cane cookies are surprisingly simple. They're essentially crisp sugar cookies, dressed up with almond extract and crushed peppermint candies, and easily veganized with a little egg replacer and vegan buttery spread.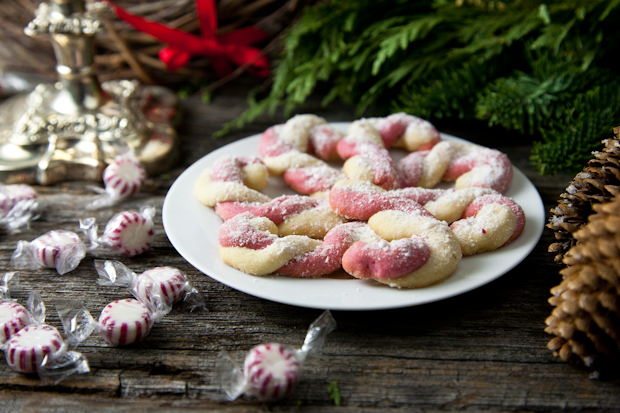 I'm actually not big on most cookies (ice cream is more my jam), but there is something about the subtle almond flavor that totally has me hooked on these. Almond extract is intoxicating in that warm and cozy sort of way, and every time I use it, I consider dabbing just a little on my pulse points as a delicious perfume. Please tell me I'm not the only one?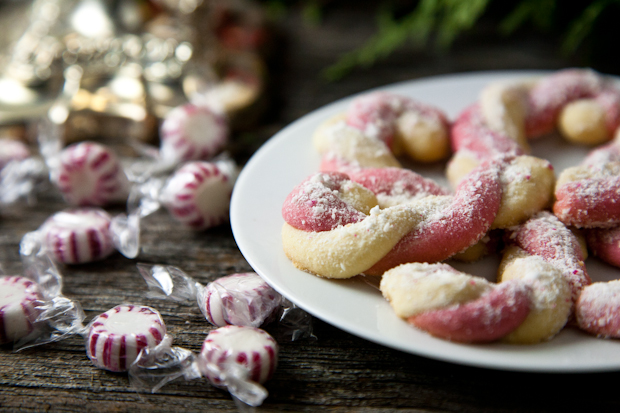 I had a good feeling about these cookies when I took them out of the oven, and an even better feeling when I proudly presented a plate of them to Aaron and found only crumbs remaining a few minutes later. I quartered the original recipe, thinking "who needs four dozen cookies?", but perhaps we all could use an extra dozen (or three) of these in our lives.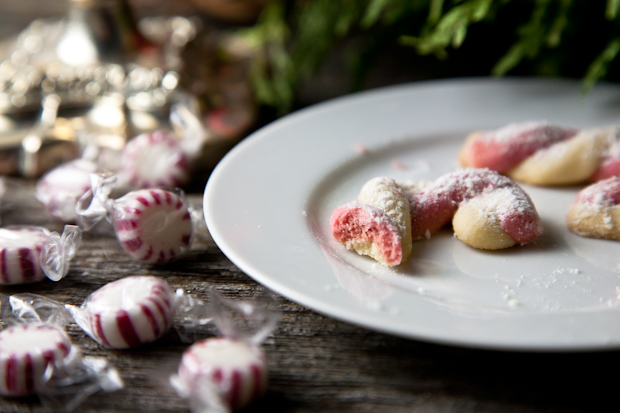 Amanda's Vegan Candy Cane Cookies
Ingredients
1/4 cup vegan powdered sugar, sifted
2 tablespoons vegan shortening, cut into small cubes
2 tablespoons earth balance buttery spread
3/8 teaspoon ener-g egg replacer mixed with 1/2 tablespoon warm water
scant 1/2 teaspoon almond extract
1/4 teaspoon vanilla extract
1/2 cup + 2 tablespoons all-purpose flour
1/4 teaspoon fine sea salt
1/8 teaspoon beet juice (or natural vegan red food coloring)
1 tablespoon crushed peppermint candies
1 tablespoon vegan powdered sugar, sifted
Instructions
Preheat the oven to 375 degrees F.
In the bowl of a stand mixer, cream together the 1/4 cup powdered sugar, shortening, buttery spread, egg replacer, and almond and vanilla extracts.
Once well-combined, mix in the flour and salt.
Divide the dough in half and blend the beet juice (or food coloring) into half of the dough.
Using one teaspoon of dough, roll a 4 inch "rope" strip from each color. Place the strips side by side, pressing together lightly, and twist like rope. Place on a baking sheet (no need to grease it) and curve the top down to form the handle of the candy cane. Repeat with the remaining dough.
Bake for 9-10 minutes, until the cookies are just beginning to lightly brown around the edges.
Mix together the crushed peppermint candies and remaining tablespoon of powdered sugar in a shallow dish. While still warm, remove the cookies from the baking sheet and dip the top side into the crushed peppermint coating. Place the cookies on a cooling rack until completely cool.
Cookies can be stored in an airtight container for a couple of weeks, if they last that long!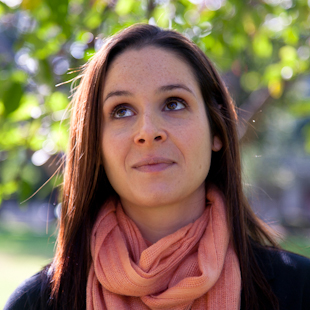 Amanda is a vegan food and lifestyle blogger who recently quit her 9-5, moved from Boston to San Francisco and then back again, and left safe, but stagnant to pursue what she loves – writing, specifically about healthy food, with a heavy emphasis on dessert. She is excited to be working towards her Culinary Nutrition Expert Certification with Meghan Telpner this Spring and looks forward to sharing what she learns along the way. Amanda lives in the city with her husband / Pickles & Honey photographer, Aaron, as well as two crazy and adorable puggles, Honey and Barley. You can follow Pickles & Honey (and the puggles) on Instagram, Pinterest, and Twitter.