Back in my pre-vegan days, I used to love a good cookie swap party. Now that I'm vegan and don't have many vegan friends close-by, I'm bringing the cookie swap party to Keepin' It Kind! Each day, for 25 days, one of my favorite bloggers will visit and share one of their favorite holiday cookies! That's 25 Days of Cookies, my friends! Happy Holidays!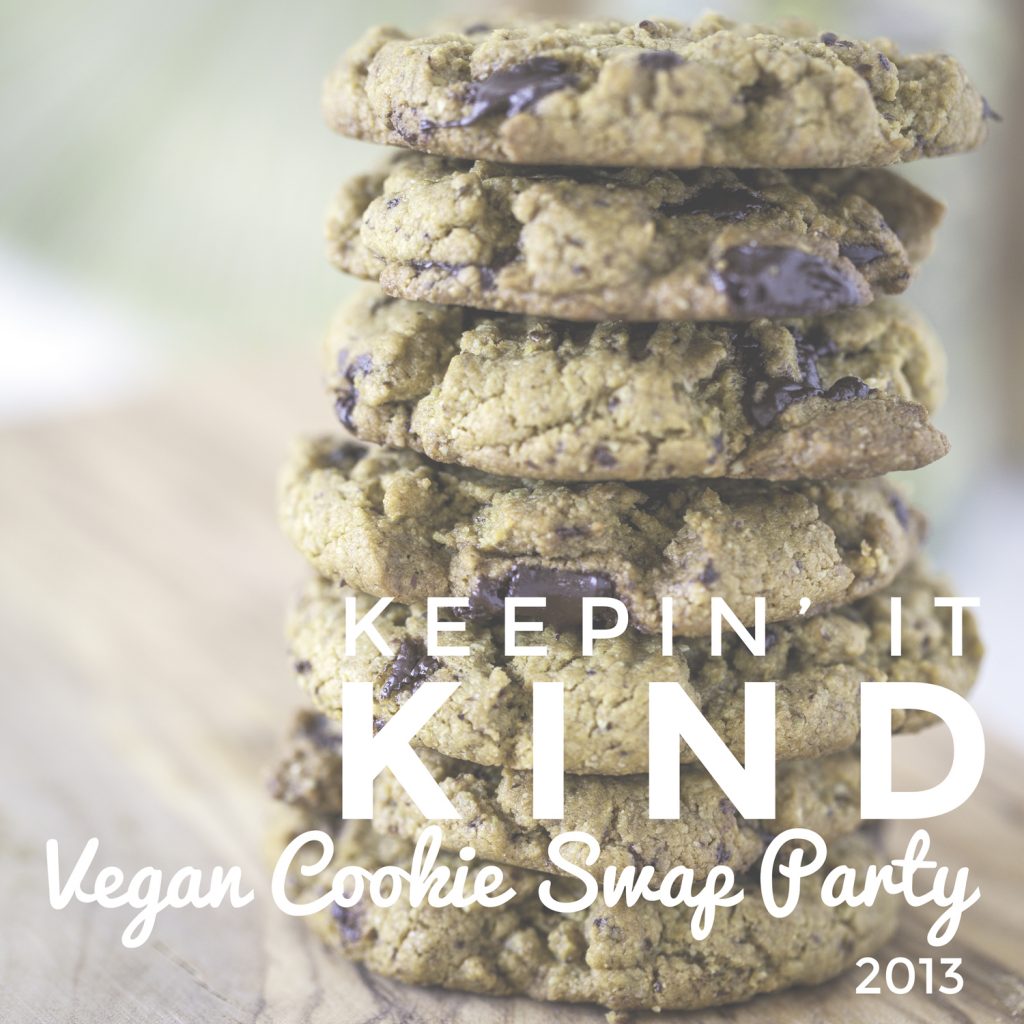 Gena Hamshaw of Choosing Raw needs no introduction. I am so honored to have Gena here today. She has been an inspiration to me on so many levels and I have to admit, I was totally star-struck when I met her at Vida Vegan Con earlier this year. I immediately jived with her down-to-earth personality and her fantastic sense of humor and by the end of that weekend, it felt like I was saying goodbye to an old friend. I'm so excited to see what she's brought to share with us today!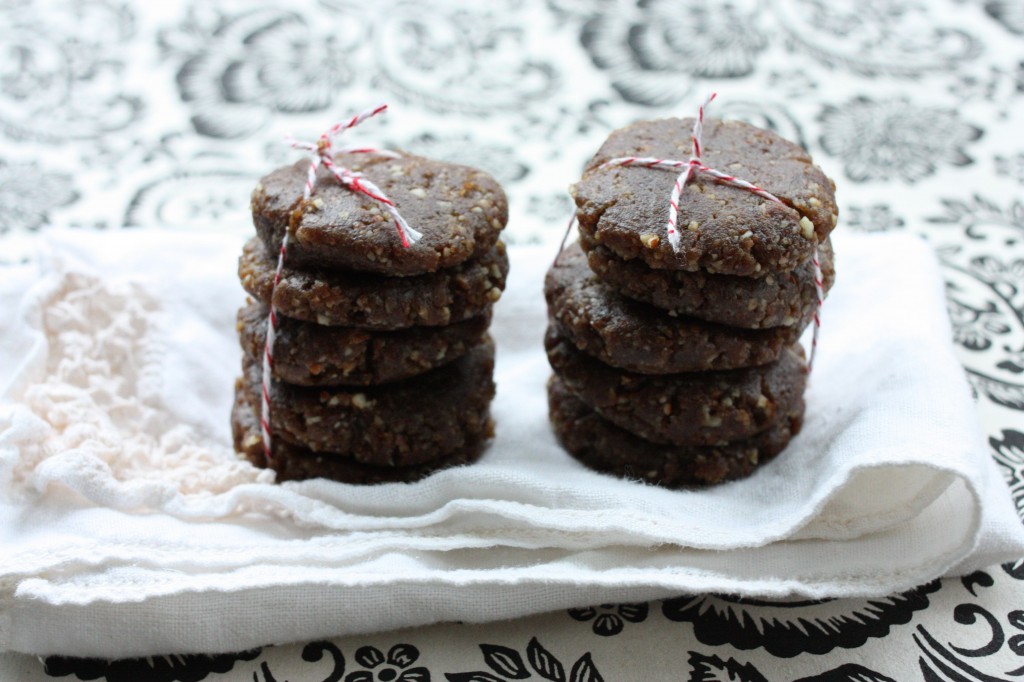 I tend to reserve gingerbread, along with Christmas carols and pine scented candles, for the holidays, because I fear that enjoying it year round would diminish some of the glee I feel each December when I start to enjoy it.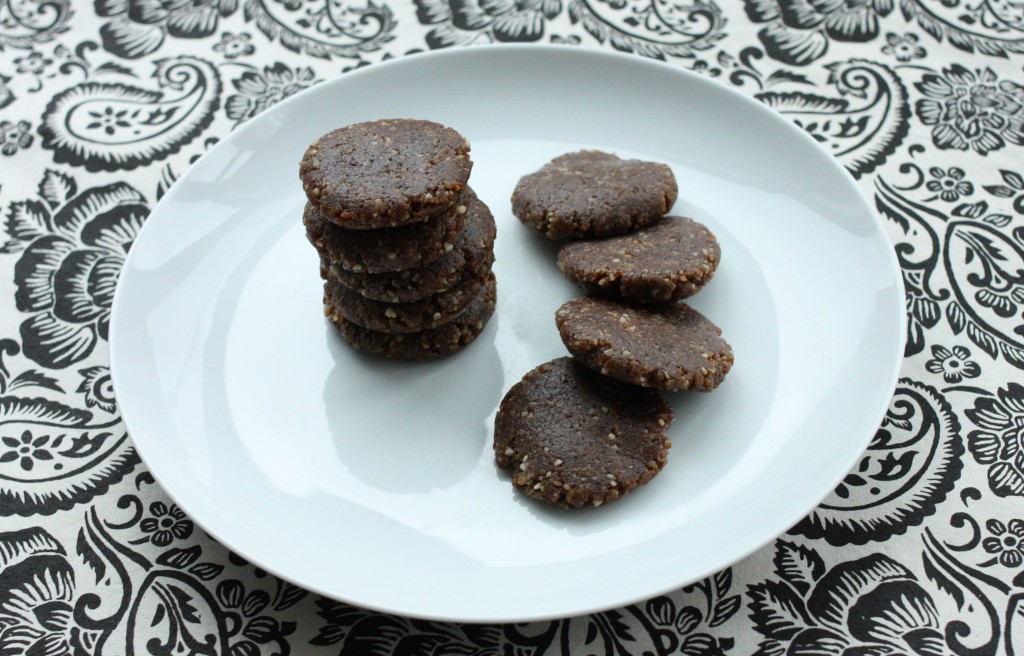 For me, enjoying gingerbread isn't really about making a classic loaf of the stuff (though that happens sometimes, too). It's about infusing each and everything I can with ginger, nutmeg, cinnamon, and molasses. I love these flavors; they bring such warmth to any dish. I sometimes stir them into my morning oatmeal, or work them into smoothies, or make warm almond milk with a spice mix and molasses as a gingerbread tribute. But I especially like to create gingerbread themed cookies, balls, and other delicious little treats.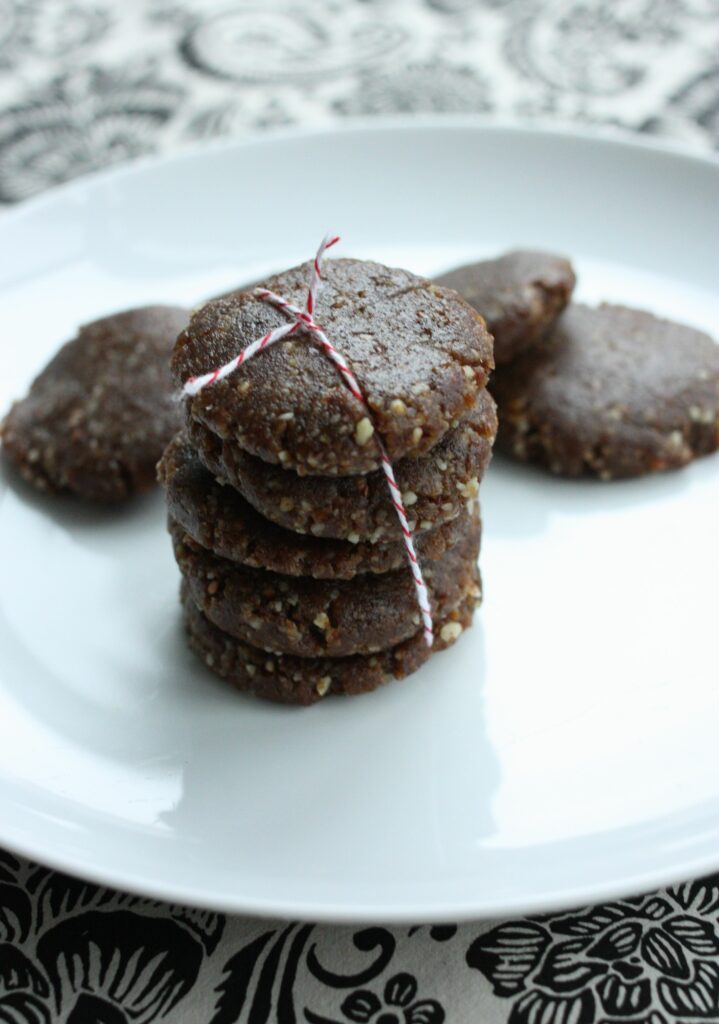 These gingerbread snaps are no bake, easy to prepare, and reminiscent of everyone's favorite holiday cake. They're technically not all raw because of the oat flour, which I like to add for a little extra binding and texture. But you can feel free to omit it if you'd rather keep the recipe all raw.
Gena's (Mostly) Raw, Vegan Gingerbread Cookies
Ingredients
1 1/2 cups pecans
1 cup medjool dates, pitted
1/8 teaspoon sea salt
1 teaspoon ground ginger
1 teaspoon ground cinnamon
1/4-1/2 teaspoon nutmeg (to taste)
2 tablespoons blackstrap molasses
3-4 tablespoons oat flour (start with three tablespoons, and add an extra if the dough is sticky)
Instructions
Place the pecans in a food processor fitted with the S blade and pulse a few times to break down.
Add remaining ingredients and process till the mixture is evenly mixed and sticks together when you squeeze a bit in your hand.
Shape into 1 inch balls and then flatten with the palm of your hand. Keep cookies in the fridge till ready to serve.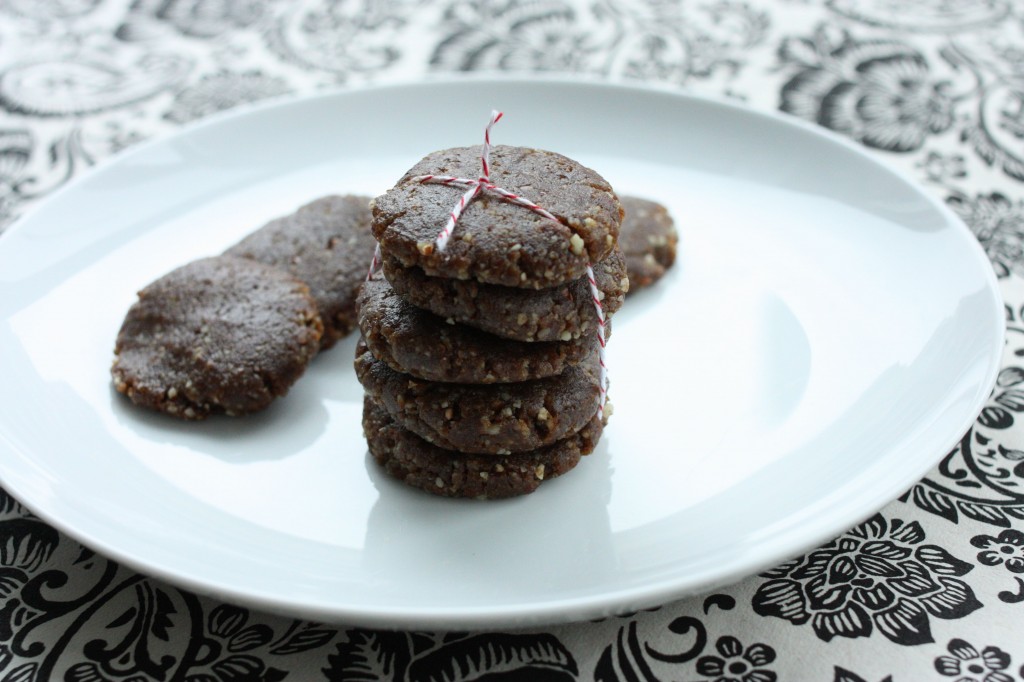 Enjoy!
This recipe is proof that it's possible to make a delicious holiday great without breaking a sweat. I wish you all a lovely winter season!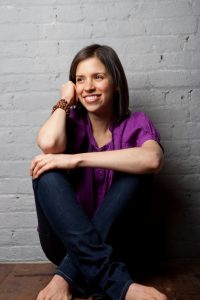 Gena is a certified clinical nutritionist and the author of Choosing Raw, a blog devoted to vegan and raw food recipes, and musings about health, wellness, and body image. Her work has been published in O Magazine, VegNews Magazine, Food52,and Whole Living Daily. In her old life, Gena was a book editor. In her current life, she just completed a pre-medical post-baccalaureate degree and is in the process of applying to medical school.