Back in my pre-vegan days, I used to love a good cookie swap party. Now that I'm vegan and don't have many vegan friends close-by, I'm bringing the cookie swap party to Keepin' It Kind! Each day, for 25 days, one of my favorite bloggers will visit and share one of their favorite holiday cookies! That's 25 Days of Cookies, my friends! Happy Holidays!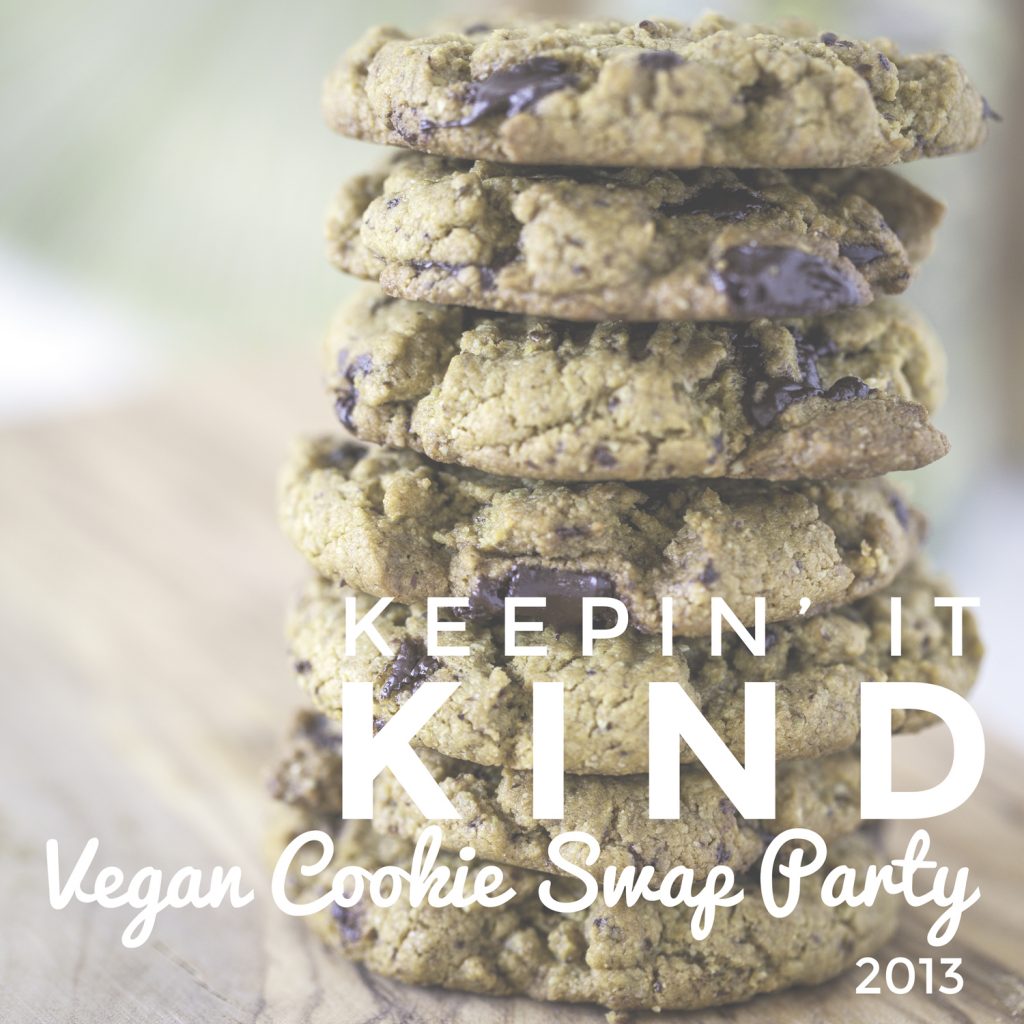 Gorgeous photography, drool-worthy recipes, and a super-friendly personality are all part of what makes Abby from The Frosted Vegan one of my favorite bloggers. She has a way of making every recipe she posts super inviting and I swear, every single one of her dessert posts has me wishing I could have just one little bite (or more). That's why I'm so thrilled to have Abby here today sharing another one of her creations!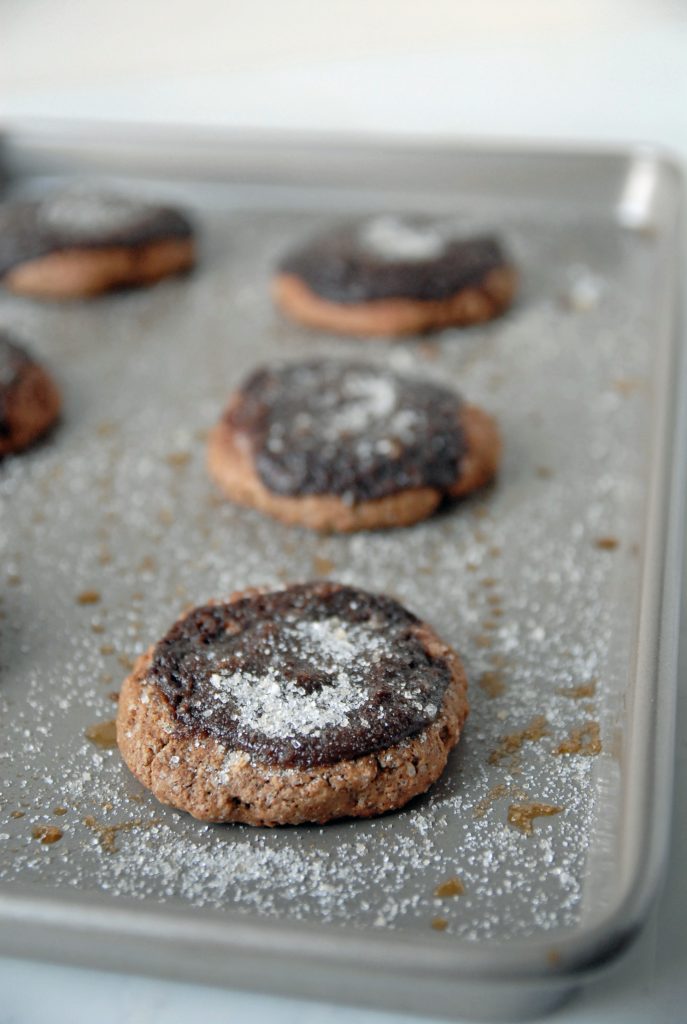 I am beyond excited to be posting on Keepin' It Kind! I stumbled upon Kristy's blog almost a year ago and have admired her husband's photography and her eloquent writing ever since.  Whether it be her compassion for animals or a killer breakfast recipe, Kristy's blog always seems to bring me a little bit of joy when a new post pops up on my feed! I haven't had the pleasure of meeting Kristy in real life, but one of these days our vegan paths will cross, I just know it.
On to these cookies!  Earlier this fall, I spotted a few different versions of brûléed pies in Bon Appetit.  I love a pie from time to time, but sometimes a girl just wants a nice, bite-sized cookie to munch on, instead of committing to a whole behemoth piece of pie.  I am a sucker for combining different textures, so I wanted to see if a crunchy sugar cookie would make nice with a creamy chocolate, burnt sugar topping.  Did they make nice? Yes ma'am and they are matching necklace wearing BFFs at that.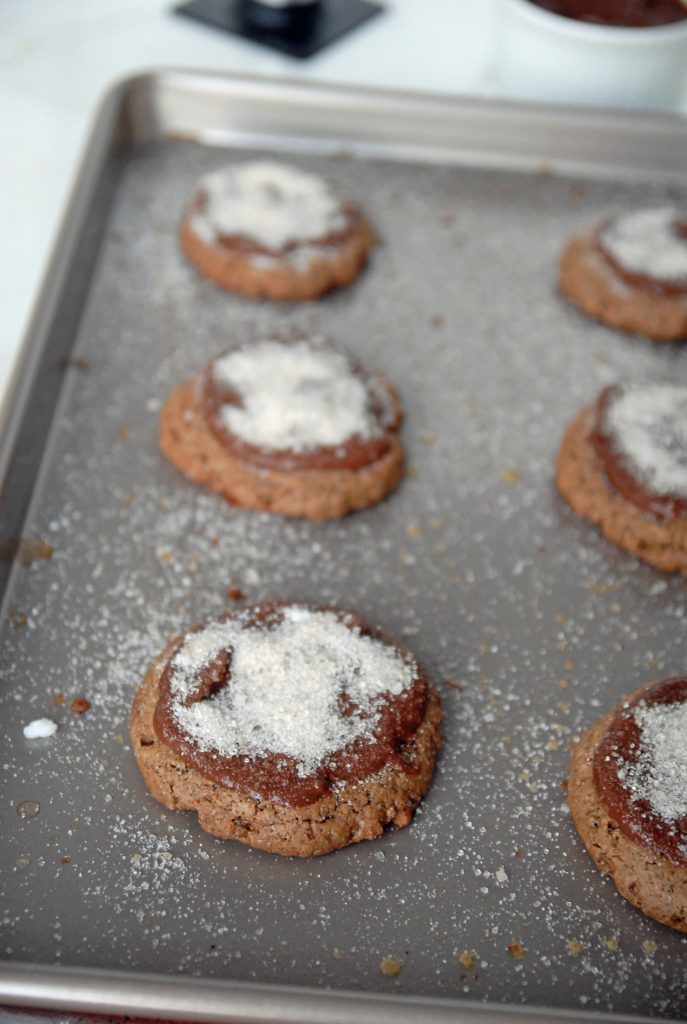 Putting all the components of these cookies together can be  a bit much for a last minute cookies emergency, but if the steps are spread out over a few days, they are well worth the effort. I made the cookie dough and pudding topping a few days ahead, then baked the cookies and brûléed the top right before serving, voila!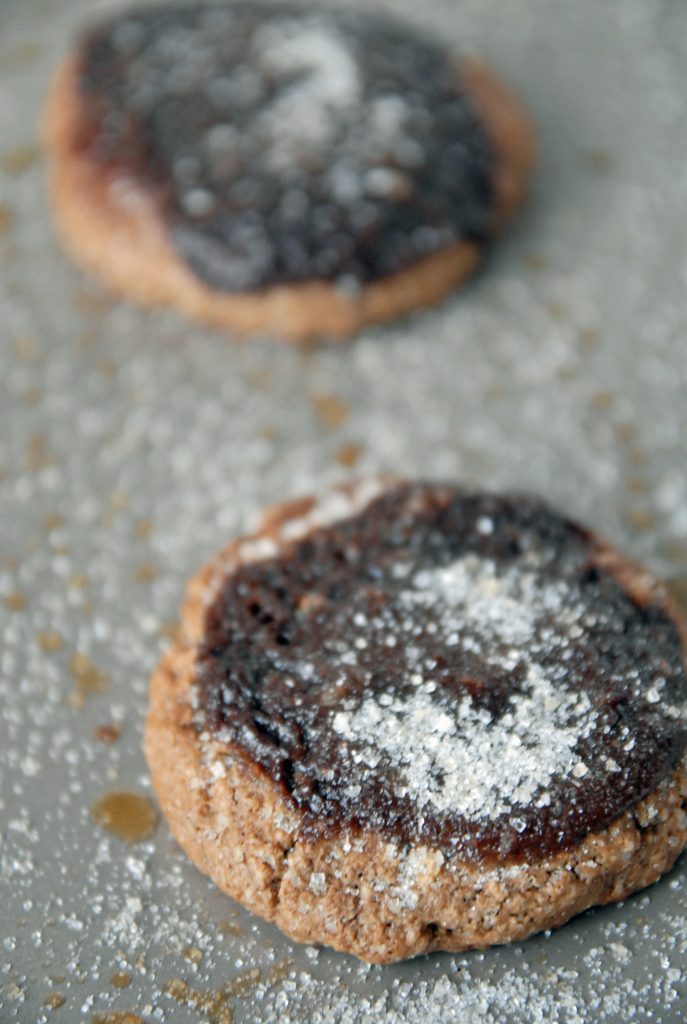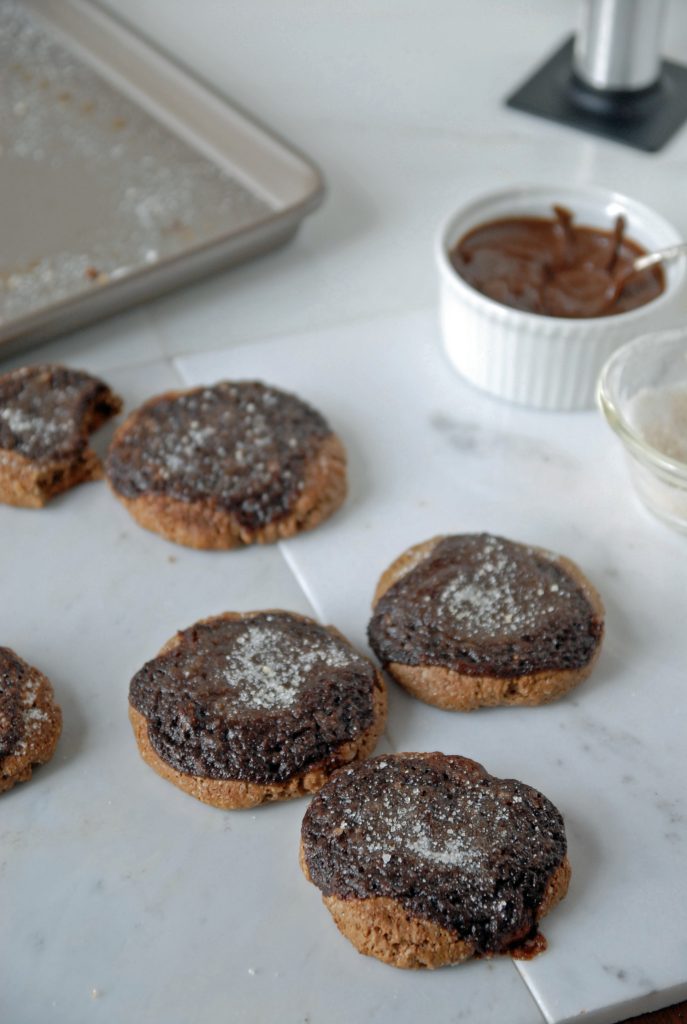 I used my oven broiler to brûlée the tops of the cookies, but I think a kitchen torch would work even better. I was planning on using mine, but as soon as I fired it up the flame went to nothing, womp womp. So feel free to use either method to get the tops all crunchy and bubbly, it's worth the extra effort. I hope you enjoy these cookies as much as I have, bring on the chocolate!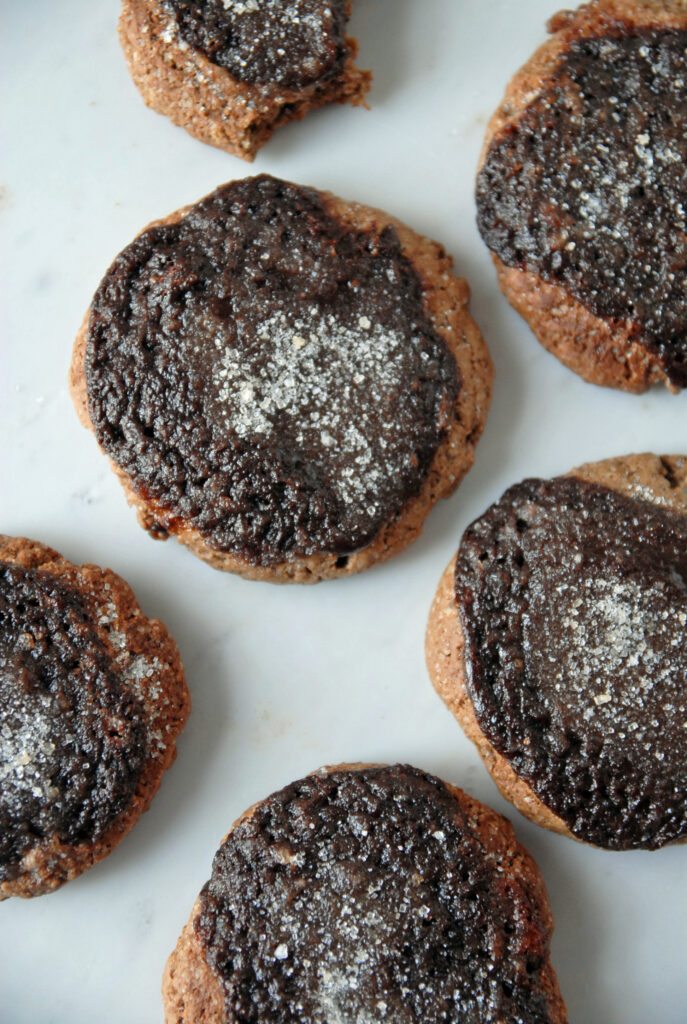 Abby's Chocolate Creme Brûlée Cookies
Ingredients
For the Chocolate Cookie Dough:

1 cup cashews
1 teaspoon vanilla extract
1-2 tablepoons maple syrup or agave nectar
4 cups water
1 cup granulated or cane sugar
1 cup powdered sugar
1 teaspoon vanilla extract
1 teaspoon apple cider vinegar
1 teaspoon cream of tartar
1 teaspoon salt
1 teaspoon baking soda
3 1/2 cups all purpose flour
1/4 cup cocoa powder
Extra sugar for sprinkling

For the Chocolate Pudding Topping:

8 ounces silken tofu
3 tablespoons agave syrup
1 cup melted semi-sweet chocolate
1/4 cup almond milk
1 teaspoon vanilla
1/2 tablespoon coconut oil
pinch of salt
1 tablespoon cocoa powder
Instructions
to make the cashew cream:

Soak the cashews in the 4 cups of water for at least 4 hours or overnight.
Drain the cashews from the water. Place the soaked cashews in the bowl of a food processor fitted with the blade attachment, along with the vanilla, maple syrup or agave nectar and 1 cup of water. Process until smooth (this could take up to 3-5 minutes, just keep going!) . You may have to stop the processor a few times in the process to scrape down the sides during the blending. Once the cashews are smooth, transfer to a small bowl and set aside. The cashew cream can be made up to 5 days or a week in advance. Just make the cream and store in the refrigerator until ready to make the sugar cookie dough.
Preheat the oven to 350 degrees F. Grease 2 cookie sheets or line with Silpat or parchment paper. Set aside.
In the bowl of a stand or hand mixer, mix together 1 cup of cashew cream, granulated sugar, and powdered sugar until blended. While the mixer is still beating on low to medium, add in the vanilla, apple cider vinegar, cream of tartar, salt, cocoa powder and baking soda. Add in the all purpose flour, mixing until dough is blended throughout.
Roll the cookies into 1 inch round balls and flatten as you place them on the cookie sheet, forming a small well in the middle of each cookie as you go.
Bake at 350 degrees F for 8-10 minutes, watching them closely to ensure they don't burn. Set aside to cool.
Combine ingredients in blender or food processor, blend until smooth (chopped chocolate will leave some texture) and adjust flavors to taste. Chill for at least 1 hour.
Spoon 1/2-1 tablespoon of the pudding onto each cookie. Sprinkle 1 teaspoon (or more) of granulated sugar on each pudding topping on each cookie. Brulee with a kitchen torch until crunchy and bubbly, or watch closely under a 500 degrees F broiler for about 5 minutes.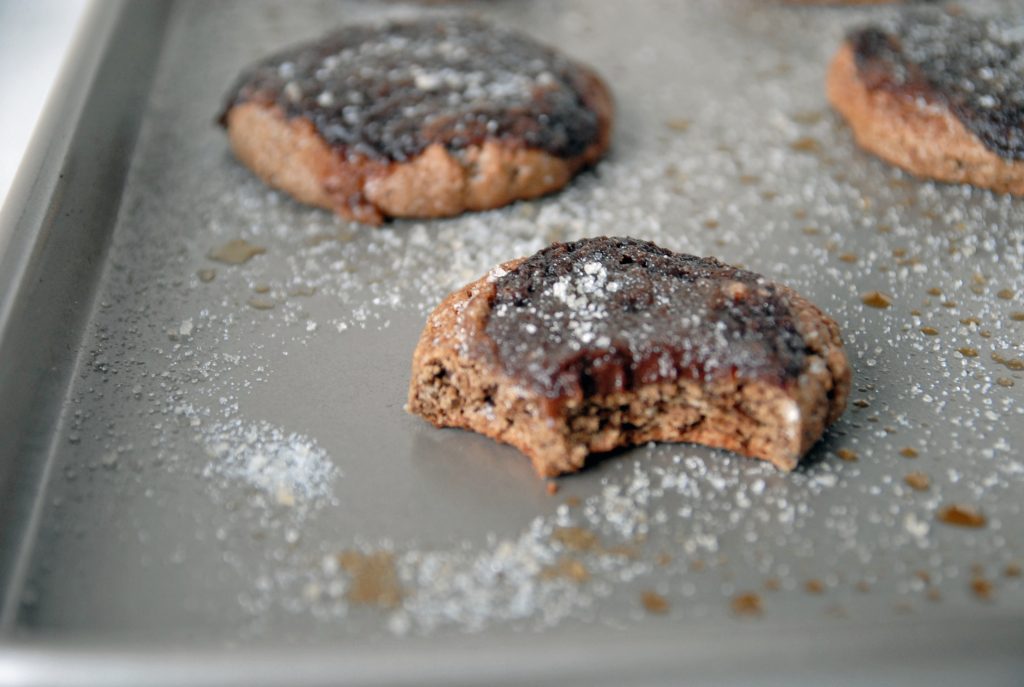 Abby is a corporate social media strategist, plant strong, chocolate lover who would rather spend a night rolling truffles in her kitchen with her kitty friend at her feet more than anything else. A semi-recent transplant to Milwaukee, Wisconsin, Abby is embracing the vegan life in the cheese country, along with the blessing/curse of living a few blocks from an Italian bakery. The Frosted Vegan has been featured on The Kitchn, Australian Good Food Guide, FoodBuzz and Foodable. Abby likes Friday afternoon happy hours, fresh cookbooks, practicing yoga, and busting a move like nobody's business. You can follow The Frosted Vegan on Facebook, Twitter, Pinterest, & Instagram.