Back in my pre-vegan days, I used to love a good cookie swap party. Now that I'm vegan and don't have many vegan friends close-by, I'm bringing the cookie swap party to Keepin' It Kind! Each day, for 25 days, one of my favorite bloggers will visit and share one of their favorite holiday cookies! That's 25 Days of Cookies, my friends! Happy Holidays!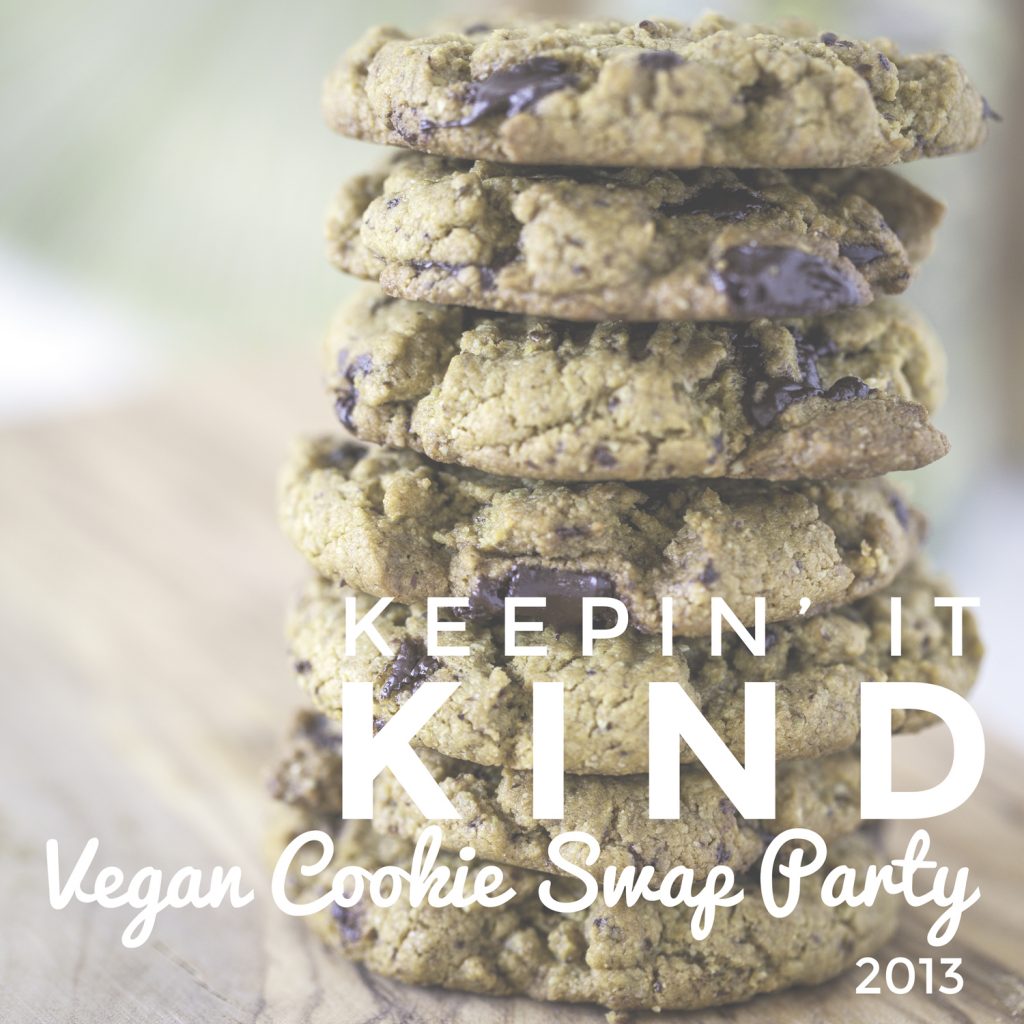 I know I'm not alone when I say that Fried Dandelions is one of my favorite vegan blogs. Sarah brings such a positive energy to the vegan blogosphere and her recipes are so inspired. She's even just released a new E-Book, Let It Snow, full of all of her family's traditional holiday candies- all veganized! I also love tuning in to see how Sarah's little son is doing and hearing about her life with her husband, Irving. Sarah's blog is a delight to read and I'm positive that you will love the cookie she's sharing today!

Growing up, I always looked forward to both Christmas and Valentines Day because my Mom would make two of my favorite kinds of cookies—her sugar cookies and her spice cookies. I shared the recipe for Mom's Spice Cookies on my blog, Fried Dandelions, last year. This year I'm going to share her Sugar Cookie recipe, veganized of course, with all of my friends over at Keepin' It Kind!


These cookies are delicious the second they're made, but get even better a day or two after they've been frosted. My Mom used to send boxes of them to me when I was in college and I secretly loved that it took a few days to ship them because they were the perfect consistency—melt in your mouth yummy!


My Mom's original recipe calls for eggs, but I've of course omitted that. Instead I chose to use whole chia seeds because I really like the speckled look. For a more subtle look feel free to use an egg replacer like Ener-G (equivalent of 1 egg), or flax seed meal (1 T mixed with 3 T of water).


Have fun making these cookies with as many cookie cutters as you can come up with! My almost 3 year old and I picked snowflakes, and snuck in a few extra mini Christmas trees too! I will say that the more intricate your cookie cutter, the trickier it is to frost, but in the end they're delicious no matter what!


The frosting is a perfect all purpose cookie frosting—sweet and creamy, and easy to spread. Confession: I used to eat scoops of this frosting in a bowl like I would ice cream. My Mom would always make plenty of frosting, but wouldn't frost all of the
cookies in one day, so there was a stash in the fridge. Sorry Mom—if you've always wondered where the frosting went, now you know!

Ingredients
1 ½ c powdered sugar
1 c Earth Balance butter (2 sticks)
1 t vanilla
½ t almond extract
2 T non dairy milk
1 T whole chia seeds, mixed with 3 T water, gelled
2 ½ c flour
1 tsp baking soda
1 tsp cream of tartar (in the spice section of your grocery store)
extra flour for rolling and cutting
3 c powdered sugar
1/3 c Earth Balance butter
1 ½ t vanilla
2 T non dairy milk
Instructions
Mix chia seeds and water in a small bowl and allow to gel for about 5 minutes. In the meantime, get the other ingredients ready. In the bowl of a stand mixer, mix the powdered sugar, butter, vanilla, almond extract, milk, and chia gel until creamed together. Add flour, baking soda, and cream of tartar and mix well.
Pack the dough into a ball and wrap it in plastic wrap and chill in the refrigerator for 3 hours, until firm.
Preheat oven to 375 degrees. Roll out chilled dough to about ¼ inch and cut into desired shapes (liberally flour rolling surface and rolling pin to prevent sticking). Bake on a parchment lined cookie sheet for 7-8 minutes, until edges are golden. Remove from oven and let sit for a minute, then transfer to a cooling rack. Allow to cool completely before frosting.
Cream powdered sugar and butter together in a stand mixer. Add vanilla and milk and beat until smooth.
Frosting Notes: At first glance you will think you don't have enough frosting for the entire batch of cookies, but you really will! Feel free to add food coloring to the frosting. Store any extra in the refrigerator. If the frosting is chilled, bring to room temperature before frosting for easier spreading.
Frost cookies and enjoy! Store extra cookies in a sealed container.
Notes
Yield depends on size of cookie cutter—I used a large cutter and made 3 dozen, if you use a smaller cutter you could get up to 5 dozen!
Sarah De la Cruz lives in the Seattle area with her husband and almost 3year old son. She is a busy mom, a former art teacher, and loves to show her creativity in the kitchen. She and her son are vegan, and she makes family-friendly recipes that keeps her whole family—even her non-veg husband—satisfied! She loves seeing the surprise on her friends' and family's faces when she tell them that the dish they are enjoying is vegan! Check out more of her recipes at Fried Dandelions. You can also find Fried Dandelions on Facebook, Pinterest, Twitter, and Instagram.