Back in my pre-vegan days, I used to love a good cookie swap party. Now that I'm vegan and don't have many vegan friends close-by, I'm bringing the cookie swap party to Keepin' It Kind! Each day, for 25 days, one of my favorite bloggers will visit and share one of their favorite holiday cookies! That's 25 Days of Cookies, my friends! Happy Holidays!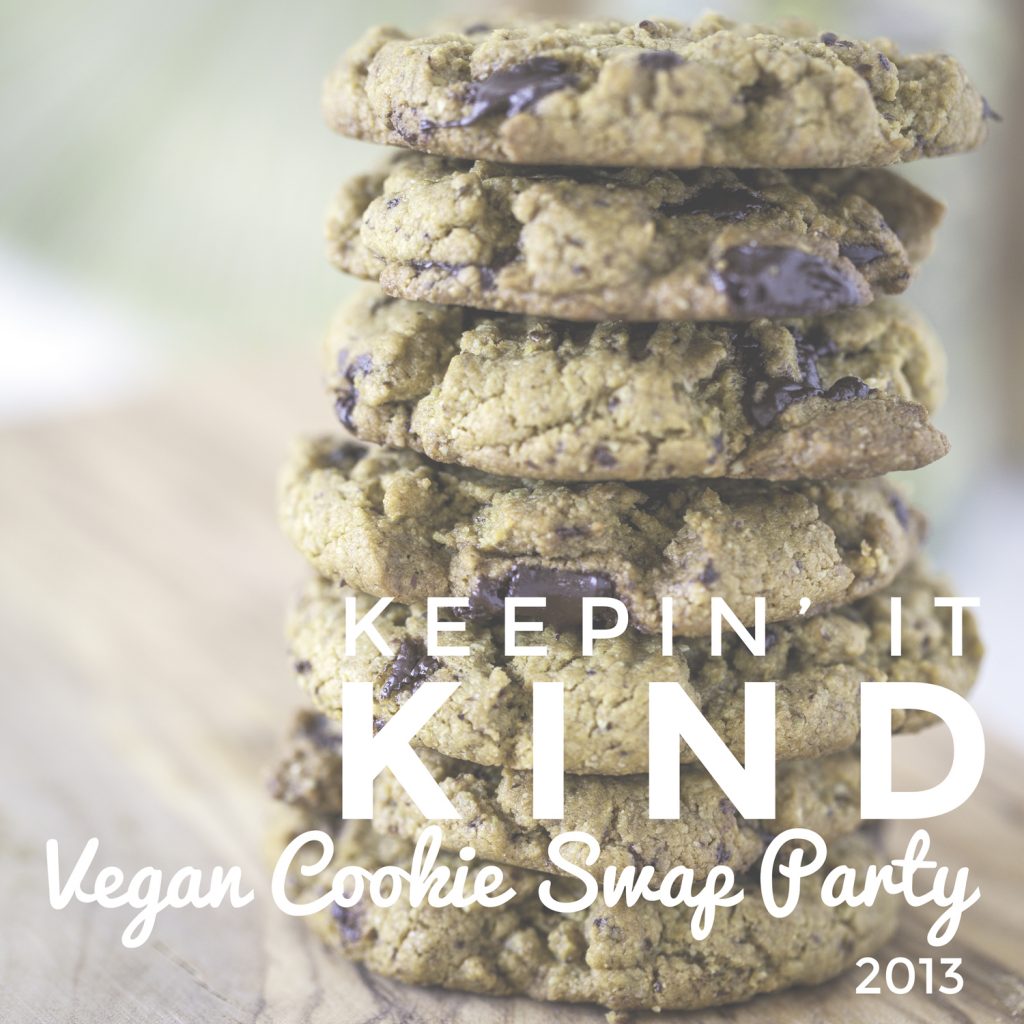 Today, I am so excited to have none other than Ashlee of The Little Foxes here to kick it all off. I met Ashlee earlier this year at Vida Vegan Con. Although I'd been familiar with her blog beforehand, in person, I fell in love with Ashlee's vivacious spirit, enthusiasm, and great sense of humor. The Little Foxes has been one of my favorite blogs ever since. Please welcome Ashlee as the first guest for 2013's Vegan Cookie Swap Party!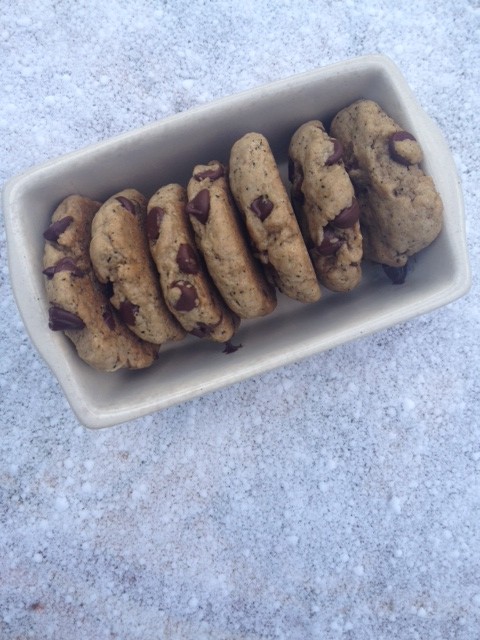 Happy Keepin' It Kind Cookie Swap Day, lovely people of the internets! What a wonderful way to kick off the wintry hustle and bustle by celebrating what we all bring to the table. And what we're bringing to the table today, and for the rest of the month, are cookies, sweet, sweet, wonderful, heaven-sent, vegan cookies. AMEN.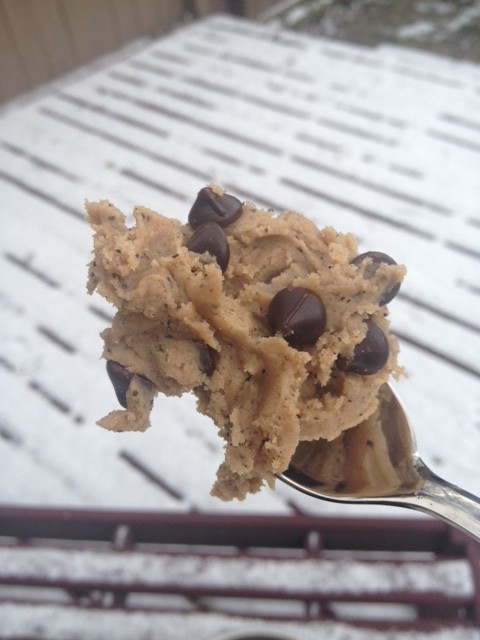 This Chai Chocolate Chip Cookie (or C4, as I like to call it, because it's a taste explosion in your mouth. Maybe I've been watching too much Burn Notice…) recipe is my go-to for cooking demonstrations, because the prep is a cinch, the results are delish, and the dough is heaven (I give peeps who attend my cooking demos spoonfuls of the dough and the whole room begins to sound like giddy and push and shove for more, like school children hopped up on sugar).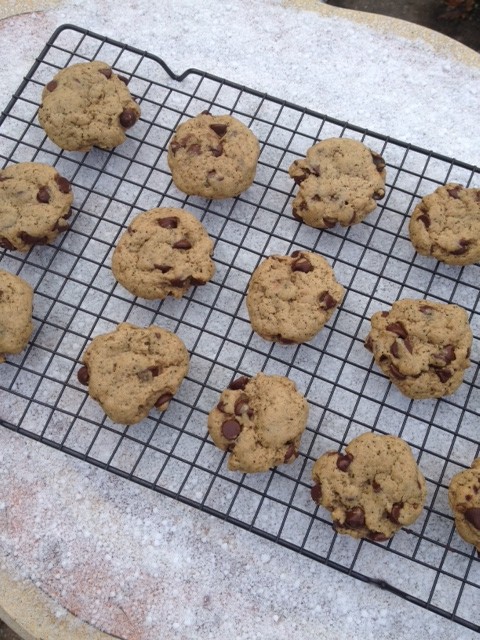 This recipe marries the comforting flavor of traditional chocolate chip with an unexpected, but delightful hit of aromatic Indian spices. If you're a traditional chocolate chip fanatic, you can omit the cinnamon and chai tea for a classic, melt-in-yo'-mouth chocolate chip cookie. If you're more naughty than nice, I recommend listening to the little devil on your shoulder and adding the red pepper flakes and cardamom. And yes, you just rip open the tea bags and dump the contents in. Cook with tea leaves? Hell yes. All day.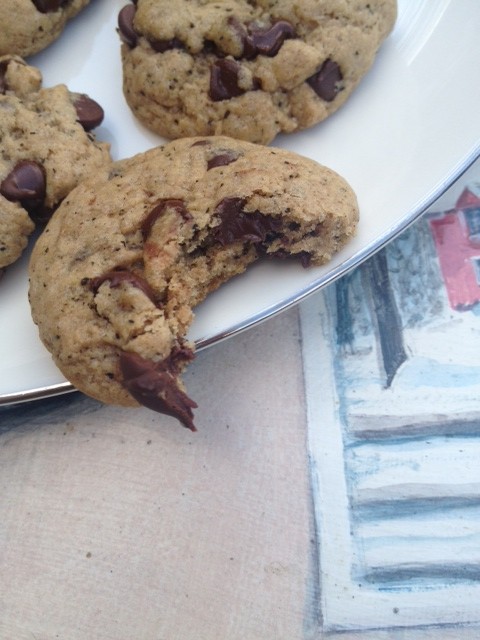 A little ditty about the tray (in the event you use the pics that have the tray in them): My late Grandfather, a folk artist, painted this tray for my Grandmother. It's simply one of my favorite things on the planet, because the little picture in the bottom right corner is painted from a snap of my mother and her brother when they were kids, all bundled up for the snow.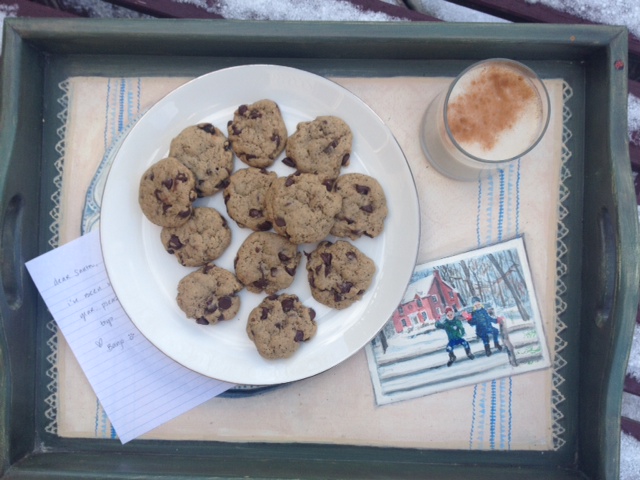 Ashlee's Chai Chocolate Chip Cookies (or C4)
Ingredients
½ cup coconut oil, liquified at room temperature
1 cup brown sugar
½ cup almond milk
1 tbsp vanilla extract
2 cups all-purpose flour
1 tsp baking soda
1 tsp baking powder
½ tsp salt
1 cup vegan chocolate chips
½ tbsp cinnamon
2 chai tea bags
Optional: ¼ tsp of red pepper flakes and ¼ tsp of cardamom (for some extra heat and aromatic spice)
Instructions
Pre-heat oven to 350F degrees and prepare two baking sheets with parchment or a silpat liner.
Cream together the coconut oil and brown sugar, then add the almond milk and vanilla.
In a separate bowl mix the flour, baking soda, chocolate chips, chai tea bag contents, cinnamon, baking powder, and salt (and cardamom and red pepper flakes, if you're punching the recipe up with those, which I highly recommend).
Combine the wet and dry ingredients.
Roll into 1 inch sized balls and space evenly on an ungreased cookie sheet (they will spread), then flatten them out a bit with your palm.
Bake for 7-10 minutes, until golden and firm. If you like your cookies soft, 7 minutes should do the trick.
Remove from oven and allow to cool before enjoying with a cold glass of almond milk.
Notes
Prep Time: 5 minutes
Cook Time: 7 - 10 minutes
Allergy Information: Dairy-free, Egg-free, Soy-free, can be made Nut-free (different milk) and Gluten-free (different flour)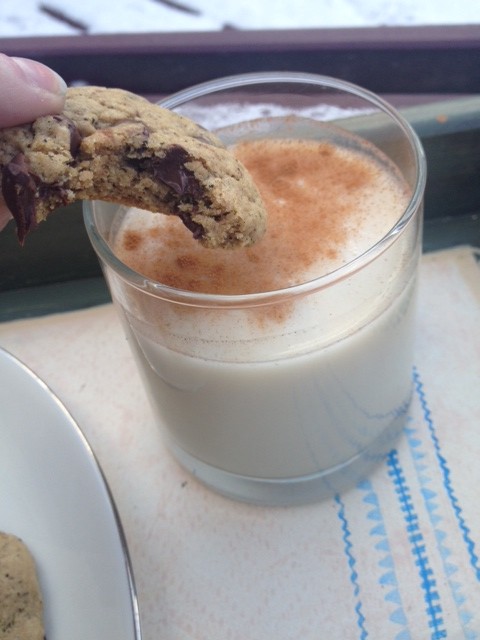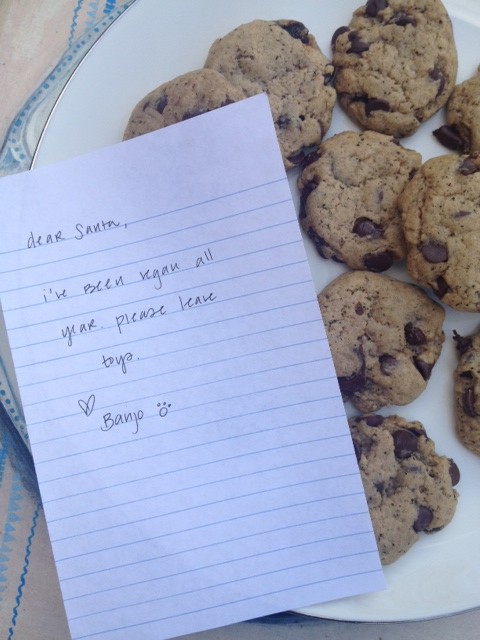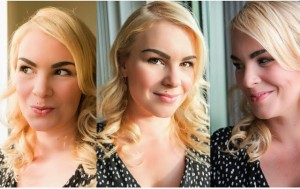 Ashlee Piper is a political strategist turned holistic health coach, vegan chef, and plant-based food and style blogger at The Little Foxes. Her recipes and writing have been featured in Reader's Digest, VegNews, Vegetarian Times, Ecorazzi, Girlie Girl Army, Our Hen House, and EMMA Magazine. She was recently named a "Top Food Blogger to Watch" by Refinery29 and her vegan style segments have been featured on Fox News. She likes rescue dogs, Morrissey, red lipstick, thrift shopping, infomercials, doing yoga, and karaoke, in that order. She believes strongly in the terminating comma series and being heavy-handed with spices.
Social Media for The Little Foxes: Facebook, Twitter, Instagram, + Pinterest