Back in my pre-vegan days, I used to love a good cookie swap party. Now that I'm vegan and don't have many vegan friends close-by, I'm bringing the cookie swap party to Keepin' It Kind! Each day, for 25 days, one of my favorite bloggers will visit and share one of their favorite holiday cookies! That's 25 Days of Cookies, my friends! Happy Holidays!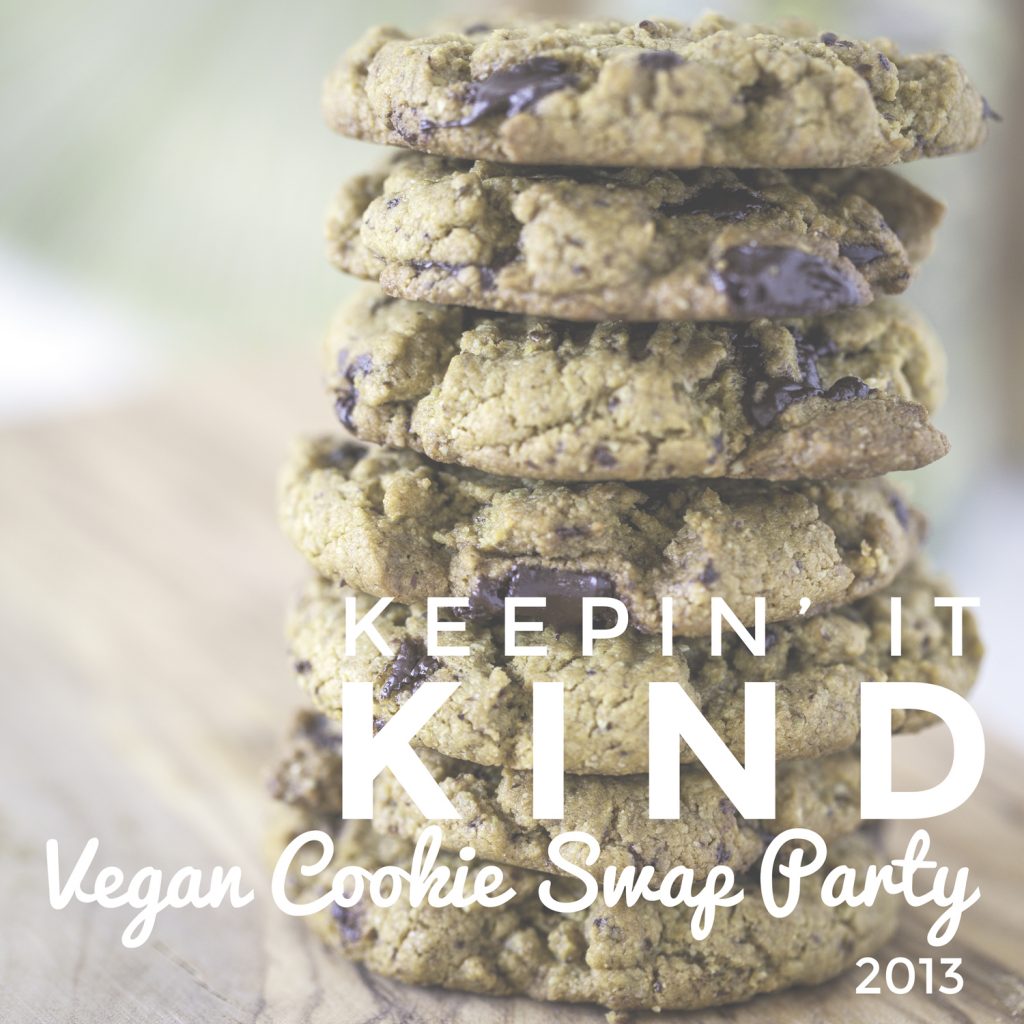 Sarah of The Sweet Life is a blogger that I was slightly intimidated by when I first discovered her. Sarah's blog has long been one of my favorites and her talent for creating incredible vegan eats, especially desserts, is endless. I drooled over her creations from afar, too shy to actually say something to someone so talented (I'm so ridiculous sometimes, I know). Once Sarah introduced herself to me, however, all of that intimidation went away. Sarah is one of the kindest, most genuine bloggers out there and it is such a treat (pun intended) to have her here today.
It's an honor to be hanging out at Keepin' it Kind today because Kristy's blog is seriously one of my favorite. Ever since stumbling upon it about a year ago, she has kept me coming back with her incredible photography and mouth-watering vegan recipes. Combined with all the vegan resources, stories, and reviews, there is always a reason to visit Keepin' it Kind.
So thanks for inviting me to be part of this years Vegan Cookie Swap Party, Kristy!
I love Christmas cookies; it might be my favorite thing about the holiday (unless chocolate truffles are under a different category, then I'd have to say chocolate truffles are my favorite part about Christmas). I have been preparing for a whole new batch of Christmas recipes since last January and first on my list were these Red Velvet Crinkle Cookies, an idea inspired by this picture I found on Pinterest.
Exactly one year ago I posted the first crinkle cookie recipe I had ever developed: Chocolate Peppermint Crinkle Cookies. After getting the recipe down I made a large batch in preparation for Jason's family's upcoming week-long stay. Before sticking them in the freezer, Jason and I enjoyed a few (Jason proclaiming they were the best cookies he's ever had), then made a pact to save the rest for Christmas. They were long gone by the time his family arrived on Christmas Eve.
So I  whipped up another batch, this time Jason and I pinkie-swearing that they would last longer, suspiciously watching on another every time one of us had to take a trip down to the basement.
I tried not to make the same mistake with these Red Velvet Crinkle Cookies, freezing most of the dough unbaked. But when Jason bit into a fresh-out-of-the-oven Red Velvet Cookie he proclaimed, "These are the best cookies I've ever had!"  and now I'm thinking I'm going to have to keep my eye on the frozen dough as well.
Chewy on the inside, crisp on the outside, and outlined with the beautiful crinkle cracks, these Red Velvet Cookies are certain to be a hit at your holiday gatherings.
Sarah's Red Velvet Crinkle Cookies
Ingredients
3 cups all-purpose flour
1/4 cup cocoa powder
1 tbsp baking powder
1/4 tsp baking soda
1/2 tsp salt
3/4 cup vegan butter (I used Earth Balance Buttery Sticks)
1 1/4 cup granulated sugar
3/4 cup applesauce
1 tsp vanilla extract
1 tsp apple cider vinegar
1 tbsp red food coloring*
1 cup vegan white chocolate chips (optional)
1 cup powdered sugar
Instructions
In a bowl combine flour, cocoa powder, baking powder, baking soda, and salt. Set aside.
In a stand-up mixer, using the paddle attachment, beat vegan butter and sugar until light and fluffy. Add applesauce 1/4 cup at a time, scraping down the sides of the bowl as necessary until well combined. Beat in vanilla extract, apple cider vinegar, and red food coloring.
With mixer running, slowly add the dry ingredients to bowl, scraping sides as necessary until all the dries are combined. Fold in chocolate chips.
Cover dough with plastic wrap and refrigerator for at least 2 hours until dough is firm enough to form balls.
Preheat oven to 350 degrees Fahrenheit. Place powdered sugar in a low bowl and roll cookie batter into balls about 1 heaping tablespoon in size. Generously coat them in powdered sugar and place them on a parchment-lined baking tray. Bake for 10-12 minutes.
Notes
*Not all food coloring is vegan, make sure to check the label for Cochineal (coloring derived from insects).
Sarah is a classically trained pastry chef who transitioned to a vegan lifestyle in 2006. Her passions for food, photography, and compassionate living led her to begin The Sweet Life, a vegan food blog. She writes, bakes, and lives in Portland, Oregon with her husband, daughter, a handful of pets, and a soon-to-be-arriving baby boy. Life is good.
You can follow her culinary adventures on: Facebook, Instagram, Twitter, & Pinterest