Back in my pre-vegan days, I used to love a good cookie swap party. Now that I'm vegan and don't have many vegan friends close-by, I'm bringing the cookie swap party to Keepin' It Kind! Each day, for 25 days, one of my favorite bloggers will visit and share one of their favorite holiday cookies! That's 25 Days of Cookies, my friends! Happy Holidays!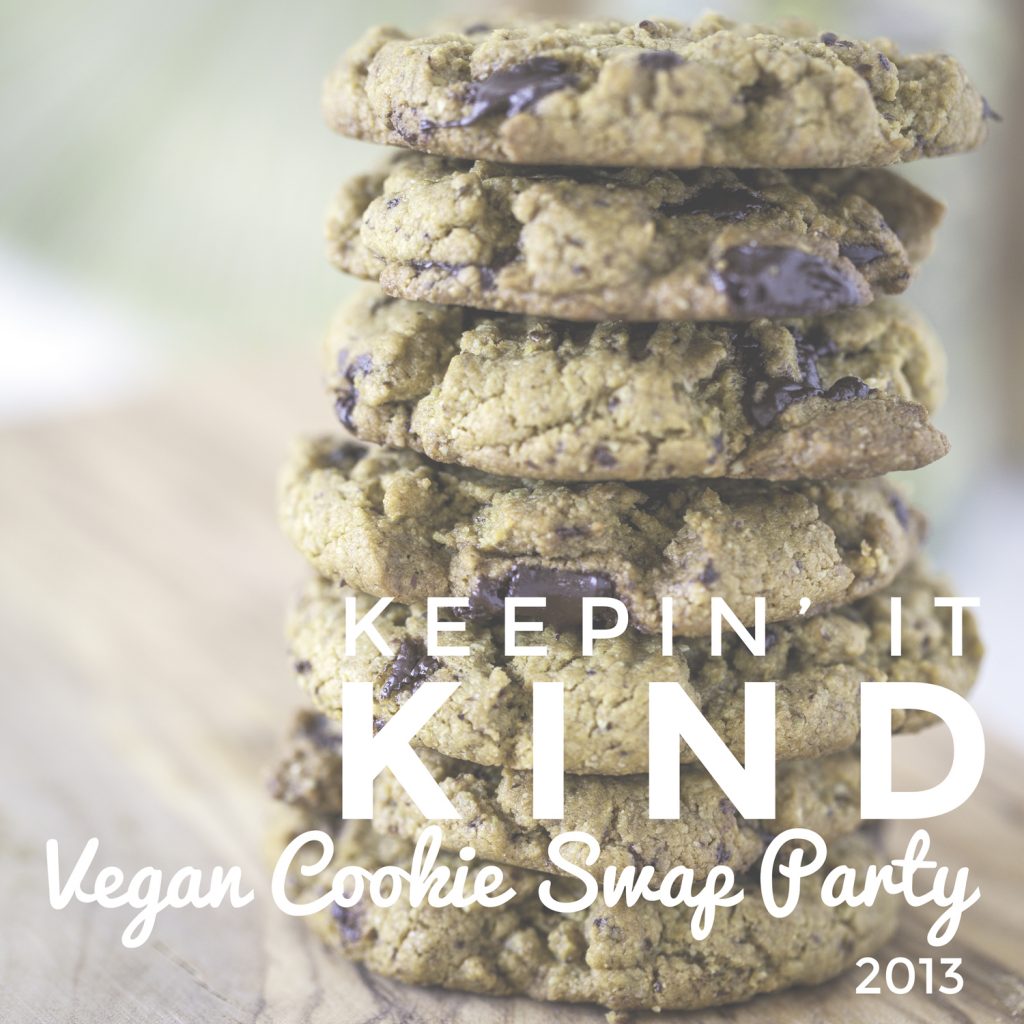 How do I even begin to introduce Somer of the wonderful blog, Vedged Out? I've loved Somer since before she even started Vedged Out, when she was part of a different blog. Her spirit, her generosity, and her ability to make feeding your family healthy vegan food look easy and delicious are just a few of the things I admire about this woman. I can't wait to see what she's brought to share with us!
When you live in Northern Utah, sometimes the sun doesn't shine for weeks on end in the wintertime. That makes recipe photography a bit tricky, especially if you've all ready got a fairly dark kitchen. I set this shoot up outside to get at least a little bit of natural light, but then it started snowing. Ah well, what's a girl to do? Oh, and although these cookies are covered with chocolate a bit patch-ily (hey, I'm a novice). They still taste amazing.
Somer's Vegan Thin Mint Cookies
Ingredients
scant 1/2 cup whole wheat pastry flour or gluten free flour. (Level 1/2 cup of flour, then remove 2 tablespoons worth)
4 tablespoons cocoa powder
1 teaspoon ground golden flax seed
1/4 t. baking powder
pinch sea salt
1/3 cup agave
1/4 cup melted coconut oil (use refined if you don't want these cookies tasting like coconut)
2-3 drops food grade peppermint essential oil or 1 teaspoon peppermint extract

For the chocolate outside layer

1/2 cup vegan chocolate chips, melted
1 teaspoon coconut oil
1-2 drops food grade peppermint essential oil or 1/2 teaspoon peppermint extract
Instructions
Preheat your oven to 350º. Combine the dry ingredients in a bowl with a wire whisk. Add the wet ingredients and stir until just combined. This mixture will look more like cake batter than cookie dough, that's okay! Measure out cookie dough with a teaspoon to make about 30 cookies. If your cookie sheet is big enough, they may all fit on the same sheet! Bake cookies for 8-10 minutes. Let cool on wire cooling rack for 10-15 minutes, they will become firm and crisp up as they cool. With a small flexible spatula, "ice" the cookies top and bottom with the melted chocolate, trying to get the sides as well, I used about a teaspoon of the chocolate per cookie. Put the cookies on parchment paper or a silicone baking sheet and refrigerate or freeze for 10-15 minutes to let the chocolate set up before serving. These are best stored in the refrigerator as the chocolate can melt at room temp.