Back in my pre-vegan days, I used to love a good cookie swap party. Now that I'm vegan and don't have many vegan friends close-by, I'm bringing the cookie swap party to Keepin' It Kind! Each day, for 25 days, one of my favorite bloggers will visit and share one of their favorite holiday cookies! That's 25 Days of Cookies, my friends! Happy Holidays!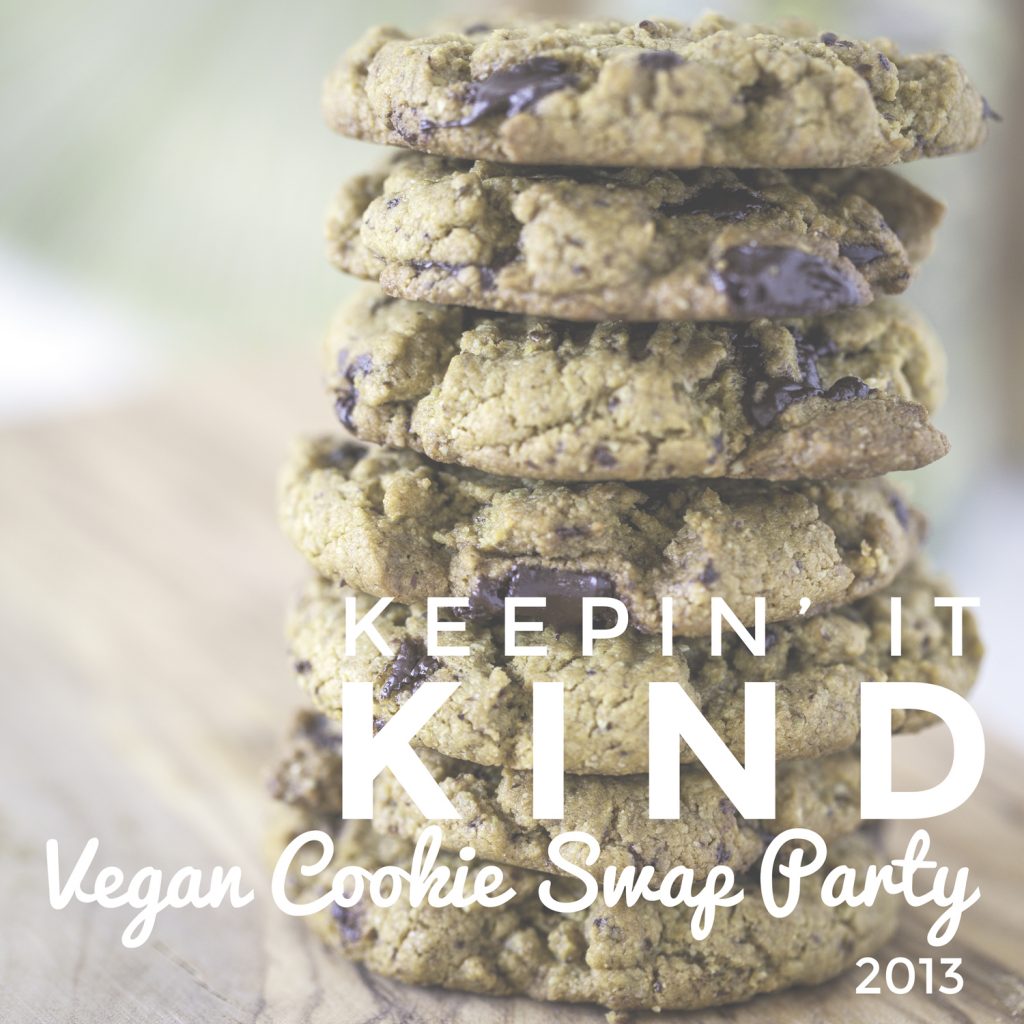 I'm sure most of you are familiar with Vegan Yack Attack- you know the blog with the stunning photography and delicious recipes that have you running to the kitchen? Before I ever met Jackie, I was blown away by her blog, but now that I've met her and see her from time to time, I love her blog even more because I know the genius behind it. Jackie is so down-to-earth, fun, and she always has me laughing. I have no doubt that whatever she shares with us today is going to be a total winner.
I'm so excited to be participating in Kristy's Cookie Swap Party, again this year. Last year was pretty great, but after seeing only the first week of this one, I can tell it's going to be even better. Thank you, Kristy, for including me among these other terrific bloggers and cookie recipes!
In typical Jackie-fashion, the cookie that I'm bringing to this swap party is one that I've never made before. I toyed with a butter cookie recipe from my past and made it fun, and even more tasty. I mean, Biscoff Spread. How can you go wrong with that? Then pairing it with chocolate and you have yourself a winning combination!
Pinwheel cookies may seem a little intimidating, but they are easy to make; you just need some extra time and it's totally worth it. I would say that the hardest part was waiting for the dough to firm up in the freezer, before cutting the cookies and baking them up. Aside from this virtual party, I brought these to my friend's holiday party this past weekend and got good reviews! Now you know that you can bring them to your own festivities and they will be eaten up in no time.
Enjoy these delectable cookies with a glass of vegan nog, spiked or not that stuff is fabulous, next to a warm fire and/or body. 😉
Jackie's Chocolate Biscoff Pinwheel Cookies
Ingredients
1 1/2 tsp. Ground Flaxseed + 1 1/2 T. Hot Water
1/3 C. Coconut Oil
1/4 C. Smooth Biscoff Spread
1/2 C. Organic Sugar
3 T. Non-Dairy Milk
1 tsp. Vanilla Extract
1 1/3 C. Unbleached All-Purpose Flour
Pinch of Salt
1 1/2 tsp. Ground Flaxseed + 1 1/2 T. Hot Water
1/2 C. Coconut Oil
1/2 C. Organic Sugar
3 T. Non-Dairy Milk
1 tsp. Vanilla Extract
1 1/3 C. Unbleached All-Purpose Flour
3 T. Cocoa Powder
Pinch of Salt
Instructions
For the Biscoff dough: stir together the flaxseed and hot water and set aside so that it gels.
In a stand mixer whisk the coconut oil, biscoff spread and sugar together, on high, until it is whipped and there are no chunks of coconut oil. Add the non-dairy milk, vanilla and flaxseed "egg" in and mix again until incorporated evenly.
Turn the mixer on medium speed and slowly add the flour and salt, mix until crumbly and no loose flour is left. Press the dough into a ball and set aside.
Make another flax egg for the chocolate dough, set aside, and use the stand mixer at high speed to whip the coconut oil and sugar together.
Add the non-dairy milk, vanilla, and flaxseed to the bowl and whisk together. Slowly add the flour, cocoa powder and salt to the bowl and mix until crumbly, like before.
Press the chocolate dough into a ball and set aside.
Roll the Biscoff dough out into a rough rectangle shape that is 1/4" thick. Use plastic wrap on both sides for easier rolling. You want the sheet to be 7" wide, I used a pizza cutter to trim the sides straight and pressed the excess dough into the end.
Now, roll the chocolate dough out in the same fashion. Carefully place the chocolate dough on top of the Biscoff dough and offset them length-wise about a 1/4".
Use the plastic wrap to roll the dough much like you would sushi. Do it slowly and tightly so that there are no cracks or gaps. Wrap the roll tightly and freeze it for 45 minutes. You may want to turn it slightly midway so that there is no flat spot.
Preheat oven to 350F. Once the log is firm, slice the cookies from the log at a 1/4" thick and place them on two large baking sheets. Bake for 15 minutes.
Once the cookies are done baking, take the sheets out and wait 4 minutes before placing the cookies on a cooling rack. Serve at room temperature.
Thanks again, for having me Kristy and happy holidays, everyone!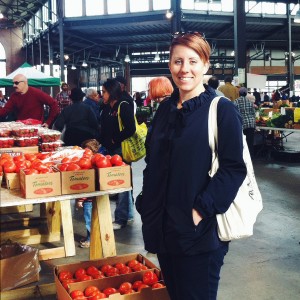 Jackie Sobon originally launched Vegan Yack Attack to document her adventures in clean living, but her blog quickly turned into an abundant resource for a vegan lifestyle. Whether you want an easy weeknight dish like smoky corn chowder or more ambitious suggestions (say, holiday menu ideas), it's a great go-to for vegans and raw-food enthusiasts.