Back in my pre-vegan days, I used to love a good cookie swap party. Now that I'm vegan and don't have many vegan friends close-by, I'm bringing the cookie swap party to Keepin' It Kind! Each day, for 25 days, one of my favorite bloggers will visit and share one of their favorite holiday cookies! That's 25 Days of Cookies, my friends! Happy Holidays!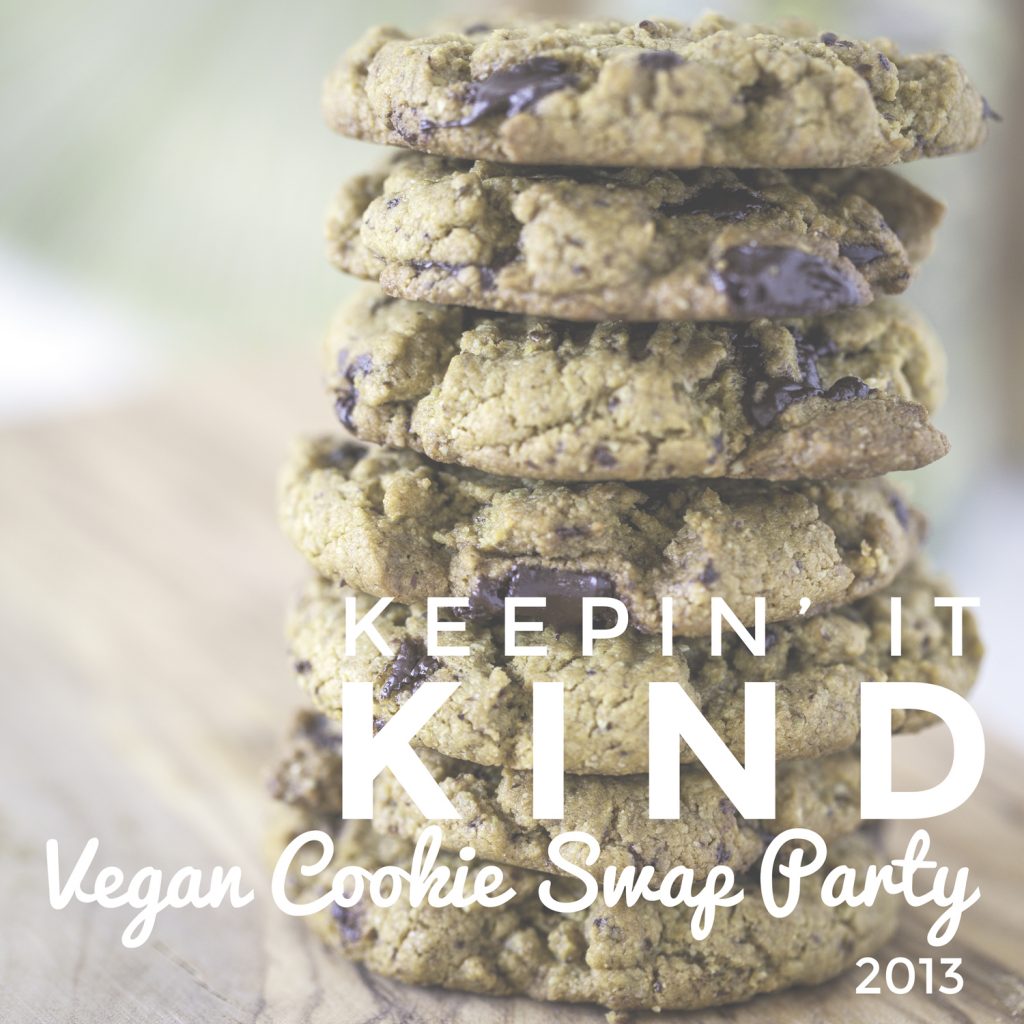 If you've ever wanted to sparkle, inside and out, then Rebecca from Vegan Sparkles is your girl. I've talked before about how much I love this lady but it's still not enough to describe how awesome she is! Just spending a few minutes at her site, Vegan Sparkles, puts a smile on your face. She's recently quit her job to become a full-time health coach and she's kicking butt at it! Bex just put out her second E-Book, Eating For Energy, a gorgeous book that guides you to a happier, healthier, and more sparkly life. On top of that, she's launching The Sparkle Project at her blog this January to give you all the tools you need to achieve the healthier life you may be longing for. I'm so grateful that Rebecca was able to to join us today and share these yummy-looking bites!
Something very exciting happened during my visit to the U.S. last year. I discovered Whole Foods Market! Ohh, the magic within! All the bounty I'd only ever read about - Daiya, Larabars, Clif bars, unbelievable make-your-own salad bars, a whole wall of kombucha! My lovebug had to drag me (and my heaving shopping bags) out of there. I would have stayed for days.
I quickly became obsessed Googled and located every Whole Foods store within a 20 mile radius of our travel plans. And then promptly developed a serious Cocoroons addiction. From that day forward, from NYC to LA to San Fran, I always had a plentiful supply of Cocoroons in my bag.
The day before our flight home I checked and triple-checked that my stockpile would be enough to last the entire 22-hour trip. I scoffed the last Cocoroon about three seconds before we entered the Australian Customs & Quarantine section of the Arrivals hall and I've missed them every day since.
So when Kristy invited me to her delicious cookie swap party again this year, I knew just what to bring. These cookies aren't exactly like the Cocoroons I fell in love with, but they're lovely and chewy and the raspberries add a delicious, tart surprise. Plus I love that they look like little Santa hats - so cute for Christmas gifts.
Thank you so much for hosting this super fun event, Kristy, and for being such a beautiful inspiration. I'm so excited to share these Raspberry Coconut Macaroons with you all. xx
Rebecca's Raspberry Coconut Macaroons
Ingredients
2 cups shredded coconut (organic and unsweetened)
3/4 cup almond meal
1/2 cup pure maple or agave syrup
1/2 cup fresh or frozen raspberries
2 tbsp coconut oil
1 tsp pure vanilla extract
Pinch sea salt
14 teaspoons desiccated coconut (organic and unsweetened)
14 fresh/frozen raspberries
Instructions
Pre-heat oven to 250F/120C.
Place all ingredients (except garnish) into a large mixing bowl and mix well.
Using a spoon and/or your hands, mould mixture into 14 cookie shapes and place on a lined baking tray.
Bake for 40 minutes.
Remove from oven and allow to cool.
Garnish cookies immediately before serving. Store any leftover cookies in an airtight container in the fridge.
Bex is a Holistic Health Coach passionate about helping women transition to happier, healthier living, re-ignite their sparkle, and fall in love with life again. She writes for various on-line health and wellness magazines such as MindBodyGreen and One Green Planet, provides one-on-one health coaching, hosts wellness events, and is the author of 'Eating for Energy' - a new eBook available from her wellness site VeganSparkles.com.
You can also find Vegan Sparkles on Facebook, Twitter, Pinterest and Instagram.