Back in my pre-vegan days, I used to love a good cookie swap party. Now that I'm vegan and don't have many vegan friends close-by, I'm bringing the cookie swap party to Keepin' It Kind! Each day, for 25 days, one of my favorite bloggers will visit and share one of their favorite holiday cookies! That's 25 Days of Cookies, my friends! Happy Holidays!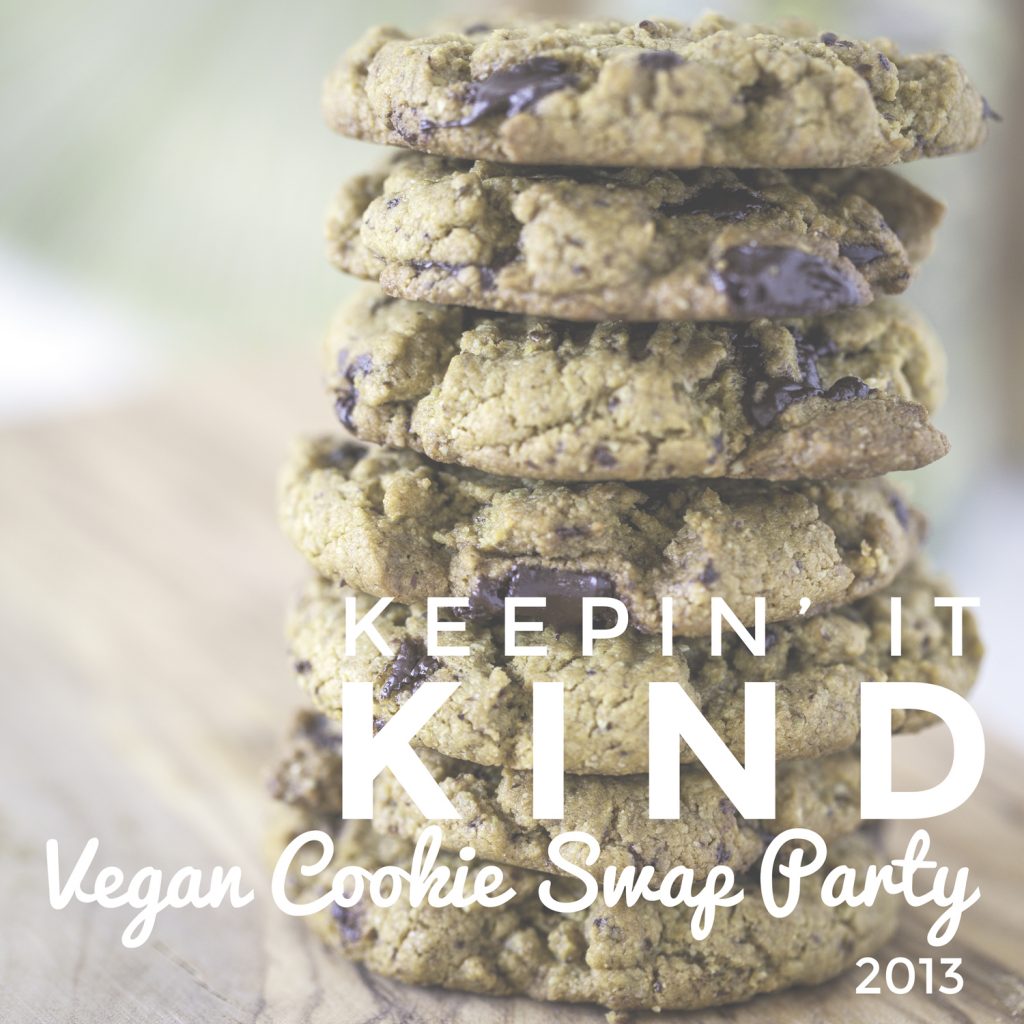 Do you ever meet someone, or in this case, just read his or her writing, and think you may have found your long lost twin? I feel this way about Gabby from The Veggie Nook. It just seems that we have the same demeanor, senses of humor, tastes in TV shows, favorite colors, and even the same major in college (Kinesiology, yo!). I adore Gabby's blog for the wonderful recipes (because of her, I always put nutritional yeast on roasted squash and sweet potatoes), for her delightful personality, and her super helpful health tips (her oil cleansing post changed my face and my skin forever. Soap will never touch my face again!). I am so happy to have her back at the cookie swap party this year, sharing another one of her tasty treats!
Hello all! I'm so happy to be back at this swap party for the second year in a row. Last year I brought a healthified and veganized version of one of my childhood favourites- nutmeg logs. And this year it seemed only right to revamp another one of my favourites- oreos! Naturally, since 'tis the season, I also added a quintessential holiday flavour- peppermint!
I know oreos are already vegan (don't you LOVE when things are accidentally vegan?), but they are by no means healthy. Full of refined flours and sweeteners, they are a far cry from merry. And even though the holiday season is a time for indulging, I think we should all give ourselves a gift- the gift of treating our bodies the way they deserve and eating food that is nourishing and healing. The gift of a healthy finish to the year so we can begin the next on solid footing.
And isn't it just awesome that it's possible to do that AND have dessert?? Who said healthy meant you couldn't enjoy the sweeter things in life?
These oreos are raw meaning 2 things (1) the oven is free for other holiday baking and cooking endeavours and (2) they are made of whole food, nutritious ingredients. Plus they are super easy- you just need a food processor to combine everything and a fridge to chill them in. The addition of spirulina is optional for colour- use a natural food colouring instead or just leave them white!
Gabby's Raw Peppermint Oreos (Vegan, Gluten-free, Paleo, Raw)
Ingredients
1/2 cup almonds
1/2 cup shredded coconut
1/4 cup ground flaxseed
1/4 cup cacao powder
2 tbsp melted coconut oil
1.5 tbsp maple syrup
1 tsp vanilla extract
2 drops peppermint essential oil (food-grade) or a tiny bit of peppermint extract
1/3 cup coconut butter
1/5 tbsp coconut oil, melted
spirulina or food colouring to desired colour (be careful with spirulina- too much and it will leave a funny taste!)
3 drops peppermint essential oil (food-grade) or peppermint extract to taste
Instructions
Add almonds, coconut, flax and cacao powder to your food processor and process until the almond are broken up into small pieces. Add the rest of the cookie ingredients and pulse until you have a dough-like consistency.
Put dough in the fridge for 10 min to let it firm up. Remove the dough and roll it out flat. I find ithelps to do this with the dough between 2 sheets of plastic wrap. Once flat, cut out circles with cookie cutters (or a bottle lid like I used!) and set aside on a dish. Once all the dough is used but the circles in the frdige to firm them up while you make the filling.
If you have a mini food processor, combine the icing ingredients in that, adding spirulina and peppermint until desired taste and colour. Then put the icing in the fridge until it's a spreadable consistency. Once cooled, spread onto on cookie and press a second on top. Continue until all frosting and cookies are used. Store in the fridge until ready to eat.
If you don't have a mini processor, warm the coconut butter slowly on the stovetop until softened then hand mix the other ingredients in. Follow the rest of the instructions from above.
I hope you all enjoy these and I wish you a wonderful holiday season!
Gabby is a Certified Nutritional Practitioner candidate at the Institute of Holistic Nutrition, and the author of the blog The Veggie Nook- a spec dedicated to showing you how fun, easy and delicious a healthy, plant-based life can be! It is updated weekly with healthy recipes and holistic living tips to keep you inspired. Food is the foundation upon which health grows! Connect with her on Facebook, Twitter, Instagram.