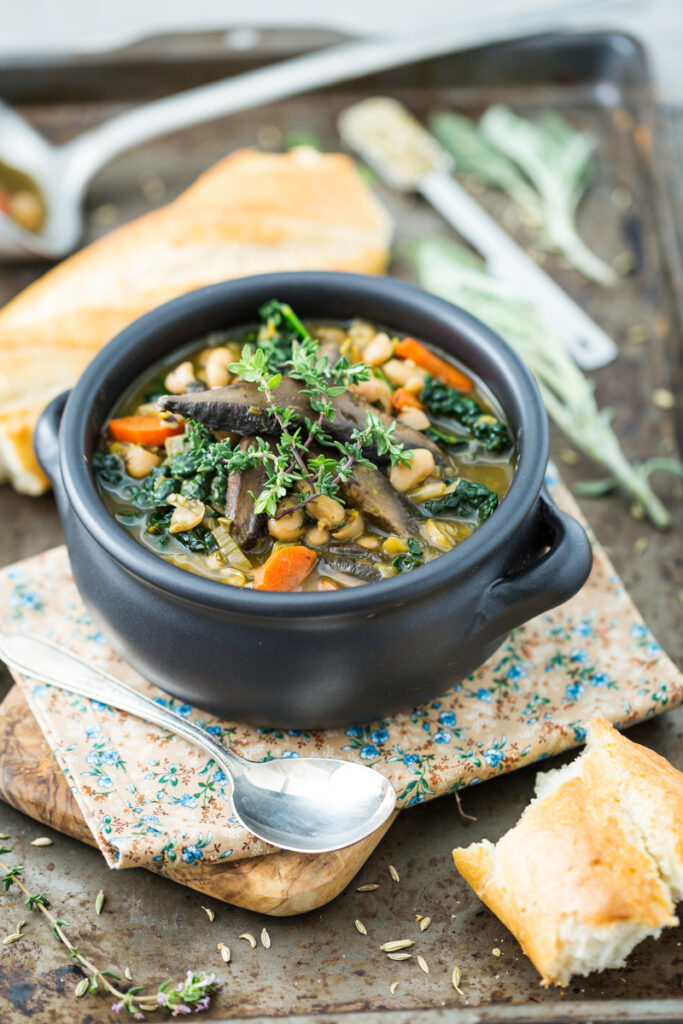 Hey there all you gorgeous, wonderful people! I'm back (kinda)!
Before I share this wondrous White Bean & Portobello Stew, I've got some stuff to talk about. I've probably drafted this post in my head about 9 times a day for the last 2 months. It was going to be much longer but I ended up deleting more than half of it. The writing of it was very helpful for me, though.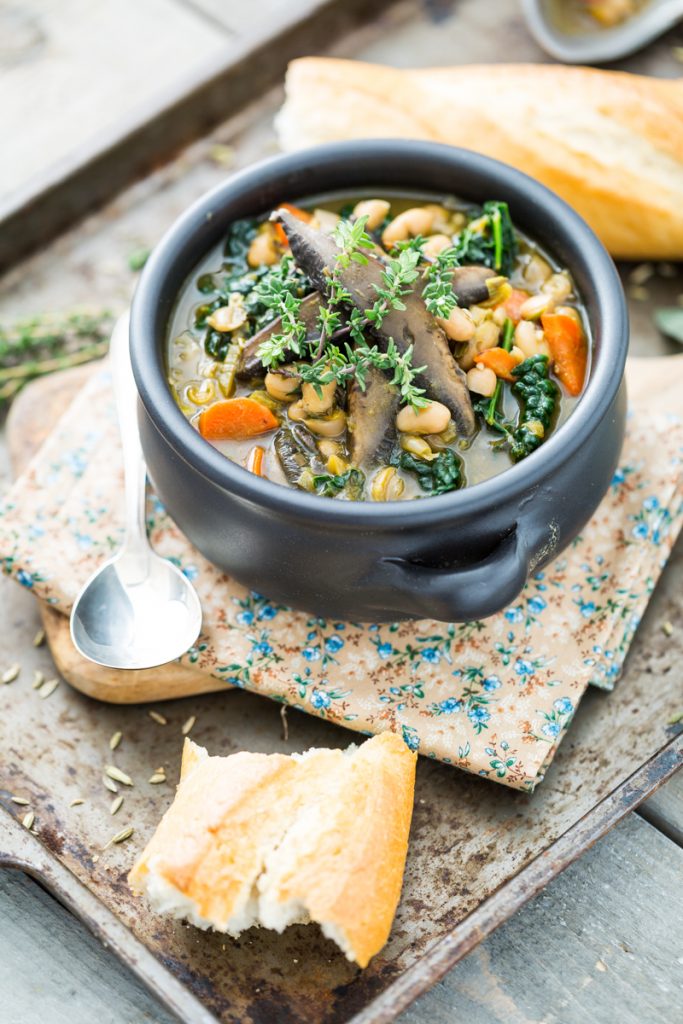 I should probably start by telling you what I've been up to since the last time I posted over 3 months ago. That's definitely the longest I've ever been from the blog, but 2015 has been a doozy of a year for Chris and I. After our last (long and stressful) show ended, we were hoping to have some downtime to hang out and relax but life had other plans. Since April, Chris's father had a stroke; Chris lost his brother, Mark, to esophageal cancer; we underwent a complete kitchen renovation that took much longer than expected and had many errors along the way; a dear friend of mine, a man who was like a second father to me, passed away; ten days later, our beloved pup, Samantha, passed away; we adopted two new dogs, both of whom came with their own set of special "needs"; we underwent an office remodel (which is still going on); one of our dogs ran away; more family drama happened that I can't go into here; and during this whole time, I've been working on my newest book (!!!!!!!!!) (which I'll tell you about in a minute). And now we're back at work on that same show that ended last April. And that's just the last 6 months.
I was going to go into detail about these things and tell you how things went down, but as it turns out, I'm not emotionally capable of going into it. Suffice it to say, there's been a shit-ton of bummers in our house. It's been really fucking sad, if I'm being honest.
Around the time that we learned that Samantha's kidney's were failing (she'd been dealing with congestive heart failure for over two years), about 2 weeks before she passed away, my Hashimoto's Thyroiditis began to flare up. I knew it was due to stress, but my hair was beginning to fall out more than usual, getting out of bed each morning was damn near impossible. I felt like I'd been hit by a truck. I felt overwhelmed with everything. When it didn't fade after a month, I made an appointment to see my endocrinologist. I figured we'd need to alter the dosage of my medication. Imagine how surprised I was to hear that my TSH levels were right were they needed to be, the best they'd been so far! When I went over my symptoms with her, she said "It sounds like you're depressed." A little thought bubble appeared over my head, replaying all the events of the last few months and all of my symptoms in a montage set to some pretty dramatic, instrumental music. Duh. I'm no stranger to depression. I've dealt with it off and on since my teens, but I've been free of it for about 8 years. This feeling hopeless and sad and overwhelmed all the damn time. It was like walking into a house you haven't been to in years and it's been completely re-decorated. It takes you a few minutes, but soon you're like "Heeeeeyyyyy. I've been here before." I'd blown off social invitations simply because I couldn't deal with talking to people. I would often crawl into bed in the middle of the day because everything was so "ugh." I stopped blogging because the idea of writing a blog post was just too much. The things I love about blogging- the ability to help people and make an impact on their lives, the creative outlet, the community, became things I wanted no part of. I stopped answering emails unless they were urgent. I wanted to be an anonymous hermit. Truth be told, sometimes I still feel this way.
There are a few of things that are helping me get through this. The first thing is that I'm letting myself be depressed. I let myself feel all the feelings. I don't get upset over the fact that I'm having them. I just let myself have them. Second, I remind myself that, like everything, this is temporary. And the last thing is having compassion for myself. I have a tendency to lose patience with myself when I'm being anything less than positive and productive, but I've been working on that. Amey Matthews led a talk about compassion at the last VVC and one of the things she said really stuck in my head. You know how sweet and positive and loving you are when you talk to dogs (or cats, if you swing that way)? The way you rub their head and tell them they're a "Good Girl." Why don't we do that with other humans, including ourselves? I began to imagine what I would do if my one of my dogs were mopey. Would I get frustrated at them for feeling that way? Would I tell them they needed to be happy? No. I would rub their belly and tell them everything was going to be okay because they're a good puppy and I loved them. So that's what I'm doing with myself (minus the belly rubbing part).
I've also learned a few things about myself during this time. For the last few years, just as all bloggers do, I've put a ton of time and energy into Keepin' It Kind because I love it. I really do. I love this space where I get to share food and stories with you and make the world a more positive place. And I absolutely adore all you wonderful people who take the time to read the posts (like this long-ass one!) and comment and email me. With that said there's a lot of pressure that comes with food blogging to always come up with the coolest new thing that incorporates all the current food buzzwords that you see everywhere on Pinterest, like "Buffalo," "Pumpkin," "Pizza," "Fudge," and more "Pumpkin," as well as words like "Healthy," "3-ingredients," "One Bowl," and "Life-Altering." There's pressure to "post at least 2 to 3 times a week," "get more exposure," "have more followers," and "have pinnable images." There's pressure to attend every single event and be seen and network and chronicle all of it on Instagram while you're at it. While I try to keep it real and use my own voice and just be myself, I've certainly succumbed to all of these pressures at times. And there's nothing wrong with that. But every time, it takes me a little farther away from why I started blogging- to help people make more compassionate choices when it comes to their food, to make veganism fun and tasty and approachable. You kind of get sucked into the whirlwind of it all and soon, while you're still doing your own thing, your way, you might not be doing it for the same reasons you did when you started. Don't get me wrong- I love all the friends I've made since I began blogging and I am so grateful for all of the opportunities that have come my way because of it. When all of this LIFE happened, though, I felt guilty that I had to neglect the blog. Then I felt bad because I simply didn't have the motivation to work on it. I felt a resistance to go back to that whirlwind. Jay-Z says in one of his songs "I'm not a business man, I'm a Business, man!" I've learned that I do not have that in common with Jay-Z (among many other things, I'm sure). I am not a Business. I am not a brand. Keepin' It Kind is kinda/sorta a business/brand that I can set my own hours, my own deadlines, and my own rules with. If my life is crazy hectic with home stuff, family stuff, work stuff, LIFE STUFF, then it's okay if I don't post something for awhile. I don't have to bury myself with one more thing to do on the weekends. When I post, it needs to be something I'm excited about, not something I feel I have to do. I am a business woman (a generous statement), not a Business, woman! And that's okay.
Going forward, I can't promise to post things on a regular basis, though I would like to. I'm actually wrapping up the recipe development portion of the new book (2 more re-tests and I'm done!!!!), working full-time, trying to find my missing dog (which is, while I'm being an honest, an absolute nightmare) (UPDATE 11/11/15: Buster has been found! Read all about his recovery here!) , and will be engulfed in shooting the book on the weekends until early next year. I would like to say I'm one of those super bloggers that can do it all, but alas, I am not. I need time to breathe. Cuddle with my husband. Read a book. Walk my dog(s) (hopefully, it will be plural again soon). Live. So if I go awhile without posting again, know that while I would love to be here blogging and I will blog again, I'm busy living at the moment.
Whew! Thank you. I needed to get all of that out. Thank you for listening/reading. And now let's move on to more happy, positive things.
The Book!
So yes! I'm working on a new cookbook! Hooray! I've been planning/developing since early this year and was able to dive into recipe development in June. I'm about to wrap up all the testing (I just have a couple more to go!) before I can turn them over to recipe testers so if you're interested in testing recipes for this book, stay tuned for a post about that in a few days! We've shot a couple chapters already and we've still got 111 more recipes to shoot because just like But I Could Never Go Vegan!, this book will also have pictures for every recipe.
This book is a follow-up to But I Could Never Go Vegan! but while I don't want to give away the farm just yet, I can tell you that it is more family-oriented. It's NOT a book to help you help your family go vegan. It will help make sharing a table with your non-vegan family members a little more peaceful and dare I say, delicious. It will also help omnivores cook tasty meals they can share with vegan family members. And also, anyone can use it to just make damn good food. The recipes, for the most part, are simpler than the recipes in But I Could Never Go Vegan! and they're all gluten-free or have gluten-free alternatives. I've been sharing pics of some of the recipes on Instagram. Check out the pics and follow for more pics to come!
The Recipe!
I couldn't just pop in, throw all this news at you and leave without sharing a recipe, right? This stew is one of my most favorite recipes from my first book, But I Could Never Go Vegan!. It's so hearty and comforting, which is pretty much perfect this time of year. The portobello chunks add a nice meatiness to it and it actually reminds me of the (far from vegan) stews my dad used to make when I was a kid. Yay for a bowl of hot, steamy comfort!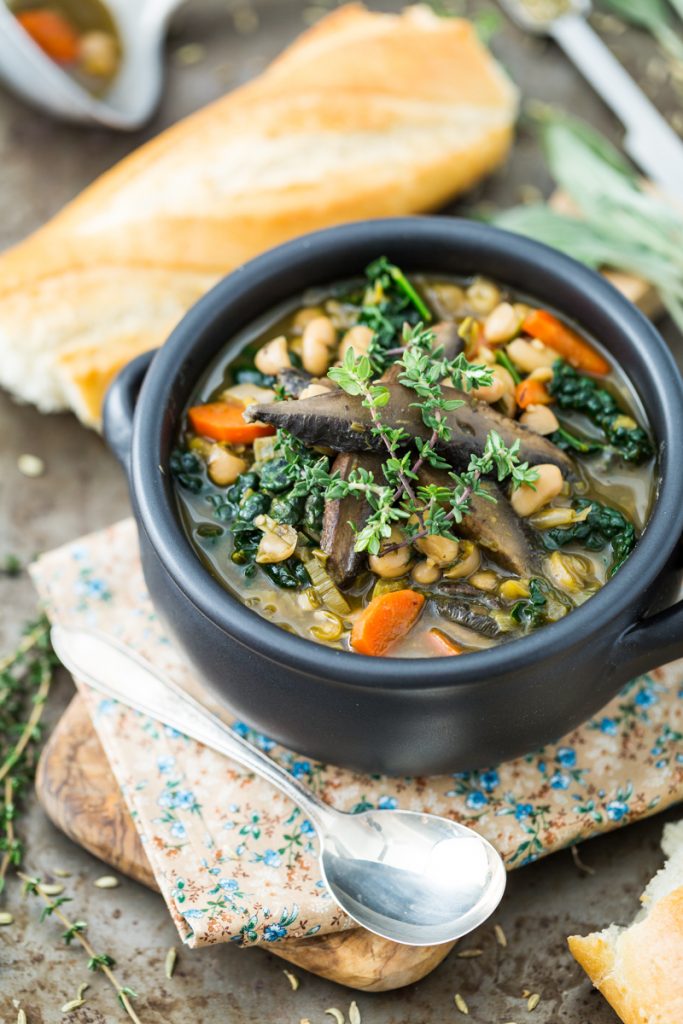 White Bean & Portobello Stew + Catching Up + BIG NEWS!
Recipe from But I Could Never Go Vegan!: 125 Recipes That Prove You Can Live Without Cheese, It's Not All Rabbit Food, and Your Friends Will Still Come Over Dinner, copyright © Kristy Turner, 2014. Reprinted by permission of the publisher, The Experiment. Available wherever books are sold.
Ingredients
2 teaspoons extra virgin olive oil
2 leeks (white part only), halved lengthwise and thinly sliced
2 garlic cloves, minced
1 carrot, chopped
1 celery rib, chopped
4 portobello mushrooms, sliced into ½-inch (1 cm) wide strips
1 tablespoon liquid aminos
1 tablespoon chopped fresh rosemary
1 tablespoon chopped fresh thyme
1 tablespoon chopped fresh sage
1 teaspoon fennel seeds
3 cups (525 g) cooked great Northern beans (see page 8) or two 15-ounce (425 g) cans, rinsed and drained
4 cups (1,000 ml) vegetable broth (chicken-flavored vegetable broth is best here; see tip)
1 cup (250 ml) water
1 teaspoon white miso
1 teaspoon liquid smoke
Salt and black pepper to taste
3 cups (40 g) roughly chopped kale
Crusty French bread or Southern Biscuits (page 233 in But I Could Never Go Vegan!), optional
Instructions
Heat the oil in a large pot over medium heat. Add the leeks and garlic and sauté for 2 to 3 minutes, until fragrant. Add the carrot and celery and sauté for another 2 to 3 minutes. Add the mushrooms, liquid aminos, rosemary, thyme, sage, and fennel seeds. Sauté for 3 to 4 minutes.
Add the beans, broth, water, and miso. Bring to a boil, then reduce the heat and cover, leaving the lid open a crack. Simmer for 25 to 30 minutes.
When some of the liquid has reduced and the vegetables are tender, add the liquid smoke, salt, and black pepper. Fold in the kale and cook just until the kale begins to wilt, then remove from the heat.
Serve warm, with bread, if desired. Leftovers can be chilled in an airtight container up to 5 days.
Notes
Tip: You can purchase vegan broths that are chicken or beef flavored. They do not contain animal products, but they are seasoned to taste like their non-vegan counterparts.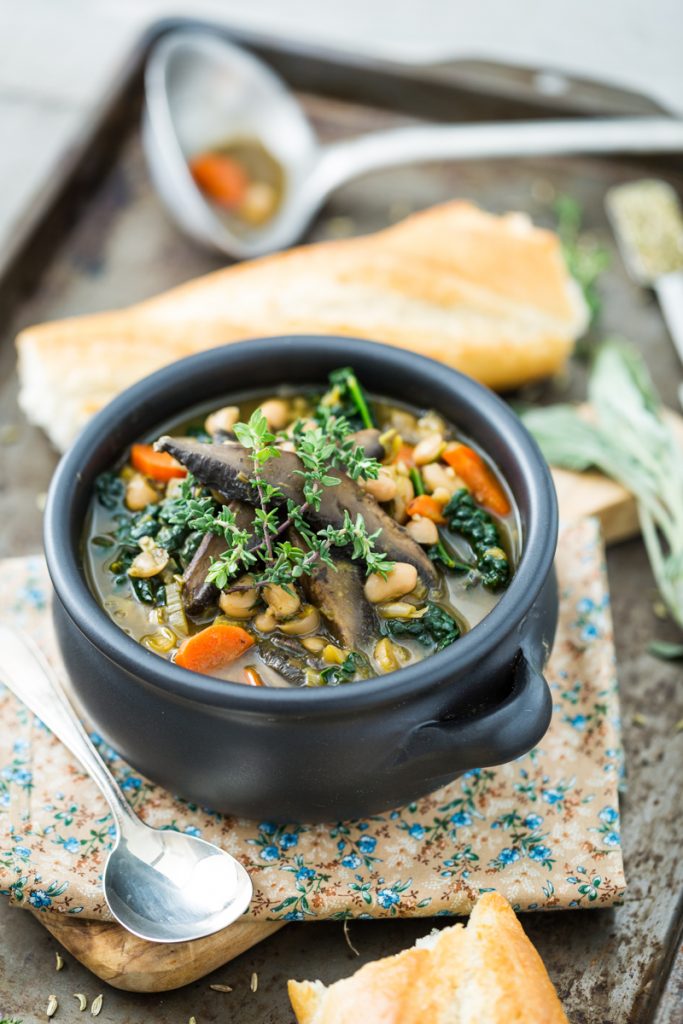 Thank you all again for your continued support. If you donated to Help Find Buster, please know that you have truly touched our hearts. Your kind emails and messages in recent weeks and months have been so helpful during this rough time. I love you all. And I'm not just saying that.
Photography by Chris Miller