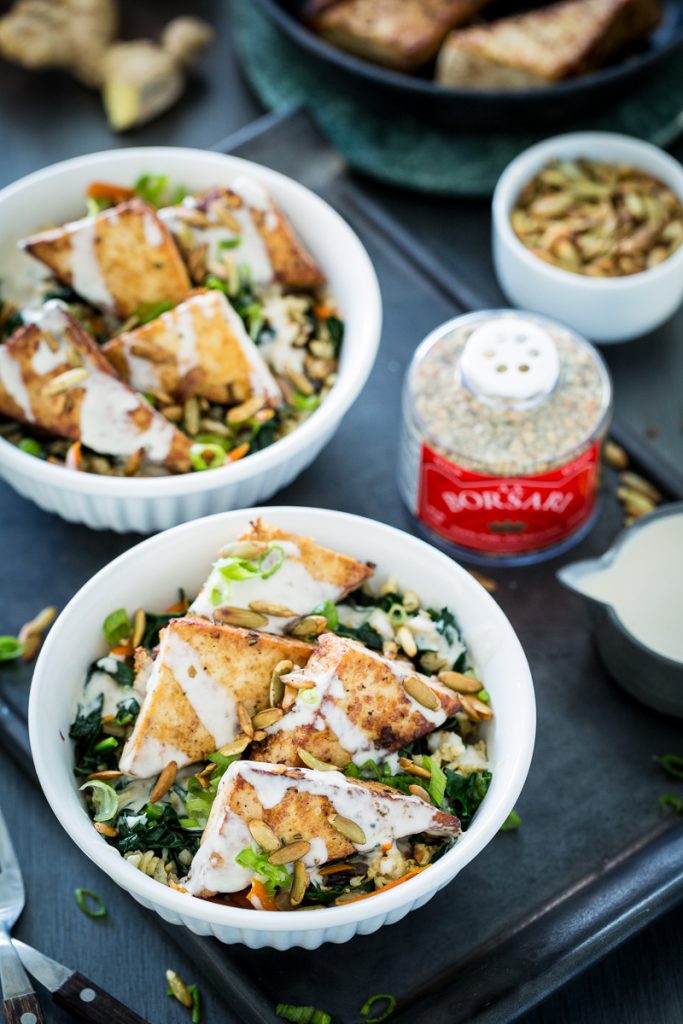 Ever since I did my last Borsari Foods recipe and review, I've been falling more in love with the simplicity and ease their seasoning salts bring to my kitchen. When I'm in the mood for something quick and tasty (which is, basically, all the time), I can just sprinkle one of their seasoned salts on whatever it is I'm cooking, without spending time searching for various herbs or spices (though, don't get me wrong- I still give them plenty of love), and I'm done.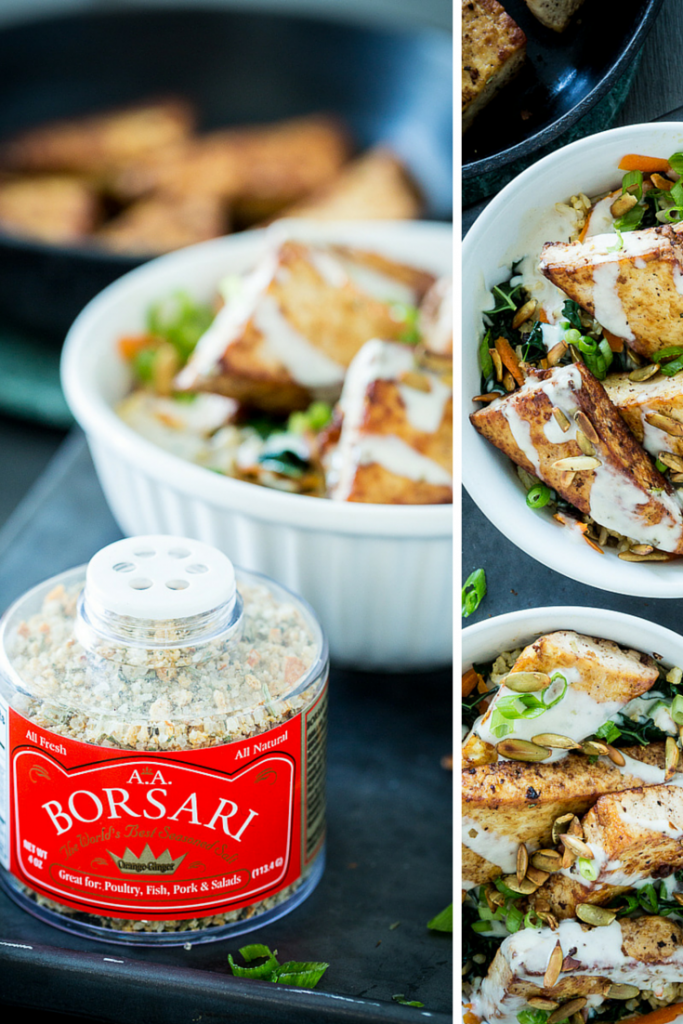 My most recent favorite thing to do is to sprinkle it on pan-fried tofu. Pan-fried tofu is probably at the top of the list for ways I love to eat tofu. The tofu must always be well-pressed, and if I have time, I'll do a quick 15-minute marinade. If I'm in a big hurry, though, I just slice up the pressed tofu and fry it in coconut oil with a little salt and pepper.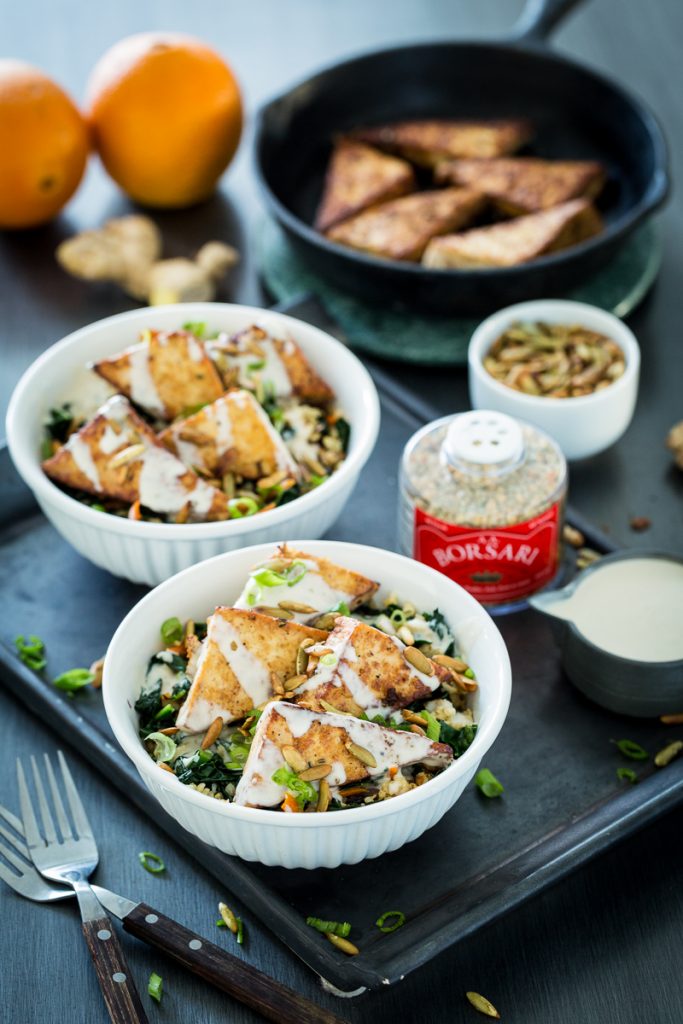 Using a Borsari Foods seasoning salt blend helps to add a little bit more flavor because they're blended with not only salt and pepper, but a variety of herbs and spices, depending on which flavor you choose. Lately, my favorite has been the Orange Ginger, which is made with dried orange peel, ginger, rosemary, basil, and garlic.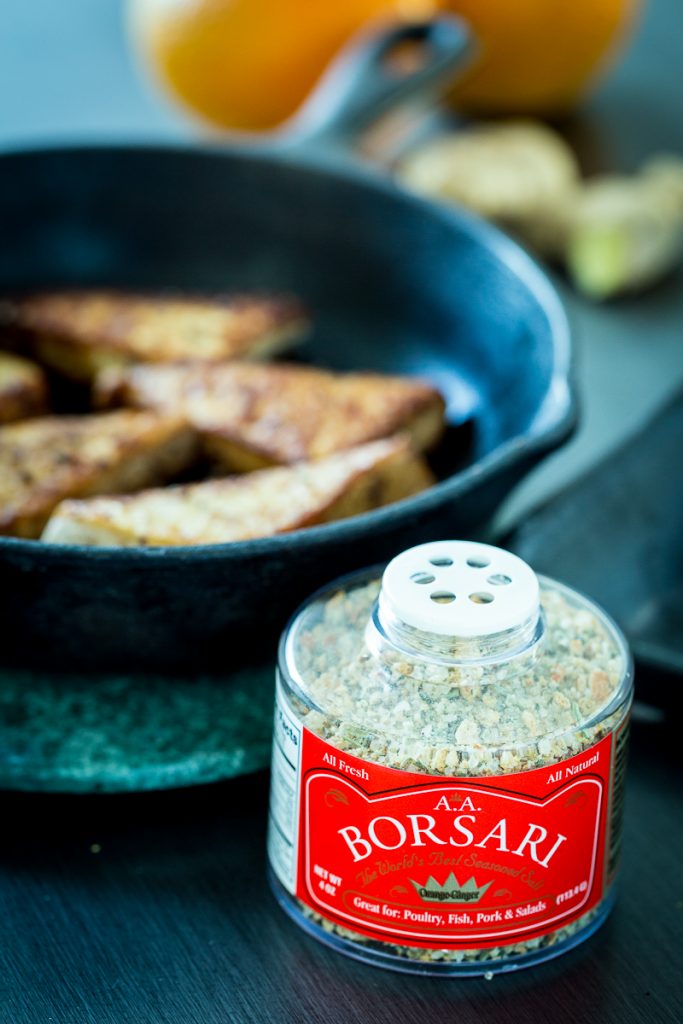 For this bowl, I took the flavor quotient up a notch by doing a quick marinade of liquid aminos (though you could also use tamari or soy sauce), orange juice, and fresh ginger. These little pan-fried tofu cutlets are just dreamy with their crispy, golden exterior and their tender, ultra-flavorful inner flesh. They're perfect by themselves or would be lovely stuffed inside of a sandwich with some creamy avocado, but I love them best as part of these gorgeous bowls.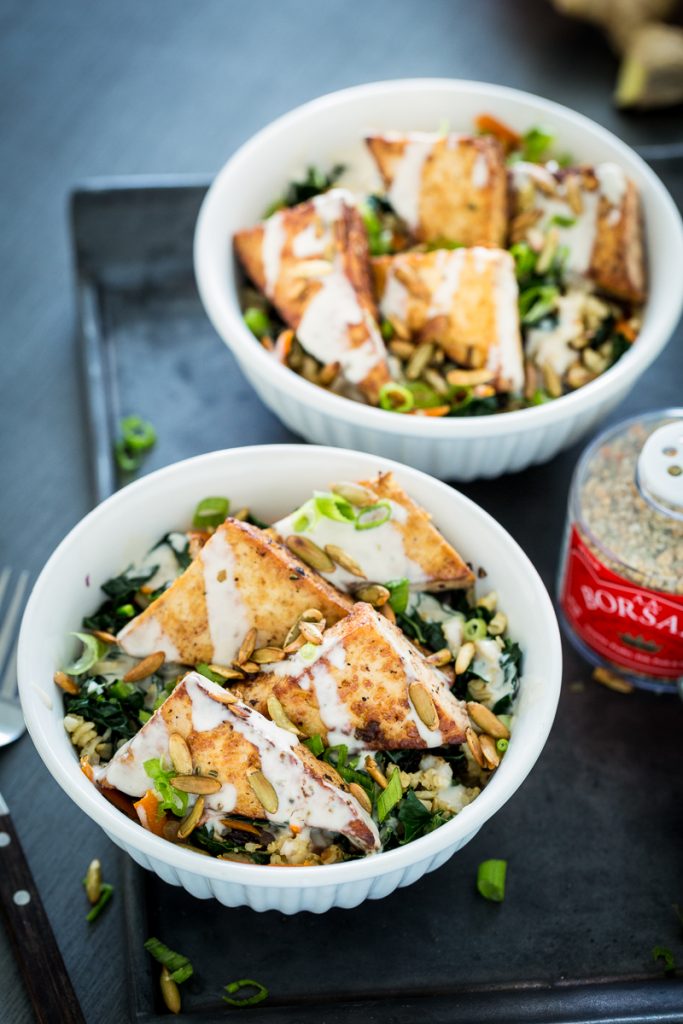 Every bowl needs some sort of grain or starch (like potatoes), in my opinion, but I made the grain for this bowl extra fancy. By sautéing some red onion in sesame oil and then adding kale, carrots, and currants to mix in with the rice, you get a more nutritionally-dense, texturally interesting, and more flavorful base for your bowl. The sweet and savory balance pairs nicely with the flavorful tofu.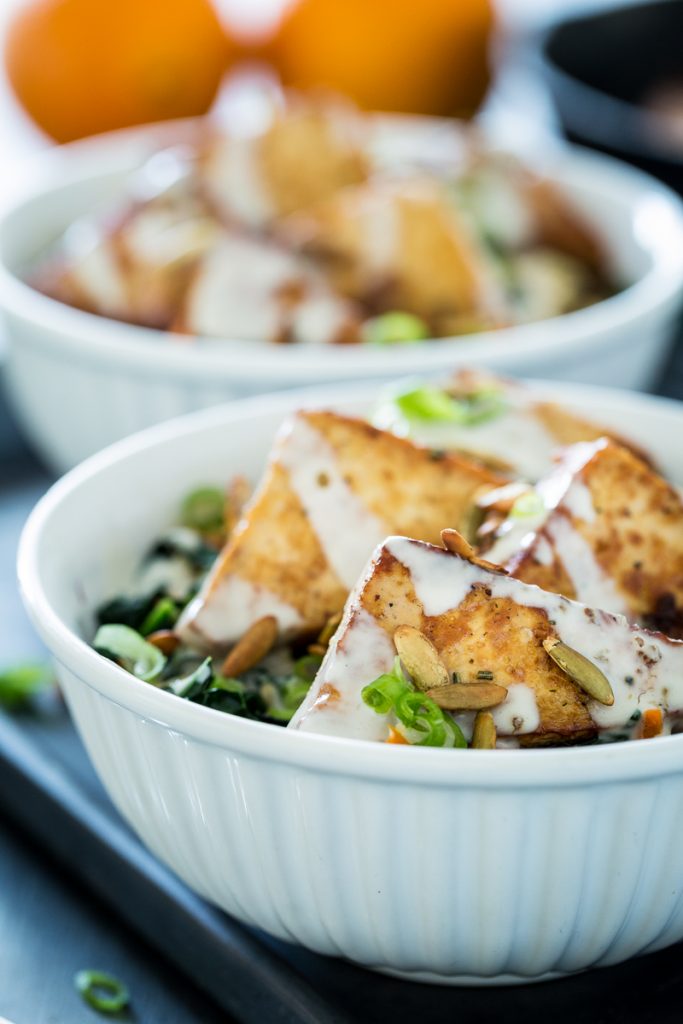 The kicker for this bowl is the luscious yogurt tahini sauce. It's so silky and creamy, lemony and subtly sweet, with a touch of garlic and it really ties the bowl together and helps to marry all of the flavors. You can't skimp on the toasted pumpkin seeds on top, either- the crunch they add is wonderful.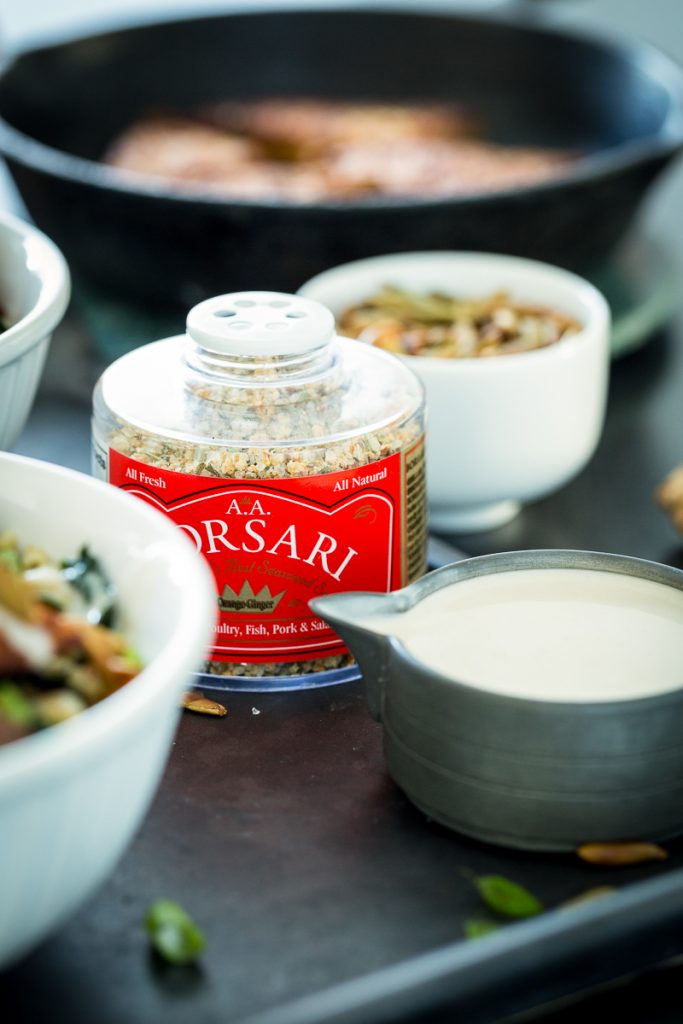 If you do some planning ahead- pressing your tofu and pre-cooking the rice (which you could also do while the tofu is pressing), this dish comes together really quickly. If you can get your hands on some Borsari Foods Orange Ginger Seasoning Salt (if you don't have some already, definitely enter the giveaway below!), it definitely adds a lot of flavor without needing to spend the extra time rounding up various ingredients. Plus, being that it's vegan, gluten-free, MSG-free, preservative-free, and pretty much all bad-stuff-free, it's a great thing to have in your arsenal. So go get your frying pan out- you're about to meet my new favorite bowl!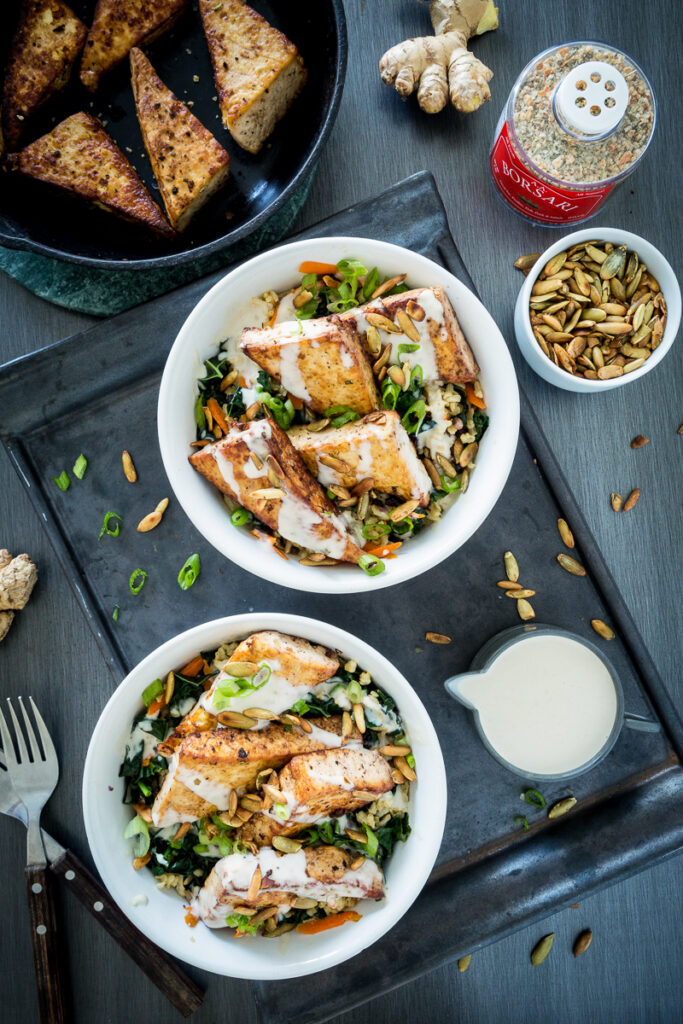 Orange Ginger Pan-Fried Tofu Bowl with Yogurt Tahini Sauce
Ingredients
1/2 cup plain (preferably unsweetened) coconut yogurt
1/4 cup tahini
3 tablespoons lemon juice
2 teaspoons maple syrup (exclude if using sweetened yogurt)
1/2 teaspoon garlic powder
Two 12-ounce blocks of tofu, pressed for at least 30 minutes
4 tablespoons liquid aminos
2 tablespoons orange juice
1 teaspoon grated ginger
2 tablespoons coconut oil
2 tablespoons Borsari Foods Orange Ginger Seasoned Salt, divided
2 teaspoons sesame oil
1/2 red onion, diced
1 bunch of lacinto/dino kale, de-stemmed and chopped thinly
2 carrots, peeled and grated
3 cups cooked rice
3/4 cup dried currants
salt to taste
Sliced green onions, for garnish
Toasted pumpkin seeds, for garnish
Instructions
In a cup or small bowl, stir together the sauce ingredients until combined. Add water by the tablespoon until you have a consistency you like (I add about 4 to 5 tablespoons). Set aside.
Slice the blocks of tofu in half and then slice each of those halves in half lengthwise so that you 8 rectangles. Slice those rectangles diagonally so that you have 16 triangles.
Combine the liquid aminos, orange juice, and ginger in a shallow baking dish or bowl. Add the tofu triangles and let marinate for about 15 minutes, tossing every 5 minutes to evenly distribute the marinade.
Heat 1 tablespoon of coconut oil in a large frying pan, preferably cast-iron, over medium heat. Add half of the tofu triangles, sprinkle 1/2 tablespoon of the seasoning salt on the triangles, and cook for about 3 to 4 minutes, until crisp and golden. Flip the triangles, add another 1/2 tablespoon of the seasoning salt, and cook for anotehr 3 to 4 minutes, or until crips and golden. Transfer the tofu to a plate lined with paper towels and cover to keep warm. Add the remaining tablespoon coconut oil to the pan and repeat the process with the remaining tofu and salt.
Clean out the pan and heat the sesame oil in the pan. Add the onion and cook until translucent. Add the kale and carrots and cook for 1 minute before removing from the heat. Add the rice and currants and stir until combined. Add salt to taste.
Serve the tofu atop a bowl of the rice/kale combo with yogurt tahini sauce drizzled over the top. Sprinkle sliced green onions and pumpkins seeds over the top. Enjoy!
Notes
If you don't have the seasoning blend but really want to make this dish, season the tofu with a little dried rosemary, basil, dried ginger, garlic powder, a little orange zest, salt, and pepper.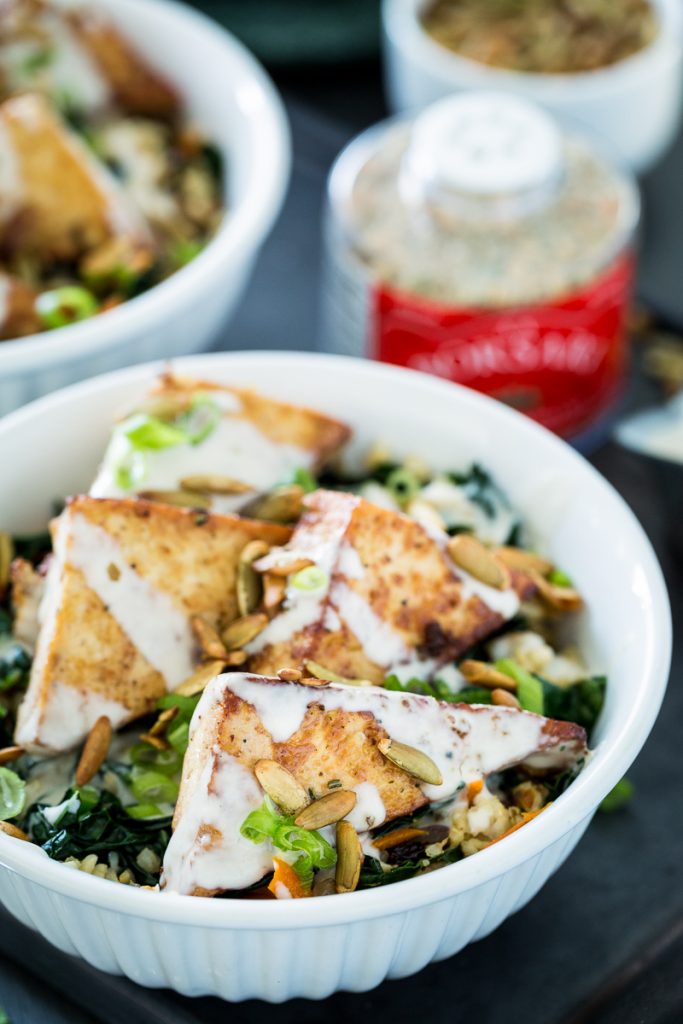 Borsari Foods, being the wonderful, generous folks that they are, are letting me give away another sampler pack of of their seasoning salts! The giveaway is open to US residents only and will run until 11:59pm on July 20th, 2015. Just use the box below to enter. Good luck!
Borsari Foods Seasoning Salt Sampler Giveaway

You can also follow Borsari Foods on social media!
Facebook: https://www.facebook.com/borsarifoods
Twitter: https://twitter.com/borsarifoods
Instagram: https://instagram.com/borsari_foods/
Pinterest: https://www.pinterest.com/borsarifoods/
Thank you so much to Borsari Foods for letting me do this giveaway and thank you to all of you wonderful readers for stopping by! Have a great day!
Disclaimer: I was compensated for this post by Borsari Foods, but the thoughts and opinions expressed here are my own. 
Photography by Chris Miller