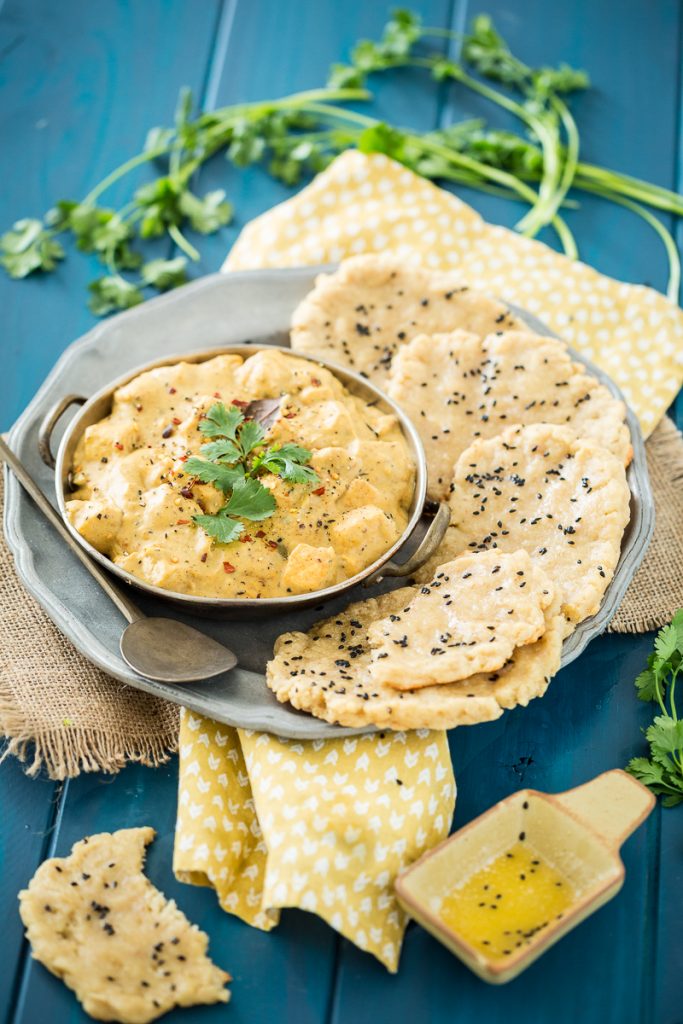 I'm sure that you're all familiar with the gorgeous and prolific blog that is Vegan Richa. You've probably drooled over her stunning pictures of tasty Indian and American food dishes. You may've tried some of her recipes and know first-hand, just as I do, how delicious and foolproof her recipes are. When Richa Hingle, the blogstress behind the popular blog, asked me if I'd like to review her new book, I of course jumped at the chance.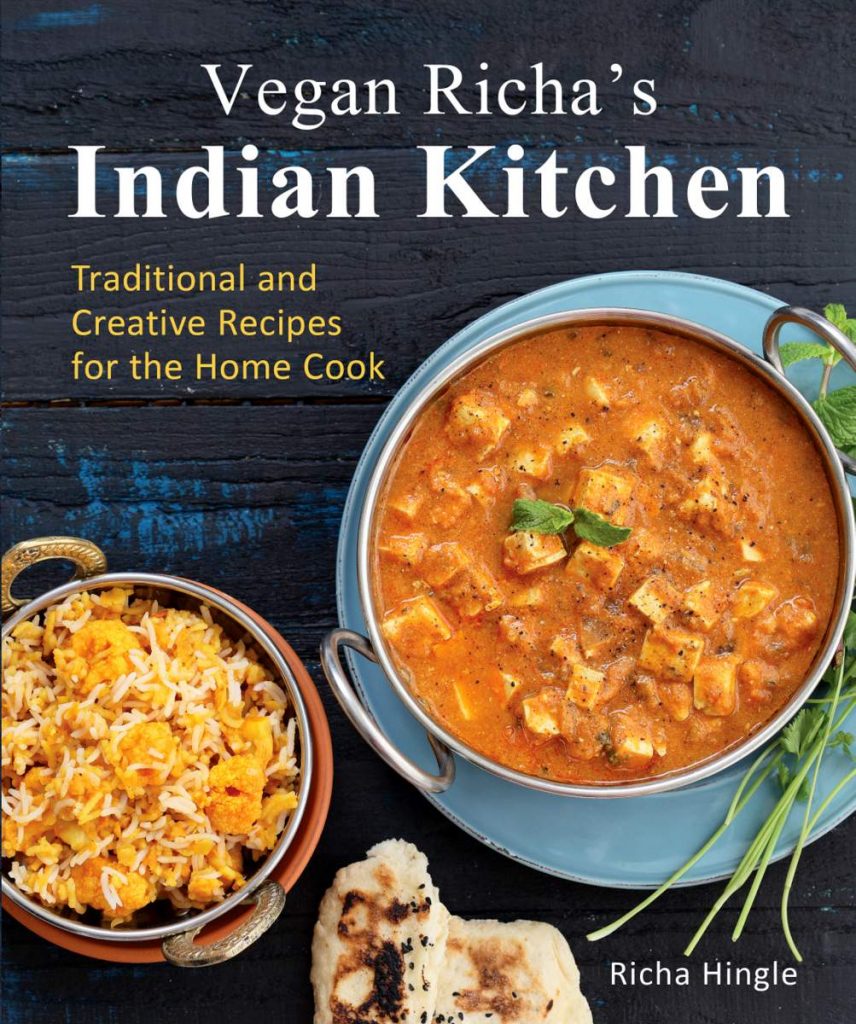 Vegan Richa's Indian Kitchen is perfect for those among us who like to eat delicious Indian food but don't like getting too fussy in the kitchen, which, let's be honest, is pretty much everyone. Richa has created over 125 vegan recipes that demonstrate how beautiful and simple Indian food can be. There are choices for every craving and every meal, from dals, curries, and flatbreads to breakfasts and desserts. The book is also a feast for the eye, being filled with tons of Richa's beautiful photography.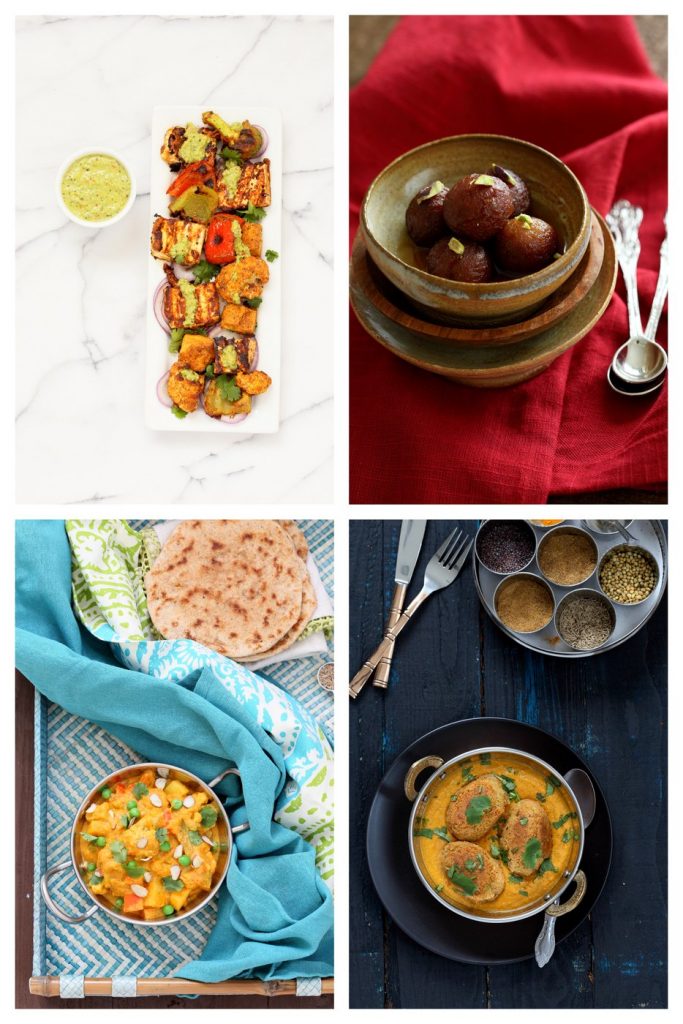 I chose to try one of the curries, the Mango Curry Tofu, to be exact. I love all things mango and the idea of pairing it with indian spices sounded wonderful. To go with it, I knew I had to make some naan. Back when I could eat gluten, the naan was one of my favorite parts of the Indian food experience and it's an experience I've been missing. Knowing how good Richa is at creating gluten-free breads, I chose to try the Gluten-Free Oat Naan. I couldn't find nigella seeds so I used black sesame seeds as Richa suggests in the introduction to the book (she also suggest using dried onion flakes with the sesame seeds, but I didn't have any on hand). Both the curry and the naan were delicious! The naan wasn't an exact replica of its gluten-full counterpart, but it was still just as satisfying when dipped into the luscious curry.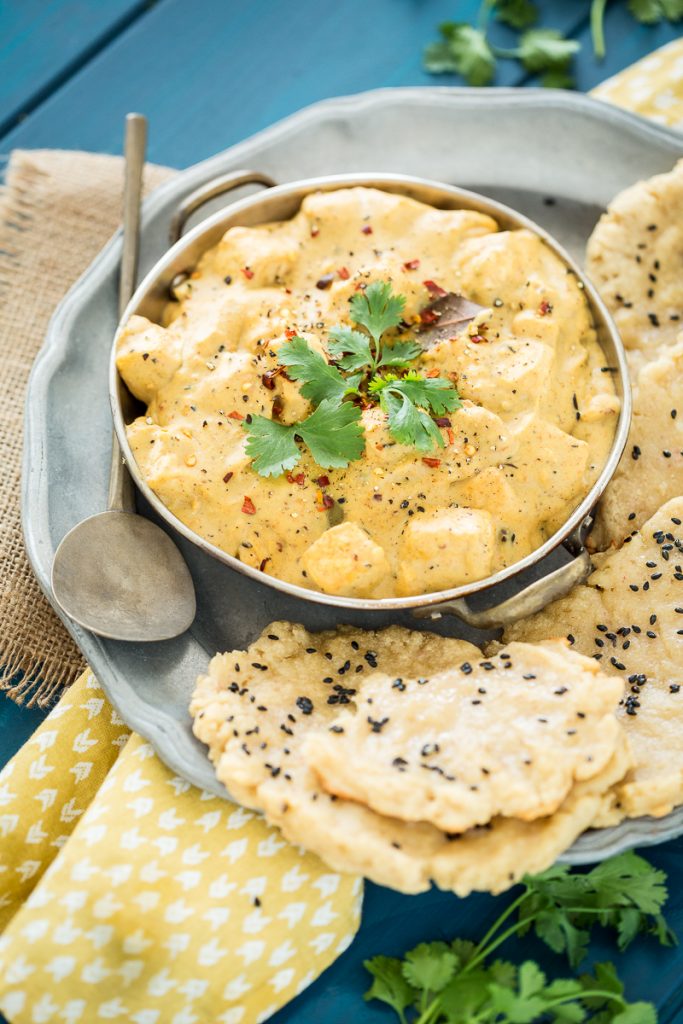 Richa and Vegan Heritage Press have given me permission to share the Mango Curry Tofu recipe with you so you can enjoy it in your own home!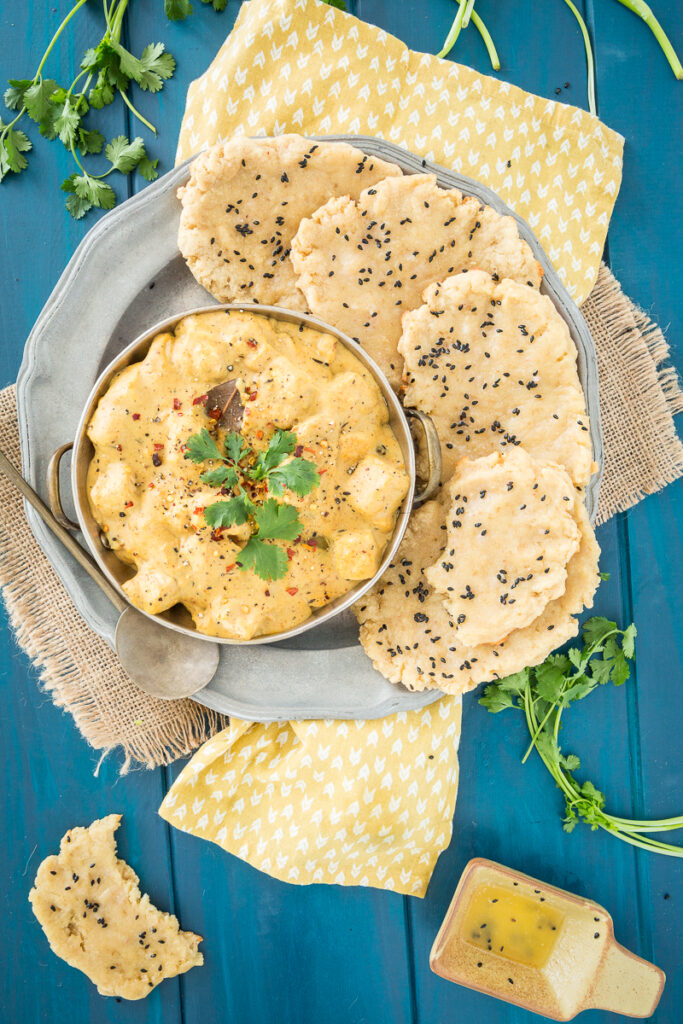 Mango Curry Tofu from Vegan Richa's Indian Kitchen + A GIVEAWAY!
Mangoes are abundant in India, where they are always juicy and sweet. In the United States, mangoes can be a bit tart. For desserts or curries like this one, I prefer mango pulp or puree in canned or bottled form. You can use a ripe mango, if you prefer, but be sure to puree it well before using. This is a simple recipe but the resulting dish is very alluring with its sweet and spicy sauce. It can easily be made soy-free.
Ingredients
14 ounces firm tofu
2 teaspoons safflower or other neutral oil
1/4 teaspoon cayenne
1/4 teaspoon ground cinnamon
1/2 teaspoon Garam Masala
1/4 teaspoon salt
3/4 cup chopped red onion
1 (1-inch) knob of ginger
3 cloves garlic
2 tablespoons water
1 teaspoon safflower or other neutral oil
1/4 teaspoon cumin seeds
2 bay leaves
4 cloves
1 1/4 cups canned or culinary coconut milk
3/4 cup ripe mango pulp or puree (unsweetened or lightly sweetened canned)
1/2 teaspoon salt
2 teaspoons apple cider vinegar
Generous dash of black pepper
1/4 teaspoon Garam Masala, for garnish
2 tablespoons chopped cilantro, for garnish
Instructions
Tofu: Cut the tofu slab into 1/2-inch slices. Place them on a clean kitchen towel. Cover with another kitchen towel. Place a 10-pound (approximate) weight on top and let sit for 10 minutes. Alternatively, you can use pressed tofu. Cut the tofu slices into 1/2-inch cubes.
Heat the oil in a large skillet over medium heat. When the oil is hot, tilt the skillet so the oil coats it evenly. Add the tofu and cook until lightly brown on some sides, stirring occasionally, 4 minutes. Add the cayenne, cinnamon, garam masala, and salt and mix well to coat. Cook for another 2 minutes and set aside.
Curry: In a blender, combine the onion, ginger, and garlic and blend into a smooth puree with 2 tablespoons of water. Heat the oil in a large skillet over medium heat. When the oil is hot, add the cumin seeds, bay leaves, and cloves. Cook for 1 minute. Add the pureed onion and cook until the onion mixture is dry and does not smell raw. Stir occasionally to avoid sticking, 13 to 15 minutes. Add the coconut milk, mango pulp, salt, and vinegar and mix well. Add the tofu and all the spices from the tofu skillet to the sauce skillet. Add a dash of black pepper.
Mix, cover and cook until the sauce comes to a boil, 5 minutes. Reduce the heat to low and cook uncovered until the sauce thickens and desired consistency is achieved, about 15 minutes. Taste and adjust the salt and tang. Add 1/2 teaspoon or more sugar if the mango pulp was not sweet. Garnish with cilantro and a dash of garam masala and serve hot.
Notes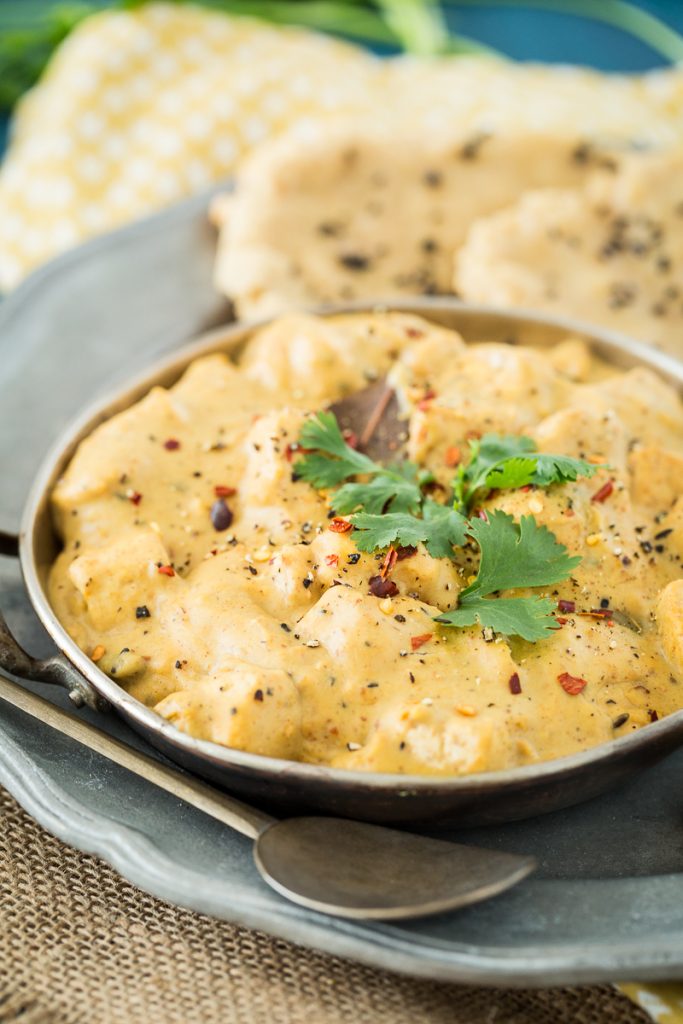 Richa and Vegan Heritage Press are also letting me give away one copy of Vegan Richa's Indian Kitchen to one of you wonderful readers. I am also giving away a second copy (I somehow received two review copies), myself, so there will be a total of 2 winners! The giveaway will run until 11:59 on 6/25/15 and is open to US residents only (Sorry!). To enter, please leave a comment below, answering the following question. The winners will be picked at random. Congrats to Carla, the winner!
What is your favorite Vegan Richa recipe (from the blog or book)?
Thank you to Richa and Vegan Heritage Press for letting me review this book. Thank you to all of you lovely people for stopping by today!
Disclaimer: I was given this book to review but the thoughts and opinions expressed here are my own.
Photography by Chris Miller