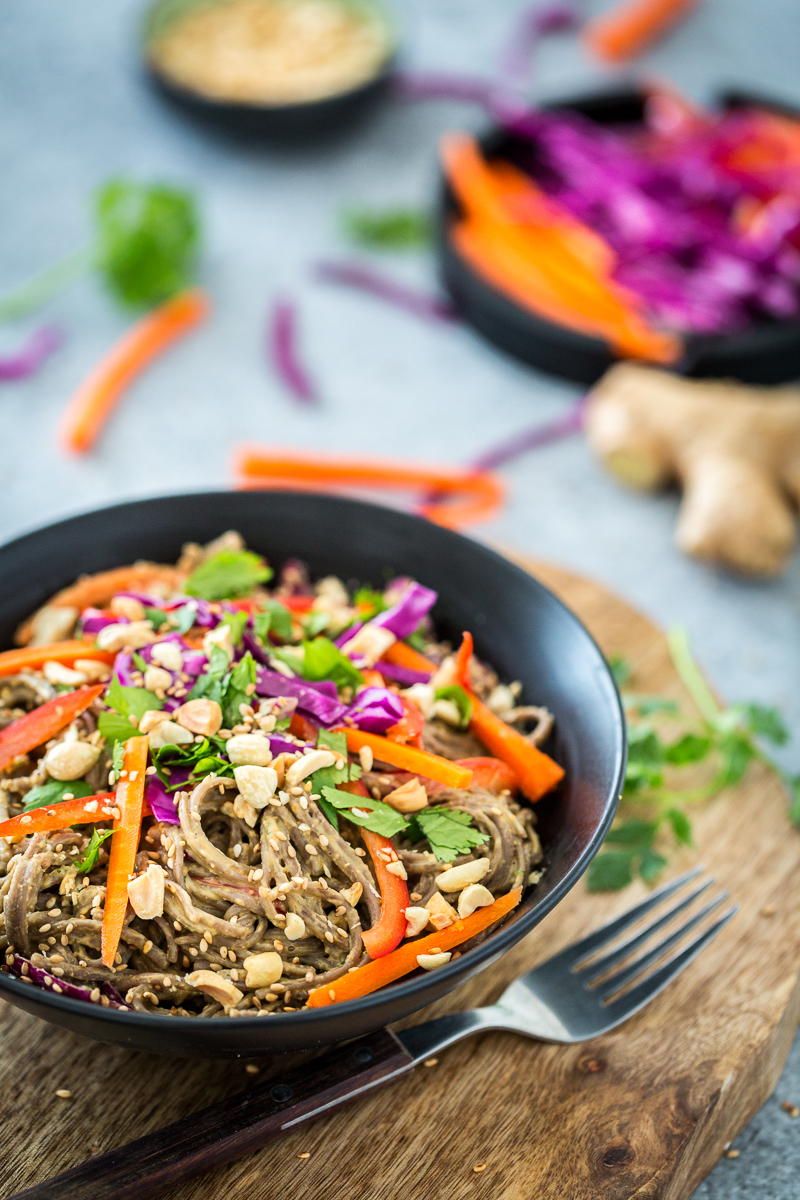 You may not believe this, but I had no idea what a blog was until I went vegan. It wasn't until I went vegan that I began scouring the interwebs looking for vegan recipes and resources. During this process, I discovered tons of vegans out there, sharing helpful tips and recipes they'd created, usually accompanied with pictures and stories, and they were doing all of this on personal websites I soon discovered were called "blogs." I started by subscribing to a few, bookmarking others. I began making recipes from their sites and these recipes were what gave me confidence in my choice to become vegan and confidence that we could still eat just as well, if not better, than we had when we were vegetarians. One of these blogs, the one that always provided simple, approachable, and always delicious recipes that included ingredients I already had in my kitchen was Healthy. Happy. Life.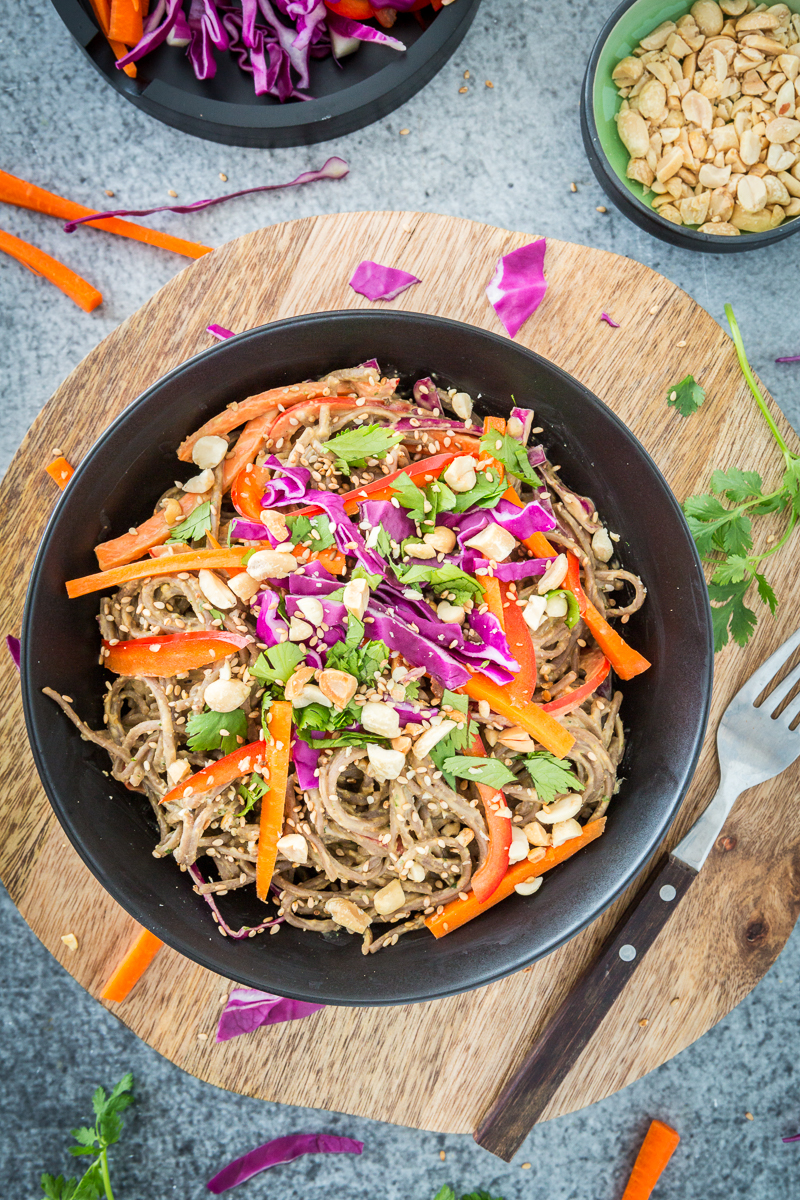 I'm sure Kathy Patalsky of Healthy. Happy. Life. needs no introduction as she's probably been a presence in many, if not most, of our kitchens at one point or another. I know that Kathy's Roasted Cheezy Broccoli was the first broccoli recipe that I actually liked (broccoli is not my favorite vegetable by a long shot) and then continued to make on a regular basis. The first vegan ranch dressing I ever made was hers. And if it weren't for Kathy, I probably never would've thought to add matcha green tea powder to my smoothies (and now I have one on the daily!). And if that weren't enough, she also runs the wildly successful site, Finding Vegan, which now has its own app!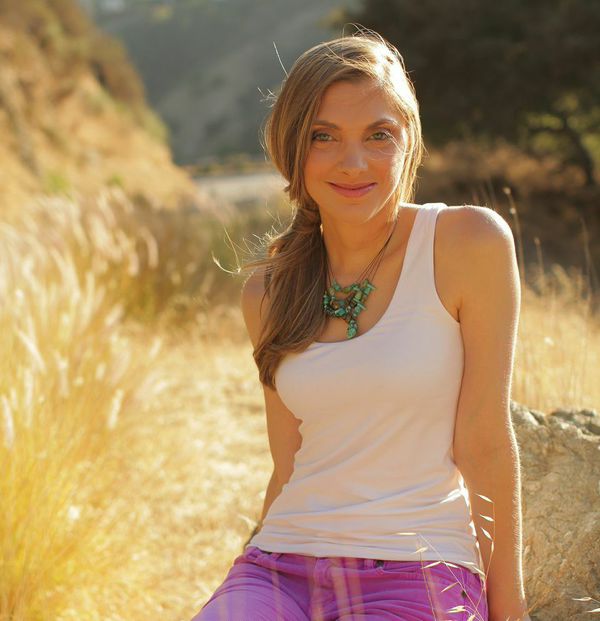 Photos © Kathy Patalsky
What I really admire about Healthy. Happy. Life., more than the recipes, is Kathy herself. She invokes enthusiasm, positivity, kindness, and fun into each of her posts. She also has the ability to eloquently describe each dish that she shares so well that you don't even to need her gorgeous, enticing photography to lure you into trying the recipe. In the last year, I've been fortunate enough to meet Kathy in person and I feel blessed to call this lovely person my friend. When I learned that Kathy was coming out with a full cookbook (to follow-up her fabulous 365 Vegan Smoothies), I had two thoughts: 1.) "I'm so happy for her!" and 2.) "It's about time!"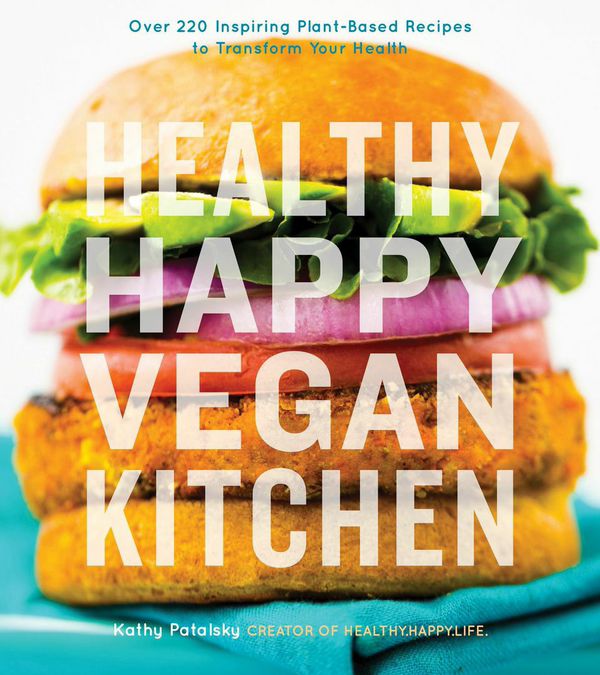 Photos © Kathy Patalsky
For fellow fans of the blog, Healthy Happy Vegan Kitchen does not disappoint. Full of inventive, drool-worthy, and approachable recipes, stunning photography, and Kathy's positive energy, this book is bound to become a new vegan kitchen staple. Her tips on veganizing your kitchen and how to be healthy and happy outside of the kitchen will make this the perfect resource for both long-time vegans and the newcomers.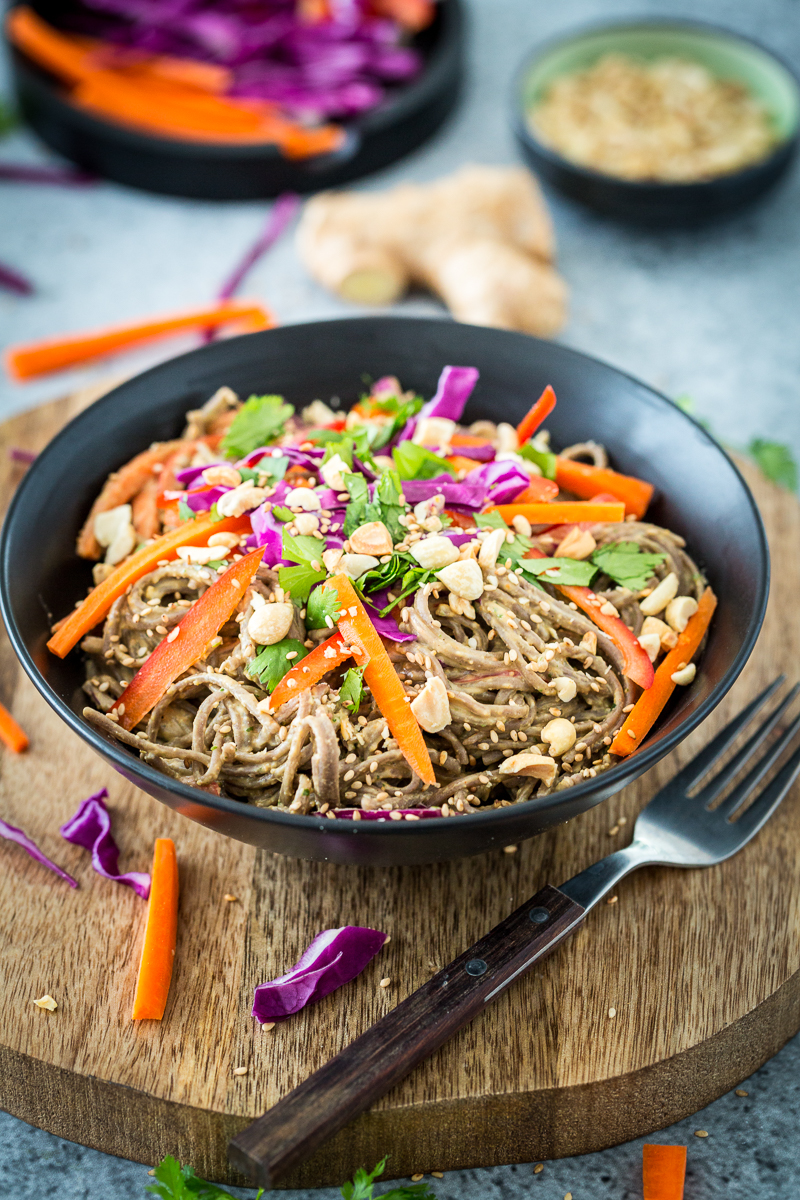 The first recipe I've tried from the book (I say "first," because I have a big list of recipes I can't wait to delve into) was the Spicy Peanut Soba Noodles with Veggies. If you can believe it, I've never cooked anything with soba noodles but I knew that one of Kathy's recipes would be a great starting guide. Sure enough, the Sweet and Spicy Peanut Sauce is so luscious and delectable, I wanted to eat it by the spoonful rather than pouring it over noodles, but I'm glad I persevered and followed the recipe by adding the simple sauce to the cooked noodles and topping with fresh veggies, cilantro, sesame seeds, and peanuts.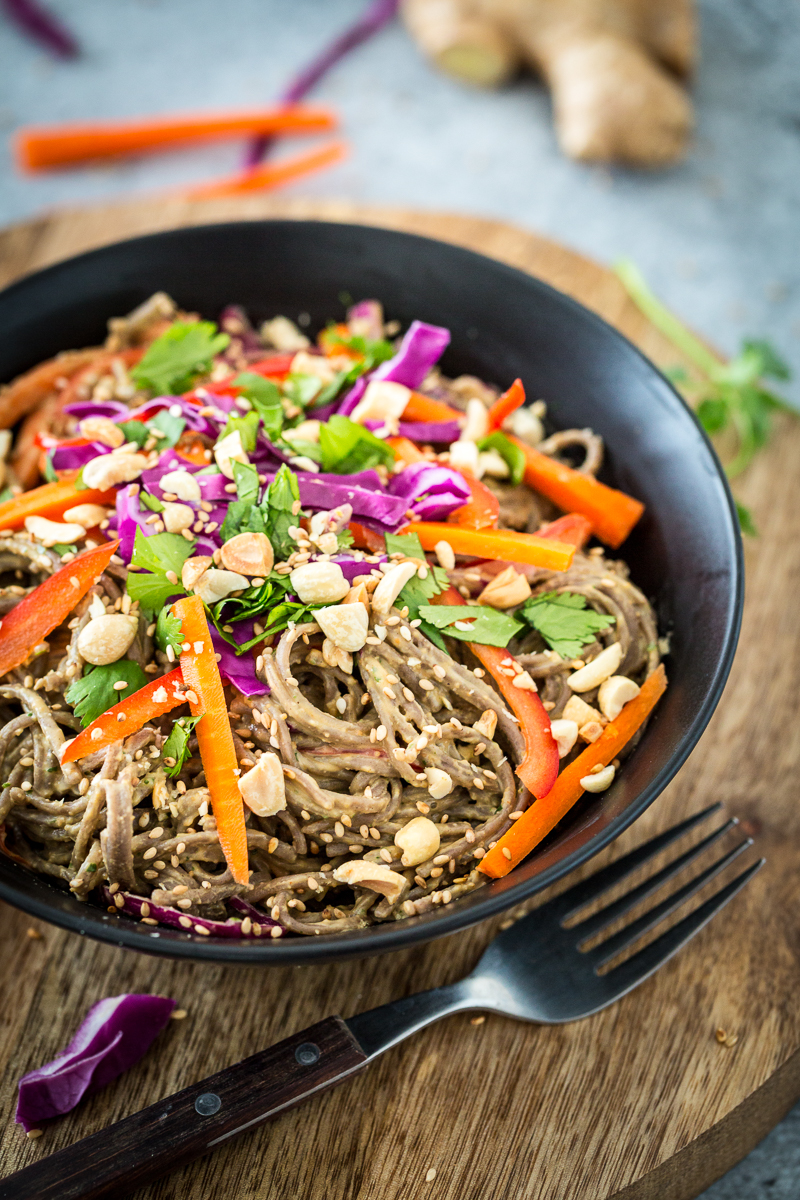 I'm happy to say that my first foray into soba noodles was an absolute success, not to mention absolutely delicious! Aside from being uber simple and the whole dish coming together in less than 15 minutes, this peanut sauce is the perfect balance of sweet and spicy and the teaspoon of sesame oil adds a nice depth. The chewy soba noodles (I used a gluten-free buckwheat variety), coated in this rich, zesty sauce was perfect by itself, but with the added veggies (I used carrots, red bell pepper, and purple cabbage), nuts, and seeds, it had the perfect amount of texture and flavors. It's definitely something I see myself making again and again.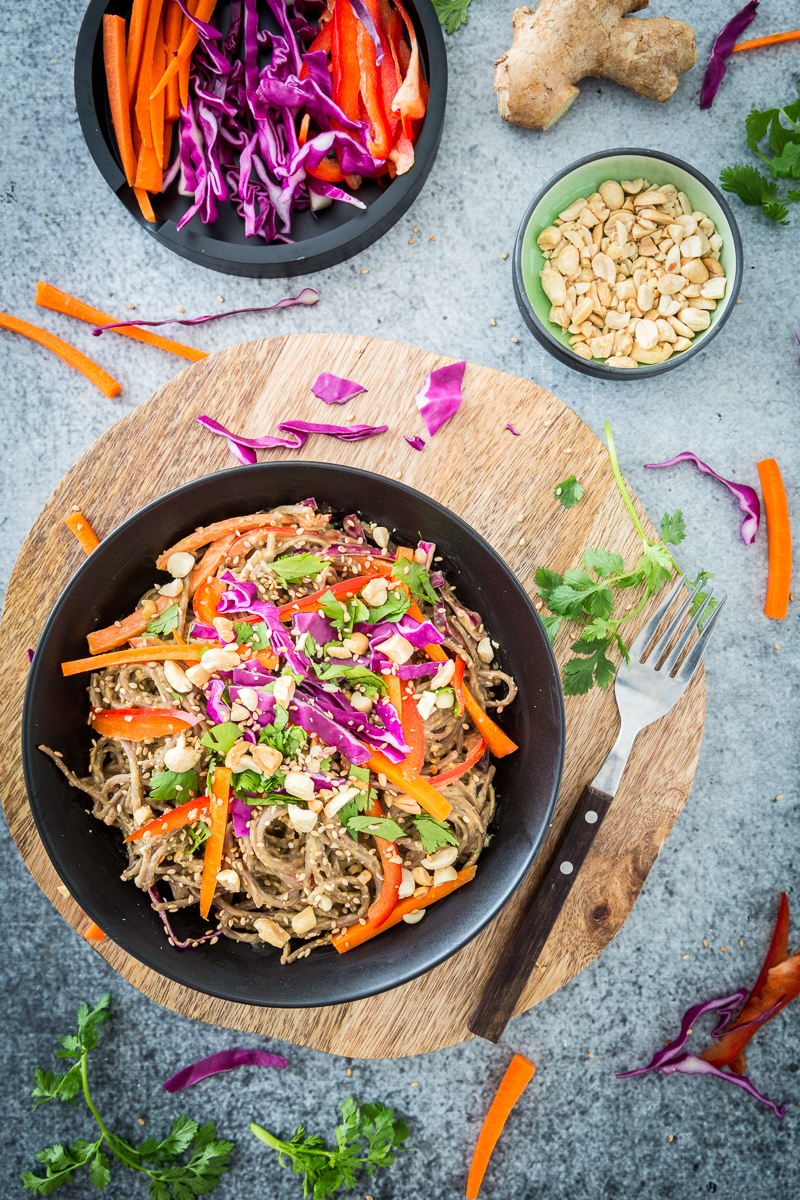 Kathy and the folks at Houghton Mifflin Harcourt are letting me share this awesome recipe with all of you! Enjoy!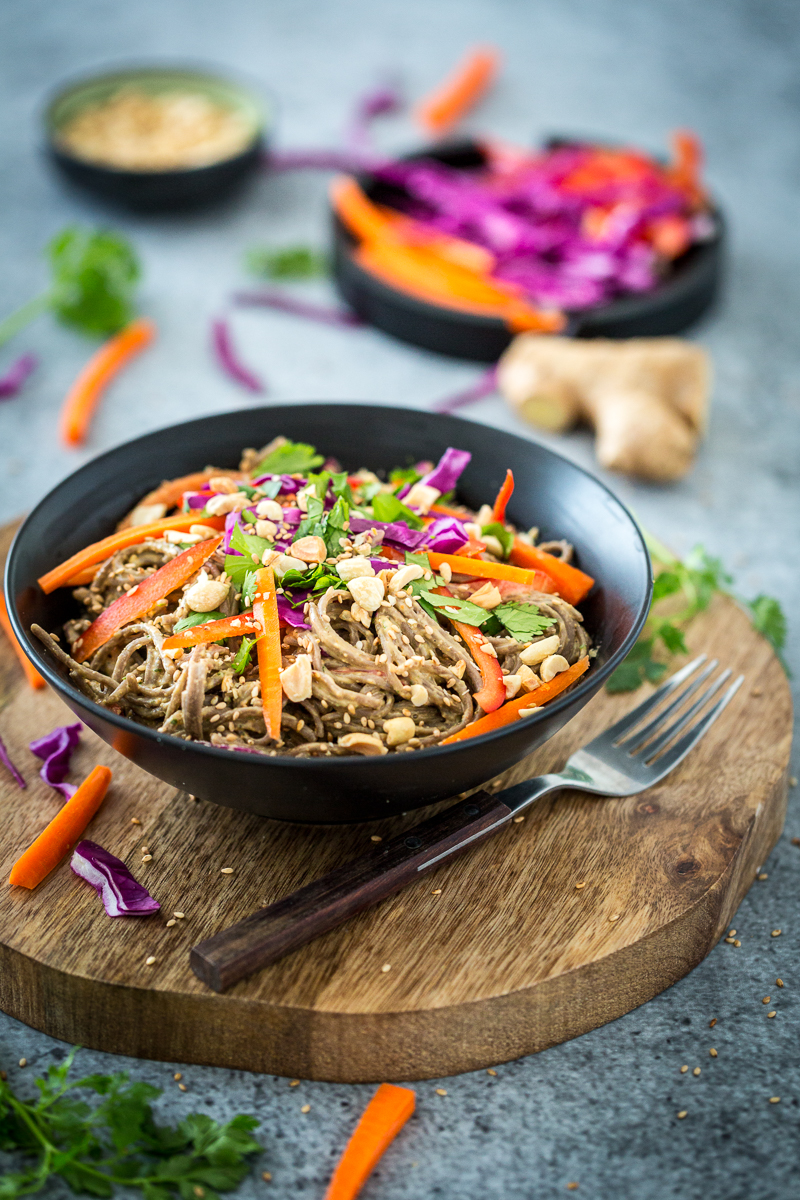 Spicy Peanut Soba Noodles with Veggies from Healthy Happy Vegan Kitchen + A GIVEAWAY!
Text excerpted from HEALTHY HAPPY VEGAN KITCHEN, © 2015 by Kathy Patalsky.
This peanutty noodle dish is delicious, craveable, and healthy. Think of it as comfort food pasta for peanut lovers! Soba noodles are rich in the good-for-you grain buckwheat and the creamy flavorful peanut sauce is the perfect complement. This sauce is delicious both thick and creamy and thin and light, it just depends on what you crave. You can also modify the sweetness and spiciness to suite your taste buds. Add some carrots or choose your own veggie accents to fold into this versatile recipe!
Ingredients
3 cups uncooked soba noodles

Sweet and Spicy Peanut Sauce

3 to 4 tablespoons peanut butter, softened
2 tablespoons grade B maple syrup
2 tablespoons seasoned rice vinegar
1 tablespoon tamari
1 tablespoon chopped fresh cilantro
1 clove garlic
1 teaspoon sesame oil
½ teaspoon grated peeled fresh ginger
Few pinches of cayenne
¼ to ½ cup plain nondairy milk or water (see Note)
1 cup thinly sliced carrots
2 teaspoons hemp or sesame seeds (optional)
¼ cup finely chopped fresh cilantro 1 teaspoon crushed peanuts
Instructions
Bring a large pot of salted water to a boil. Add the noodles and cook until tender, about 5 minutes. Drain and rinse the noodles under cold water. For chilled noodles, transfer the noodles to a bowl and refrigerate until ready to use. Otherwise, cover the noodles to keep warm.
For the Sweet and Spicy Peanut Sauce: In a food processor or blender, combine the peanut sauce ingredients, adding the nondairy milk last a spoonful at a time until you reach a thickness you like, and process until smooth. If the noodles are cold and dry, a wetter sauce may be best, but if the noodles were just cooked and are still steamy and slightly wet, a thinner sauce may be better. You can also adjust the thickness by adding a spoonful more or less of the nut butter.
For warm noodles and sauce, pour the sauce in a small saucepan and simmer for 2 to 3 minutes just to warm. Otherwise, pour the sauce directly over the chilled noodles and place back in the fridge until ready to serve.
To serve, toss the dressed noodles with the carrots and seeds (if using) over the top. Sprinkle with the cilantro and peanuts to serve.
Notes
Add more or less non-dairy milk depending on how thick you like your sauce. Adding more will thin out the consistency.
Kathy and her publisher are also letting me give away a copy of Healthy Happy Vegan Kitchen to one of you beautiful people! The giveaway is open to US residents only (sorry, international friends!) and will run through 11:59pm PST on 4/27/15. Please use the box below to enter.
Thank you so much, Kathy, for letting me review your fabulous new book and to all of my wonderful readers for stopping by! Have a great day!
Unless otherwise noted, photography by Chris Miller