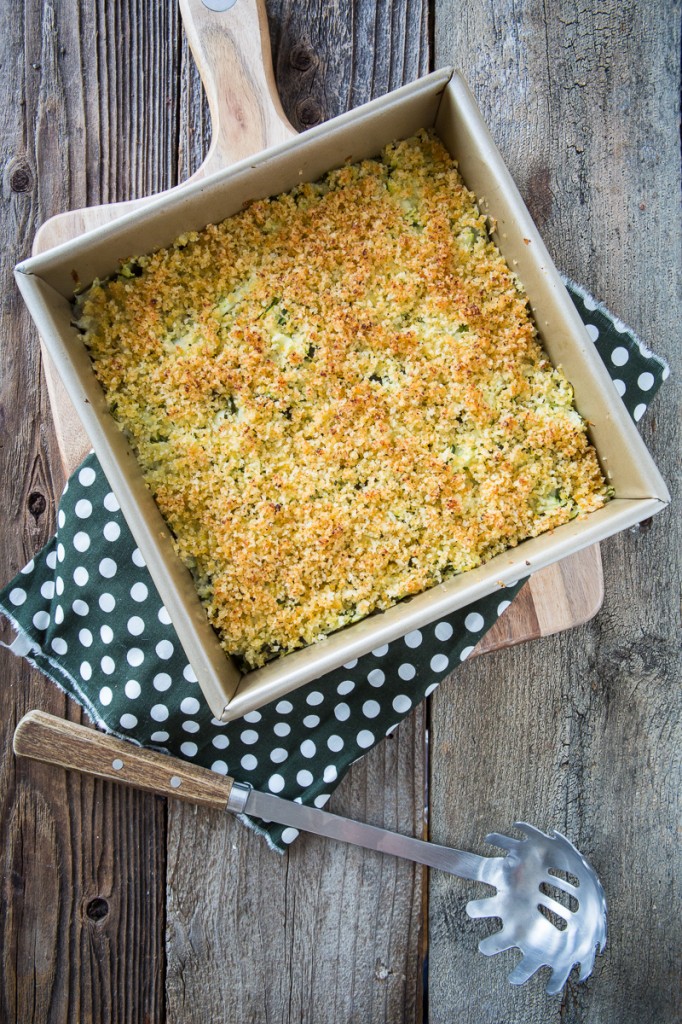 My childhood and early adult meals were often graced by casseroles, usually made with a canned condensed soup of some sort and topped with crispy things such as potato chips, corn flakes, or fried onions. As a child, I liked them because the warm mixture of flavors and textures was very satisfying and comforting to me. As I got older, and began to cook for myself, I loved that they were quick and easy to make and usually provided leftovers for another meal.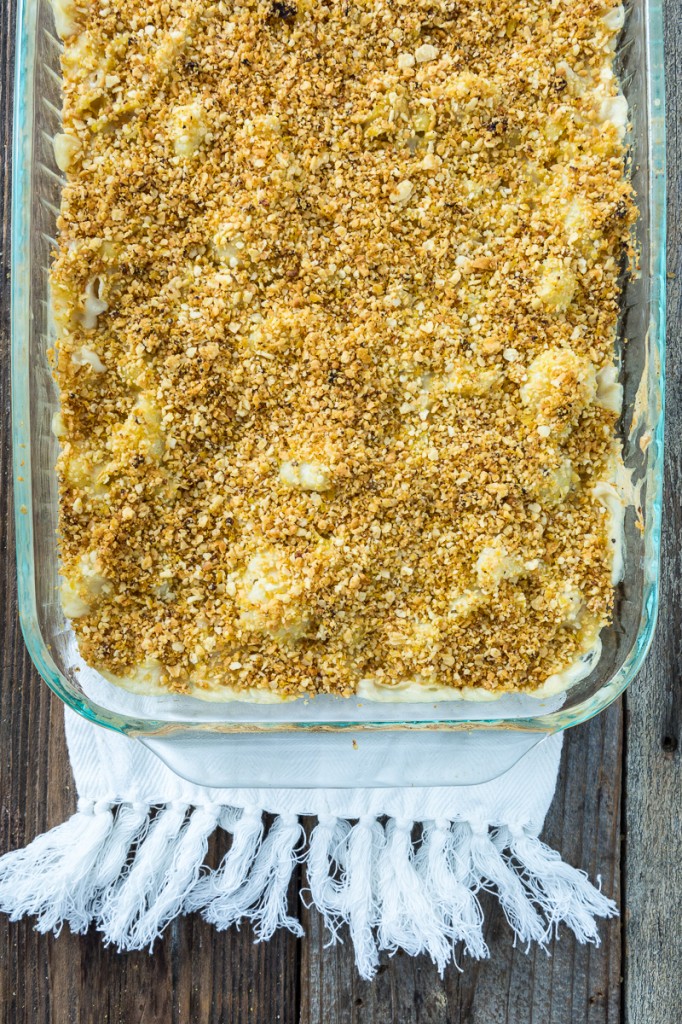 These days, I reserve casserole-making for when I have to cook for large crowds. Now that I'm vegan, casseroles can be pretty time-intensive if I don't want to purchase a bunch of not-so-good-for-you vegan substitutes. But not anymore. Vegan Kitchen Wizard/Goddess, Julie Hasson, has just released her newest cookbook, Vegan Casseroles. I've been anxious to get my hands on this book ever since I heard about it a few months ago. Now I have a multitude of casserole recipes, not only veganized, but also made easier and healthier than their predecessors.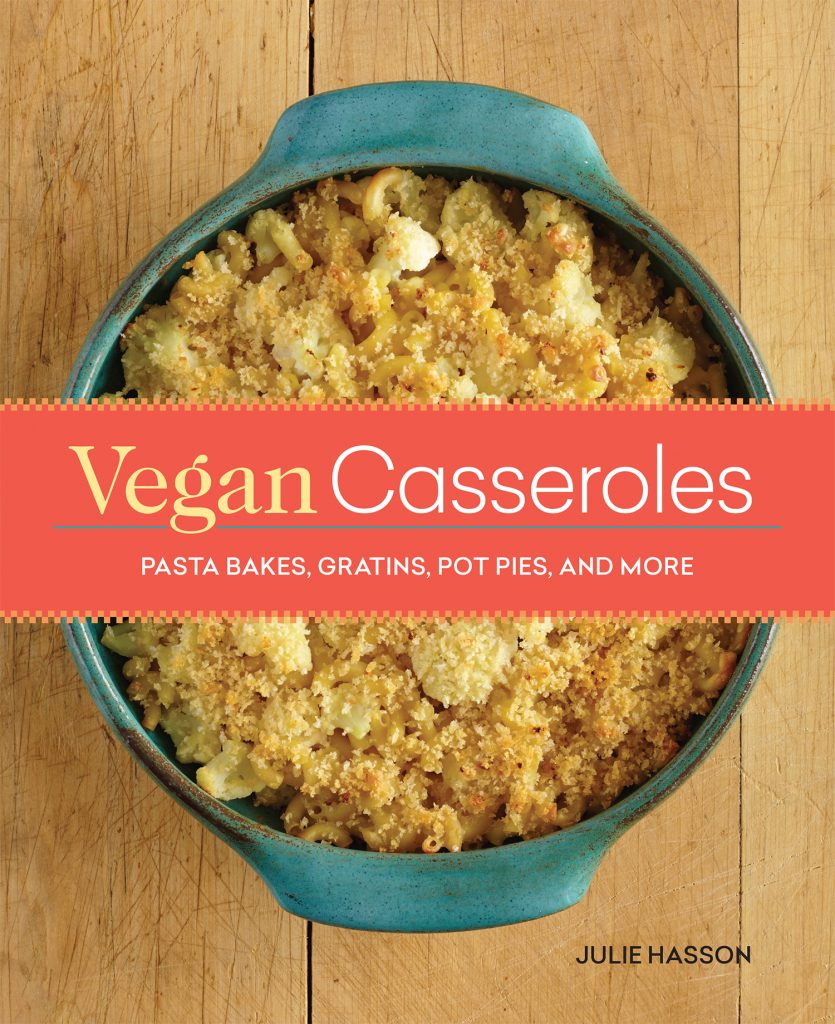 I got around to making two recipes from the book, but the book is still sitting on my kitchen counter with a ton of recipes dog-eared to try in the near future (The Nacho Tots Casserole, the Sloppy Joe Cornbread Casserole, and the Spinach Artichoke Casserole whispering sweet nothings in my ear as we speak).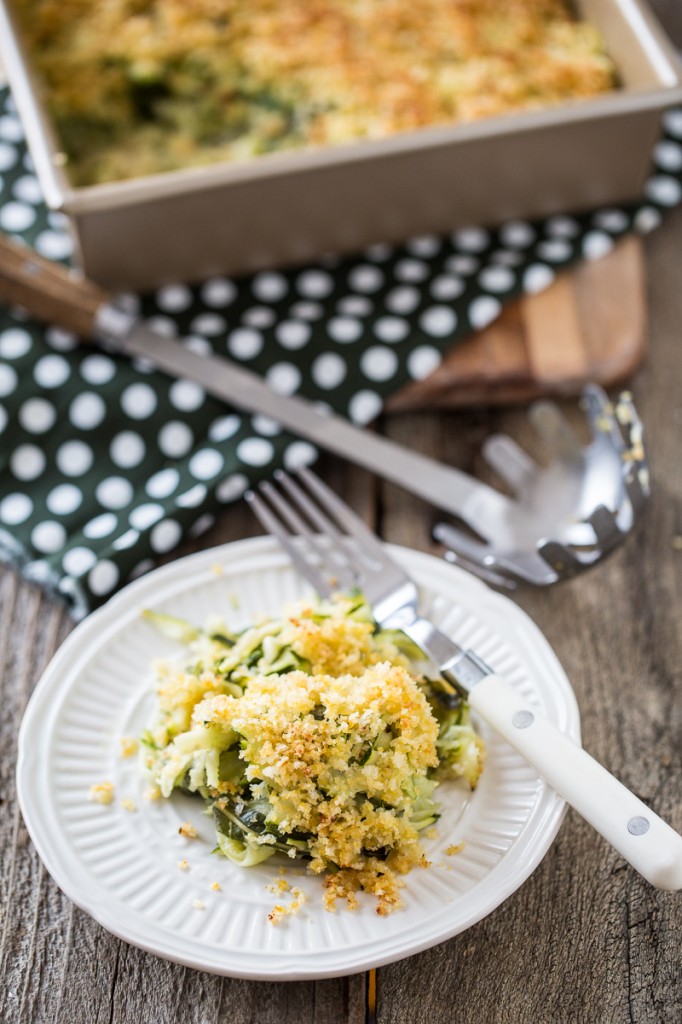 The first casserole I made was the Zucchini Basil Casserole because I was bursting at the seams with zucchini that my CSA had sent me. I'd never had a straight up zucchini casserole before so I didn't know what to expect. The casserole came together super quickly (5 minutes to grate the zucchini and another 5 to chop the basil and mix together the other ingredients) and a half hour later after putting it in the oven, we were sitting down to dinner. What struck me first was how delightfully buttery the casserole was and how well the zucchini and basil worked together. What I really loved, what I really couldn't get enough of, was the buttery crumb topping! Because Julie provides gluten-free options with most (if not all- I didn't have a chance to check every one) of the recipes, it was simple for me to just sub gluten-free panko crumbs, giving me the most perfect crisp, golden topping. The leftovers of this dish were like a delicacy- I wanted a serving with every meal but I didn't ever want it to end.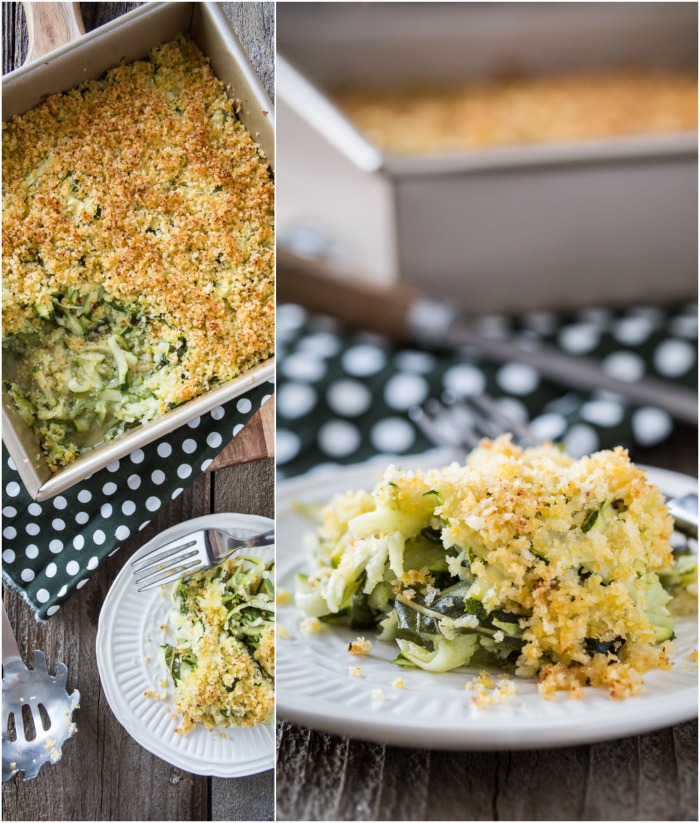 I also made the Truffled Cauliflower Mac because a.) the word "Truffled" was in the title, b.) Cauliflower is one of my favorite things, and c.) Mac n' Cheese (duh). I may have also chosen this recipe because it required a double recipe of that buttery crumb topping. Whatever the case, this might've been the most simple mac n' cheese I've made since the stuff in the blue box. It was less than an hour from the time I started that I was diving face first into this casserole dish serving my family dinner. Everyone was pleased (even the little cauliflower-hater in my family).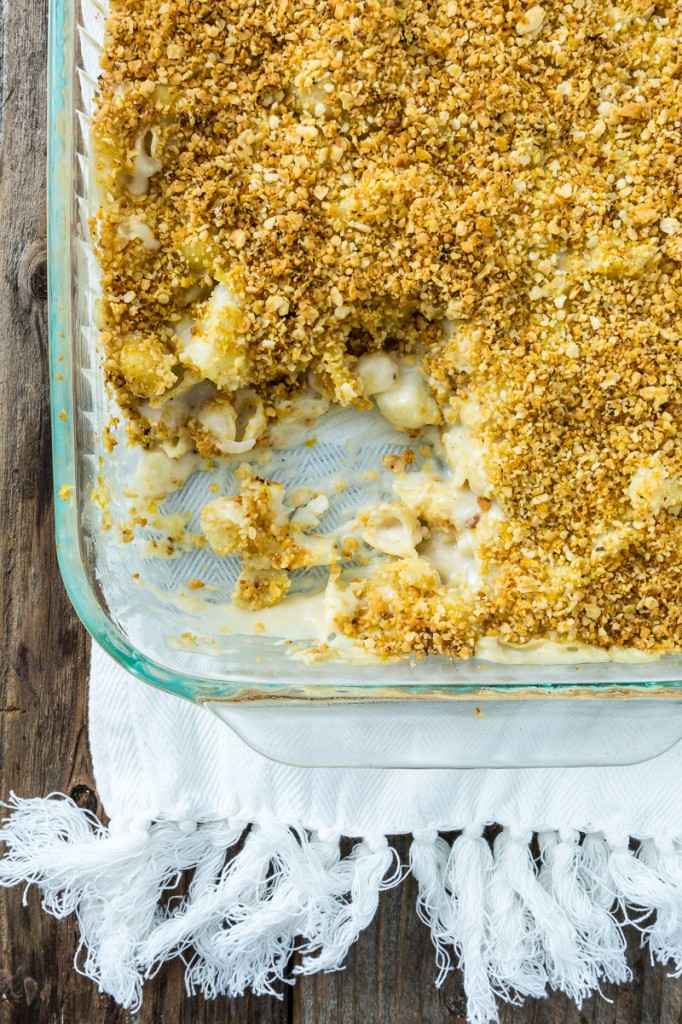 I know you've all just ordered Vegan Casseroles after drooling over these pictures, but while you wait for your copy to arrive, make a batch of this Zucchini Basil Casserole to tide you over until your copy arrives.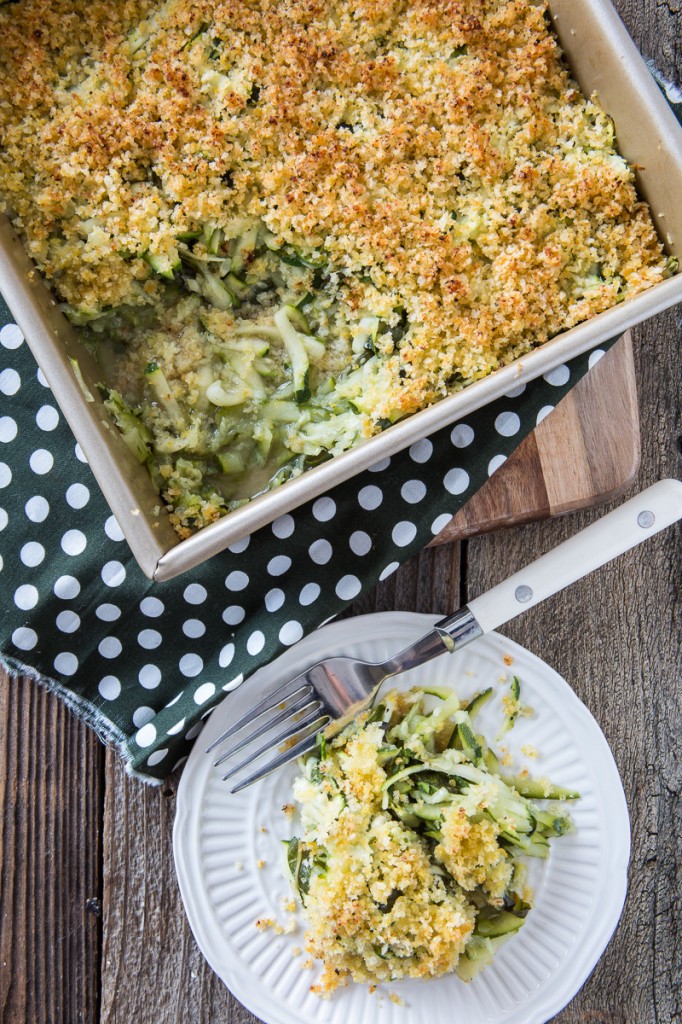 Reprinted with permission from VEGAN CASSEROLES © 2014 by Julie Hasson, Running Press, a member of the Perseus Books Group.
Ingredients
11/2 pounds zucchini
1/3 cup thinly sliced fresh basil
2 tablespoons non-hydrogenated vegan margarine, melted
3/4 teaspoon fine sea salt
Freshly ground pepper

buttery crumb topping (makes about 1/2 cup, enough to top an 8 or 9-inch casserole)

1/2 cup panko breadcrumbs
2 tablespoons non-hydrogenated vegan margarine, melted
1 tablespoon nutritional yeast flakes
1 clove garlic, pressed or finely minced
Pinch of salt
Instructions
Preheat the oven to 400°F. Grease an 8-inch square glass or ceramic baking dish.
Trim off the ends of the zucchini, and shred them on a large box grater in a medium bowl. Add the basil, salt, and melted margarine, tossing until everything is coated. Add a few grinds of freshly ground pepper.
Spread the zucchini mixture evenly into the prepared baking dish. Cover with foil and bake for 20 minutes. Carefully remove the foil, and evenly sprinkle the crumb topping over the zucchini. Return to the oven and bake for another 10 to 15 minutes, or until the top is browned and crispy.
In a small bowl, mix together the panko breadcrumbs, margarine, nutritional yeast flakes, garlic, and a pinch of salt. Adjust seasonings to taste.
Notes
Gluten-Free: Use gluten-free panko breadcrumbs in the topping.
Variation: For an herbed garlic-flavored topping, add 1 tablespoon chopped fresh herbs. For a richer topping, increase the melted margarine to 3 tablespoons.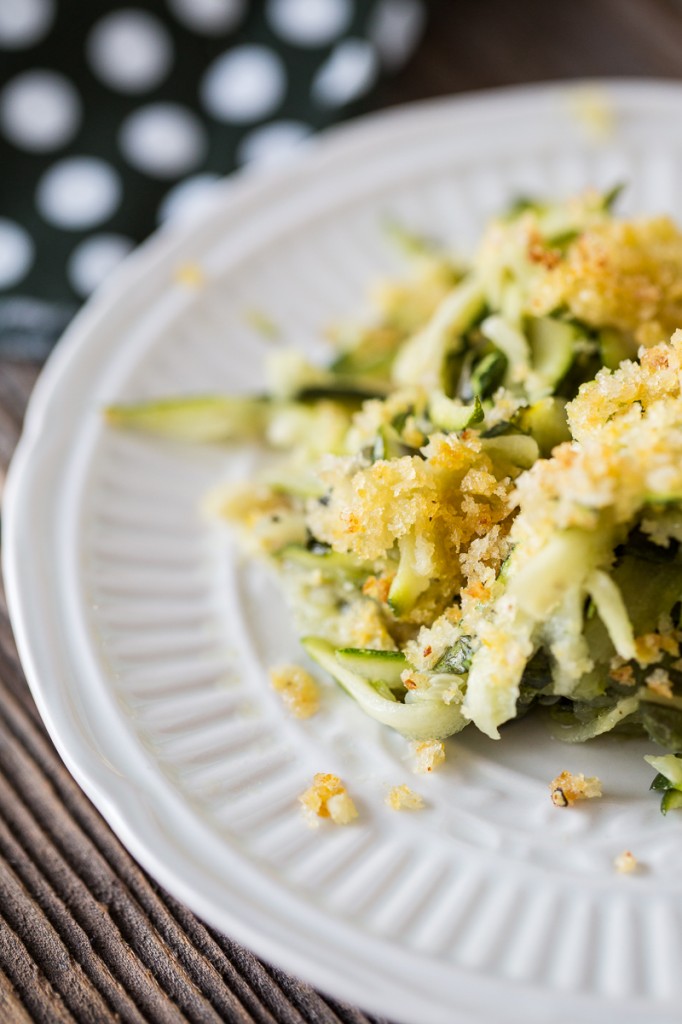 For those of you who haven't already bought your copy, Julie's publisher, Running Press, is running a huge, Mega-Giveaway right now. One lucky winner will receive a Breville Smart Oven to cook up all you casseroles in, and 5 runners-up will receive copies of Vegan Casseroles. See what I mean? HUGE! The giveaway is open to US residents only and will run until November 12th. Use the box below to enter.
a Rafflecopter giveaway

Thank you so much to Julie and Running Press for inviting me to be a part of this book tour and thank you to all of you gorgeous people for stopping by!
What is your favorite casserole?
Disclaimer: I was given this book to review but the thoughts and opinions expressed here are my own.
Photography by Chris Miller