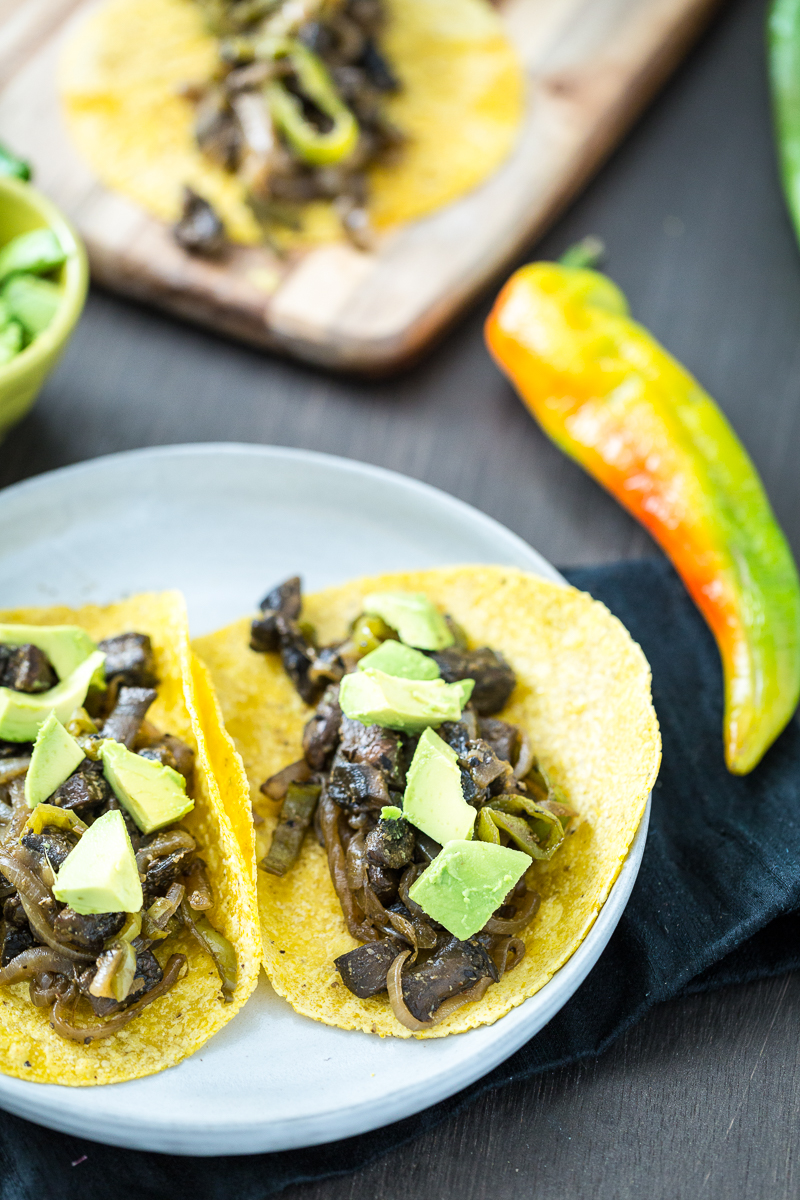 I've always liked tacos but when I became vegan, my affection for these simple-yet-gratifying handheld bundles of deliciousness really reached a whole new level. Before going vegan, I'd never really looked beyond meat and/or beans and/or cheese as fillings for tacos but now there is a whole realm of delectable possibilities to pile on a tortilla, fold in half, and shove in my mouth. With such a huge opportunity for creativity, vegan tacos have become a regular dinner rotation in our house.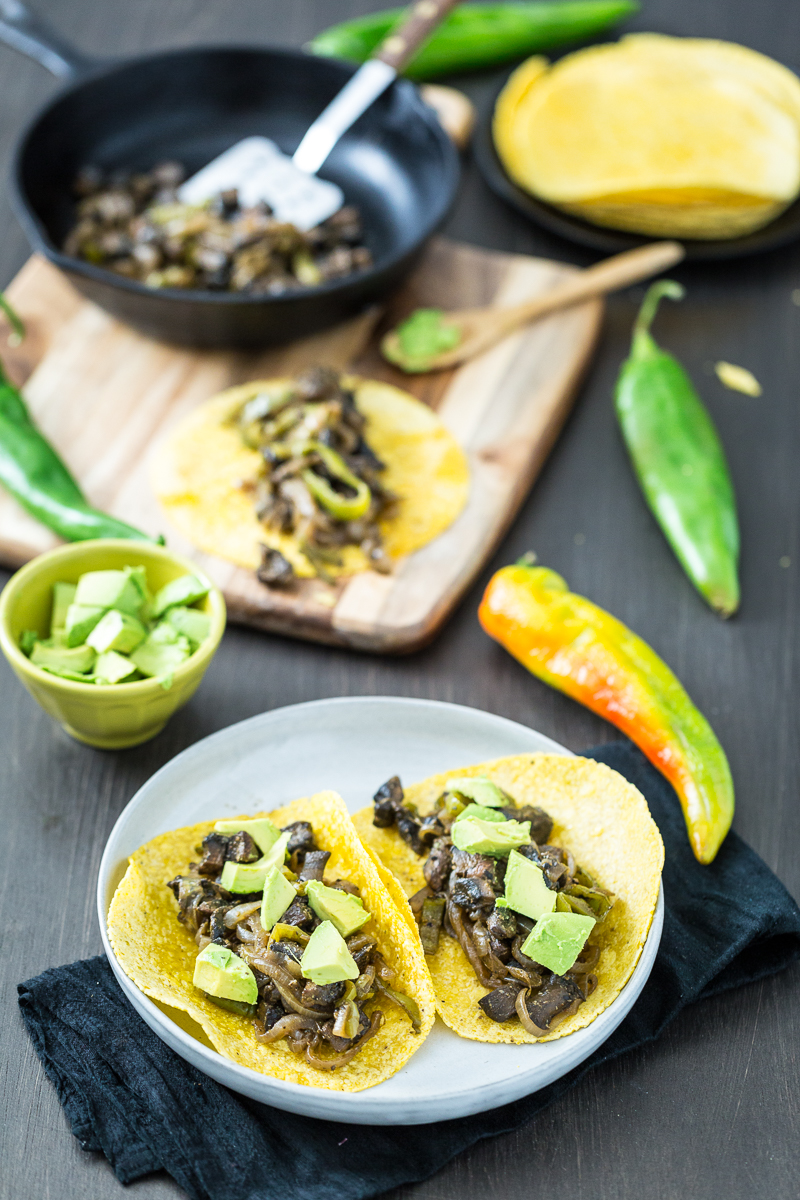 When I heard about Jason Wyrick's newest book, Vegan Tacos, I knew I needed to have it. After reviewing it and trying one of the recipes (and dog-earing a bunch more to try), I have to admit: My mind is blown. I knew there was a wide range of possibilites when it comes to building a plant-based taco, but there are infinite combinations in this book. He provides recipes for several homemade tortillas and a wide range of salsas, guacamoles, and even vegan cheese. This is on top of the huge amount of taco recipes, some with multiple choices for fillings. He even gives "Make It Simple" directions for some of his more "involved" recipes, making it so you can skip the fancy stuff without sacrificing taste and have dinner on the table sooner. He also gives "Make It Low-Fat" tips for those trying to watch what they eat.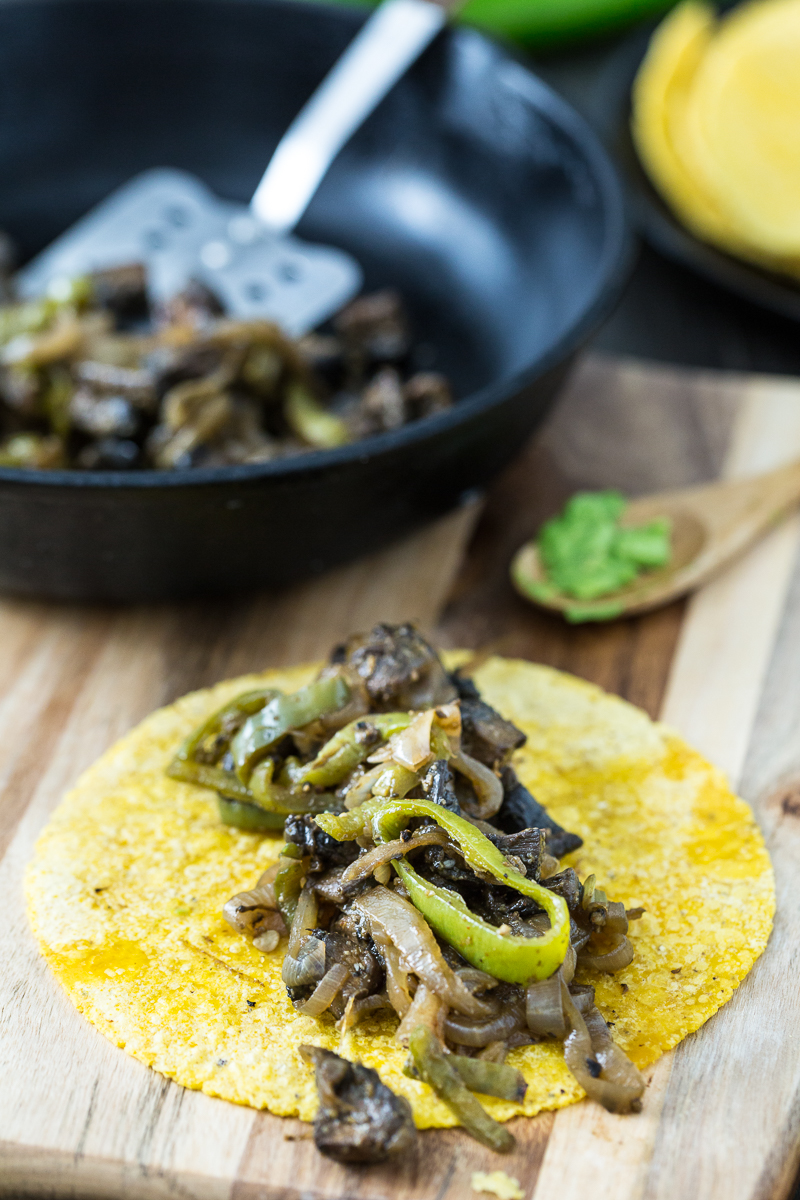 There are pictures all throughout the book, which I love. I would be remiss, however, if I didn't give props to my friends, Erin and Jeff, for shooting the gorgeous cover!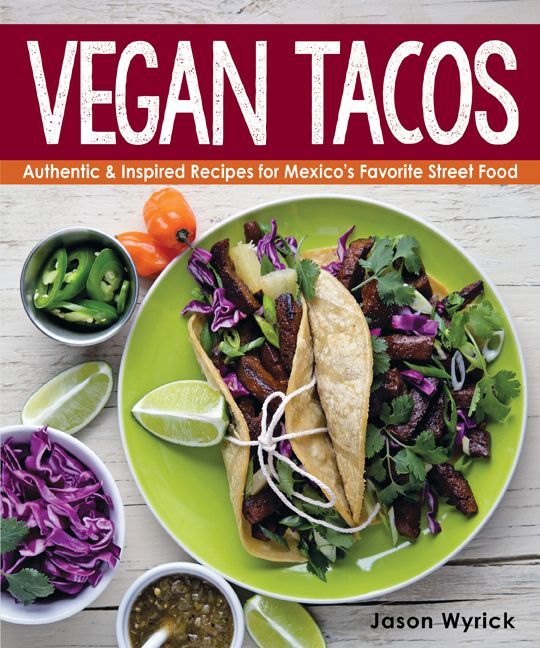 The recipe I tried was the Sonoran Tacos. It sounded tasty and I liked that the recipe gave me a choice of filling options- beans, portobello mushrooms, or seitan. I just so happened to have portobellos on hand as well as the required Anaheim peppers so it was meant to be. Plus, this recipe had the "Make It Simple" option and since I was exhausted that day, the word "Simple" was music to my ears. I used corn tortillas instead of flour and I didn't make the suggested salsa or queso (remember when I said I was exhausted?) but I did top it with avocado and Chris and I both thought the tacos were really great. They're not the prettiest to look at, but our tastebuds didn't care. And it was so easy, I could see myself making this recipe again and again.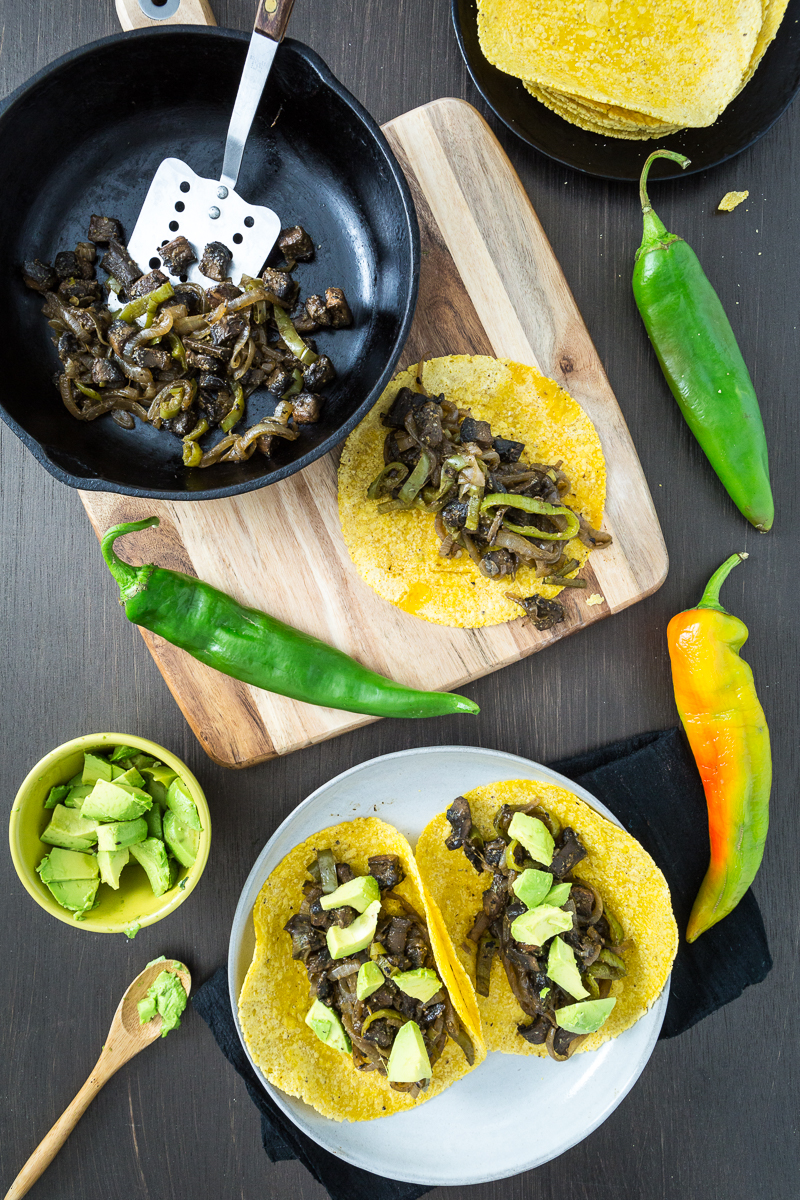 Sonoran Tacos + A Review of Vegan Tacos by Jason Wyrick & a GIVEAWAY!
From Vegan Tacos by Jason Wyrick. ©2014 Jason Wyrick. Used by permission from Vegan Heritage Press.
Ingredients
The Filling (choose either the beans, portobello, or seitan)

1 tablespoon olive oil
1 medium onion, cut into 1/4-inch strips
2 cups cooked pinto beans, rinsed, or 2 large portobello mushrooms, chopped into bite-size pieces, or 2 cups cubed seitan
2 cloves garlic, minced
3/4 teaspoon salt
3/4 teaspoon freshly ground pepper
4 Anaheim chiles or any long green chile, pan-roasted and cut into strips (pan-roast the chiles while you caramelize the onion)
8 (6-inch) flour tortillas
Hot sauce of your choice
Chopped avocado
Instructions
Heat the oil in a large skillet over medium-high heat. Add the onion and sauté until well caramelized, 8 to 10 minutes. Remove the onions from the skillet and return the skillet to the heat. Add the filling of your choice (either the beans, mushrooms, or seitan).

Pintos: Lower the heat to medium. Add the beans and garlic to the pan and sauté for about 2 minutes. Season them with the salt and pepper, and then remove them from the heat.

Portobellos: Keep the heat at medium-high. Add the portobellos to the pan and sauté for 4 to 5 minutes. Add the garlic about 1 minute before you are done cooking the mushrooms. Season with salt and pepper and remove from the heat.

Seitan: Keep the heat at medium-high. Add 1 more teaspoon of oil to the pan. Add the seitan and sauté it for about 5 minutes, until it is well browned. Add the garlic and sauté this for 1 more minute. Season the seitan with salt and pepper and remove it from the heat.

Warm your tortillas. Add the filling, followed by the sliced roasted chiles, then the salsa, and a scattering of avocado.
Instead of pan-roasting the chiles, just remove the stems and seeds and cut them into strips. Add the chiles, onion, the garlic, the filling, salt, pepper, and oil to the pan all at the same time. Turn the pan to a medium heat and cook this until the onion is lightly browned. It will take you about 10 to 15 minutes to get everything done, but you don't have a bunch of different steps to take and you only need to stir the food every couple of minutes.
You can cook the onions without adding any oil to the pan. Just sauté them over a medium high heat in a dry pan, stirring them every minute or so. Once they are browned, add 1/4 cup of water to the pan, give everything a quick stir, and then add your filling of choice, along with the garlic, salt, and pepper. Reduce the heat to medium and cook until the filling is done, about 2 minutes for the beans, 3 minutes for the mushrooms, and 3 minutes for the seitan.
Turn a dry iron skillet or heavy pan to medium heat. Lay the chiles on the pan. When they blister on the bottom, flip them over and repeat until all sides are blistered. Peel the blistered skin away from the chiles and discard the stem and seeds.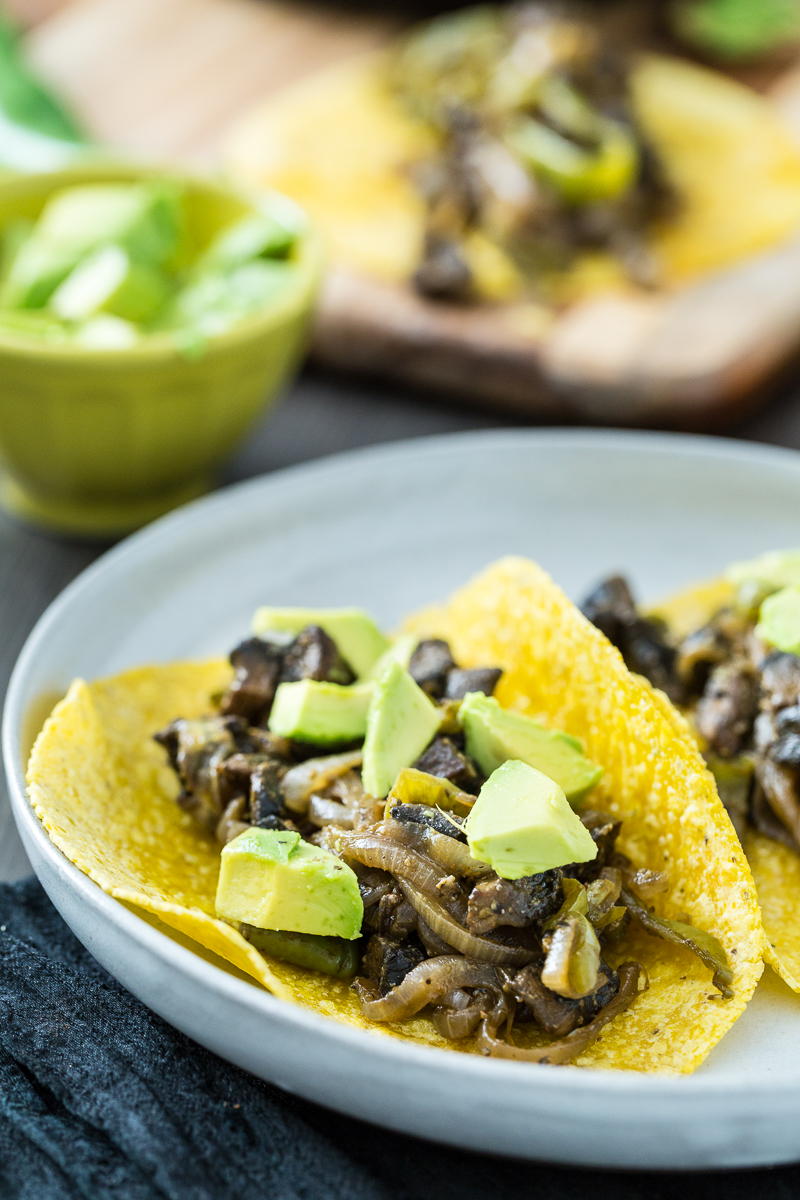 Vegan Heritage Press has been kind enough to let me give away a copy of Vegan Tacos to one of my lovely readers! It is open to US and Canadian residents only and will run until 11:59pm on September 20th, 2014. Please use the box below to enter.

Thank you so much to Vegan Heritage Press and Jason Wyrick for letting me review this fantastic book. Thank you to all you marvelous readers who chose to stop by today. Have a beautiful day!
What are your favorite vegan taco fillings?
Disclaimer: I was given a copy of this book to review but the thoughts and opinions expressed here are my own.
Photography  by Chris Miller