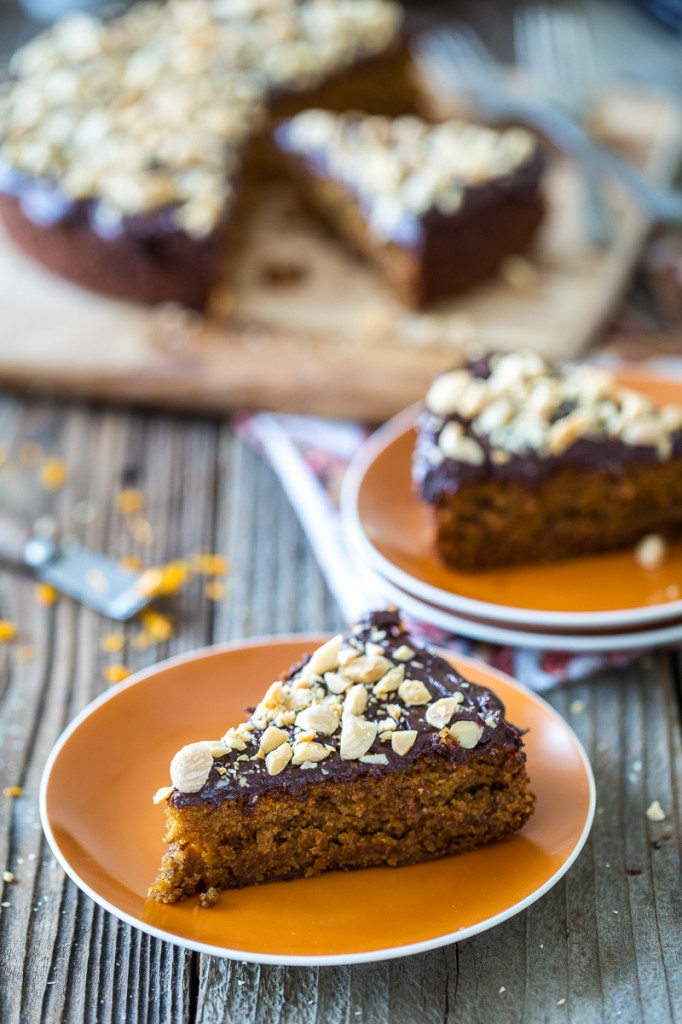 "Do you want a piece?" I asked my husband.
"What's in it again?" Chris asked, very hesitantly.
"It's an orange, almond, and olive oil cake with a chocolate orange glaze and marcona almonds." He scrunched up his nose. "No thanks. You know I don't like mixing my chocolate with fruity flavors. Especially orange. I'll just try a little bite of yours."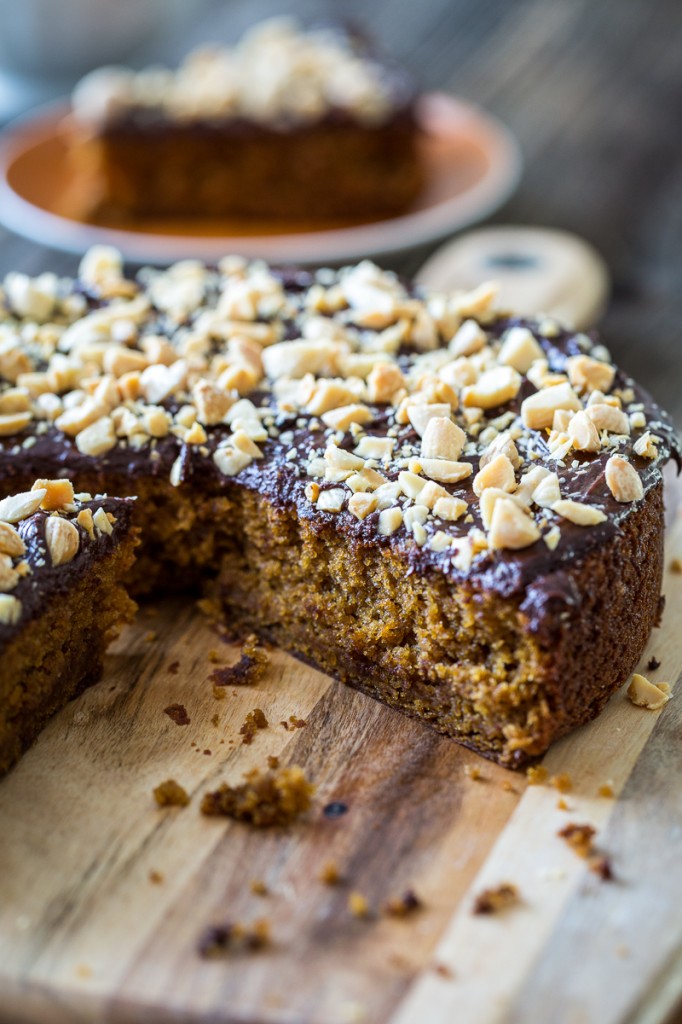 I fixed my stepdaughter and I each a piece. We were both floored by this cake. I mean, this cake knocked us over with its bold orange and almond flavors and the way the chocolate glaze so perfectly balanced them out. After one bite, I was regretting having agreed to let Chris try a bite. Instead of letting Chris select his own bite (because I knew he would serve himself a huge chunk), I sliced a very thin bite for him to try. I lifted my fork up to his mouth for him to taste the cake.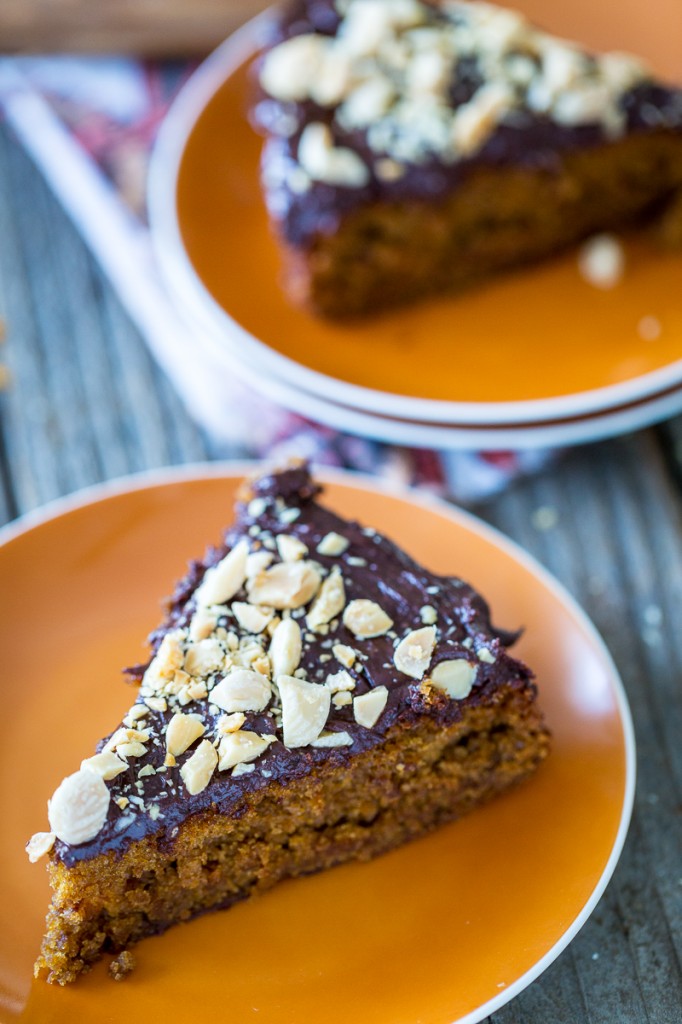 "Oh my god. What did you say was in that again?"
I told him again.
"It's so good." He took my fork from me and stole the humongous hunk of a bite that I'd feared he would and shoved it in his mouth. "Wow." I quickly took my fork back from him. I may or may not have eaten the remainder of the slice very quickly so as to prevent him from taking any more "tastes."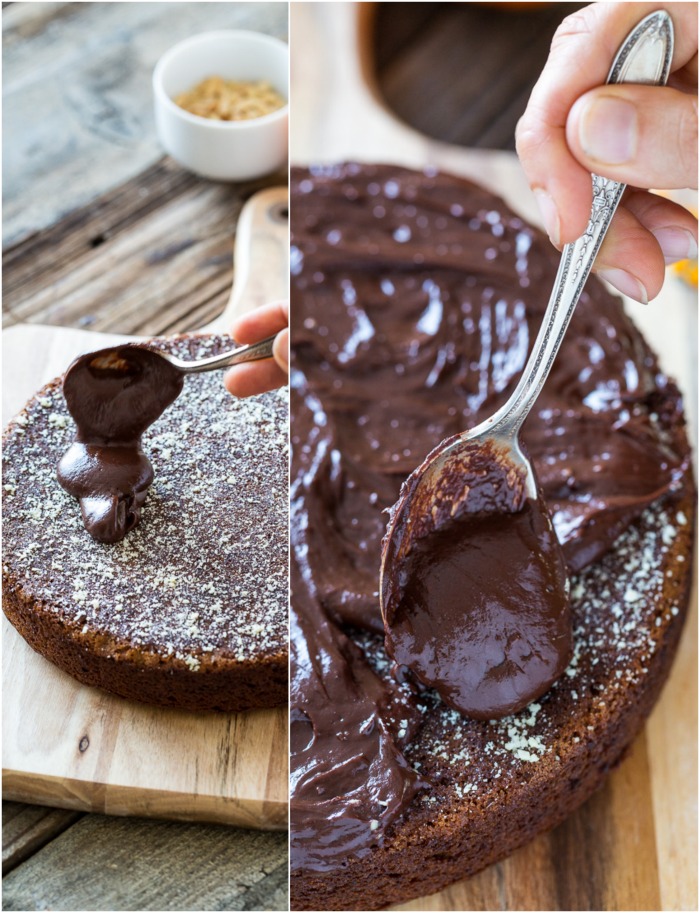 I wish I could take credit for this amazing cake but the genius behind this masterpiece is none other than Fran Costigan. The recipe is from her book, Vegan Chocolate: Unapologetically Luscious And Decadent Dairy-Free Desserts, which is an absolute treasure trove of (as the title would suggest) vegan chocolatey goodness. The desserts Costigan shares in this book are far beyond even my wildest chocolate dessert fantasy. Recipes like Bittersweet Cashew Cream Truffle Squares, Brownie Pudding Cakelettes, Brooklyn Blackout Cake, Sachertorte, Moon Pies, Magic Chocolate Mousse, and Chocolate Brownie Crumble Ice Cream will leave you swooning for days. And if the show-stopping recipes weren't enough, the very talented Kate Lewis provided insanely beautiful photography for the book. Vegan Chocolate is so stunning, it could pass as a coffee table book.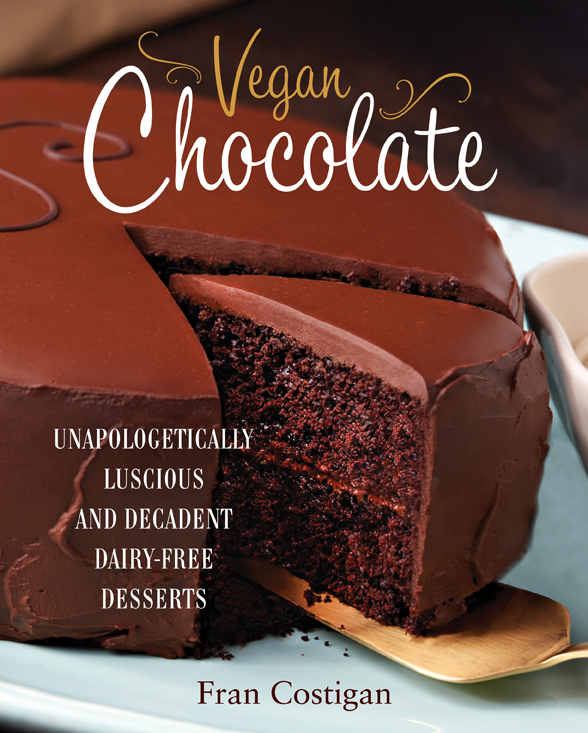 Now back to this cake. This cake is possibly one of the best cakes to ever come out of my oven, vegan or otherwise. It has a perfect delicate crumb and is incredibly moist while not being dense. I've had orange olive oil cakes in Italy (in fact, that's why I chose to make this cake) and this cake surpasses every memory of that cake by far. I made the chocolate glaze a little too early and it thickened a little too much by the time it was ready to spread but it was still perfect and the taste was like nothing I've ever had: citrusy and bitter, yet sweet and chocolatey. The marcona almonds added the perfect, salty crunch to the top. It's a good thing that Fran Costigan and Running Press have agreed to let me share this recipe because I am really stingy with sharing bites of my cake these days (sorry).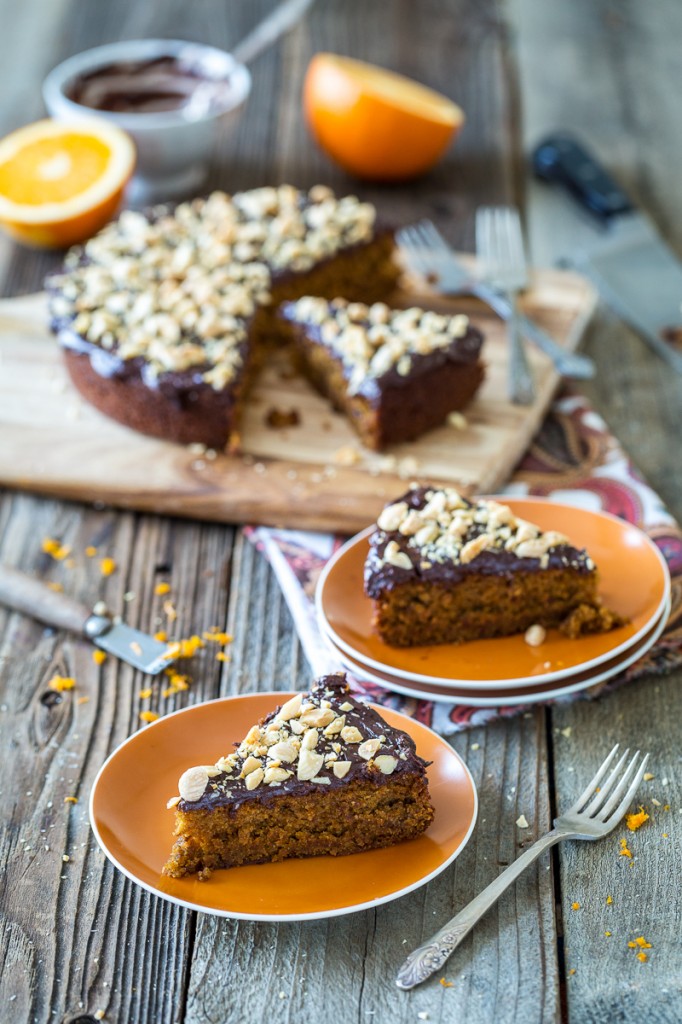 Chocolate, Orange, and Almond Olive Oil Cake
Ingredients
orange, almond, and olive oil cake

3 ⁄4 cup organic all-purpose flour
1⁄2 cup organic whole wheat pastry flour
3 ⁄4 cup organic granulated sugar
1 teaspoon baking soda
1⁄2 teaspoon fine sea salt
1⁄4 teaspoon aluminum-free baking powder
1⁄2 cup ground roasted unpeeled whole almonds, divided
1 cup freshly squeezed orange juice
1⁄3 cup fruity olive oil, such as arbequina
Finely grated zest of 2 large oranges, preferably organic
1 tablespoon apple cider vinegar
1⁄2 teaspoon pure vanilla extract
1⁄2 teaspoon pure almond extract
1 recipe Chocolate Orange Glaze (recipe follows)
1 ounce Marcona almonds, coarsely chopped (or use more whole almonds chopped and sprinkled with sea salt)
Flaked sea salt, for serving (optional)
Finely grated zest of 1 large organic orange
1⁄4 cup freshly squeezed orange juice, strained
3 1⁄2 ounces dark chocolate (70 to 72%), very finely chopped
2 teaspoons fruity extra-virgin olive oil
1⁄4 teaspoon pure vanilla extract
1⁄8 teaspoon fine sea salt
Instructions
Position a rack in the middle of the oven. Preheat to 350°F. Oil the cake pan and line the bottom with a parchment circle. Do not oil the parchment.
Place a wire mesh strainer over a medium bowl. Add the all-purpose flour, pastry flour, sugar, baking soda, salt, and baking powder to the strainer and stir with a whisk to sift the ingredients into the bowl. (If any small bits remain in the strainer, add them to the mixture in the bowl.) Add 1⁄4 cup plus 2 tablespoons of the ground almonds and stir with a wire whisk to combine and aerate the mixture.
In a separate bowl, whisk together the orange juice, oil, zest, vinegar, and vanilla and almond extracts until completely combined. Immediately pour into the dry mixture and whisk until the batter is smooth.
Pour the batter into the prepared pan. Rotate the pan to level the batter and tap it lightly on the counter. Bake for 43 to 45 minutes or until the cake is dark golden-brown, the sides have started to pull away from the pan, and a wooden toothpick or skewer inserted into the center comes out clean or with just a few moist crumbs. The cake will have risen considerably, but will become more compact as it cools.
Place the pan on a wire rack. Carefully run a thin knife between the cake and the inside of the pan. Cool for 5 minutes. Invert the cake onto the rack. Remove the bottom of the pan and the parchment paper. If the bottom of the cake feels very wet, sprinkle with 1 tablespoon of the reserved ground almonds, pressing lightly so they adhere. Cool the cake completely without inverting it. Make the glaze while the cake cools.
Combine the zest, orange juice, and chocolate in a small saucepan. Cook over the lowest heat until the chocolate begins to melt. Remove from the heat and stir until the chocolate is completely melted and the glaze is smooth. Stir in the olive oil, vanilla extract, and salt.
Sprinkle a serving plate with the remaining ground whole almonds. The almonds will keep the moist cake from sticking to the plate. Slide a 9-inch cardboard cake board under the cake and gently slide the cake off the board onto the plate. It will be bottom side up.
Drizzle or spread the Chocolate Orange Glaze on top of the cake and sprinkle with the Marcona almonds. Refrigerate the cake until the glaze is set.
Slice the cake cold but serve at room temperature with the optional sprinkling of flaked sea salt. Drizzle the plates with olive oil if using.
I like the texture and flavor of the cake best the day it is made, but the cake will hold overnight at room temperature loosely wrapped in parchment. The cake freezes well for up to one month with no loss of flavor, but do not add the chopped nuts until the cake is defrosted. Wrap the cake tightly in a double layer of plastic wrap and slip it into a large zipper-lock bag. Defrost the cake unwrapped. Refrigerate the glaze in a covered container for up to three days. Allow the glaze to return to room temperature before using.
Notes
If you have ground almonds in your freezer, it takes almost no time to prep. But don't rush the baking and final steps: it is important to bake the cake until it is dark golden-brown for the best texture, and to sprinkle a layer of chopped almonds on the serving plate so that the bottom of the cake doesn't stick to the plate.
This recipe calls for two kinds of almonds, unpeeled sweet whole almonds and Marcona almonds from Spain, but you can use all sweet almonds if that's what you have on hand. In that case, sprinkle a little more flaked salt over the top of the cake since Marcona almonds are already salted and fried in oil when you buy them. To highlight the taste of the olive oil in the cake, use one of the more pungent varieties. Just make sure you select oil that you really like, since you will taste it even after the cake is baked.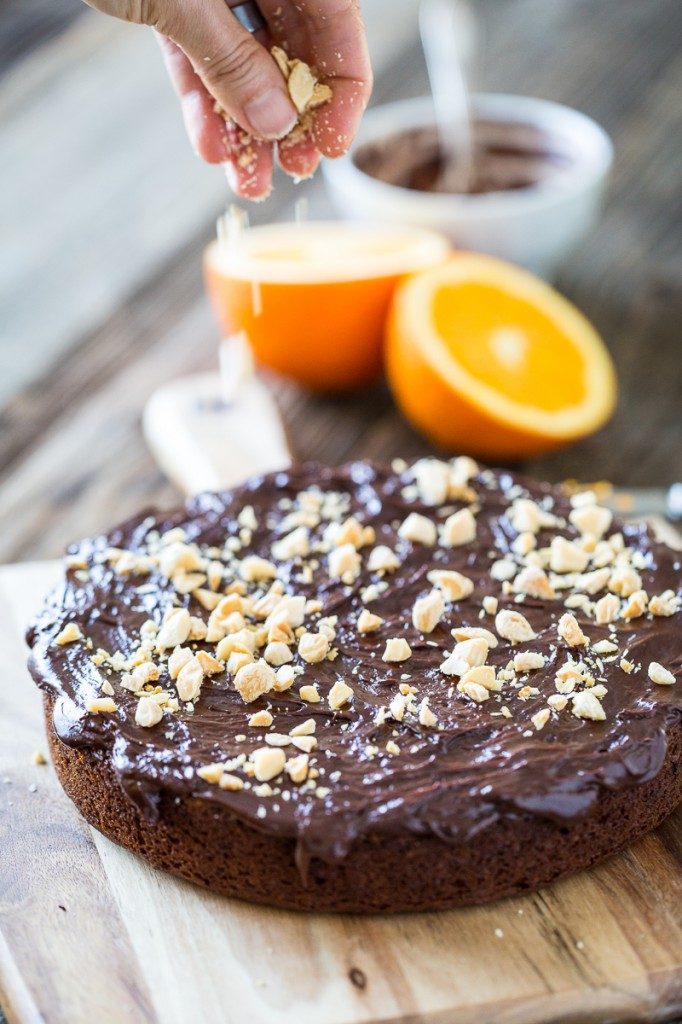 Running Press has also been so generous as to let me give a copy of Vegan Chocolate to one of my wonderful readers! The giveaway is open to US and Canadian residents only and will run until 11:59 pm PST on August 22nd, 2014. Please use the box below to enter.
Thank you so much to Running Press and Fran Costigan for letting me review Vegan Chocolate and thank you to all of you for stopping by and entering. Have a great weekend! Disclaimer: I was given a copy of this book to review but the thoughts and opinions expressed here are my own.
What is your favorite chocolate dessert?
Photography by Chris Miller