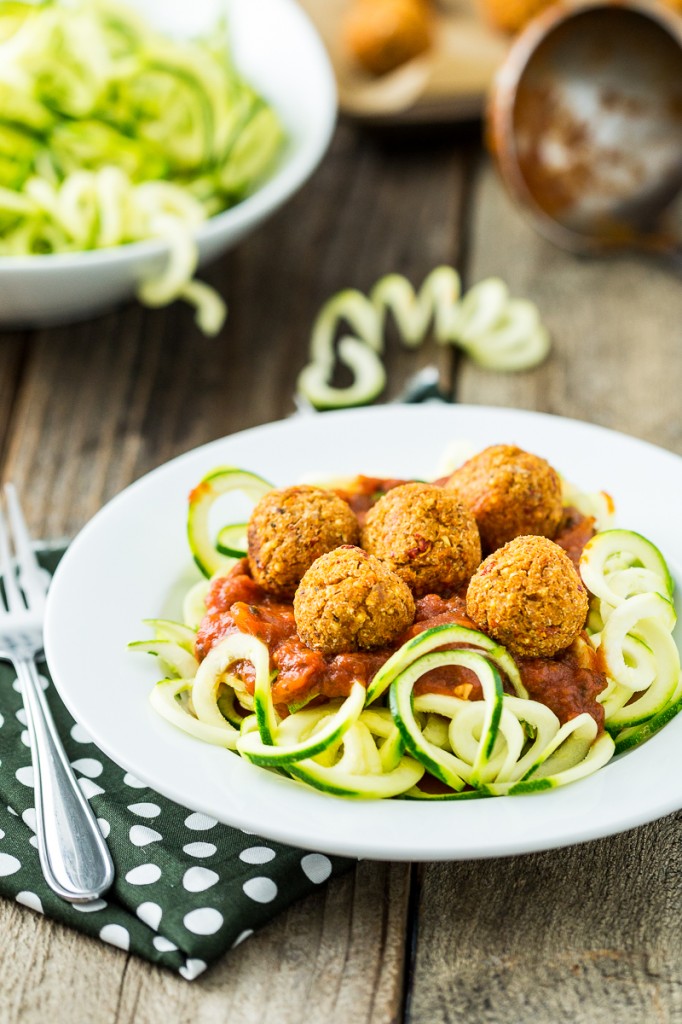 When I first went vegan, I turned to the internet to answer my new health questions. I found that I kept finding myself at one particular site every time I had a question about vitamin needs or nutrient intake: Choosing Raw. At first, I was in awe of Gena Hamshaw's vast knowledge on all things vegan nutrition, but I soon came to love her down-to-earth, practical approach. Her site was very welcoming and non-judgemental and her recipes always left me feeling really "clean" and satisfied. It wasn't long before Choosing Raw became one of my favorite places to visit on the interwebs.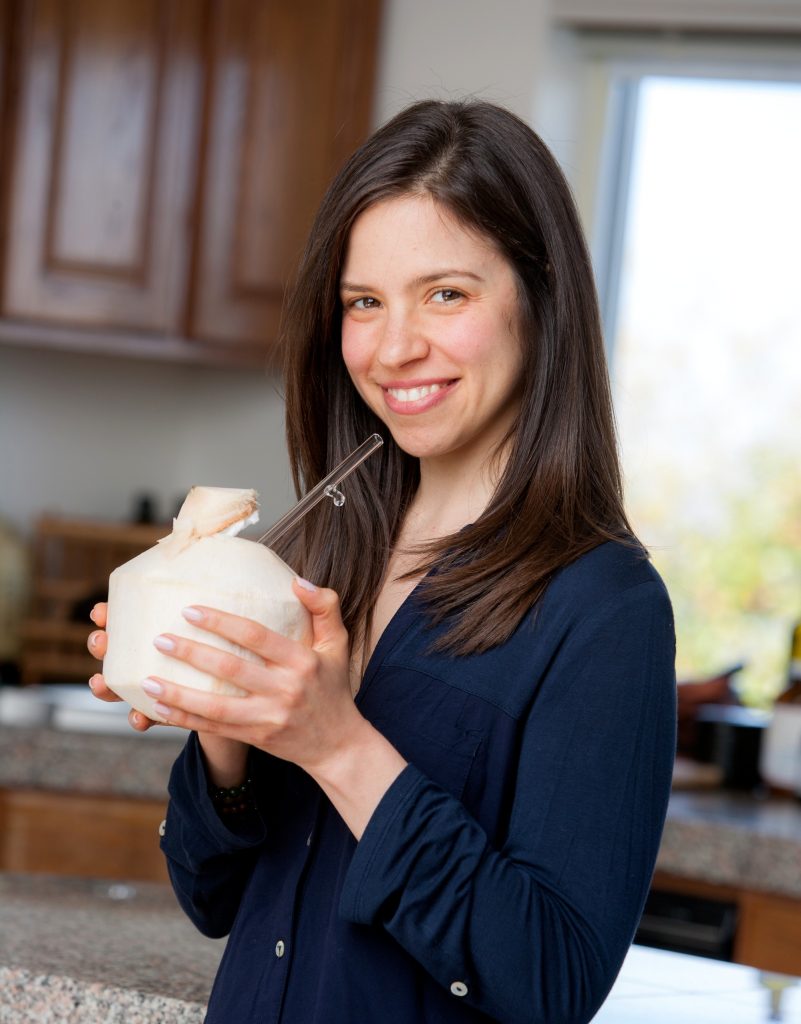 (c) Jeff Skeirik
When I got to meet Gena Hamshaw just over a year ago, I was a little starstruck! However, the same down-to-earth, approachable personality that she conveys through her writing comes through ten-fold in person and it wasn't long before I felt totally "at home" with her. When she asked me if I could review her new book, Choosing Raw: Making Raw Foods Part of The Way You Eat, I of course said yes. I couldn't wait to dig in!
Being on a raw, vegan diet has always been a little bit of a mystical unicorn to me. Well, I should clarify- the food itself isn't that mysterious. I eat uncooked veggies all the time, I love salads, and raw cashew cheese is a staple in my kitchen. It's the sticking to raw, vegan foods for every meal, every day that has always eluded me. I loved the idea of it and how healthy it can be for you but I just couldn't see how I could make that part my lifestyle.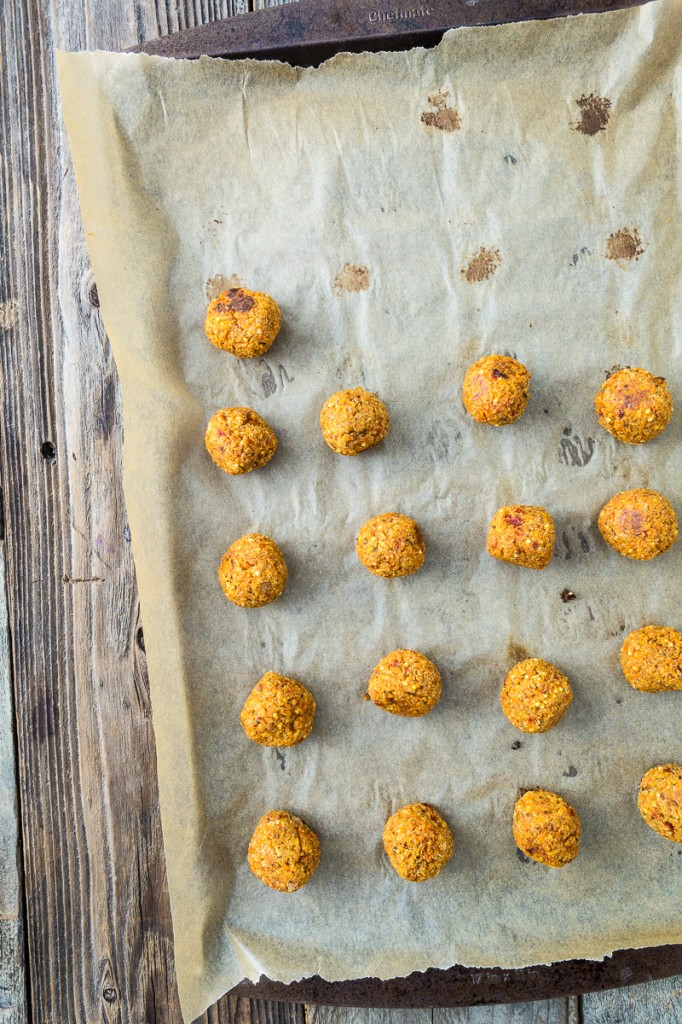 Choosing Raw caters directly to those who have similar sentiments about starting a raw, vegan diet. Gena explains in her classic, non-intimidating voice that you don't have to eat raw foods 100% of the time to reap some of the benefits. I loved all of the vegan and nutrition myths she dispelled, helping to alleviate any hesitation or excuse one might make as to not make the change to a vegan diet. And not only does she share recipes that are either partially raw or fully raw, but she gives 21 days of meal plans making it easier to gradually ease yourself into a raw, vegan diet. The recipes are also all broken down into 3 categories: The easier "Tried and True" recipes, the intermediate "Something New" recipes, and the more adventurous "Brave New World" recipes. No matter your experience with raw food, there is something for everyone in this book!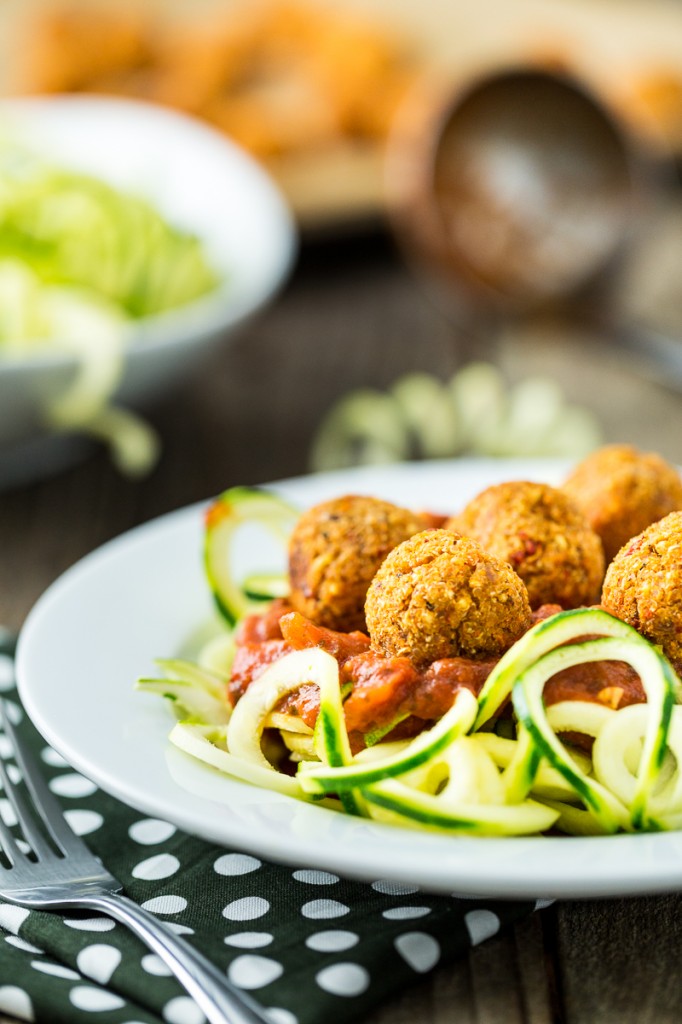 After much deliberation (there are so many mouthwatering choices in this book: Avocado Black Bean Breakfast Scramble, Portobello "Steak" and Rosemary Cauliflower Mashed Potatoes, and Raw Peach Cobbler, just to name a few), I chose to make the Zucchini Pasta with Quinoa Meatless Balls from the Tried and True section because even though I was in the mood for something lighter for dinner, I knew my husband was going to be hungry after a long day of work and would be craving something heartier. This dish was definitely the perfect compromise. Zucchini pasta is one of my favorite things already (when my CSA sends me a ton of zucchini and squash in the summer months, they're almost always used for pasta!) but I usually use them in some sort of salad. I loved combining it with a warm marinara sauce (To make things easy, Gena gives you the option of using her raw marinara recipe or using store-bought. I used some leftover store-bought sauce I'd used in one of the kids' dinners last week) and hearty meatless balls. I'd seen recipes for quinoa-based burgers but have never tried any of them. I was surprised by how simple and easy they were to make and they were definitely vary satisfying. All-in-all, this meal was well-liked and I can see myself making it again. And lucky for you, I get to share the recipe!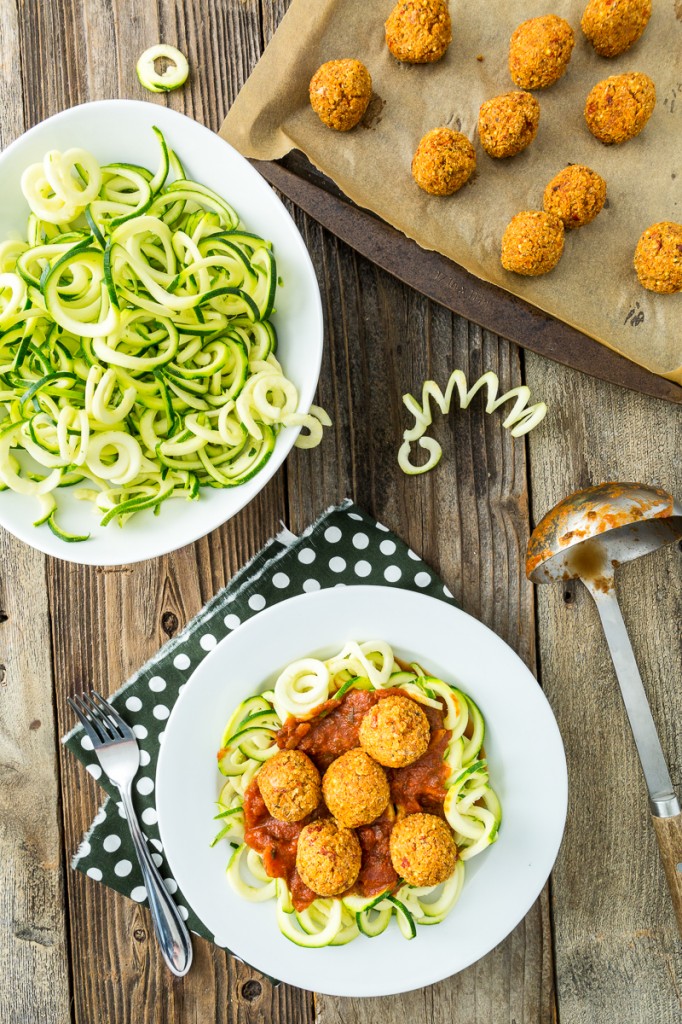 Zucchini Pasta with Quinoa Meatless Balls
From Choosing Raw by Gena Hamshaw. Reprinted with permission from Da Capo Lifelong, © 2014.
Ingredients
4 small zucchini, spiralized or cut with a julienne peeler

Raw Marinara Ingredients (substitute your favorite store-bought marinara if desired)

Makes 2 Cups

2 cups chopped Jersey or Roma tomatoes
1 cup chopped sun-dried tomatoes, hydrated in water and then drained
1⁄4 teaspoon sea salt
1 tablespoon apple cider vinegar
1 tablespoon pure maple syrup
2 tablespoons fresh oregano, or 1 teaspoon dried
1⁄4 cup chopped fresh basil, or 2 teaspoons dried

Quinoa Meatless Balls Ingredients

Makes 24 to 30 Meatballs

1 tablespoon olive oil
3⁄4 cup onion, diced
1 clove garlic, minced
1 cup chopped button or baby bella mushrooms
1⁄2 cup chopped, sun-dried tomatoes, soaked in warm water for 10 minutes or more, then drained
2 cups cooked quinoa
2 tablespoons chopped fresh oregano (or 1 teaspoon, dried)
1⁄2 cup cooked cannellini or navy beans
Sea salt and freshly ground black pepper
Instructions
Blend all the ingredients with 1 tablespoon of water in a high-speed blender or food processor until totally smooth. Store in the fridge for up to 5 days, or freeze.
Heat the olive oil in a large saute pan over medium heat. Add the onion and garlic. Cook until the onion and garlic are translucent (5 minutes). Add the mushrooms and continue cooking until the mushrooms are tender, another 4 to 5 minutes or so.
Add the sun-dried tomatoes, quinoa, oregano, and beans to the pan. Stir until everything is warm and evenly mixed, about 2 minutes.
Transfer all the ingredients to a food processor. Pulse to combine, and then process until the ingredients are mostly uniform, about a minute.
Roll the ingredients into 1-inch balls. Let them sit for 30 minutes. While you wait, preheat the oven to 400F and line a large baking sheet with parchment. Place the
balls on the baking sheet and bake for 20 to 25 minutes, or until they're lightly browned.
Divide the zucchini among four serving bowls. Top with 1⁄3 to 1⁄2 cup of marinara sauce, and a quarter of the meatballs. Marinara sauce will keep for up to 5 days in the fridge and can be frozen. The quinoa meatballs can be frozen and will keep in the
fridge for up to 4 days.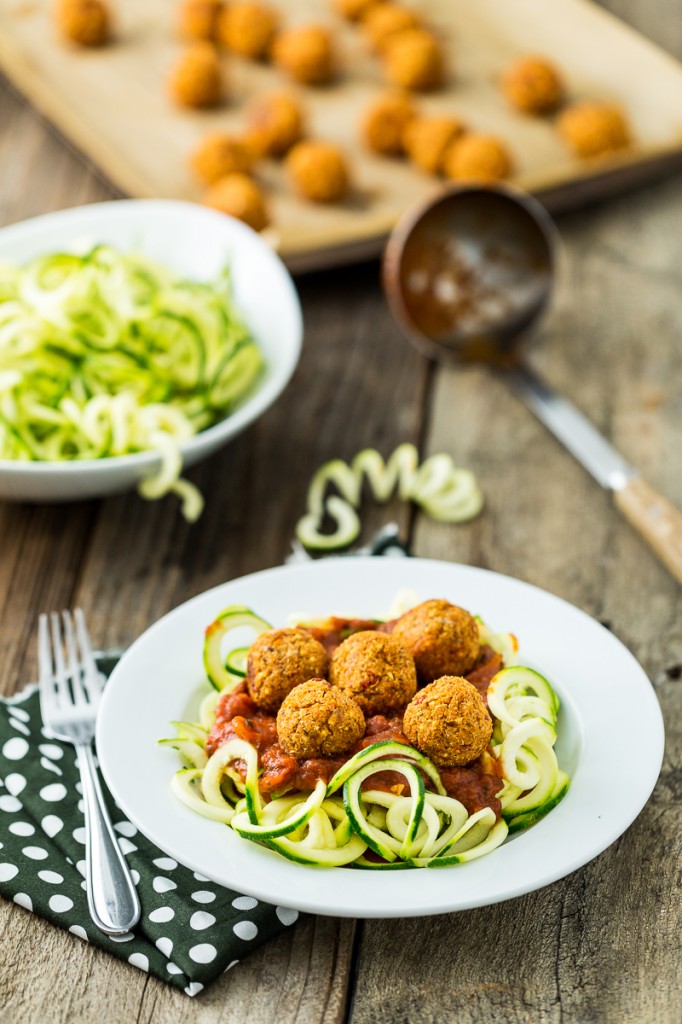 Choosing Raw is perfect for those looking to incorporate more raw, vegan meals into their diet as well as those who are already well-acquainted with diet. Along with delicious recipes, Gena Hamshaw's wealth of knowledge makes this book an absolute winner and one that is sure to become a staple in your kitchen.
On another note, I wanted to thank all of those who entered the Salad Samurai giveaway! The two winners are Anne Taylor & Shelley Osborne!
Are you a raw foods enthusiast or is this way of eating new to you? What kind of raw meals (if any) do you already incorporate into your diet?
Disclaimer: I was given this book to review but the thoughts and opinions expressed here are my own.
Photography by Chris Miller