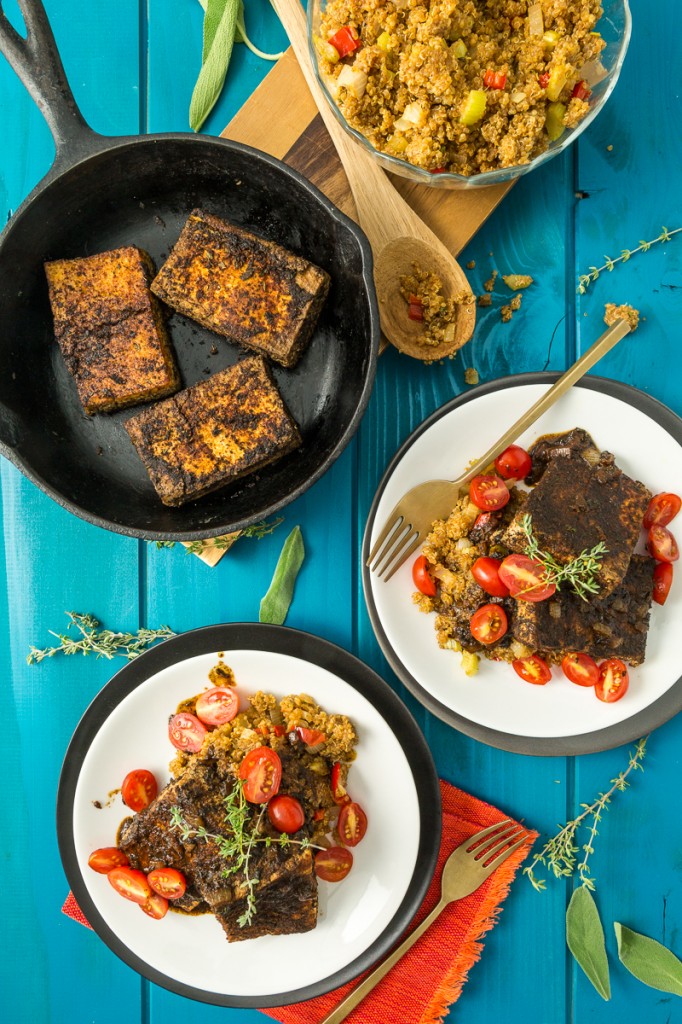 Mine and Chris's first phone call (to set up our first date) went something like this:
Me: Well, I'm vegetarian, so no steak houses. Otherwise I can usually find something to eat anywhere.
Chris: I'm vegetarian too! So let's go to a vegetarian or vegan restaurant!
Me: Awesome!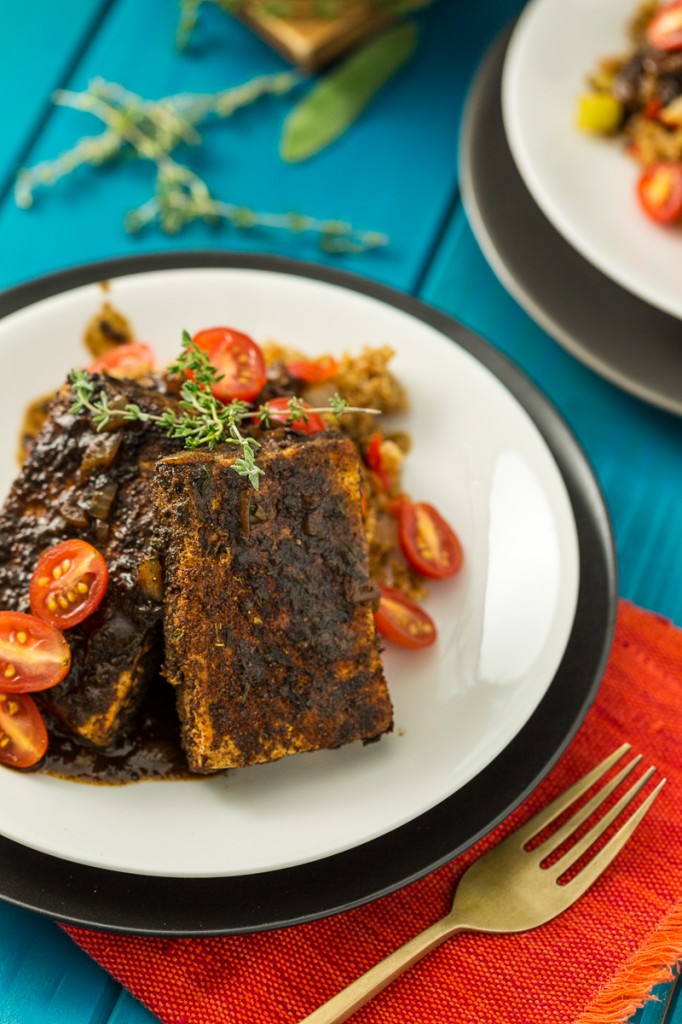 And that was that. I know ideal situations like this are few and far between. In fact, prior to Chris, I'd never dated another vegetarian and I'd done my fair share of defending my eating choices on dates. Between the DIY beer-brewer/sausage-maker dude to the professional chef/bartender to the uber-snobby foodie/wine-aficionado and all the other guys in between, I'd done the whole "No, I really don't want to try even a little bite of your steak" and the "Yes, I can eat this way and still live a happy life" so many times I'd probably begun to sound like a recording. I know I'm incredibly lucky that I never had to do that dance as a vegan and that Chris and I chose to go vegan together, but I know for many vegans, this is probably not the case.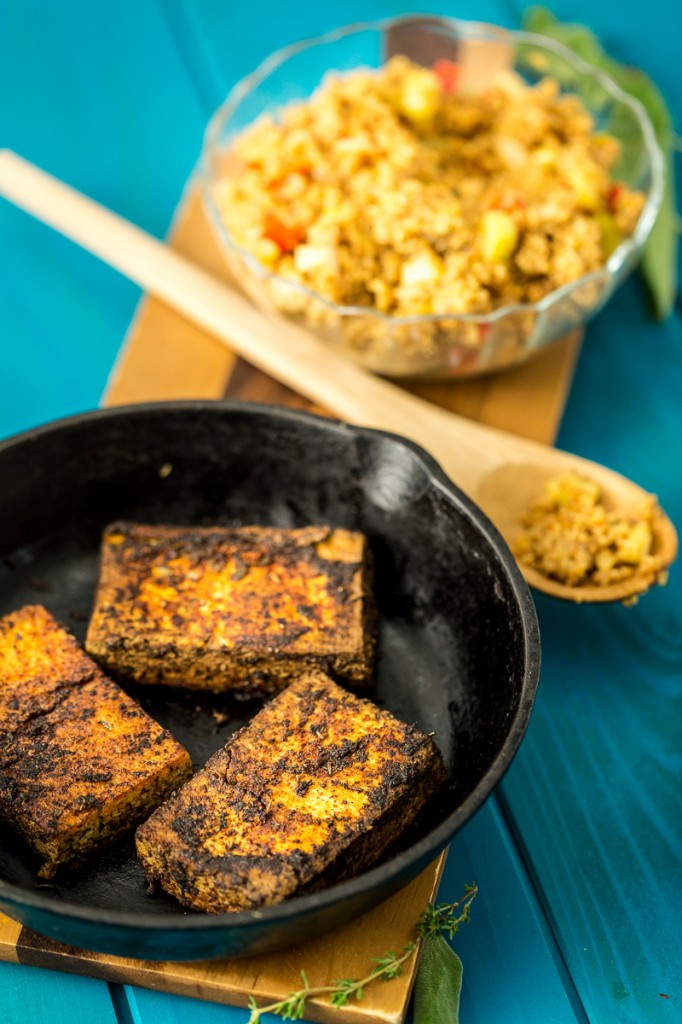 If I had been vegan back in my dating days, I know I would've loved to have a book or guide to help me navigate those sometimes very bumpy roads. The Lusty Vegan, by Ayinde Howell and Zoe Eisenberg, is the vegan dating guide of your dreams, wrapped up into a cookbook. With humorous stories, straight-up advice, and loads of delicious recipes, The Lusty Vegan is like Sex and the City meets Vegan With A Vengeance. In other words, it's absolutely fantastic.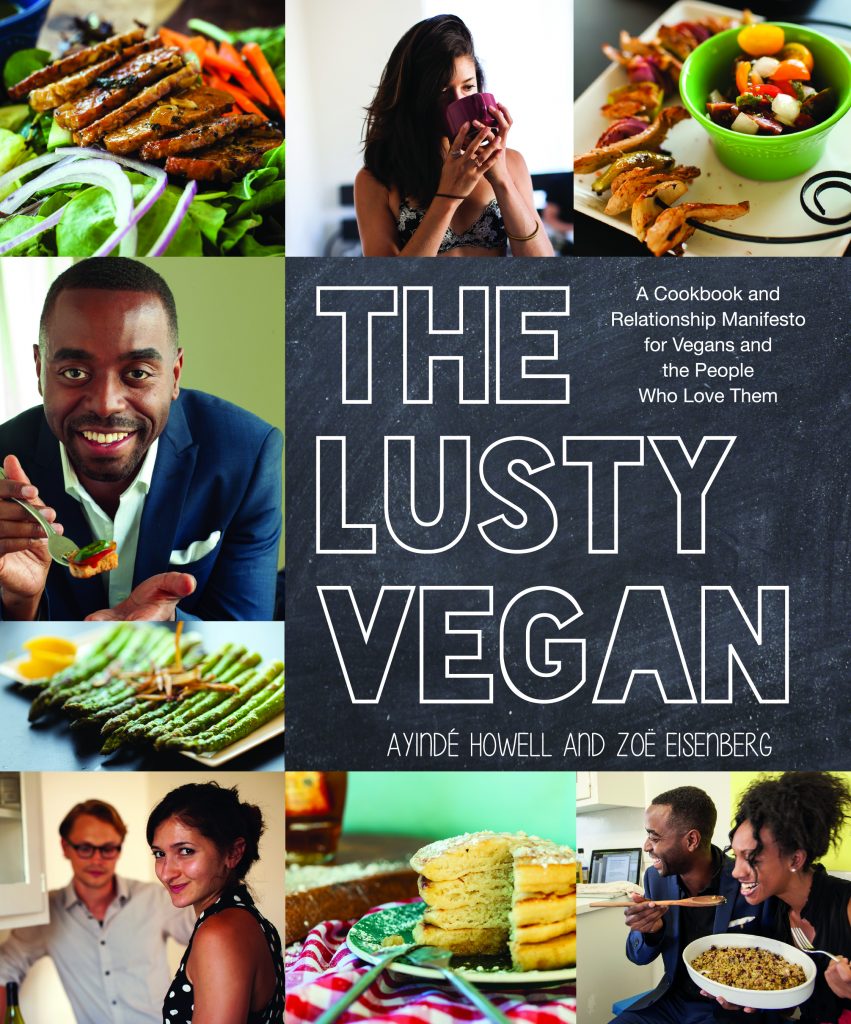 Earlier this year, I had the pleasure of trying some of Ayinde Howell's cooking a party thrown by Tofurkey. He'd catered the event and everything I tasted was Incredible, with a capital I. I was particularly fond of his Truffled Mac & Yease and I'd hoped to find the recipe in this book, but alas, it looks like I'll have to dry my tears with all of the other drool-worthy recipes in this book. I'm going to have to try recipes like Nacho Mac & Cheese, Cloud 9 Pancakes, and Personal Pan Chocolate Pizza. Poor Me.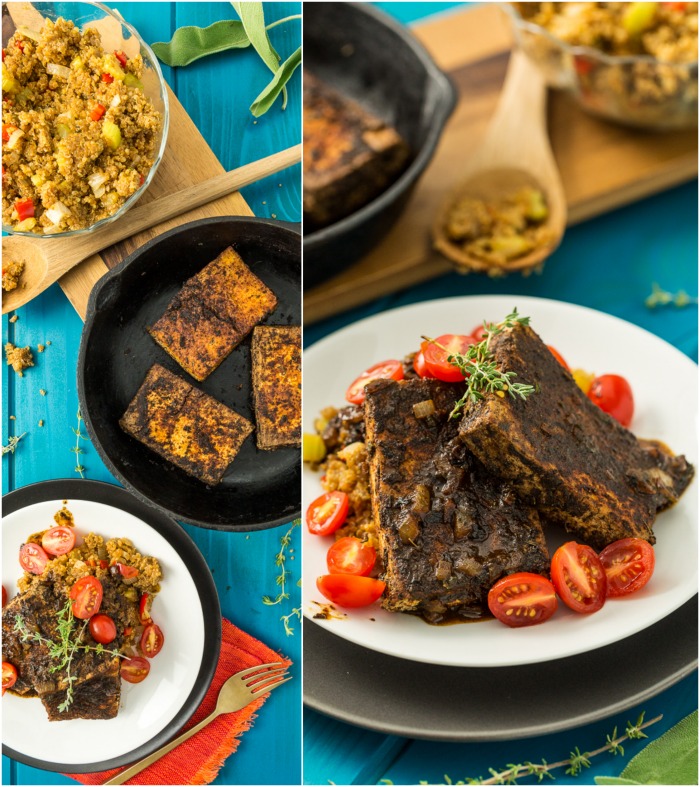 My cooking time has been severely limited recently so all I've been able to try so far is the Cajun Tofu & Dirty Quinoa. I was drawn to this recipe because I'm always looking for new ways to eat tofu and this one did not disappoint. By freezing the tofu and defrosting it prior to cooking it, you get a firmer filet. I've never rubbed spices onto tofu before but this recipe has made me a believer. Holy cow- this is some of the most flavorful tofu I've ever had! And the dirty quinoa is so easy to make and made for the perfect accompaniment. The wine-based butter sauce made me feel like a super fancy chef and even though I cooked my tofu and butter sauce in a cast-iron pan (which made the sauce much darker than what's shown in the book) it really highlighted the flavors of the tofu and quinoa perfectly. I can see myself making this dish, or elements of this dish, regularly from now on.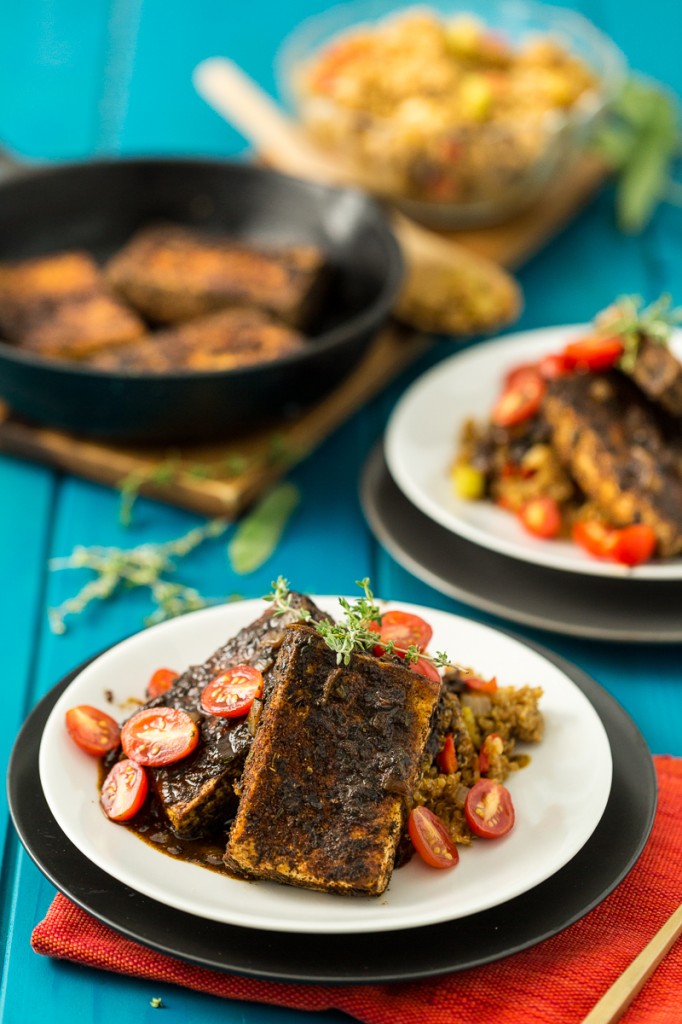 Cajun Tofu & Dirty Quinoa + The Lusty Vegan Review & GIVEAWAY!
From The Lusty Vegan © 2014 by Ayinde Howell and Zoe Eisenberg. Used with permission from Vegan Heritage Press.
Ingredients
2 cups water
1 cup quinoa, well-rinsed
1 tablespoon grapeseed or safflower oil
1 tablespoon vegan butter
1/2 cup finely chopped onion
1/2 cup finely chopped celery
1/2 cup chopped bell pepper
1 teaspoon minced garlic
2 tablespoons low-sodium wheat-free tamari
1 tablespoon Cajun seasoning
1 teaspoon minced fresh thyme
1/4 teaspoon red pepper flakes (optional)
Sea salt
8 ounces extra-firm tofu, frozen and defrosted
2 tablespoons Cajun seasoning
1 teaspoon dried basil
1/2 teaspoon dried thyme
1/2 teaspoon garlic powder
1/2 teaspoon onion powder
1/2 teaspoon dried sage
1 tablespoon safflower oil
1/4 cup water
2 tablespoons low-sodium wheat-free tamari
1 tablespoon vegan butter
2 tablespoons finely chopped onion
1 tablespoon Cajun seasoning
1 teaspoon dried basil
1 teaspoon chopped fresh sage
1/2 cup dry white wine, divided
1/2 teaspoon cornstarch
1/4 cup sliced cherry tomatoes
Instructions
Quinoa: In a saucepan, bring the water to a boil, then stir in the quinoa. Reduce the heat to medium-low, cover, and cook until the water is absorbed, 10 to 15 minutes. Be careful not to overcook. Set aside.
In a large skillet over medium-high heat, heat the oil and butter. Add the onion, celery, and bell pepper and sauté for 3 to 5 minutes, stirring constantly from the bottom of the pan to prevent sticking. Add the garlic, and sauté for an additional minute.
Add the cooked quinoa and mix well. Add the tamari, Cajun seasoning, thyme, and red pepper flakes (if using), and mix until all ingredients are well-incorporated. Remove from the heat.
Tofu: Cut the tofu into 4 slices, approximately 1/8-inch thick. Use a paper towel to press out as much water from the tofu as possible, then transfer the tofu to a shallow bowl. In a separate small bowl combine Cajun seasoning, basil, thyme, garlic powder, onion powder, and sage and mix well. Use your hands to gently rub the seasoning mixture onto the tofu, coating well. Set aside.
Heat the oil in a medium skillet over medium heat. Add the tofu and sear for 3 minutes on each side, until brown and slightly crispy. Add the water and tamari to the skillet and allow to reduce for 3 to 5 minutes. Spoon about 1/4 cup of the dirty quinoa onto the plates and top with the tofu.
Butter Sauce: Melt the butter in a medium skillet over high heat. Add the onion and sauté for 30 to 45 seconds. Add the Cajun seasoning, basil, and sage. Working quickly, add 1/4 cup of the white wine and the cornstarch and sauté until mixture begins to bubble rapidly. Mix continually with a whisk or fork. Add the remaining 1/4 cup of white wine and allow the alcohol to burn off. It may flambé, but the fire won't last long. Remove from the heat and stir until the sauce becomes cloudy. Immediately spoon the butter sauce over the plated quinoa and tofu and garnish with sliced grape tomatoes.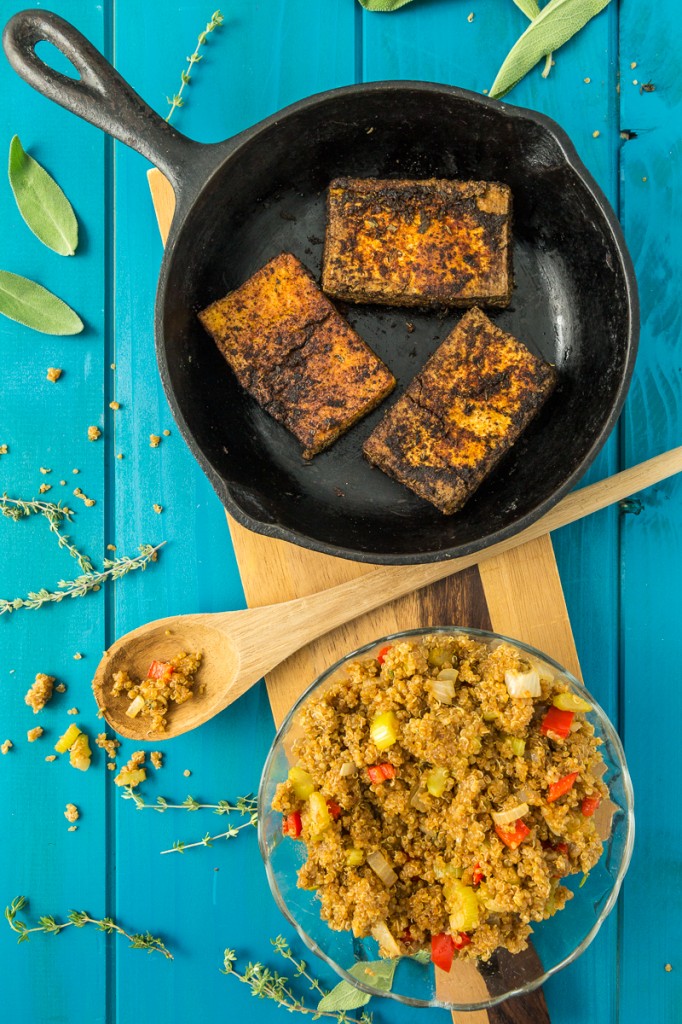 The authors, along with Vegan Heritage Press, have been kind enough to let me give away a copy of The Lusty Vegan to one of my crazy-amazing readers! The giveaway is open to US residents only and will run until 11:59 pm PST on October 21st, 2014. Please use the box below to enter.

Thank you so much to Ayinde Howell, Zoe Eisenberg, and Vegan Heritage Press for allowing me to review and giveaway a copy of this book. Thank you to all of you fabulous people for stopping by and entering!
Do you have any vegan relationship stories? Dish it up- I want to hear!
Disclaimer: I was given this book to review though the opinions expressed here are my own.
Aside from the cover photo, photography by Chris Miller